Keeping your crops growing healthy indoors requires the right lighting conditions. That's why you need to choose a good indoor greenhouse with lights. Check out this guide for some great insights.
Did you know that over 33 million households in the country currently indulge in indoor gardening? That's right!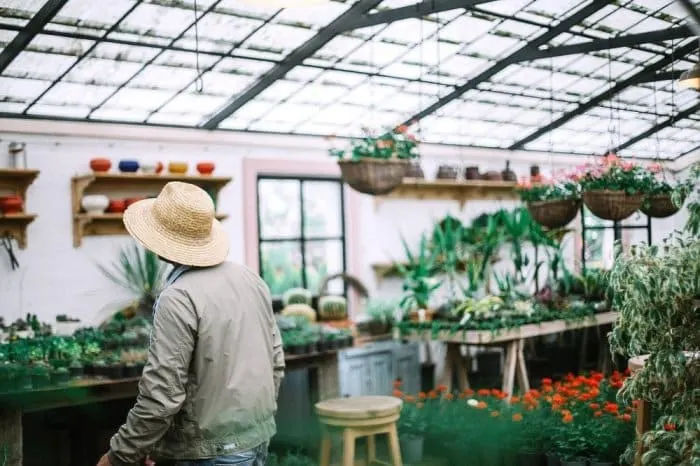 But how do they maintain healthy plants, especially since natural light is somewhat limited indoors? Well, grow lights come in handy to stimulate sunlike conditions for proper plant growth in indoor greenhouses. Better still, some greenhouses come pre-fitted with grow lights.
That's what we will look at today. An indoor greenhouse with lights guarantees continuous plant growth, even in dark areas of your house. Each greenhouse comes with grow lights that enable seeds germination and growth in time for planting in spring.
You'll, however, notice that there're many different brands of these mini-greenhouses in the market today. As such, you must be keen to know what exactly you are looking for.
So, before you pick an indoor greenhouse with lights, here are some crucial facts to help guide your product choice.
Whether you are choosing one for your patio, living room, or indoor greenhouse room, have this information first.
Best-Of by Category
Best Indoor Greenhouses with Lights
The best indoor greenhouse kits with lights must have certain traits to serve you well. Below you'll find some of the top varieties to consider as you get ready to make a purchase.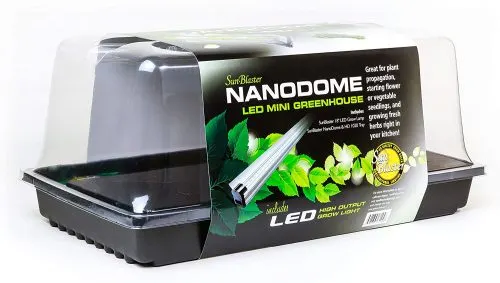 SunBlaster brings you a mini greenhouse with light that you can use to start seedlings or grow plants indoors away from harsh weather. The greenhouse is light, weighing only 1.5 pounds, and is easy to move around the house.
The LED strip grows light fitted inside ensuring continued plant growth, no matter where you place it in the house.
In addition to the LED strip lights, there's a huge18" LED grow light that supplies a 6400K output. This goes on a Nano dome with light tracks measuring 7 inches plus a double-thick tray. The thickness of the tray makes it durable.
Lastly, you get the complete kit together with the bulb, meaning you won't have to spend more on parts while setting it up.
See Related: Greenhouse Cost Guide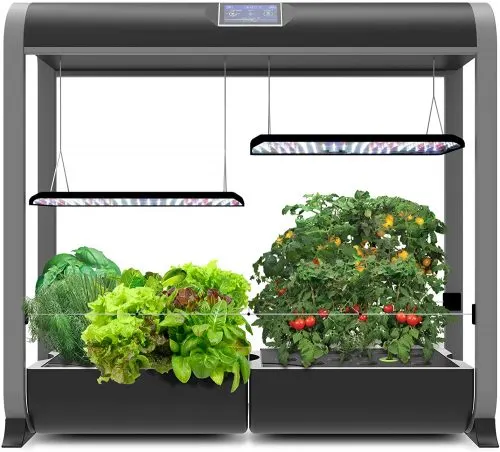 Do you lack areas with sufficient sun or soil to grow your herbs? Well, with the AeroGarden kit, you can now enjoy growing your favorite herbs indoors.
First, this indoor plant cabinet's interior gives you ample space to grow up to 24 healthy plants. The plants can grow comfortably to a height of 24", meaning you can even add vegetables to the mix.
Second, this indoor greenhouse has two separate trays that function as individual gardens under the same dome. On top of the dome is an LED display control system to help regulate conditions inside the greenhouse.
It also includes a quality LED light system that provides growing plants with a light spectrum of red, white, and blue light. The variety helps plants grow faster, and there are two 60W panels that you can adjust at will.
In addition, this is a state-of-the-art indoor greenhouse with lights that's WiFi-enabled. You can activate Alexa to help you keep an eye on the environment inside and make adjustments when necessary.
See Related: 6 Best Geothermal Greenhouse Systems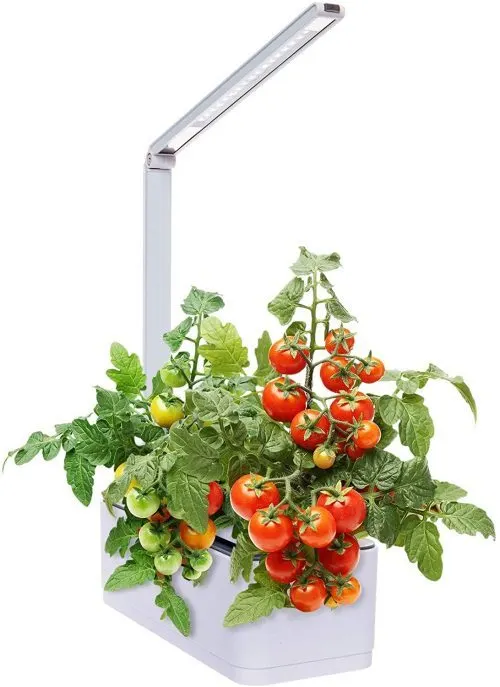 If you want it simple and small for one or two plants, this hydroponic greenhouse kit is an excellent option. It is a simple, passive system that involves zero pumps and complicated parts. All you need is to put water into the container and watch as your plants grow.
Additionally, it's an ideal greenhouse with light that features a multi-spectrum 7.5w LED growing lamp. The adjustable growing lamp contains two modes of light that replicate the conditions offered by the natural sunlight. This gives your plants enough light for proper and speedy growth.
Not only does this greenhouse kit allow you to grow plants tidily in your house, but it's also ideal for plant growth, even in minimally lit rooms.
See Related: Best Greenhouse Floors to Buy Today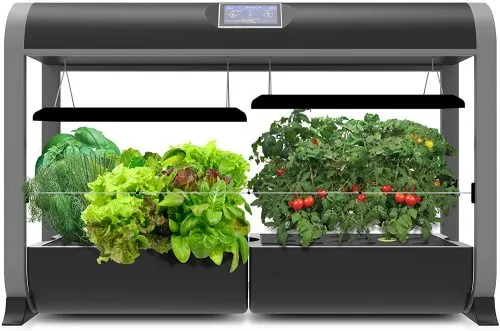 Stack up multiple tiers with this indoor greenhouse cabinet that can easily support multiple indoor gardens. The whole kit is easy to adjust if you want to add more layers with plants that need ample light to grow.
It comes with two 60W LED panels that supply ample light to growing plants, ensuring speedy growth. All you need is water on the trays, and the plants can reach a height of 12 inches per stack. There are 24 pods in the two trays that are easy to plant on.
Moreover, the indoor greenhouse with lights has two sides, each fitted with its control panel. You can download the AeroGarden app to help you manage the control systems. Also, an automatic reminder alerts you when you need to add water to the growing trays.
It's an easy greenhouse to set up at home and comes with a manual to guide you through the steps. Each part is top quality and makes the whole setup sturdy.
See Related: Best Glass Greenhouses in 2023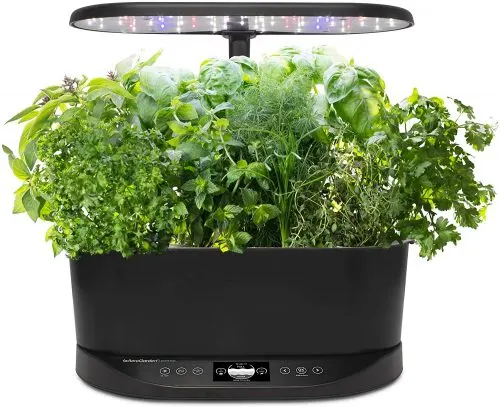 Perhaps all you want are a few herbs or plants growing in your kitchen and don't require a large indoor greenhouse. Well, AeroGarden has you sorted with this basic hydroponic garden that only carries 9 plants. The good news is that plants here can grow as tall as 24 inches.
Also, it's not only an indoor greenhouse with lights, but it also features a hydroponic system, helping keep your home clean. You no longer have to worry about soil messing up surfaces and floors.
Besides, you get 30W LED growth lights concentrated on the 9 plant pods supplying them with ample light. Such a setup means you can start growing plants from seeds since the light enables germination. And as the plants grow taller, you can use the cordless adjustable lamp arm to move the lamp further.
The indoor greenhouse comes with a high LED display panel, featuring all the controls you need for proper plant growth. It's simple to read and understand the current state of the garden at all times. Also, you get helpful tips and planting guides that ensure your garden flourishes.
Finally, this lightweight mini greenhouse is portable, weighing just 11.26 pounds.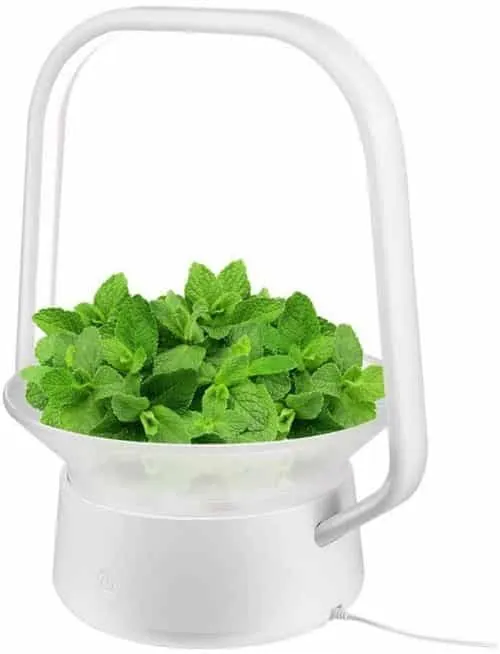 With a water tank that can carry up to 1650ml of water, this hydroponic system has ample space to grow numerous plants at once. Inside the tank is an injection hole that wraps around it at a 360-degree angle, making it easy to water the growing plants.
In total, you have 7 growing holes for plants. You can either grow the same variety or opt to diversify.
Also, if you are looking for an incredible indoor greenhouse with lights, this one certainly is a great choice. It comes with 21W grow lights, with auto turn on/off feature that you can set up to regulate light distribution. This saves you the energy and time to turn the LED light on and off manually.
From the LED light, your plants benefit from red, green, blue, and IR lights that facilitate faster growth, at a rate of 1.5 as compared to others.
Besides, being a hydroponic system, all you need is water to enable germination and plant growth in the 7 holes. You won't need soil that can easily cause a mess.
Lastly, this mini greenhouse with light comes with advice on plant nutrition requirements and all the accessories you'll need to use.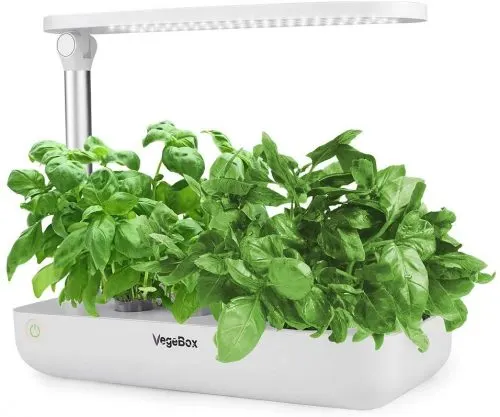 This is a perfect indoor greenhouse to buy herbs and small plants in your home. It comes equipped with a 21W LED lamp that keeps plants growing even in the house's low-lit areas.
With this mini greenhouse, you get to use the new grower light technology that delivers 4 lights in one LED lamp for fast growth. The lamp has blue, red, green, and IR lights. You can remove UV light when tending to the garden to prevent damage to your skin.
Apart from the lighting system, the greenhouse has a state-of-the-art control system that makes it easy to use. It has an LED display system with all the controls you need to monitor, plus an auto on and off switch that saves time.
Moreover, this is a hydroponic system with a 1.2-liter water tank where you place the seeds for germination. Once seedlings reach a certain stage, you can transfer them to a bigger indoor greenhouse cabinet.
Lastly, the kit comes with every tool you need to use effectively. You get a measuring cup, seedbox, sponge, nutrient water, and plant hole cover.
See related: 8 Best Aquaponics Greenhouse Kits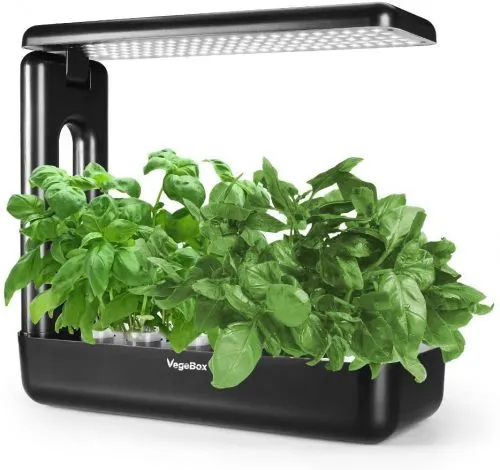 Variety is what you can expect from VegeBox as they bring you yet another of the best indoor greenhouse with lights. What sets it apart is the 22W LED that delivers ample growing light to your plants. You can adjust the LED at a 135-degree angle, which delivers ample light to the plants.
Next, you notice the smart LED system that's easy to operate with minimal technical support at home. All you need is to learn how the controls work. Also, it has an automated on/off switch, which you can set for better energy conservation.
Besides that, you get a 2L water tank to enable the hydroponic system to germinate seeds and support your seedlings and herbs. All you need is water and nutrients for ample plants' growth in this mini greenhouse.
The internal part consists of 12 plant holes that can support herbs and germinating seeds. The whole system is light, weighing 4.97 pounds, and comes with a 30-day money-back guarantee if unsatisfied with it.
Add beautiful aesthetics to your home with this sturdy frame indoor greenhouse with lights. To start, you'll notice the frame is made from top-quality organic bamboo. Not only is this non-toxic but also long-lasting without damage from water or pests.
Another part made from durable material is the water tank for hydroponics. The material is high-quality ABS, which makes the whole mini-greenhouse environmentally friendly. This structure has an FCC certification guaranteeing you a safe place to grow plants.
Inside the water tank is a plant tray with 12 holes ready for seeds. Set up the system, add water, and plant one seed per hole. The water tank can hold up to 7L of water.
Besides that, you get a 24W LED lamp that delivers ample growing light to the plants beneath. After using it for 14 continuous hours, the light automatically turns off, saving on energy. It has a power adapter with an ETL certification.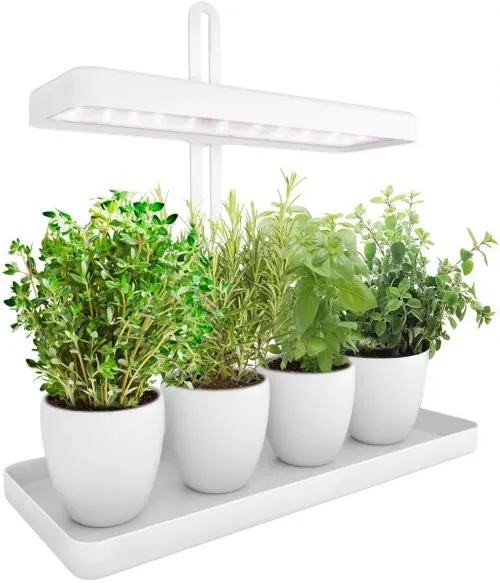 Growing your favorite plants all year round always sounds an excellent idea for many people. This idea is can now become your reality with the new indoor herb garden from GrowLED.
It is an indoor greenhouse with lights that gives your plants the necessary lighting conditions for an all-year-round production. Also, the kit supports multiple types of plants. Whether you want to plant some leafy vegetables, succulents, mint, or other kinds of herbs, it provides ideal conditions for that.
This plant grower is designed with full-spectrum grow light to promote photosynthesis, allowing faster and healthier growth for most plants. And, the grow light can be adjusted to produce the right illumination for your plants during different stages of growth.
Better still, it comes with an automatic light timer that keeps the light on for 16 hours and shuts it off for the next 8 hours. So, even if you forget to turn it off, it will automatically shut itself down.
As for installation, it only requires you to complete three simple steps, and you are all good to grow your plants. And, you don't even require any tools for that.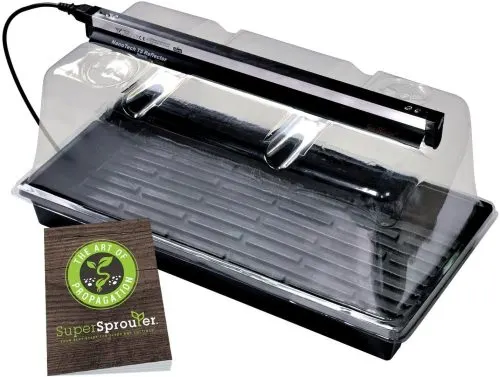 Super Sprouter has this dome-shaped mini greenhouse that's ideal for propagation and seedling germination. Start your seedlings as early as possible as you wait for spring.
The dome measures 7 inches in height and comes with a T5 fluorescent growing lamp. Once you assemble it, light reaches all the dome parts, ensuring even distribution on the plants.
At the bottom, you get a thick seedling tray that has no holes. You can spread many seeds on it and not limit germination to a few holes in a tray. Also, consult the germination booklet that comes with it to reap the best benefits.
Inside the dome, the plants get the right amount of humidity and light to facilitate growth. The whole structure is light, meaning you can move it around easily in your home.
Apart from germinating seeds, it's a great place to keep damaged plants that require specific environments to recover. Keep the plants inside for as long as necessary but ensure not to exceed the 7 inch height requirement.
Things to Know Before Buying an Indoor Greenhouse with Lights
Plant Height
Do you intend to grow small herbs or large vegetables that require ample spacing? Some mini greenhouses have an adjustable height of up to 24 inches, while others are shorter. So keep this in mind as you contemplate what plants you intend to grow.
Wattage
LED lamps vary in terms of wattage. The determining factor for the best wattage to get is the plants' needs. While some plants thrive in low wattage, others require more to keep growing. This means that you should first determine what your plants need.
Number of Plants
The indoor greenhouse with lights comes with a limited number of growing holes. Consider the number of plants you want to grow and check to see which indoor plant grower best suits your needs. Also, some come with more than one tray meaning you can grow more plants.
Adjustable LED Panels
Some greenhouses come fitted with LED panels that are easy to adjust or even remove. Such panels can cover more plants and don't have too many limitations on the plant's height.
FAQs
Do I need lights in my greenhouse?
A greenhouse with lights is a structure designed for growing plants that require additional light beyond what is available naturally. Adding lights to a greenhouse allows for year-round growing and can increase plant growth and yield. Whether or not you need lights in your greenhouse depends on the plants you want to grow and the amount of natural light available in your location.
Can you use lights in a greenhouse?
Is a greenhouse with lights a viable option? A greenhouse with lights is a type of greenhouse that uses artificial lighting to supplement natural sunlight. This is often used in areas where there is limited sunlight or during the winter months when sunlight is scarce. Growers can use different types of lights, such as LED or high-pressure sodium lamps, to provide the necessary light for plant growth.
What is the best lighting for a greenhouse?
The best lighting for a greenhouse is LED grow lights. LED grow lights provide the optimal spectrum of light for plant growth while consuming less energy and producing less heat than other lighting options. They also have a longer lifespan, reducing the need for frequent replacements.
What lights are best for winter greenhouse?
A winter greenhouse with lights is a structure designed to grow plants during the colder months. LED grow lights are the best option for a winter greenhouse as they provide the necessary light spectrum for plant growth while consuming less energy and producing less heat than other types of grow lights. Additionally, LED grow lights have a longer lifespan and require less maintenance than traditional grow lights.
Related Resources