Are you seeking the best greenhouse floor to buy? We've examined the most durable, non-toxic, and attractive greenhouse flooring options. Reading these product reviews, you may learn what type of material greenhouse flooring is constructed of and how practical each product is in a greenhouse setting.
Unfortunately, you cannot choose just any floor style because your greenhouse must have a functional drainage system. The flooring we looked at is practical, attractive, and has appropriate drainage for greenhouses.
Refer to this buyer's guide and the commonly asked questions below to learn what flooring is best for greenhouses. These sections will provide you with the knowledge to choose excellent greenhouse flooring.
TLDR
Best Greenhouse Floors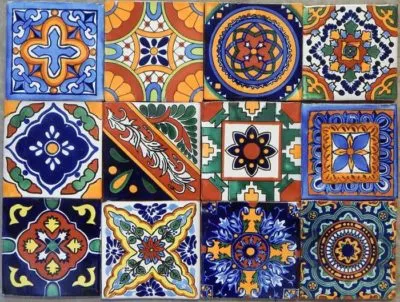 Color y Tradicion's Mexican Talavera tiles are bright and hand-painted with traditional Mexican patterns. They are UV-resistant ceramic tiles that are long-lasting.
Because the tiles are handmade, their sizes may vary. The design is to be used as stair accents or a backsplash, but it can also be utilized on the greenhouse floor.
Before installing these tiles in your greenhouse, you may want to cover them with a non-toxic sealer to safeguard the hand-painted designs.
Overall, these tiles will give your conservatory an outstanding, joyful appearance. After installing the tiles, ensure a good drainage system is in place because they can get slippery.
Pros
Beautiful colors and patterns
Durable
Mexican handcrafted
Cons
The size of individual tiles may vary slightly
Over time, the paint may fade
See Related: Best Greenhouse Paint & Spray-On Shading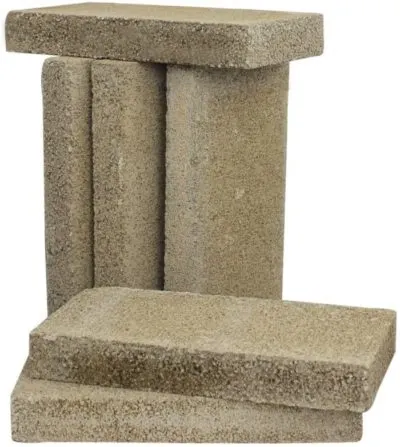 The fire bricks from the US Stove Company are primarily intended for use in wood or charcoal stoves. However, these bricks can also be used as flooring. If you live in a cooler climate, fire bricks are perfect for greenhouses since they retain heat efficiently and provide natural humidity.
These fire bricks are long-lasting and can create walkways and surfaces that drain excess water between the cracks if laid loose. If you don't want to mortar these bricks, the spaces between them will be a natural drainage system in your greenhouse.
Pros
Great insulators
Long-lasting
Beautiful in appearance
Cons
Mold might grow over time
For larger greenhouses, this can be costly
See Related: Best Greenhouse Fogging Systems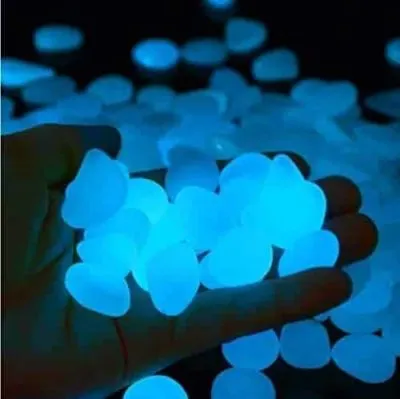 Do you want to give your greenhouse a magical touch of stone greenhouse flooring and want to know how to build a floor for a greenhouse? With this option, you can do both!
In low-light situations, you might wish to see where you're walking. These awesome pebbles glow in the dark. If so, 2O2OUP's glow-in-the-dark stones are for you. These non-toxic resin stones are intended for use in outdoor gardens.
Because each bag only contains 100 pieces, you may need to purchase several bags to cover the greenhouse floor. These stones are perfect for tiny greenhouses with about a 12-square-foot floor space.
So, how do they work? The pebbles absorb sunlight and produce three to six hours of illumination at night! These glow-in-the-dark pebbles will not harm the health of your greenhouse plants, especially since you won't need mortar to keep them in place.
Sprinkle the stones throughout your greenhouse flooring materials until you achieve the desired depth. Because they provide a natural drainage system, pebbles and stones are great for greenhouses.
Pros
Non-toxic stones
Ideal for garden beds
Long-lasting resin
Cons
Not cost-effective for larger greenhouses
Some stones may not shine as brightly as others
See Related: Best Eco-Friendly Fireplaces: Top Sustainable Alternatives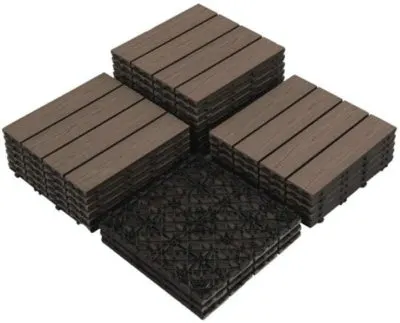 If you want the look of wood floors in your greenhouse without the risk of water damage, these PANDAHOME wood composite tiles are for you.
These tiles are water-resistant and contain drainage holes between the boards. They're also slip-resistant, so you can walk without hazard while watering your plants.
These composite tiles are simple to install and may cover any subfloor, including concrete, sand, or grass. Place a plastic sheet beneath the tile layer to prevent weed growth through the tiles.
These tiles can also be trimmed to any shape or size, allowing you to create unique patterns on the floor of your greenhouse space in single-skin brick flooring. They're also simple to maintain and will not be harmed by sunlight.
Natural timber flooring is susceptible to water damage, making them unsuitable for greenhouses. On the other hand, composite wood will function well because it is water-resistant. These composite timber tiles are sturdy enough for greenhouse floors and can resist any outdoor condition.
Pros
Simple to maintain
Resistant to stains and decay
Installation is simple
Cons
VOCs may be released
It might not be suited for use in colder climates
See Related: Best Solar Heaters for Greenhouses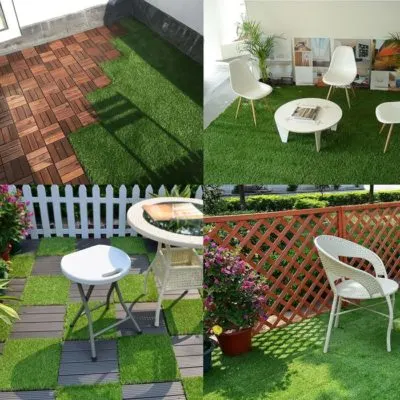 Even though your greenhouse is designed to grow plants, you may not want natural grass flooring because that's just another plant you will have to look after and maintain. If you still desire the natural aesthetics of grass, though, these artificial grass tiles can be a good option.
Interlocking mechanics make these artificial grass tiles simple to install. Because synthetic grass is non-toxic and odorless, it will not affect your greenhouse plants. Spilling any water will drain through the synthetic grass thanks to the grids underlying each tile.
Pros
Affordable
Non-toxic
Installation is simple
Cons
Cleaning may be tough
Some grass blades may fall out
Bugs and other pests like to hide in it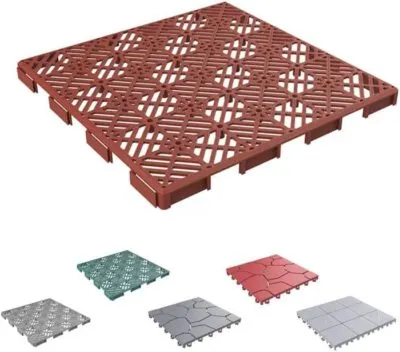 With the Pure Garden interlocking tileset, you can easily beautify your patio, deck, garage, and more. The lovely terracotta tiles have a fashionable open pattern design that beautifies an area and helps drain water effectively in normal weather.
To create a walkway, or patio, or dress up an existing patio or deck, snap the tiles together and set them on any firm, flat surface.
Each set has six tiles that lie half an inch above a hard, level surface, allowing for normal water drainage and producing a paved area of approximately 0.5 square feet. It's money well spent!
Pros
Installation is simple
Simple to construct
Durable
Cons
Some reviews note poor-quality plastic
See Related: Best Greenhouse Kits – Buying Guide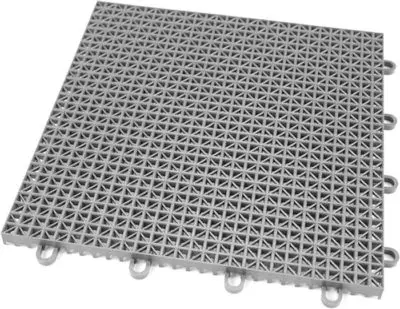 These tough tiles will withstand abuse if you have a high-traction outdoor area or a busy greenhouse! They can resist harsh conditions and require little care because of their sturdy design. They come in beige, red, evergreen, green, or grey.
They come in nine packs, each measuring 12 inches by 12 inches and covering nine square feet of patio space. The innovative design enables excellent drainage and prevents pooling. Mold-resistant and non-slip, these tiles are completely safe.
Pros
Durable
Longevity and drainage capability are a plus
Worth the investment
Cons
It doesn't always lock in place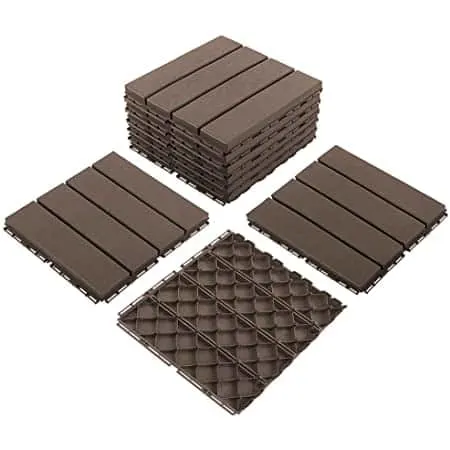 The plastic underside may leave pressure marks if you put them over wood. These tiles are weather-resistant, lightweight, and low-maintenance due to their construction.
They're simple to clean with a brush or hose. Each tile is 3/4 inch thick and covers 0.97 square feet. A unique interlocking mechanism makes it easy to join these tiles. The underside features a unique arrangement for water drainage.
Pros
Interlocking design
Simple to construct
Cons
Thicker thank most on this list
See Related: How to Grow Sugar Cane Indoors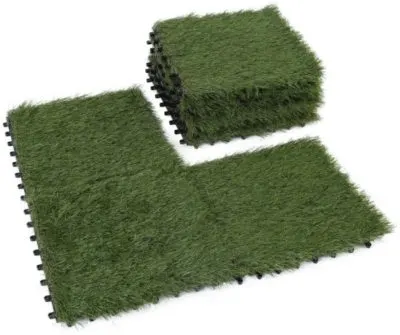 Give your patio the appearance of grass without the upkeep and care that real grass requires. Each square is one square foot and has a pile height of 1.5 inches. It has a lush appearance and feels pleasant to walk on. It also requires little upkeep and is simple to clean.
The grass and tile backing are both built entirely of new materials. The surface is made of recyclable materials. They may be used in any weather, including rainy and snowy conditions. It can also reduce noise, making it ideal for use in urban settings, condos, or apartments.
Make sure that all grass clumps point in the same direction; otherwise, it'll look kinda janky.
Pros
Made of recyclable material
Durable
Cons
Not the cheapest artificial grass
Bugs like to hide in it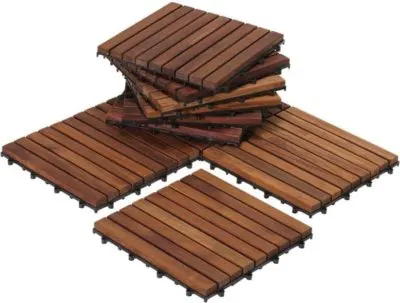 This lovely teak tile will look great on your patio or greenhouse floor. Each one is 12 inches square and includes a sturdy plastic frame backing. They may be installed without the use of any tools or glue.
They're great for a DIY project because the locking system is simple. It comes in a pack of ten tiles to cover an area of 10 square feet.
The outer edge trim pieces offer your greenhouse or patio flooring a professional-looking polished edge, making this title stand out.
My one complaint is the wood planks are not fully secured to the plastic frame. You risk damaging or losing wood pieces if you cut the tiling or try to remove the tiles too roughly.
Pros
Completed edges
Genuine teak is long-lasting
Cons
They are difficult to separate
See Related: How to Grow Sugar Cane Indoors
Types of Greenhouse Floors
The most common types of greenhouse floors available are:
Concrete: Concrete floor or concrete slab is popular for greenhouse floors because it is durable and easy to clean. Also, concrete bricks absorb water. However, concrete can be costly and difficult to install if you do not have experience.
Wood: Wood is another popular choice for greenhouse flooring. Wood is cheaper than concrete, and it is easy to install. However, wood is not as durable as concrete; it can rot if it gets wet.
Stone: Stone is a durable option for greenhouse flooring. However, it can be costly.
Gravel: Gravel is a popular choice for greenhouse flooring, and it is an inexpensive greenhouse foundation because it is cheap and easy to apply. However, gravel can be difficult to clean, and it can be uncomfortable to walk on.
Rubber: Rubber or Mulch flooring is a popular choice for greenhouse plastic ground cover because it is comfortable to walk on and clean. However, rubber mats can be expensive, and they can be slippery when wet with excess water.
Ceramic/Clay Floors: Ceramic flooring is relatively durable, easy to clean, and can withstand a lot of wear and tear. It is also somewhat porous, making it a perfect choice for greenhouse flooring ideas and a sound weed barrier.
Purchasing Advice for Greenhouse Flooring
Before installing flooring, there are a few things to consider when buying different types of greenhouse flooring.
This part will review the importance of a greenhouse flooring drainage system and heat retention. There are also commercial greenhouses and flooring solutions that aid in preventing weed development and pest infestations.
Drainage
Greenhouses are typically damp places because plants require constant watering. If you want a firm tiled or bricked floor, you'll need a good drainage system to prevent water and excess from flooding your greenhouse.
Furthermore, depending on your flooring and whether you have an aquaponic or hydroponic system, a wet floor can be unsafe because it is slippery. Wet floors can also promote mold growth, potentially beneficial to your plants but harmful to you.
If you don't want to install a drainage system, use mulch or pea gravel as greenhouse flooring because they naturally drain water.
Durability
Look for flooring that does not require frequent replacement. Concrete, brick, and tiles are the most durable greenhouse flooring options. These types of floors will last for many years without regular upkeep.
Mulch and sawdust greenhouse flooring in most greenhouses will only last about seven months. Stone pebble flooring will remain longer since the pebbles will not decompose over time, and the crevices between each stone provide a natural drainage system.
Traction
Your greenhouse flooring should not be dangerous to walk on! When choosing the floor, ensure it won't become slippery when wet. Concrete flooring provides plenty of traction even if you splash water on the surface. Synthetic grass and wood composite tiles are two other forms of traction-rich greenhouse flooring.
If you decide to tile your greenhouse floor, choose non-glossy tiles with a rough surface to give you more traction while walking.
Flexibility
Imagine building and expanding a large greenhouse in your backyard. The flooring must then be easily installed or reinstalled during reconstruction. Having old hardwood flooring will cause more pain. Therefore, it is ideal to find an adjusted floor to suit your future desires.
Easy Maintenance
The worst fear for gardeners is spending excessive amounts on maintaining greenhouses. Repairing a floor can prove to be an expensive job since it drains your cash quickly.
Therefore, selecting a material with minimal maintenance is advised. You can find cheap greenhouse floor coverings. It ensures damage repairs can be performed at no extra cost.
Heat Retention
Do you reside in a chilly climate? If that's the case, choose the flooring to keep your greenhouse warm. Bricks, concrete, and flagstone are some of the best greenhouse flooring for cold climates.
See Related: Best Glass Greenhouse
FAQs
Is it possible to have a ceramic greenhouse floor?
You can have a ceramic tile greenhouse floor if you have a good drainage system and the tiles aren't slick. If you want a textured ceramic-tiled greenhouse floor, get textured tiles.
However, ceramic tiles do not retain heat, so they are not a suitable greenhouse flooring option if you live in a colder region. Install natural stone tiles such as slate to keep heat inside your greenhouse.
In a greenhouse, what flooring should you avoid?
Installing hardwood floorboards is not recommended because wood is not water-resistant. Furthermore, wood can attract unwelcome pests like termites. Another disadvantage of hardwood greenhouse floors is their cost.
Install vinyl or laminate flooring in your greenhouse if you want a choice of more economical, water-resistant, and pest-resistant flooring. Make sure you purchase low-VOC vinyl or laminate flooring. Commercial Vinyl flooring of poor quality may wear out more quickly.
Can some types of flooring be toxic in greenhouses?
Yes, specific flooring alternatives for greenhouses can be hazardous. Synthetic grass and other plastic-type floors can release volatile organic compounds (VOCs), harming sensitive plants.
Related Resources: