Solar power is one of the best natural sources of energy our planet provides. More and more people are harnessing solar power to power parts of their homes, electronics, and more. But what about your laptop?
While there are no solar powered laptops currently, you can use a solar power laptop charger to charge your computer naturally! If you're interested in trying one, here are seven of the best solar powered laptop chargers you can buy.
Best-Of by Category
Best Solar-Powered Laptops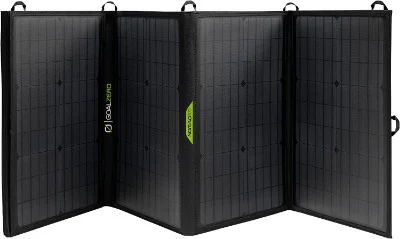 Goal Zero is one of the best brands when it comes to solar powered items and other items you might want to use while camping, when you're off the grid, or when your power goes out. The Nomad 100 is a great solar powered charger because it has enough watts to be able to power most laptops once you plug it in the charging cable to your power source.
This foldable solar panel works great with other power stations to help you power your laptop while camping or anywhere else without electricity. You can easily fold this solar panel down, and the fact that it's only ten pounds makes it easy for pretty much anyone to carry.
It has a maximum voltage of 20 and comes with a 12-month warranty in case anything happens to your foldable solar panel. When you purchase this solar panel to help charge your laptop, you'll get an 8mm connector that fits perfectly with Goal Zero's Yeti power station.
With this 100-watt solar panel, you should be able to power your laptop for a few hours or more, depending on how much energy it's using. You can charge it behind windows if you want, but these solar panels do best in direct sunlight.
Pros:
There are several wattage options to choose from
It's easy to fold and store
It weighs only ten pounds
The company makes it with Monocrystalline silicon
It comes with the two batteries it needs
Cons:
You have to buy the portable power station separately
It is a little expensive
Key Features:
12-month warranty
Charges in direct and indirect sunlight
Folds down for easy storage and transportation
You can power your laptop for a few hours
Ratings:
Ease-of-Use: 4.5/5
Features: 5/5
Value for Money: 3.5/5
See Related: Best Solar-Powered Computers to Buy Today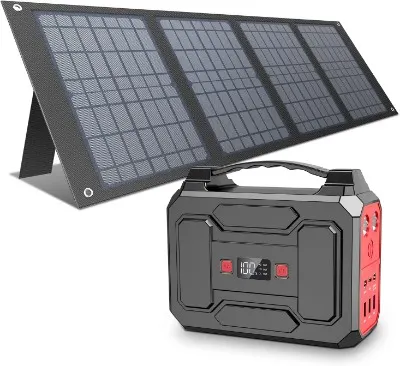 The Apowking Solar Power Bank is one of the best solar laptop chargers. What we love about this product is that you get the solar panels, and the power bank comes with your purchase, unlike some other products.
With this solar power bank and panel, you'll get 100 watts in the power bank and 40 watts with the panel. While it won't charge your laptop fast, it will do the trick when you only need your computer for a little while. Besides your laptop, this is a great solar power bank to have with you to charge cell phones, tablets, and more.
You can easily fold the solar panel down to travel with or store, and the bank isn't overly bulky. You get seven outlets to charge various devices. Some are standard US outlets, and others are USB ports.
The power bank's display features the AC and DC output indicators, a remaining power indicator, and USB output indicators.
Pros:
It has seven charging ports
You get the solar panel and bank in one purchase
It comes with an LED flashlight
The power station has a handle for easy transportation
It's affordable and an excellent value for your money
Cons:
It's unclear how long it takes to charge your laptop
The solar panel won't store energy
Key Features:
The power station comes with holes so you can hang the station and panel up
Both components are weather resistant
The life cycle is over 1,000 uses
Ratings:
Ease-of-Use: 5/5
Features: 4/5
Value for Money: 4.5/5
See Related: Best Solar Power Banks to Buy Today
Another solar laptop charger you might be interested in is the Marberro Portable Power Station. This power station comes with a separate solar bank that will power the station. The main difference between this option versus the previous two is that the solar bank harnesses solar energy, not foldable solar panels.
This laptop charger has 110 volts and 80 output watts. When you use this charger, you'll have two USB ports and one standard outlet to use. So, you can only charge and use one laptop at a time with this product, but that might not be a deal breaker for you.
According to the product description, you can fully charge most laptops in five hours when you use this power source. With this solar laptop charger, you shouldn't have a problem charging or using Mac and Windows computers.
While this isn't a big deal for many people, you can choose between three colors for your new solar laptop charger. You can choose green, red, or black and red.
Pros:
The product comes with a solar charging station and solar bank
It comes in three color options
You get two USB ports
It has a flashlight on the solar bank
It comes with a 24-month warranty
Cons:
There's only one standard outlet
The price changes based on the color you choose
Key Features:
> 500 times lifecycle
It has a built-in battery
It weighs 2.2 pounds
Runtime of 94 hours
Ratings:
Ease-of-Use: 4.5/5
Features: 3.5/5
Value for Money: 4/5
See Related: How Solar Land Developers Can Benefit from Going Solar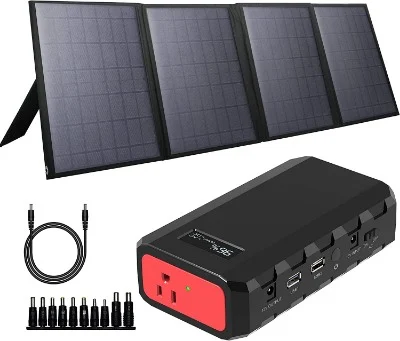 Another excellent option for a solar charger is the SinKeu Portable Laptop Charger. You can charge your computer, cell phone, tablets, and other devices needing a USB or standard port when you're out camping or have lost power at your house.
The SinKeu Portable Laptop Charger is one of the smallest yet most powerful chargers you can buy. The foldable panels are easy to store and transport, and the charging bank is compact compared to the others we've discussed on our list.
Something to know about this solar charger is that the foldable panels don't work well inside. They need direct sunlight to charge efficiently and provide you with the power source you need. While you might get a little bit of power by placing the panels inside near a window, you'll have better luck putting them outside.
You'll love how fast this charger works. It can fully charge in about four hours compared to the five or more that other chargers offer. It can charge multiple devices simultaneously, but this will slow down the charging process.
Pros:
It's super small and lightweight
Fully charges in four hours
It's a universal charger
You get a 30-day free return if you're unhappy with the product
You can charge multiple devices at once
Cons:
There's only one standard outlet
It doesn't come with a warranty
Key Features:
You'll get 88.8Wh portable power
It allows for 9~12.6V/10A max output
It comes with DC connectors
Ratings:
Ease-of-Use: 4.5/5
Features: 3/5
Value for Money: 3.5/5
See Related: Best Solar Power Banks to Buy Today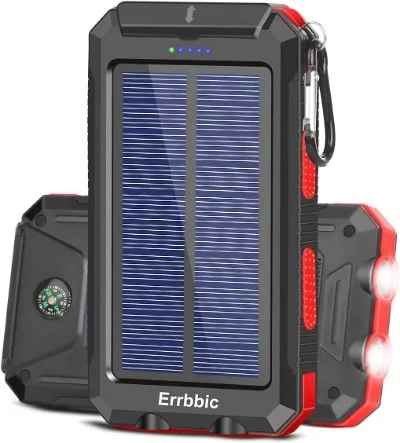 If you're looking for a very affordable solar charger for your laptop and other devices, then the ERRBBIC charger might be an excellent option for you. It's one of the most affordable options on our list, at under $20, but it's much smaller than the others.
How small the charger is is what sets this charger apart from the other laptop chargers on our list. It's small enough that most people can fit it in their pockets. It won't work for everyone's laptops, but those who can charge their laptops with a USB port, then you might love this product.
When you're shopping for this charger, you can choose five color options. You can choose red, green, black, blue, or orange. The manufacturer makes these products with durable silicon, so you shouldn't have to worry too much if you drop them by accident.
You'll need to charge the solar bank in direct sunlight to maximize your energy. The main issue we have with this product is how long it can take to charge a laptop. While it can quickly charge cell phones, it can take hours to days to fully charge your laptop.
Pros:
It costs less than $20
You can fit it in your pocket
It comes in five color options
It's made of durable silicon
It's lightweight
Cons:
It doesn't come with a standard US outlet
It can take days to charge a laptop fully
Key Features:
It comes with a compass on the back of the charger
It has a 20,000mAh solar power bank
You'll get a LED flashlight on the bank
Ratings:
Ease-of-Use: 3/5
Features: 3/5
Value for Money: 3/5
See Related: Solar Panels for Sheds: What You Need to Know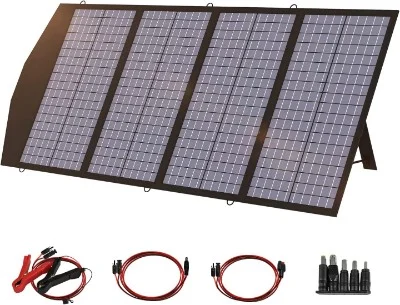 This All Powers product might fit the bill for those who want a large and powerful solar panel charger. It's a portable solar panel that you can fold easily and put in your car or wherever you need it when you're not using it.
Setting up the panel is straightforward. All you need to do is unfold the panels and place them in direct sunlight to maximize the solar energy. The board comes with a USB cord for you to easily plug into whatever power bank you have. Unfortunately, you'll need to purchase a power bank separately or use one that you already have to charge your laptop.
This high-efficiency solar cell can power your laptop in only a few hours. You can also charge other devices and even your car battery! You can still use this panel outside without worrying about weather elements ruining it.
It is weather resistant and very durable. It comes with surge protection technology, so you can be safer when charging or using your laptop and other devices.
Pros:
It's made with a water resistant material
You get an 18-month warranty
It's very easy to use
It can charge more than just your laptop
This product has a 140W solar cell
Cons:
You need to purchase a solar power station or a bank with USB ports separately
It's a little pricey for just the solar panel
Key Features:
It's made with Polycrystalline Silicon
The panels are foldable with dimensions of 22 x 14.2 x 0.2 inches
It's FCC, RoHS, CE certified
Ratings:
Ease-of-Use: 5/5
Features: 3.5/5
Value for Money: 2.5/5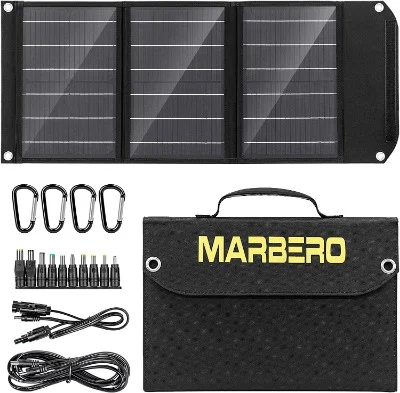 Last but not least, we have another high-quality Marberro product. This Marberro solar charger differs from the other one we mentioned because it's a foldable solar panel product, not a solar bank.
We love that you can choose between two watt options. There's a 30 watts and 100 watts option, but we recommend the 100-watt if you plan on using this panel to charge your laptop and use it while it's plugged in.
When you purchase his charger, you'll get a nice case that you can fold the panels into, as well as a space for you to store the cords that the product comes with. Its handle makes it even easier to bring with you on the go. It comes with USB cords and different cords that will fit most power stations on the market.
The dimensions of this solar panel charger are 13.7 x 7.6 x 1.3 inches, so it's not overly large. Like other solar panels, this one does best in direct sunlight. You can still get power from indirect sunlight, but charging your laptop will take far longer. It only comes in a sleek black color.
Pros:
You get two options for wattage
It comes with ten DC adapters
There are three USB ports
It has a conversion rate between 21% and 23%
The product comes with a slim case to store the panels and cords
Cons:
It doesn't perform well in indirect sunlight
It's only available in one color
Key Features:
They make it with waterproof polyester
It has high temperature resistance
There are four hours of run time
Ratings:
Ease-of-Use: 4.5/5
Features: 3/5
Value for Money: 3/5
Frequently Asked Questions
There's a lot of confusing information out there about solar power chargers for laptops. If you still have questions, you're not the only one. Check out what other people are asking about solar powered laptop chargers!
Are there any solar powered computers?
As of right now, there are no 100% solar powered computers available. Some people have made their own laptops and other products, but you cannot find a product like this for sale online anywhere at the time.
Can solar power run a laptop?
It can! As long as your solar power source is strong and you can plug your laptop in, you shouldn't have an issue using or charging your laptop with solar power. Just because you can use solar energy to charge your laptop doesn't mean it will be fast. Each computer and solar power source will charge at different rates.
How many watts does your solar panel need to be to charge a laptop?
Most laptops need anywhere from 65 to 120 watts to power them. So, the best thing to do is use a solar power laptop charger with wattage between that range.
Can a laptop run on solar power?
A laptop can run on solar power. Solar power is a renewable energy source that converts sunlight into electricity. By using a solar panel or charger, laptops can be charged using the power of the sun. This can be a sustainable and environmentally-friendly way to power your laptop, especially when on-the-go or in areas without access to traditional power sources.
Related Resources