Computers use a lot of electricity since they're on for at least eight hours a day in most working environments. If you need computer access but aren't near a reliable source of electricity, you might want to look into solar-powered computers.
Despite manufacturers like Samsung attempting to create solar computers, you can't find these products in stores. Your best bet is to build your own solar technology computer using solar panels and special chargers that harness the sun's energy and convert it to electric power.
I researched how much solar technology it would take to power different desktop and laptop computers. The solar panels need to collect sunlight and store it as a direct current (DC). But computers take the alternating current (AC), so the batteries need to convert DC with an AC inverter before using your computer on solar power.
My experiments helped me compile this list of the nine best options to create solar-powered computers or laptops using solar panels, batteries, or chargers.
Best-Of by Category
Best Solar-Powered Computers (Reviewed)
There are different ways to build your solar-powered computer setup. I compiled a list of the nine best options that deliver impressive power without a decrease in your efficiency. If you plan to work off the electrical grid, these products ensure you have all the power you need.
1. ThinLabs Solar All-in-One Ryzen Computer: Best Solar-Powered All-in-One Computer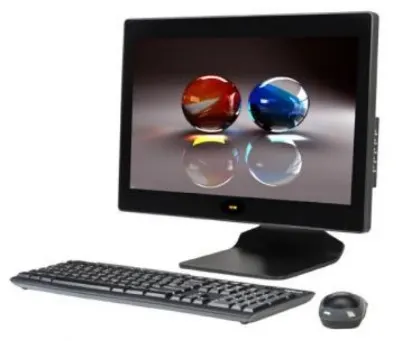 You have to inquire about pricing and access to this solar all-in-one Ryzen computer from ThinLabs, but it's worth exploring. The specifications say its batteries provide 12 to 14 hours of solar-based power without a decrease in computer performance. The batteries kick in as soon as the sun sets or you disconnect the solar panel.
The ThinLabs computer is efficient, using a maximum of 20W for operation. This conservation ensures you'll get plenty of time from each charge. You don't need to worry about depleting your batteries too quickly when you have several programs open.
Along with renewable energy, this computer has a fanless design to ensure compactness. Since it has built-in solar panels, you won't need to accommodate extra bulk with this computer.
It functions as any other desktop you've used, with 8 GB RAM, 64 GB of storage, and four USB ports. You can connect it to your WiFi or use 3G/4G connections. The solar power computer comes with either a Windows or Linux operating system.
See Related: Best Solar Charge Controllers
2. Renogy 200W 12V Portable Solar Panel: Best Overall Computer Solar Panels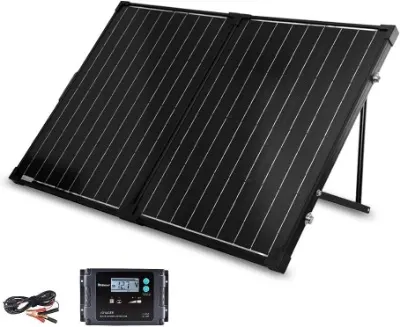 The Renogy 200W 12V Portable Solar Panel is the best overall solar panel for creating a solar-powered computer. It has a built-in charge controller to prevent overcurrent, so you don't have to worry about damaging your device with a surge of power. It's also low-voltage enough to prevent shocks.
Though this solar panel is portable, it's the size of a large suitcase, so it's not your top choice for use with a laptop. You can comfortably use this with your desktop computer when you don't need to set it up and take it down too often. It folds up and stays closed with durable latches and a solid handle. A canvas cover protects it when you carry it around.
When you unfold it, you can use the aluminum stand to set it up at the ideal angle for maximum sunlight. Note that this is the panel only, so you'll need to buy a separate battery to convert the power. It's compatible with any type of flooded, gel, lithium, or sealed battery.
3. DOKIO 220W Monocrystalline Foldable Solar Panel: Best Foldable Computer Solar Panels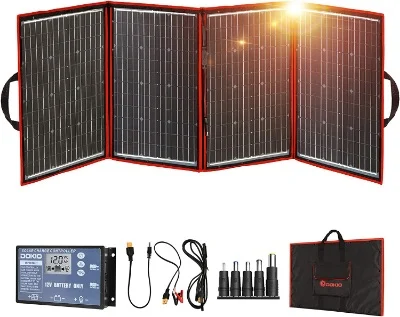 The DOKIO 220W Monocrystalline foldable solar panel is the most portable solar panel on the list. When folded, it's 21" tall x 29" long x 1.1" thick. These dimensions make the panel easy to store when you don't need it.
It unfolds into four sturdy solar panels that soak up the sun's energy and deliver plenty of power to your computer. The manufacturer gives you two options to use this solar panel for your computer: connecting a battery or setting up a power station.
For use with a battery, you use the included cables and controller and connect them to any type of 12V battery. The power station requires a generator, but the panel includes all the necessary cables. Whichever option you choose, it's easy to set up this solar panel and get hours of power.
See Related: Best Home Solar Panels to Buy Today
4. MARBERO Portable Power Station: Best Solar Power Generator for Laptops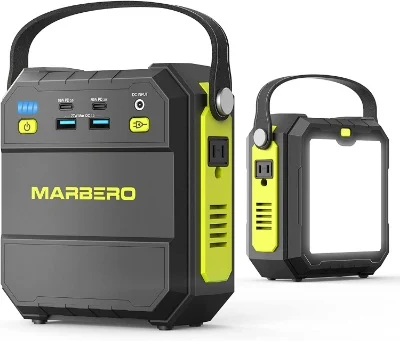 The MARBERO portable power station is a generator strong enough to power your computer when you're away from electrical energy. I found it compact enough to pack in my luggage when traveling or camping. It certainly won't take up much space in your work area when you need your computer.
You can charge the MARBERO generator in other ways beyond solar, including your car's cigarette outlet and through an electrical outlet. Regardless of the charging method, you'll get up to 12 hours of power from a single charge. That breaks down to 1.5 hours of work on your laptop, 13 hours from the LED light, six phone charges, and 2.5 tablet charges.
The charging period is four times faster than your standard charger. You can choose from USB-C and USB 3.0 ports, plus a DC input and standard plug outlet.
If you know anything about generators, you might worry that this option is loud and bulky, like those used to power houses during storms. However, I'm happy to say this generator is silent and only weighs about three pounds. It's 9" tall x 7.5" wide x 4.2" deep, so it's not cumbersome to carry along with your laptop and accessories.
5. Suscell Solar Charger: Best Solar Power Charger for Laptop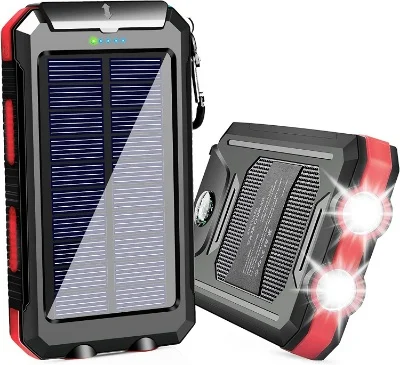 Laptops use less power than desktop computers, so you don't need as much solar power. Given that, you might prefer a small accessory to carry around. The Suscell solar charger is a compact option that lets you bring your solar power source anywhere you take your computer.
It's not much bigger than a cell phone, measuring 5.7" x 3" x 0.6". The solar charger is so lightweight that it comes with a carabiner to make it even easier to carry with you. You can confidently attach it to your backpack or laptop case because it's durable, shockproof, and waterproof.
The charger can handle temperatures ranging from -14 to 140 degrees Fahrenheit. It also uses solar charge for an LED flashlight that can lead you to safety when you're hiking in the dark. I recommend taking this charger with you if you're going camping or roughing it.
However, you can also use this solar charger inside to lower your electricity bills, save money, and harness renewable energy to get the most from your laptop. The Suscell solar charger has two USB ports, so you can plug in your laptop and phone or tablet to charge at the same time without seeing a loss in performance.
See Related: Best Solar Power Banks to Buy Today
6. Renogy Deep Cycle Hybrid Gel 12V Battery: Best Long-Lasting Solar Power Battery for Computer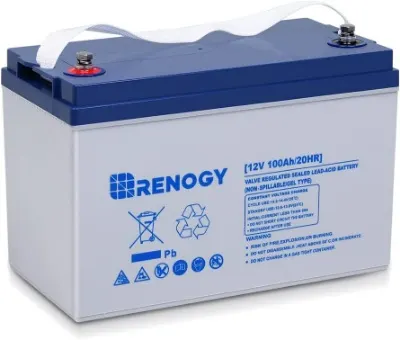 The Renogy Deep Cycle Hybrid Gel 12V Battery lasts for over 750 charging cycles, which means a lifespan of about 12 years. The casing protects against acid leakage to ensure safe usage while prolonging the life of the battery. Unlike liquid batteries, the gel doesn't require maintenance, so it's always ready to use.
The grids on the battery are resistant to corrosion, letting you quickly connect the battery without needing to clean them. Since this is a 12V battery, you can buy it and know it's compatible with the solar panels I reviewed above. Due to its long life, I prefer the Renogy Deep Cycle Hybrid Gel battery above most others.
With that said, this is a very bulky battery. If you plan to use the solar panels and battery with a desktop computer, it's easy to set up. But using it with a laptop will take a little extra time and effort to set up and move around. It's 12.9" wide x 8.7" tall x 6.8" deep, weighing just under 64 pounds.
7. Weize 12V Pure Gel Deep Cycle Rechargeable Battery: Best Rechargeable Solar Power Battery for Computer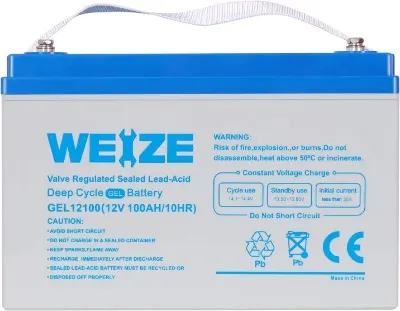 The Weize 12V Pure Gel Deep Cycle Rechargeable Battery is slightly more compact than the Renogy option reviewed above. It's 12.8" wide x 8.5" tall x 6.8" deep, and weighs 63.4 pounds. It's also a 12V battery, so you can still connect it to any of the solar panels reviewed above for maximum efficiency.
I like this battery because it's rechargeable, making it the best choice for daily use. It has a gel interior that adapts to a wide range of temperatures. The Weize battery uses heavy-duty calcium to facilitate self-recharge. Its case uses Triplex Sealed Construction to prevent leaks, electrolyte damage, and overcharging.
You can start using this battery to transfer your computer to solar power as soon as it arrives. The container has silver-plated terminal bolts clearly labeled positive and negative so you can wire them immediately.
See Related: Best Solar Generators for Off-Grid Living
8. Jackery 1000W Peak Solar Generator: Best Generator and Solar Panel System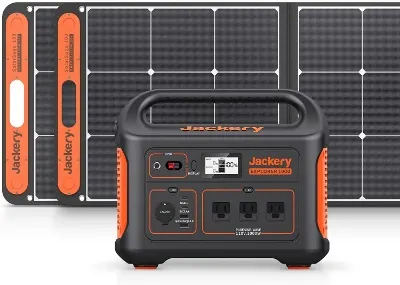 The Jackery 1000W Peak Solar Generator is the best solar panel system you can buy for solar powered computing. It includes two solar panels and a compact generator, so you're ready to set up your power station. Since the panels fold and the generator is compact, you can carry this setup around if necessary.
The generator has a 12V charger, two USB-C ports, two USB 3.0 ports, and three standard outlets. You have plenty of ports available to power multiple devices at once. With two folding solar panels, I found it straightforward enough to get the ideal position for maximum sunlight.
A former Apple engineer founded Jackery, so you buy the product confident in its power. This setup can charge your laptop four times on a single full charge. In addition, you can trigger a power-saving setting to conserve the charge when you're not using this setup. The level of efficiency makes Jackery the best choice if you're serious about establishing a power station.
9. Voltaic Systems Array Rapid Solar Backpack Charger: Best Solar-Powered Backpack Charger for Computer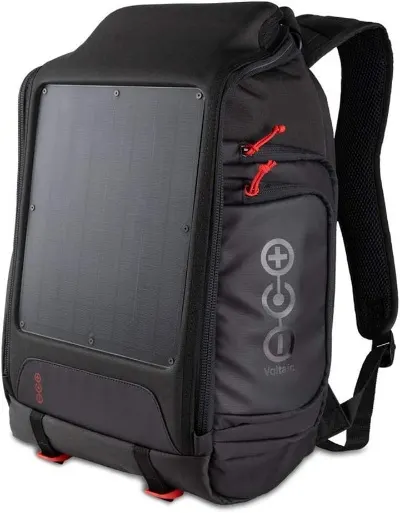 When you want something portable, you won't find much more efficient than a backpack charger. The Voltaic Systems Array Rapid Solar Backpack Charger makes it easier than ever to keep your power supply handy. I could quickly tell it was compact because it fits snugly in my backpack, allowing the solar panels to charge throughout the day.
Besides the solar panel, this bag is a solid choice thanks to the fabric using recycled plastic bottles. That means you'll sport a durable and environmentally friendly backpack!
In terms of technical specs, the bag has enough power to charge a laptop via USB in six hours while charging a phone in one. It even has a built-in, padded laptop sleeve to keep your computer safe while you hike during the day. I'm glad to say you can also bring it on flights as a carry-on because it's FAA Compliant.
FAQs
Is there a solar powered computer?
Yes, a solar powered computer is a computer that is designed to run on solar power instead of traditional electricity. Solar powered computers are becoming increasingly popular due to their ability to operate in remote or off-grid locations where access to electricity is limited or non-existent.
They typically use solar panels to convert sunlight into electricity, which is then stored in a battery for later use. Some models also come with energy-efficient components to further reduce power consumption.
Can a 100w solar panel run a computer?
Is a 100W solar panel enough to run a computer? Yes, a 100W solar panel can run a computer depending on the power consumption of the computer and the amount of sunlight the solar panel receives. However, it may not be enough to power a high-end computer or multiple devices simultaneously. It is important to calculate the power requirements of the computer and ensure that the solar panel can generate enough power to meet those requirements.
How many solar panels does it take to run a laptop?
It depends on the wattage of the laptop and the power output of the solar panel. On average, a laptop consumes between 30-60 watts of power. A solar panel with a power output of 100 watts can typically provide enough energy to run a laptop for a few hours. However, this can vary based on factors such as weather conditions and the efficiency of the solar panel.
What are the benefits of solar powered laptops?
Solar powered laptops are laptops that are powered by solar panels instead of traditional power sources. The benefits of using solar powered laptops include increased portability, reduced energy costs, and decreased environmental impact. Solar powered laptops are ideal for outdoor use, as they can be charged by the sun's energy, making them a great option for those who enjoy camping or hiking. Additionally, using solar power reduces energy costs and decreases reliance on non-renewable energy sources, making it a more sustainable option for powering laptops.
Related Resources