So, you're all excited about that big camping weekend; you're going to the great outdoors and ready for some fun in the sun–only to get to the campground and find they don't have electricity. At all.
I know I've been there before, camping or traveling, and I spent a good chunk of my day driving to the nearest coffee shop to charge my phone and laptop.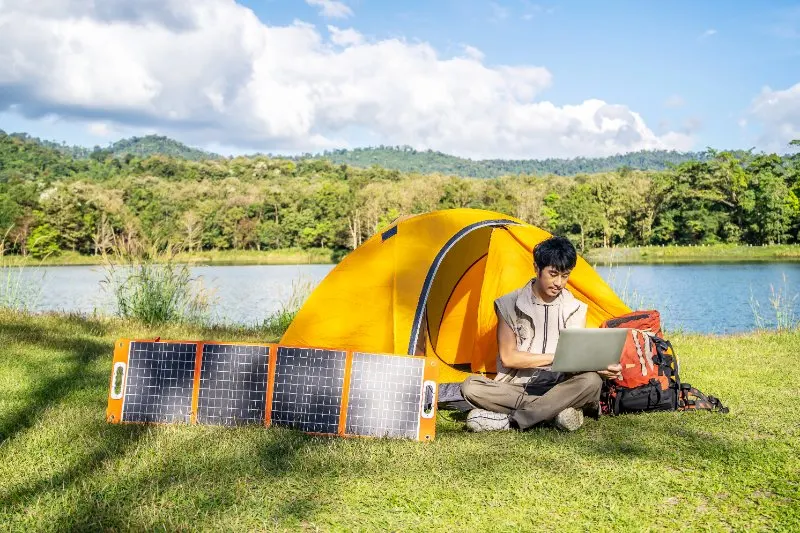 Since I like to work on the go, not having easy access to electricity can wreck my schedule. And that's when I began researching a better way to charge.
Solar chargers for laptops are perfect for going off-grid while still staying connected. Here are my favorites so you'll never have to go without power when you need to get some work done.
1. Best Overall: BigBlue 100W ETFE Solar Panels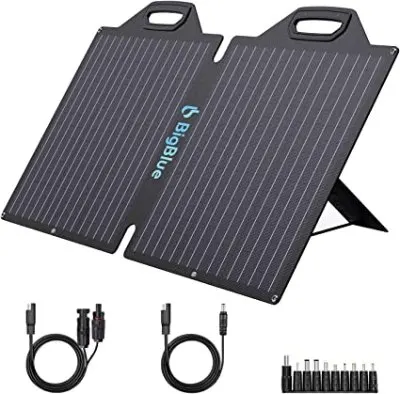 The BigBlue 100W ETFE Solar Panels are perfect for charging laptops. They give plenty of juice for charging laptops and any other devices you'd like to charge.
However, they don't come with a solar generator or battery, which you can use to store power for evening use, so you'll have to buy that separately.
The panels also come with multiple charging ports and cables to charge devices simultaneously off the panel. It even has an IC chip to prevent overcharging, though it's still recommended you use a generator or battery to avoid voltage fluctuations.
Pros
Multiple charging ports
Can be placed in parallel
Easy to pack up and use
Durable
IC chip for charging from the panel
Cons
It doesn't come with a generator
Expensive for just solar panels
No warranty
Rating
Ease of Use: BigBlue gets a 5/5 because of the simple briefcase and easy packing. It's too heavy to carry around all day but perfect for camping and shorter excursions.
Features: These panels get a 5/5 for features. It can hook up to all the best solar generators, and its cables and multiple ports make things easy for users.
Customer Service: Customer service gets a 4/5 because while the folks at Big Blue are eager to help out, there's no warranty on these panels.
Value for Money: 4/5. The solar panels are expensive, especially when considering the prices of other 100w solar panels on the web, but you get some nice extras, like the ports and cables.
See Related: Solar Panels for Sheds: What You Need to Know
2. Best Power Station: Jackery Portable Solar Generator SG550 with Solar Panel 100 Watts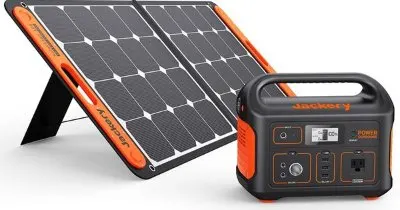 If you need serious power, then you need Jackery. The Jackery Portable SG550 is a solar generator that can power your hungriest devices.
Fridges, power tools, you name it, and Jackery can power it, even if you're miles from civilization.
That is if you are okay with lugging nearly fifteen pounds around. The Jackery is frequently overkill, especially if you just need enough power to charge your laptop.
But it's incredibly durable, and it never hurts to have extra power on board.
Pros
It comes with a solar generator
Durable
More than enough power
Seven outlets
Recharge from the solar panel, wall outlet, or car 12V outlet
Cons
Rating
Ease of Use: 3/5 While the Jackery supplies much power, it's also cumbersome, making it impractical to carry with you.
Features: 5/5 The Jackery includes many excellent features, from multiple output ports to different recharge options that make it pleasant to use.
Customer Service: 4/5 Jackery offers lifelong support and a 2-year warranty on their products, but getting in touch with customer service to cash in your warranty is a pain.
Value for Money: 4/5 The Jackey isn't perfect, but it sure is priced like it is. It's one of the most expensive power stations and solar panels on our list, and it offers many features and power, but it's still pricey.
See Related: Different Uses for Solar Panels
3. Best Portable: AIMTOM Portable Solar Charger – 80W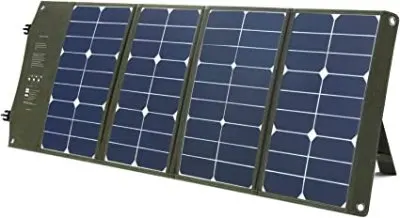 If you want a solar charger for laptops that are about the size and weight of the computer, AITOM has you covered. Their 80W portable solar panel only weighs five pounds and folds nicely when not used.
It should be used with a solar generator but doesn't come with one, so you'll have to purchase it separately. Moreover, it's not as powerful as 100W panels, so don't expect this to charge devices as quickly.
Pros
Portable
Inexpensive
Multiple output ports
Durable
Lightweight
Cons
Not waterproof
Not suitable for directly charging devices
Rating
Ease of Use: 5/5 This is the easiest-to-use solar panel I've ever seen. You might think it's unwieldy because of its size, but it's not; just fold it out and prop it up on something for power.
Features: 4/5 with multiple output ports, a cable pouch, and an excellent foldable design, this is perfect for taking on the go. It gets just enough juice to keep laptops topped up, but it lacks an IC chip or voltage protection.
Customer Service: 3/5 Unfortunately, AITOM isn't known for its stellar customer service, so be prepared for long wait times for responses. It also doesn't come with a warranty, so be warned.
Value for Money: 4/5 For an excellent 80W solar panel, you could get a basic one cheaper. But the durable stitching, materials, and foldable design make this worth the extra money.
See Related: Best Solar Panels for Greenhouse
4. Best Budget: Blavor Solar Battery Bank Charger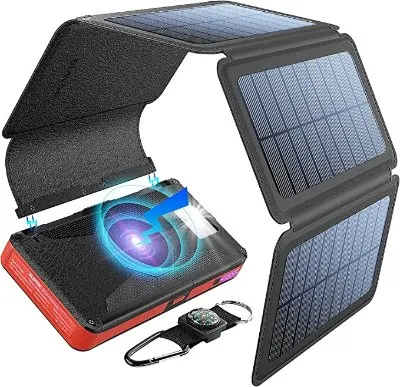 If you're looking for a solar charger under fifty dollars, you won't find anything better than Blavor. It comes with a power bank and Qi wireless charging for iPhones.
Its output is only 5 volts, but it stores 100W of power, which can charge your laptop if you're in a pinch.
However, keep in mind you get what you pay for with solar chargers, and performance issues are relatively common, so that you won't get a lot of juice out of this power bank.
Pros
Inexpensive
Durable
Portable
Lightweight
Multiple output ports
Cons
Performance issues
Lackluster storage
Rating
Ease of Use: 4/5 It is easy to set up and use, although it can be challenging to get the right angle with the heavy power bank attached.
Features: 3/5. Besides the multiple charging ports and attachable panels, there's not much else to write about. The subpar storage harms it.
Customer Service: 3/5 Basic customer service, but they honestly want to help you. It also comes with a one-year warranty.
Value for Money: 4/5 Well, for solar panels and a power bank in one, it's pretty good for the price. However, you may come across performance issues, so be wary.
See Related: Best Solar Power Banks to Buy Today
5. Best for Travel: Voltaic Systems Array Rapid Solar Backpack Charger for Laptops
Voltaic Systems made this backpack charger for you if you love hiking or just walking around in the sun. The panel is sewn onto the back of the backpack, making it perfect for charging your laptop while you're on the move.
It has a built-in power bank to keep your laptop topped up on power. This is the perfect solar charger if you want to charge your computer while hiking from place to place.
Pros
Durable
Power bank included
Portable
Water-resistant
Multiple output ports
Cons
Small Storage (88-watt hours)
Small Panel (10W)
Rating
Ease of Use: 5/5 out of everything on this list, this charger is the easiest to use. After all, it's already set up! You just have to put your laptop in the pocket, plug it in, then go on your merry way.
Features: 4/5 It has a USB, a USB C, and a Hi-Voltage Laptop Charging output. You can charge any kind of laptop without worry. Plus, it's a sweet backpack.
Customer Service: 5/5 With a two-year warranty and a small business mindset towards customer service, you won't be disappointed.
Value for Money: 4/5 This should be lower. After all, the panel and the storage could be better for the price point. But it's also a nifty travel backpack that's water resistant and has plenty of storage for electronics, so that forgives part of the terribleness of the charger.
See Related: Best Solar Driveway Lights: Energy Efficient Options
6. Best for RVing: TWELSEAVAN Portable Solar Panel 120W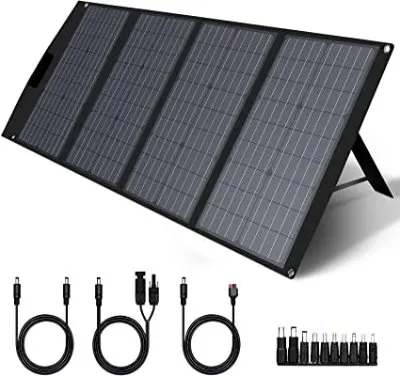 If you need to generate a lot of power for extensive lengths of time, then the Twelseavan 120W portable solar panel is perfect. While it requires a power station to be useful, it comes with all the cables you need, along with plenty of juice to fill up any power station quickly.
However, it's large and heavy. It's not the most portable solar panel, and it takes a couple of minutes to get set up, but extra watts are worth it. If you're traveling by truck, car, or RV, this is less of an issue, but don't expect to carry this thing by hand very far.
Pros
Lots of power
Multiple output ports
High efficiency
works with most power stations
Kickstand
Cons
Rating
Ease of Use: 4/5 It's not the easiest thing to set up because you have to fiddle with the kickstand, and it's rather heavy. But the cable case is excellent, and you can plug devices in directly.
Features: 4/5 It has all the features you could want, such as a large solar panel, output ports, folding case, and a kickstand, but it's lacking that extra mile. And the kickstand is flimsy.
Customer Service: 5/5 While the customer service is relatively standard, this panel comes with a two-year warranty and a thirty-day money-back guarantee.
Value for Money: 4/5 This high-performance panel won't disappoint regarding power output, but its lack of a power station means you'll be spending extra for a larger one.
See Related: Best Solar-Powered Laptops to Buy Today
7. Best for Rapid Charge: Voltaic Systems Arc 20 Watt Portable Solar Laptop Charger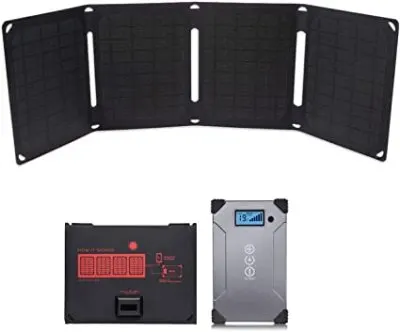 If you don't need much power, the Voltaic Systems Arc 20-Watt Portable Solar Chargers could be right for you. The solar panels take about seven hours to fill the power bank, and the power bank charges a laptop once.
That means you can't solely rely on it if you have to work for a long time. However, if you just need to charge your laptop once while you're away from power, this charger will do you just fine.
It's more of a power bank than a complete solar charger, but it will get your laptop back to full in no time.
Pros
Rapid charging
Includes power bank
Great customer service
Multiple output ports
Lightweight solar charger
Cons
Small power storage
Small power output
Rating
Ease of Use: 5/5 All you have to do is prop it towards the sun. Also, it's charming to plug into. Just ensure you have suitable chargers because specific cables cost extra.
Features: 4/5 It's a great little setup, but it's held back by small storage and solar panels.
Customer Service: 5/5 Voltaic Systems has some of the best customer services in the solar market. Their fast and responsive, the panels have a two-year warranty, and the battery has a one-year warranty.
Value for Money: 4/5 You can undoubtedly find worse than this, but if you need more power, you can find something better for the price point. It just won't be as portable or fast.
See Related: Best Solar Tiki Torches for Your Home
8. Best Lightweight: Goal Zero Sherpa 100AC + Nomad 50 Solar Kit
Now, this product weighs about nine pounds. And now you're complaining that there were lighter solar laptop chargers in the ones above. And I won't deny that.
But did those duplicate entries have a 50W solar panel plus a 100W power bank? I didn't think so. While the smaller solar chargers above can last you one or two charges, this solar kit can keep your laptop running for days if you have enough sunlight.
This solar charger is perfect for you if you need a serious portable solar laptop charger. It's ideal if you need to travel for work or access power in remote areas you can only access by walking. And it's under ten pounds, so you can even take it traveling.
Pros
AC adapter + outlet
Multiple output ports
Lightweight solar charger
Portable solar charger
Kit includes everything you need for an off-grid power supply
Cons
Cables not included
No carrying case
Rating
Ease of Use: 4/5 While you, unfortunately, need your cables, it's pretty simple to get up and run. It does come with a USB to USB C charger, and it has Qi wireless charging.
Features: 4/5 The kickstand used to hold the panels are excellent, as are the numerous ports for charging and the AC inverter. But the lack of cables does bring this down.
Customer Service: 5/5 Goal Zero offers a two-year warranty for this kit and good customer service to replace broken or defective products. They're responsive and easy to get a hold of.
Value for Money: 4/5 This is one of the more expensive portable solar laptop chargers on my list, but if you need serious power at a weight that won't break your back, this might work for you.
See Related: Best Solar Lamp Posts | Top Rated Lamps to Buy
9. Best Small Laptop Solar Charger: SunJack 25 Watt Foldable Solar Panel Charger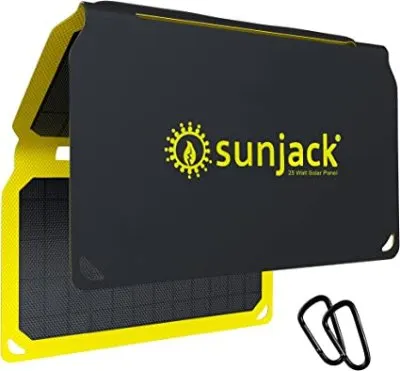 This is a small solar panel; 25W isn't enough to charge a laptop, so you'll have to pair it with a power station or bank.
But Sunjack is a trusted name in solar panels, and it's high quality for the price point. All it needs is some suitable power banks and sufficient time to charge. Plus, it works well for lots of other devices too.
It even has an IC chip and can charge multiple devices simultaneously. If you're looking for a small solar panel you can carry around with you, then Sunjack is perfect.
Pros
Flexible
Durable
High-quality
IC chip
Multiple output ports
Cons
Small power output
No power banks
Rating
Ease of Use: 5/5 The Sunjack is flexible and easy to set up anywhere there's sunlight.
Features: 4/5 Overall, it has everything you need to charge smaller devices, but laptops and larger devices require a charged power bank.
Customer Service: 4/5 Sunjack is a trusted name in solar, but there's no warranty on this specific panel.
Value for Money: 4/5 It's worth the money, but if you mainly want a laptop charger, you might find this one lacking. Nevertheless, it's suitable for its size and can charge a laptop from a power station or bank.
See Related: Best Solar Refrigerators and Freezers
10. Best Waterproof: ALLPOWERS 140W Portable Solar Panel Charger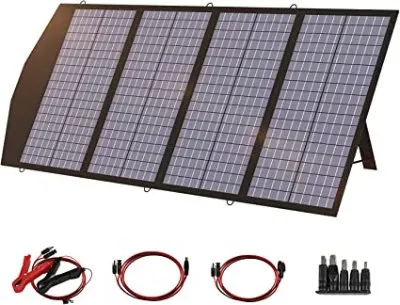 ALLPOWERS solar panel charger folds up for easy storage and on-the-go versatility. This portable power station features nylon, making it waterproof and offering protection for your devices.
This durable charger folds compact, making it easy to pack your connectivity with you. Weighing in at just under 10 pounds, consider this charger if you need a high-efficiency power station with cables and connectors included.
Pros
Portable
Durable
Waterproof
Multiple output ports
Cons
The stand is not adjustable
Depending on the angle, you may not reach the full charge
Rating
Ease of Use: 4/5 The adjustable stand and lightweight design make this a compact option.
Features: 4/5 Widely compatible with most laptops and car batteries, including five output ports for USB, DC, and more.
Customer Service: 5/5 ALLPOWERS offers an 18-month warranty on the product, and customer service is friendly.
Value for Money: 5/5 Considering its versatility, this solar charger is a good choice for laptops, other devices, and your car.
Pros and Cons of Solar Laptop Chargers
A solar laptop charger isn't typically something you can carry in your purse. Most solar chargers have 60W to 100W panels, so the voltage gets high enough to charge your computer.
Most panels receive testing under laboratory conditions, so they'll never reach their peak wattage when you have them out in the real world.
With good planning, you shouldn't rely on solar power to meet your energy needs since it's unreliable. Also, most are just power banks, providing an extra power boost if you can't charge your devices.
However, solar laptop chargers give you clean, free energy you can use when far away from civilization. It can give your laptop the extra power it needs to keep going, and if you get the proper setup and enough sunlight, you can keep going for days at a time.
This is an excellent solution for people who regularly work on the road when access to power can be sporadic. Or if you just want that extra power when camping, RVing, on road trips, or other travel.
Frequently Asked Questions
How do I get the most from your solar laptop charger?
You'll want to store the battery at around 50% power when not in use. Top it up and run it every once in a while to keep the energy circulating. Don't store your solar laptop chargers in hot places, as they wreak havoc on batteries.
How do solar laptop chargers work?
Most solar laptop chargers work like power banks. You can often plug them into wall outlets to charge them up. Then they provide extra power while you're out and about.
When you add solar panels, they can be suitable for topping off those battery packs. If you have a large enough one, you can use it to charge it up completely. Solar laptop chargers combine the two, so you have multiple options for charging your devices and batteries.
How to choose the best solar laptop charger for you?
You should choose your portable solar laptop chargers based on how much power you need and the mobile you want it to be. There are many portable solar laptop chargers available, so there's sure to be one that suits you, even if you have to mix and match the solar panels, battery packs, and portable power station. Budget as well.
The best solar laptop charger is the one that gives you the power you need at the right price.
Can you charge a laptop with solar power?
Yes, although you can't charge laptops with portable solar laptop chargers the same way you would from a wall outlet. It often takes them a long time to charge from sunlight, so you should be careful to balance how much battery you use with how long it will take to gather the power from sunlight.
Related Resources