A shortage of electric power might be a problem if you are in an area with no plugs, such as camping or traveling. Thanks to nature which supplies us with the dependable power of the sun's energy. No need to worry about running out of battery power with a solar power bank.
Solar power banks are essential for adventure enthusiasts. It's because they offer a way to keep cell phones and other electronic devices powered when electricity is unavailable. And are also helpful when extreme weather or power disruptions cause widespread outages. They are also useful when weather or power disruptions cause widespread outages.
Solar chargers have built-in solar cells that catch sunlight and transform it into electric power to charge devices. However, solar power banks are produced with a built-in battery to preserve the generated electric power.
It implies that you don't need to expose the solar power bank to sunlight while charging your devices. As long as your solar power banks are fully-charged, you have more flexibility in using them.
Best Solar Power Banks
For your next outdoor activity, here are the best solar power banks to include in your activity essentials.
1. TOP CHOICE: Qisa Solar Power Bank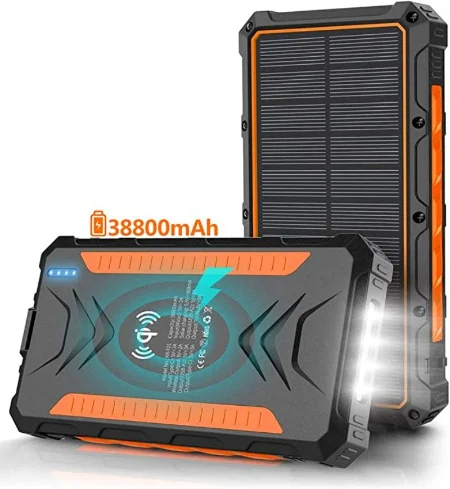 Brand: Qisa
Weight: 1.21 pounds
Output ports: Two USBs, one Type-C, and one Qi wireless output charging for phones
Special Feature: Wireless Charging, Portable Charger, Waterproof
Accessories: Micro USB charging cable, lanyard, carabiner
The Qisa Solar Power Bank is our top choice, with a 38,800 mAh battery capacity. Its reasonable price tag and portable size make it a perfect power bank.
This durable best solar power bank is perfect for staying plugged in on long outdoor adventures. Also, the power bank's ability to charge numerous devices and the powerful 200-lumen flashlight (with an SOS option) can be valuable in an emergency.
This solar power bank can charge devices on dual input ports – the high-speed Type-C and Micro USB. It provides the fastest charging speed possible, which is about twice as fast as a standard power bank with a single input port.
It has a sturdy design and outstanding dustproof, shock-resistant, and waterproof qualities. It is made of robust ABS material and an IP 66 rating suitable for challenging conditions. It comes with slings and is ideal for camping, hiking, traveling, and emergency conditions.
It's perfect for traveling, letting your devices fully charge anytime and anywhere.
Pros:
Offers Convenience with Wireless Charging Capacity
Its portable and compact size makes it easy to use
Capacity of 38800 mAh
Rated maximum output of 15.5 watts
Cons:
It takes almost 7 hours to charge
See Related: Best Home Energy Saving Products to Buy Today
2. LICORNE Solar Power Bank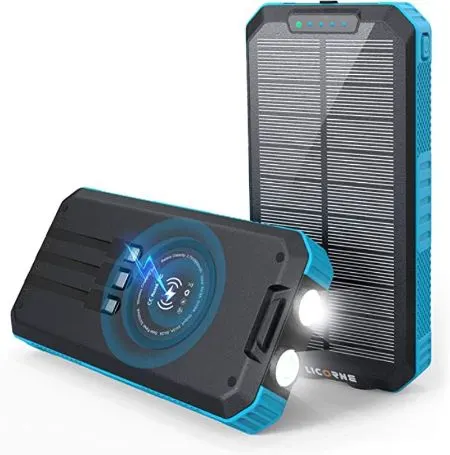 Brand: Licorne
Weight: 1.41 pounds
Output ports: USB Type C, Lightning
Special Feature: Wireless charging, Cable-free, Solar powered, Durable, High capacity
The LICORNE Solar Power Bank is a high-capacity power bank with 36800mAh large capacity battery power. You can use it with any mobile phone with its built-in lightning cable, micro cable, and type C cable. You don't need to bring a charging cord with its cable-free portable charger with wireless output.
It is a great power bank containing a wireless charger that charge multiple devices at the same time. It has a quick charge connector that fuels fast power backup to your gadgets.
It also has an integrated flashlight with three lighting modes – Strong light/Strobe/SOS that will guide you through nighttime and emergencies. Its powerful light and strobe lighting modes are ideal for outdoor activities such as camping, trekking, and traveling.
The portable solar charger composes high-quality ABS and PC Silicone and comes with a solar panel. It is also suitable for extreme conditions with its IP66 Waterproof, dustproof, and shockproof features. It is ideal for camping, biking, fishing, traveling, trekking, and beaches.
Pros:
High battery capacity
Sturdy and has a compact size
6 outputs & Wireless charging
Cable-free
Cons:
With its small solar panel, high-capacity and uncontrollable solar intensity should be considered.
See Related: Essential Environmentally Friendly Tech Products
3. Blavor Solar Power Bank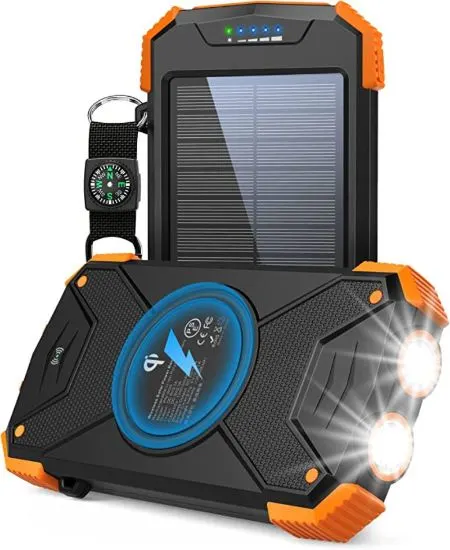 Brand: Blavor
Weight: 0.25 pounds
Output ports: USB C Input & Output Tech
Special Feature: High battery capacity, dual flashlight, complimentary compass kit
BLAVOR has over ten years of experience in portable solar power banks and has earned the respect and trust of millions of users worldwide. Blavor Solar Power Bank employs a safer Lithium-cobalt battery with 50% longer cycling times than a standard Li-polymer battery. It is the market's lightweight solar power bank, with a capacity of 10,000mAh.
The exterior case is composed of flame-resistant ABS+PC materials. And protect the power bank's interior structure through its waterproof silicone material. It also has a rubber skin coating that generates a surface protective film, a smooth texture, and an exquisite design.
The Blavor portable solar charger has a built-in dual super brilliant flashlight and compass carabiner. The accompanying compass carabiner would ensure your safety throughout outdoor trips, making it the ideal companion for outdoor enthusiasts.
Pros:
Premium Battery & Smallest Solar Charger
Safe Material and Comfortable Design
Multi-Purpose Outdoor Power Bank
Industry-leading Warranty
Cons:
A bit bulky
Slow charging speeds considering the battery capacity
See Related: Best Products to Help Climate Change to Buy Today
4. Best Foldout Solar Power Bank: Hiluckey 25,000mAh Solar Power Bank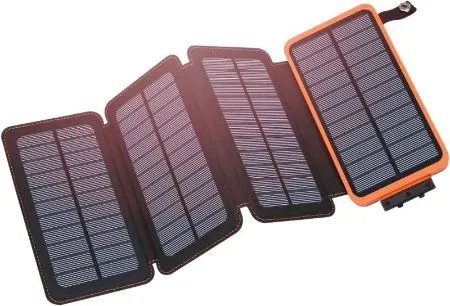 Brand: Hiluckey
Weight: 1.34 pounds
Output ports: USB Port -Type C
Special Feature: 25,000mAh, charge up to six times faster, waterproof and shock/dust resistant
The Hiluckey 25,000mAh Power Bank features four high-efficiency solar panels and up to 1A input current. It means your devices will charge up to six times faster than competing brands. The charging procedure is also easy, allowing you to connect two devices via twin USB ports for USB and micro USB power.
The auto-detection feature is a nice bonus, as it searches for your devices for a consistent and dependable connection. Also, this solar powered battery bank has various functions because its Li-polymer battery can charge tablets up to four times and phones up to ten times.
It is not only water resistant but also shock and dustproof. It has a multi-function LED flashlight and an SOS mode for signaling aid in an emergency. The built-in hook also allows you to store your power bank anywhere.
Pros:
Embedded battery pack
Powers multiple device
Compact Design
Cons:
LED notifications are unreliable
Heavier compared to other models
See Related: How Solar Land Developers Can Benefit from Going Solar
5. Riapow Solar Power Bank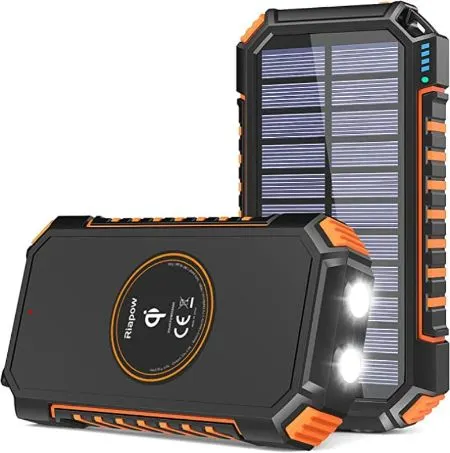 Brand: Riapow
Output ports: USB Type C
Special Feature: Offers a capacity of 26800 mAh and a rated maximum output of 15.5 watts
The Riapow Solar Power Bank is rated to have a maximum output of 15.5 watts. All QI-enabled phones are supported for inductive charging by this cable-free solar power bank with wireless output. And it provides up to 8 days of dependable power on a single charge.
It can charge four gadgets, such as a cell phone at the same time at full speed. Auto-detect your device's battery level to provide the fastest charging possible. With a USB C charger, you can charge your power bank in 7 hours, which is 2.5 times faster than 1A input.
With its single solar panel, you can hang it on your backpack to recharge through direct sunlight. And with its built-in LED flashlight with three modes (steady-flashing-SOS), this sturdy and durable design solar powerbank is ideal for outdoor activities.
Pros:
Includes several USB output ports
Includes a built-in LED flashlight
High performance at a reasonable price
Cons:
The wireless charging speed is a little slow
See Related: Solar Panels for Sheds: What You Need to Know
6. BLAVOR Solar Charger Five Panels Detachable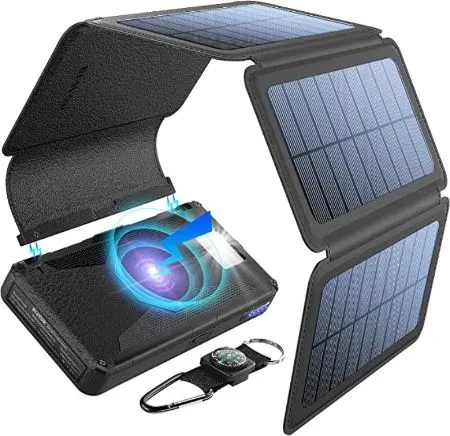 Brand: Blavor
Weight: 1.25 pounds
Output ports: dual USB max 2.1A
Special Feature: Type C cable, LED flashlight, compass ring kit
The BLAVOR Solar Charger Five Panels Detachable is a good option for a multipurpose power bank that you can use for everyday activities and outdoor adventures. It is because four out of five folding solar panels are detachable, allowing you to store them when not in use.
When five premium solar panels are attached, it functions as the best solar charger with a maximum charging current of 1300ma. When removed, a sealing bar allows it to work as an individual portable power bank with two USB outputs.
It also has three flashlight modes. It works as a torch, an outdoor signal light, and a flashing Strobe light. These solar powered chargers include Qi wireless technology to charge compatible devices and a compact compass for camping trips.
Pros:
Detachable 5 Solar Panels
camping flashlight
Qi wireless charging capacity
Cons:
Solar panel connectors are not waterproof
See Related: Energy Conservation Techniques to Know
7. FEELLE Solar Power Bank Charger 25000mAh
Brand: Feelle
Weight: 1.18 pounds
Output ports: USB/Micro USB
Special Feature: 4 Solar Panels, built-in bright LED light
The FEELLE Solar Power Bank Charger contains four solar panels, allowing it to capture a lot of sunlight. When its solar panels expand, the solar power bank catches about the same amount of solar energy as a standard 5W wall charger. When folded, they are compact and convenient to carry around.
While a few fold-out panels can be used to charge devices when the sun is up, the FEELLE Solar Power Bank has a massive 25,000 mAh high-capacity battery that can charge devices up to nine times.
A waterproof silicone cover protects its USB ports. Furthermore, the built-in powerful LED light has three settings (steady-SOS-strobe), making it ideal for camping, trekking, and other outdoor recreation.
This portable solar charger has a multi-protection design that protects your devices from overcharging, overheating, overcurrent, and short circuits, making it safe and reliable.
Pros:
Each solar panel can charge a device independently
Large capacity to charge multiple devices over long periods
Rainproof and has multiple protections
Cons:
Charge slowly during wall charging
Little heavy at over 1 lb
See Related: Best Solar Charge Controllers
8. Renogy's 200W Monocrystalline Starter Kit w/ MPPT Charge Controller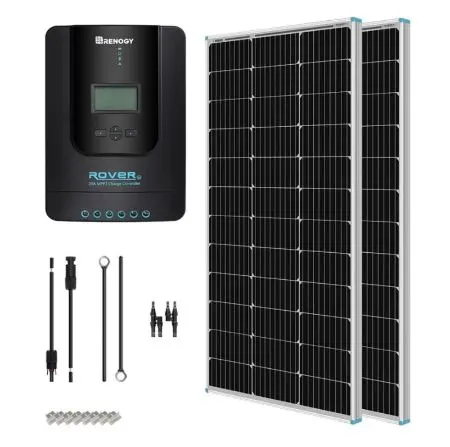 Brand: Renogy
Weight: 4.41 pounds
Accessories: MPPT Charge Controller, Volt Monocrystalline Solar Panel, Mounting Z Brackets, MC4 Adaptor Kit (Pair), Tray Cables (Pair), Solar Y Branch Connectors MMF+FFM Pair
With Renogy 200 Watt 12 Volt Monocrystalline Solar Starter Kit with MPPT Charge Controller, you'll never deny that you're getting the most out of your equipment. This kit contains a 20A MPPT charge controller, which uses Maximum Power Point Tracking technology to transmit power up to 30% more efficiently than PWM charge controllers.
It has high-solar efficiency and bypass diodes that reduce power drop caused by shade and ensure good performance in low-light conditions. The inbuilt MPPT charge controller also has a peak efficiency of 97%.
It contains a corrosion-resistant aluminum frame for long-term outdoor use and a TPT back sheet that promotes smooth functioning over time. Its IP65-certified junction box also provides protection against environmental dust and low-pressure water jets.
Sealed, gel, and flooded charging algorithms are available and a 4-stage battery charging procedure for quick, efficient, and safe battery charging. You can also use the timer feature with a 1-15 hour timer option.
Aside from upgraded wiring, you have the option to upgrade to a 40A MPPT charge controller rather than 20A to fit your future growth needs better. The Renogy Starter Kit MPPT could be the ideal fit for you, as it is designed to provide you with the most efficient system.
Pros:
EL-tested solar modules; no hot-spot heating guaranteed
High solar cell efficiency: Monocrystalline 18.4%
The MPPT charge controller has a peak efficiency of 97%
Cons:
A lot heavier up to 4.41 pounds
See Related: Which Energy Source Generates the Least Greenhouse Gases?
9. Topsolar SolarFairy 100W Portable Foldable Solar Panel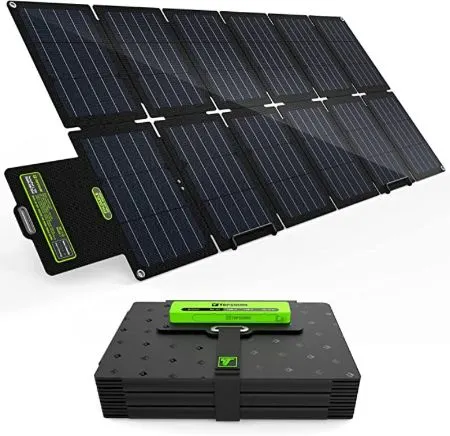 Brand: Topsolar
Output Ports: USB, USB-C, and DC 14.4V and 19V outputs
Special Feature: Solar Panel, Fast Charging, Short Circuit Protection, Travel, Solar Intensity Indicator
The Topsolar SolarFairy 100W Portable Foldable Solar Panel Charger Kit is designed for most portable power stations. It is perfect for charging portable power stations and comes with various connections and connectors.
The built-in smart IC chip recognizes your device and optimizes solar charging speed while protecting it from overcharging and overloading. It is ideal for outdoor activities and unexpected power interruptions.
After folding it, you can load it into a bag or trunk and wander the world. At the same time, the panel is outfitted with adjustable brackets, allowing you to modify the angle of the solar panel to acquire a larger output power.
You will receive more power efficiency with high-efficiency monocrystalline solar cells, even if the panel is smaller than a standard type. And it maximizes system output by eliminating mismatch loss. In low-light settings, it outperforms rated polycrystalline solar panels.
It is a real solar panel setup that fits inside a laptop. It has USB, USB-C, and even DC 14.4V and 19V outlets, and it can power all of your electronics for a camping trip or a day at the beach. It also has a rack system that allows you to point the panels toward the sun and anchors at each corner to secure them in stormy weather.
Pros:
Legitimate instant solar power
Compact storage
Multiple outputs, including DC power
Cons:
Cannot charge while on the move
Requires additional equipment for 19V power delivery
Not as durable as handheld units
See Related: Best Solar Lamp Posts | Top Rated Lamps to Buy
10. BigBlue Solar Chargers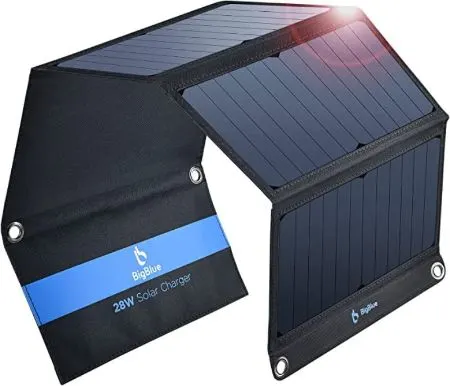 Brand: BigBlue
Output ports: Triple USB-A Ports
Special Feature: waterproof solar panels, portable and folding, SunPower solar panels, 2usb outputs
Accessories: 4x Carabiners, 1X 28W Solar Charger, 1x USB-A to USB-C cable
So you want legitimate charging capability, but you also want it on long hikes? And you want it to be compact enough to fit almost anywhere? The BigBlue Solar Charger has it all.
The Big Blue solar charger has three USB ports housed in the same canvas pack as the panels. It's waterproof, and the large corner anchors allow you to charge or secure it on the go.
It includes smart charge technology, which recognizes your device and provides optimal charging speed that varies with different devices. With overcurrent, overheating, and short-circuit protection, BigBlue ensures 100% safe charging.
SunPower solar panels convert up to 24% of solar power into free energy when exposed to enough sunlight, making them the most durable panels on the market today. It withstands wear and tear better than conventional panels. This PET polymer surface protects the solar panel from light rain or fog, and three ports are wrapped with rubber to prevent dust or water damage.
If you're going on a long camping trip or traveling to places with an unreliable power system, the BigBlue solar charger is a great option. It is portable and light enough to fit into any outdoor backpack or trekking daypack with its compact size and lightweight design. It is also essential for keeping in an emergency kit.
Pros:
Compact
Flexible and foldable matt design
Impressive charging rate
Cons:
No built-in battery bank
No USB-C or 12V outputs
See Related: Best Solar Driveway Lights: Energy Efficient Options
11. 4PATRIOTS Power Cell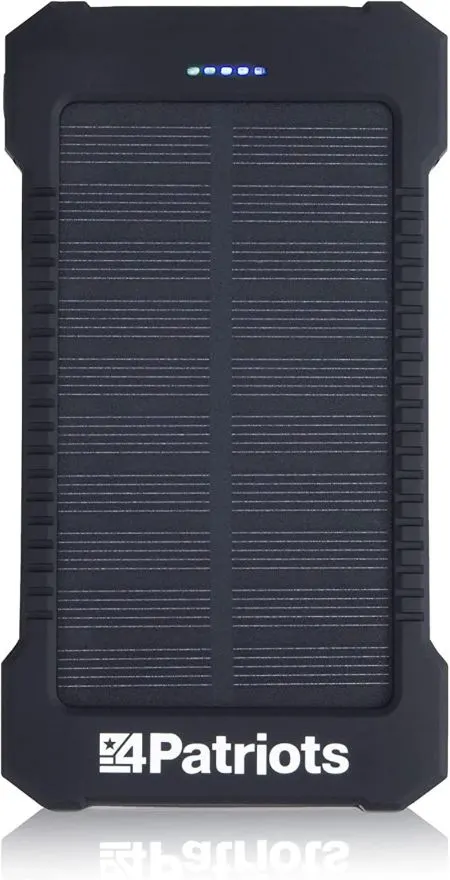 Brand: 4Patriots
Output ports: 2 USB Ports
Special Feature: Rechargeable solar panel, water resistant, dual USB charging ports
This portable solar power bank can be recharged using the sun's free energy. The 5-inch solar panel recharges the 8,000 mAh lithium-ion battery without cords or outlets. Also, you can fast-charge your power cell with the included micro-USB cable, which makes it ideal for disaster response, camping, hiking, and travel.
The IP67 waterproof rating indicates that it can withstand rain and splashes. It prevents drop because of the external battery's rubberized exterior. Even if you throw it in snow, on rocks, and in ice water, the 4PATRIOTS Power Cell still functions.
It also has the advantage of being able to charge its 8,000mAh battery pack using the included micro-USB cord. This makes it ideal for charging before setting sail on a trip and then relying on the sun for power once the initial battery life is depleted.
The super-bright LED flashlight illuminates any dark space, which is perfect for night camping. Because it has a solar panel, you can charge it anywhere there is direct sunlight. And its TSA-approved and portable design makes it an ideal travel companion.
Pros:
All in one, compact device
Passes TSA lithium battery regulations
Super lightweight
Durable, able to withstand plenty of drops
Cons:
Extremely slow solar charging
Reports of device malfunctions
Only two USB type A ports, no other outlets
See Related: Solar vs Wind Energy: What's the Difference?
Solar Power Bank Selection Criteria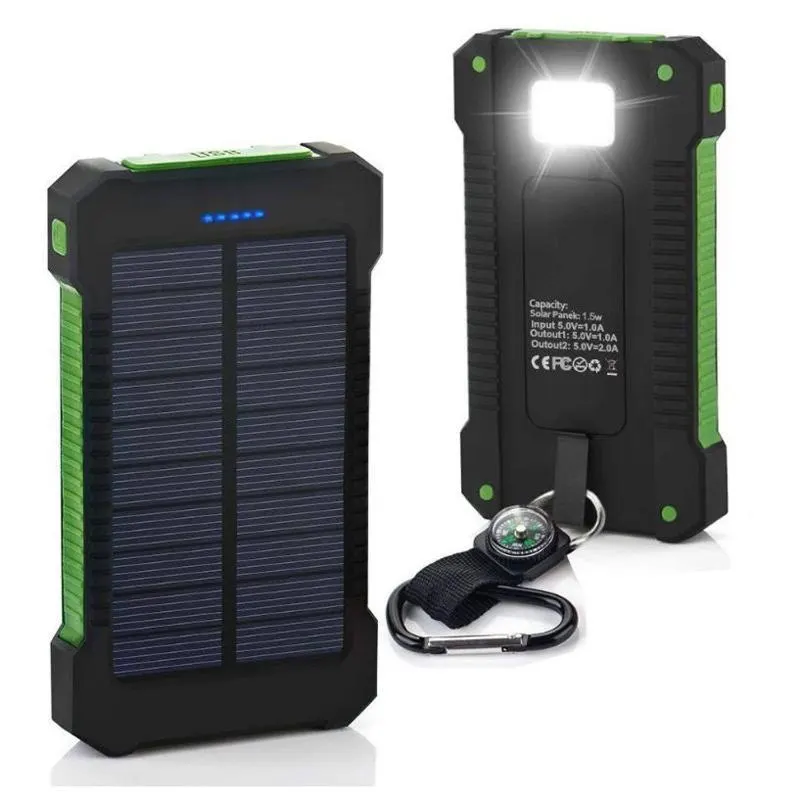 If you're thinking about purchasing a solar power bank, you should have shopping criteria to help you make the best decision. To assist you, we have selected some valuable factors to consider when deciding which solar power bank to purchase.
See Related: Best Energy Efficient Electric Heaters for Large Rooms
Size and Weight
The size and weight are important factors when selecting the best solar powered battery banks. Remember that you will carry this wherever you go, possibly for several hours. And you will need something portable, light, and compact.
However, remember that the heavier your solar power bank, the more space it usually has. Consider your priorities: do you prefer a lightweight power bank with limited charging capacity or a heavier power bank with greater charging capacity? You have a choice, but don't worry; most of these items are very light.
Charging Capacity
A battery's charging capacity is measured in milliampere-hours (mAh). There are available on the market with charging capacities of up to 50,000 mAh. And remember that a cell phone's battery capacity is usually no more than 5,000 mAh, whereas a tablet's battery capacity is no more than 12,000 mAh.
Charging Speed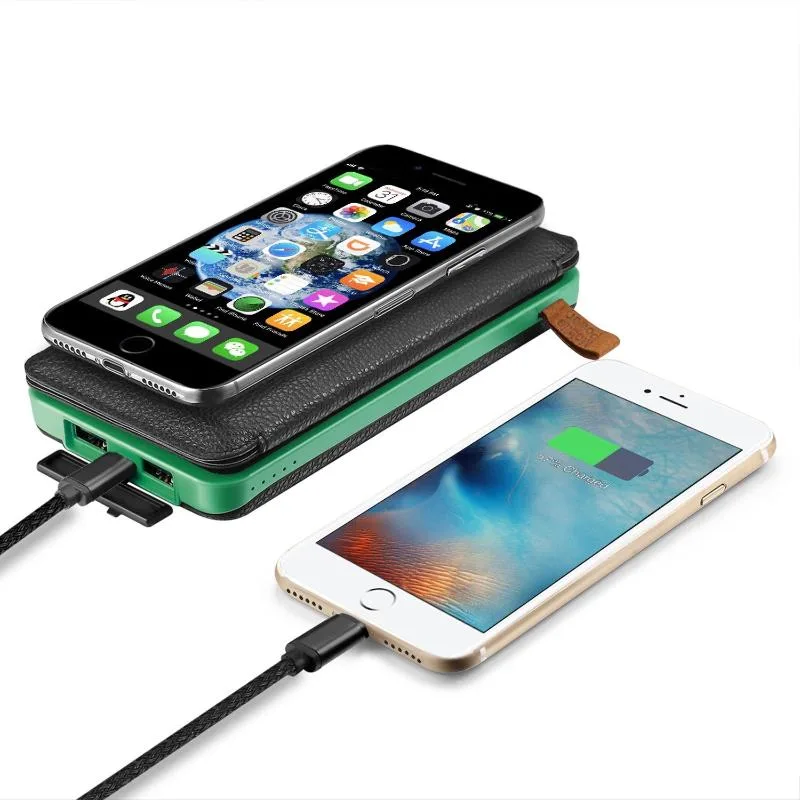 To determine how a solar power bank will charge your device, you have to consider the voltage and output amperage. The voltage should be close to the charger for the device. To charge your phone, 5 volts (V) should be sufficient.
The second factor is output amperage. The higher it is, the faster your device will be charged by the solar power bank. The majority of power banks on the market have output amperages ranging between 2 and 3 amps (A).
See Related: Best Solar-Powered Laptops to Buy Today
Battery Charging Time
You must understand how fast the solar-powered power bank you purchase will charge itself using solar energy or when plugged into an electric current. Remember that charging this device with solar energy will take much longer – often more than 24 hours of direct sunlight. When connected to an outlet, the time it takes to charge is also affected by the voltage and output amperage.
See Related: Best Solar Chargers for Laptops
Resistance and Durability
You'll most likely bring your solar power bank when hiking or camping. If this is the case, there is always the risk of the battery being damaged. It is why you should select a power bank with high resistance and durability.
If you intend to hike in the rain, you should also get a waterproof power bank. But remember, buying a waterproof battery does not mean you can submerge it in water. Finally, make sure to purchase a battery made of high-quality materials.
Number of outputs
The final factor to consider is the number of connections to your solar battery. It determines how many devices you can charge at the same time. You should also take note of the type of connections, such as USB and micro USB connections.
Related Resources: