Solar panels remain one of the best ways of producing clean energy. However, fluctuations in the amount of light available result in voltage and current variations.
Solar charge controllers act as a buffer that adjusts the output of your solar panels. It's a crucial element for building a safe and reliable solar array.
Read on to learn more about solar charge controllers and my recommended devices.
Our Methodology
This article aims to offer a comprehensive list of the best solar charge controllers. Here are some of the factors I took into consideration when selecting PWM and MPPT controllers:
The manufacturer is one of the first things I researched. The solar industry is growing quickly, but not all brands offer quality products. I looked at the components used, the warranty, and the overall reputation of the manufacturer.
For each charge controller, I checked reviews from shoppers. I considered whether the device is easy to use and meets customers' expectations.
Performance is another crucial factor I took into consideration. A solar charge controller is a key component of a solar power system and needs to perform as advertised.
I included a mix of MPPT charge controllers and PWM models. These two controller types have pros and cons and I wanted to give shoppers options.
I also included a mix of controllers with different power ratings to accommodate different use cases. You'll find devices suitable for whole-home systems, RV solar applications, and more.
Best-Of by Category
Best Solar Charge Controllers
Read on to learn more about the charge controllers I recommend. You'll find a mix of MPPT and PWM controllers to address different needs.
1. GenStar MPPT
The GenStar MPPT is the best solar controller for heavy-duty applications. This performing charge controller stands out thanks to a four-phase design that adjusts power production based on the time of day.
The maximum power point technology means this device will adjust solar panel output and provide precise load control to power DC devices.
It's also the best MPPT charge controller for users looking to track their energy usage, thanks to the companion app and web portal that gives detailed insights.
This solar charge controller is a durable and rugged device with an operating temperature range of -22° F to 113° F. It uses a large heatsink component to regulate temperature, which makes the device too bulky for RV solar systems but ideal for residential and commercial uses.
The GenStar MPPT comes in different variations: the GS-MPPT-60, GS-MMPT-80, and GS-MPPT-100. These solar charge controllers have different charge ratings to accommodate your solar panels.
The smallest of these MPPT solar charge controllers has a charge rating of 60 Amps and an open circuit voltage limit of 200 V. It can work with battery voltage levels of 12 to 48 V. The solar panel output can vary from 800 W to 4,800 W, depending on your battery.
Pros:
Different models to choose from
Five-year warranty
Durable components
The app and web portable allow for remote monitoring
Cons:
The heatsink results in a bulky design
More complex than other controllers
See Related: 6 Best Batteries for Solar to Buy Today
2. TriStar MPPT
Another charge controller from MorningStar, the TriStar MPPT, is a performing and reliable option. With a 30-Amp version, it's the best charger controller for a small solar system. You can find TriStar MPPT solar charge controllers in 45 and 60 Amps if you need a more performing controller.
This MPPT controller can work with 12 V or 24 V batteries. It uses an advanced system monitoring feature to track battery levels precisely. As battery charge levels change during the day, the controller will switch between different charging modes to regulate the battery voltage, including bulk, absorption, float, and equalization modes.
The maximum operating power of your solar panels will range from 400 W to 1,600 W, depending on your battery capacity with this controller. It delivers precise load control to avoid overcharging or power-sensitive appliances.
The main downside of this controller is the limited reporting features. You can purchase a separate display, but the TriStar MPPT doesn't have a built-in display or support Bluetooth monitoring.
You can track your energy consumption via a web portal, but you'll have to connect the charge controller via an Ethernet port. I don't recommend this device for your RV solar setup since tracking your RV solar charge via an Ethernet connection isn't practical on the road.
Pros:
Delivers voltage accuracy of 0.1% +/- 50 mV
Easy to connect and set up
Performing heatsink
MorningStar is a reliable brand
Cons:
No display
Requires Ethernet connection
See Related: Best Solar-Powered Laptops to Buy Today
3. EcoBoost MPPT
The EcoBoost MPPT is a good MPPT charge controller for beginners because it can automatically detect whether you're using a 12 or 24 V battery.
This MPPT charge controller can increase battery life through precise load control and will help you get more out of your solar panels by ensuring your battery bank gets a full charge. This MPPT charge controller also prevents your battery from depleting completely.
The EcoBoost MPPT is a compact charge controller adapted to the needs of RV solar users and small setups with a single solar panel or small array. Plus, this charge controller has built-in USB ports to plug in electronics and small appliances directly into the controller, which is convenient for managing your RV solar charge.
The EcoBoost comes in different models with a charge rating of 20 to 40 Amps. The maximum operating power of your solar panels will vary from 300 to 560 W on a 12 V battery and 600 to 1,120 W if you use a 24 V battery.
Pros:
TrakStar technology automatically adjusts the maximum power point
This charge controller has a small LED display that displays the device's status
Different MPPT solar charge controllers available with different power ratings
Cons:
Not as performing as other devices
See Related: Best Pool Heater Solar Panels
4. WindyNation TrakMax MPPT
Compatible with 12 V and 24 V battery voltage levels, the WindyNation TrakMax MPPT charge controller is a versatile option. It makes an excellent RV controller with a maximum input current of 40 Amps and a maximum PV voltage of 100V.
This MPPT charge controller uses a precise temperature sensor and adjusts its maximum power point tracking to accommodate the current solar system performance. As a result, you can store more of the power you produce in your battery bank.
Thanks to the built-in screen, you can check the current amp rating, voltage, and more. You can also pair this controller with a remote meter or use a wireless communication adapter for accurate MPPT tracking from your phone.
Compact solar charge controllers like the WindyNation TrakMax MPPT are ideal for RV solar setups, and the affordable price point of this charge controller makes it an excellent choice for any small solar power system.
The device features clearly labeled ports that facilitate installation, and the manufacturer provides simple instructions for connecting this device to your solar panels and battery.
Pros:
Excellent RV solar controller thanks to its compact size
Works regardless of the battery type, including lithium batteries and more
Compatible with a battery's voltage level of 12 or 24 V
Allows you to store up to 98% of the power produced.
Cons:
The 40-Amp power rating is great for RV solar charge control but isn't sufficient for larger setups
Requires external accessory for wireless monitoring
See Related: Best Solar-Powered Laptops to Buy Today
5. Sól Buck Boost MPPT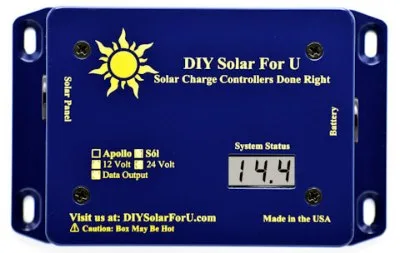 The Sól Buck Boost MPPT is a small but performing MPPT solar charge controller that excels in shaded environments.
When an MPPT controller detects shade on a panel, it will reduce how much power it draws from the solar panel. However, if the panel is only partially shaded, the solar power system can produce more.
DIY Solar for U, the manufacturer behind this charge controller, found a way to eliminate these false positives and boost performance in shaded and low-light settings.
With a rating of 20 Amps, this charge controller is perfect for RV solar systems. Plus, it's an excellent RV charge controller if you like parking in shaded areas to stay cool.
This solar charge controller can draw up to 700 W if you have a 24 V battery and 350 W if you use a 12 V battery bank. It has a convenient LCD, and you can connect an external accessory to access more data.
This small-size solar charge controller doesn't have the advanced features you can find on other quality charge controllers, but it's suitable for RV solar systems and other small setups. The installation process is simple since you only have to connect two wires to the controller.
Pros:
Helps get more out of solar panels in partial shade
Delivers more power to your electrical system at dusk
An excellent option for RV solar charge control
Precise load control
Cons:
The amp rating is low
Fewer features compared to other products
See Related: Best Home Solar Panels to Buy Today
6. Victron SmartSolar MPPT
The Victron SmartSolar MPPT is a popular charge controller designed to optimize battery life. This MPPT controller optimizes the output of your solar system to charge your battery faster.
It also has an advanced load control feature that disconnects the load when the battery drops below a specific level. This feature prevents depleting your battery and allows you to conserve power for emergencies.
If you're unable to keep your battery charged due to poor weather, this smart feature will automatically calculate when to disconnect the load to preserve your battery until you can charge it again.
This MPPT solar charge controller features an inbuilt Bluetooth connection to control the device with your phone. Remote monitoring is also available if you add an external accessory. The multiple led indicators are a plus since they help you check the device's status at a glance.
Victron offers different models compatible with 12 to 48 V batteries. The 48 V model can operate at 100 or 200 Amps depending on your needs, and you can use it with a voltage of up to 60 V or a lower voltage of down to 36 V.
Pros:
Get more energy by optimizing battery charging
The maximum output is 4,000 W per solar panel
Built-in protection for overheating and reverse polarity
The lightweight design is convenient for an RV solar setup
Cons:
This charge controller has a maximum efficiency of 96%, which is slightly lower than other devices
7. Renogy Rover MPPT Controller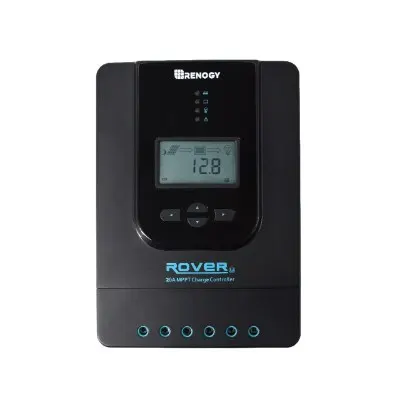 The Renogy Rover stands out as an MPPT controller with a maximum efficiency of 99%. This charge controller uses advanced power point tracking technology to optimize energy production from your solar panels, even on cloudy days.
This solar charge controller automatically switches between bulk, absorption, float, and equalization modes for lead acid batteries. If you have a Lithium battery bank, the charge controller will manage a two-step cycle with a bulk and absorption mode to increase the battery's lifespan.
This controller comes in different models with a performance ranging from 20 to 100 Amps. The 20-Amp model can produce 260 W for a 12 V battery or 520 W for a 24 V battery. If you have more solar panels, you can use the 100-Amp model compatible with a battery voltage of up to 48 V. Your peak power production will increase to 5,200 W.
The 20-Amp, 40-Amp, and 60-Amp models are ideal for an RV solar system, while the more performing models are a smart choice for residential and commercial solar arrays. The durable design and sturdy aluminum casing are also great for RV solar uses.
I also like the LED screen and self-diagnostic tool that detects a wide range of system faults. The built-in load terminals are a convenient feature for connecting DC appliances directly to the controller, and it's possible to use Bluetooth monitoring with the Renogy One accessory.
Pros:
Performs well in cloudy environments
Great RV solar charge controller thanks to its compact design
Renogy One adds value by collecting data from multiple Renogy devices
Cons:
Renogy customer service isn't always responsive
See Related: Best Solar Chargers for Laptops
8. EPEver Tracer MPPT Controller
The EPEver Tracer is a great all-around controller. It comes in two series with multiple buying options.
The first series includes models with a rating of 10 to 40 Amps. These small solar charge controllers are ideal for on-grid solar panels. The second series has a rating of 50 to 100 Amps. These performing controllers are suitable for RV solar applications and other uses.
You can explore different buying options to select the Amp rating and maximum PV open circuit voltage you need. It's an excellent way to save money since you're not paying for performance you don't need.
Regardless of the model you choose, you'll get access to an outstanding MPPT technology that enhances energy production. This charge controller does an excellent job of cycling through battery charging modes, including equalization, boost, and float.
It can also automatically disconnect and reconnect your battery based on the voltage of your solar system.
The small and lightweight design of this controller is impressive. Controllers from the 10 to 40-Am series weigh less than 3.5 lbs. I also liked the temperature compensation feature that can help protect your lead-acid battery.
Pros:
Multiple models and performance levels available
Protects your battery by disconnecting it when solar panel voltage drops
Helps you get more energy per solar panel in boost mode
Cons:
The controller can't detect whether you have a 12 or 24 V battery automatically if you're using a Lithium battery
9. AllPowers PWM
AllPowers offers two PWM models. You can choose between a 20-Amp PWM controller and a 30-Amp model.
These controllers work by lowering the voltage of solar panels to match the voltage level of the battery bank. Once the battery has a full charge, the PWM charge controller can keep drawing small amounts of power to top off the battery and maintain the full charge throughout the day.
AllPowers is an excellent choice for anyone looking for an affordable charge controller that is easy to operate. These devices suit small solar arrays, RV solar systems, and more. However, they require an indoor installation.
I like the LED display and the simple interface. Configuring this charge controller is easy, even if you're new to managing your solar power system.
There is built-in protection against short circuits, overloading, reverse polarity, and more. You can use this solar charge controller with a 12 or 24 V battery, and the power production will vary from 320 to 430 W depending on the battery you use.
The timer is a standout feature. You can use it to stop the device from monitoring the battery charging at night or when your panels don't get any sun.
Pros:
Low-cost option with a durable design
Easy to set up and operate
Comes with built-in protection
The timer feature adds value
Cons:
PWM controllers can't optimize power production as well as MPPT devices
It only works with lead-acid batteries
See Related: Best Solar Panels for Greenhouse
10. Renogy Wanderer
The Wanderer is Renogy's take on PWM solar controllers. With two models available, you can choose the amp rating that makes the most sense for your needs.
The 10A version of the Renogy Wanderer is a low-cost PWM solar charge controller for small arrays. I recommend the 30A version if you're looking for the best RV solar controller on a budget.
This charge controller is compact and easy to use. It's versatile since you can charge Lithium, flood, gel, and deep-cycle sealed batteries.
I like the intuitive interface. There are LED lights indicating the type of battery connected to the charge controller. The PWM controller also has buttons to adjust the temperature sensor's sensitivity and optimize charging.
Plus, the built-in diagnostic tool with error codes makes this PWM charge controller accessible to everyone.
This PWM solar charge controller uses four charging modes to maintain battery levels. It will cycle between bulk, boost, float, and equalization. It also does an excellent job of charging over-depleted batteries.
The 10A model has a maximum PV input of 130 W if you're using a 12 V battery. This spec increases to 260 W with a 24 V battery. These numbers illustrate that PWM solar controllers perform less than MPPT devices. Still, the Renogy Wanderer remains an affordable and accessible option for your RV's solar system and other small setups.
Pros:
This PWM solar charge controller is affordable and easy to configure
It's a versatile device compatible with different types of batteries
It's an excellent RV solar charge controller thanks to its simple interface and small size
Cons:
The warranty lasts one or two years depending on the model
PWM charge controllers are less performing than MPPT devices
11. Morningstar SunSaver
The SunSaver has been one of MorningStar's flagship products for over 20 years. The current iteration of this performing charge controller is the third generation.
The SunSaver isn't the easiest solar charge controller to set up and configure. It doesn't have a screen and the wiring interface isn't intuitive.
However, it's an outstanding option for heavy-duty use cases. It's a popular solar system component in commercial and industrial settings. Experts trust it to regulate battery charging in extreme environments.
If you're looking for a reliable controller for an off-grid array and other stand-alone power systems, the SunSaver is an excellent choice.
It has the lowest failure rate of any MorningStar product. The manufacturer puts every SunSaver controller through an extensive testing process. MorningStar also uses an epoxy capsule to protect the internal components. And with an operating temperature range of -40 to 140° F, the SunSaver can withstand a wide range of conditions.
This solar power controller will protect the rest of your equipment from overload, short circuits, and more. It's available in different configurations, including PWM and MPPT versions with different amp and performance ratings.
Pros:
One of the best controllers for heavy-duty and mission-critical use cases
Different configurations to choose from
Meets industrial requirements for use in hazardous locations
Can connect to a PC for monitoring
Cons:
Not all models support load control
The interface isn't intuitive
See Related: Best Solar Power Banks to Buy Today
12. MorningStar SHS PWM Controller
The MorningStar SHS is a budget-friendly alternative for small arrays of one to three solar panels. It's a compact solar charge controller with a durable enclosure that does an excellent job of insulating the internal components from moisture.
With a temperature rating of -13 to 122° F, this charge controller is suitable for outdoor use and makes a great RV solar charge controller.
It comes in different variations with power ratings of 6 to 10 Amps. You can find two versions of this controller, with one designed to handle battery bank charging along with an electrical load, and another optimized for battery charging and operating a night light.
All the different versions of the MorningStar SHS controller work with 12 V batteries.
What I like about this affordable controller is that it doesn't require any configuration. All you have to do is connect your solar array and your battery, and the controller will automatically adjust its parameters.
This controller can enhance charging by cycling the battery through four phases and compensating for temperature fluctuations that affect solar panel performance.
Pros:
Small, affordable, and easy to use
No configuration required
Some models can operate a night light automatically
Durable design is ideal for RV solar charge uses
Cons:
6 Amps might not be sufficient for an RV battery charge controller
Only works with 12 V batteries
13. MorningStar SunGuard PWM Controller
This pocket-size PWM charge controller is one of my favorite budget picks. I highly recommend it if you're new to solar since the installation process is a breeze. All you have to do is connect two wires to the solar panels and two wires to the batteries.
With an amp rating of 4.5 A, it's a low-cost option for small systems with one or two panels. It works with a 12 V battery bank and can be an excellent addition to a small RV solar setup.
Despite its small size, this controller can handle a maximum PV open circuit voltage of 30 V to accommodate fluctuations in solar panel output.
The epoxy enclosure makes this device durable and suitable for outdoor use. It will help you get more out of your solar panels by maintaining a battery state of charge of 90 to 95%.
However, it lacks advanced features. There is no battery monitor to track your current charge level and you won't be able to able to track how much energy your panels produce.
If you're hesitating between the SunGuard controller and the SHS model mentioned above, you should know that MorningStar offers a five-year warranty on the SunGuard controller while the SHS model only has a two-year warranty. The SunGuard lacks the advanced moisture-protection feature of the SHS, but the longer warranty makes it a better investment.
Pros:
Affordable and durable option
Very easy to set up
Suitable for outdoor use
Enhances battery charging on a budget
Cons:
Limited amp rating
No monitoring features
See Related: Solar Panels for Sheds: What You Need to Know
14. MidNite Solar Classic MPPT Controller
The MidNite Solar Classic could be the best solar charge controller if you're looking for advanced features.
Its innovative MPPT tracking algorithm works for solar arrays, wind turbines, and hydro systems. This charge controller also stands out when it comes to safety with built-in arc-fault protection and ground-fault protection.
There are different models available with voltage levels of 100, 150, and 200 V. The Amp rating is 96 Amps for all models, which is ideal for a commercial or whole-home system. The MidNite Solar Classic can also make a great RV solar charge controller if you have several appliances.
You can use this MPPT controller with 12 to 72 V batteries. You can rely on the automated algorithm to manage battery charging, but you can also enable the manual mode if you want more control to finetune your renewable energy system.
I like the fact that the controller comes with a removable vent. You can remove it to prevent overheating in warm climates or leave it on to keep dust out of the controller.
This device includes an advanced web and local monitoring platform to track your energy production and usage. You can also customize which data the LCD screen displays.
Pros:
Works with multiple types of clean energy sources
Switch between manual and auto mode
Heavy-duty performance with a power rating of 96 Amps
Different models to choose from
Cons:
More expensive than other models
It's best to have an expert install it
15. Battery Tender Controller
This small and lightweight solar charge controller is one of the best low-cost options if you're looking for a product that is easy to use.
It works with 12 V lead-acid and AGM batteries, and you can connect it to one or two solar panels with an output of 5 to 45 W. The charge controller is perfect for a small RV solar system, and it will protect your battery from reverse polarity and overcharging.
Besides protecting your battery, this home or RV solar charge controller from Battery Tender regulates the charging process.
I recommend this controller to novice solar panel owners because all you have to do is plug it in and it will automatically manage battery charging with no additional configuration needed.
Pros:
Compact and lightweight at less than 5 ounces
No configuration or complex installation process
Does an excellent job of protecting your battery and enhancing charging
Cons:
Doesn't work with Lithium batteries
No temperature sensor
What Is a Solar Charge Controller?
When solar panels generate power, the voltage and current can fluctuate based on their exposure to sun rays. Sudden changes in voltage and current levels can damage the battery you use to sore the power your solar system generates or the appliances you power with solar energy.
If solar panel voltage is consistently high, it can lead to an increased battery voltage that results in overcharging and damage to the battery.
A solar charge controller or solar regulator addresses these issues. A charge controller regulates battery voltage and current levels when charging. It can also speed charging.
A solar charge controller is a must-have accessory for home and RV solar systems. There are two different types of solar charge controllers:
MPPT charge controllers use maximum power point tracking. The maximum power point is the voltage the battery requires. The charge controller adjusts the output from the solar array to match this voltage point.
MPPT controllers are a popular option for RV solar charge systems since they work well with smaller solar energy systems. Plus, you can use these controllers when there is a mismatch between the voltage level of the panels and the battery.
A PWM charge controller is a simpler and more affordable alternative. This type of controller doesn't adjust the voltage going into the lithium batteries. Instead, it reduces how much power goes to the battery once it reaches a certain level.
Anyone who relies on solar power can benefit from a solar charge controller. This device plays a crucial role in protecting your battery and appliances when using a source of power that can fluctuate.
FAQs
Do you need help with choosing the right charge controller? Read on to learn more about MPPT controllers, PWM solar controllers, and other important concepts.
Related Resources