Sustainable fashion is rising, and eco-conscious consumers are actively seeking environmentally friendly options for their wardrobes, including sustainable underwear. Traditional underwear utilizes synthetic fabrics and harmful chemicals and requires energy-intensive production, contributing to pollution and environmental damage.
On the other hand, sustainable certified organic cotton underwear is made from organic materials. It follows ethical production practices, making it a more responsible choice for our bodies and the planet. These underwear brands incorporate natural dyes through sustainable and recycled materials.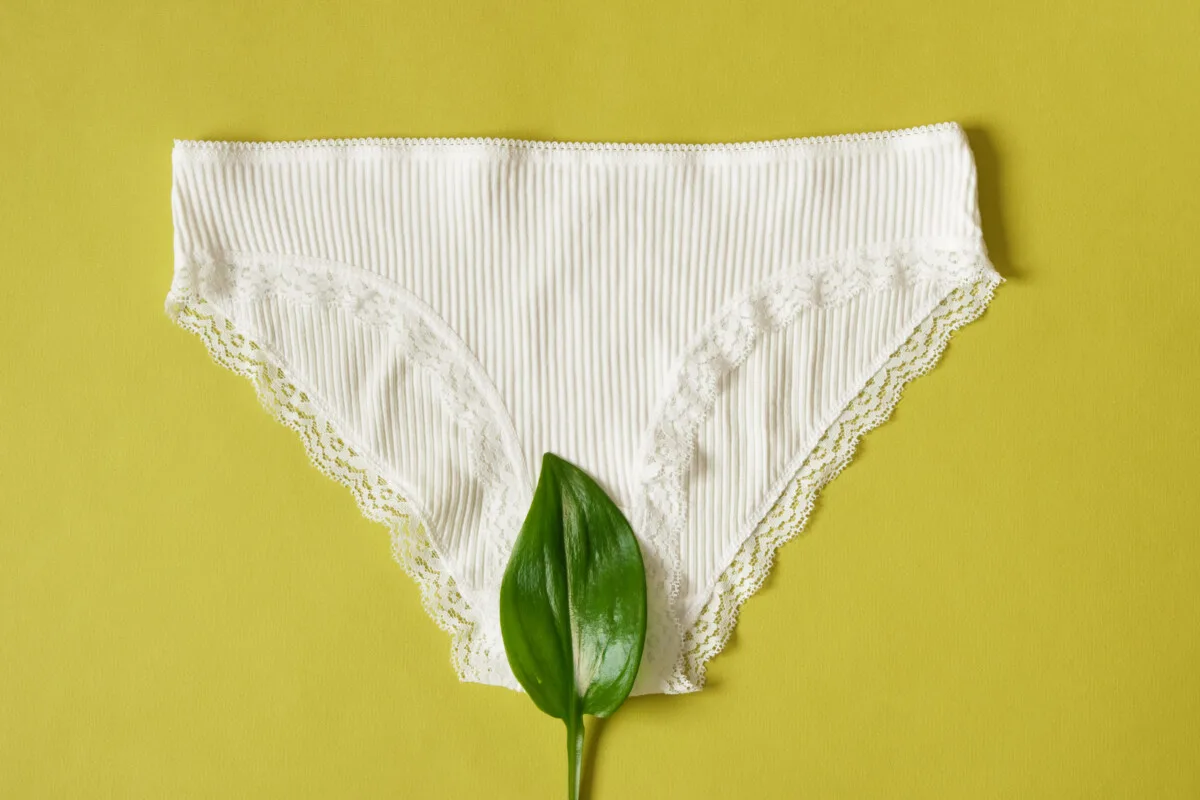 One popular sustainable underwear option is made from organic cotton, Tencel, and organic bamboo, which grow using fewer resources and, as sustainable materials, have a lower environmental impact than synthetic fabrics.
Besides being kinder to the environment, these materials also provide comfort, breathability, and moisture-wicking properties that make them perfect for daily wear.
When considering sustainable underwear, it's essential to consider factors such as the fabric type, production methods, and certifications that ensure ethical practices. One way to check is to look for fair trade-certified factories.
Brands that prioritize transparency in their supply chain, don't use toxic chemicals, and incorporate renewable energy or carbon offset initiatives in their production are also worth considering.
We spent significant time researching and testing various sustainable underwear options to identify the best choices that combine comfort, eco-friendliness, and ethical production practices, ensuring that your purchase of organic cotton underwear will positively impact your body and the environment.
Best Sustainable Underwear Brands
Discover our top picks for sustainable, eco-friendly, stylish, and comfortable underwear made with organic cotton.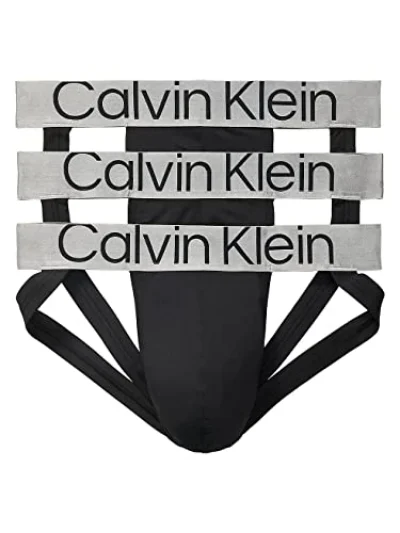 Calvin Klein is an excellent pick for anyone looking for sustainable underwear brands. These eco-conscious Calvin Klein jock straps are an excellent choice for those seeking style and sustainability in their underwear.
Pros
Soft and luxurious feel from sustainable materials
Recycled fabrics logo waistband with excellent shape retention
It comes in a convenient 3-pack
Cons
Some users have reported itchy tags
Waistband may shift around during wear
The pouch may not provide sufficient support for everyone
Calvin Klein is known for delivering high-quality products, and their Men's Sustainable Steel 3-Pack Jock Strap is no exception. Donning these briefs, it is clear that the brand has invested in sustainability without sacrificing comfort or aesthetics.
Featuring a composition of 88% recycled polyester and 12% spandex, the jock straps are made in the USA. The modal fabric provides added breathability and durable fibers, resulting in a truly comfortable wearing experience. The metallic Calvin Klein logo waistband is also stylish and offers excellent shape retention.
While these jock straps have many positive attributes, there are a few potential downsides. Some customers have reported issues with itchy tags and shifting waistbands during wear, and the supportive pouch may not work well for all individuals.
Overall, Calvin Klein's sustainable jock straps are a solid investment for those seeking an eco-conscious yet stylish option in their underwear collection.
See Related: Best Sustainable Shoes for All Different Occasions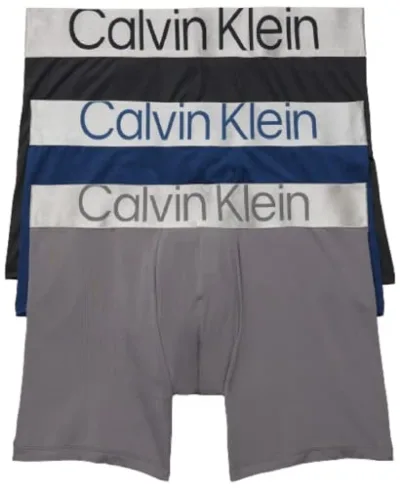 These Calvin Klein boxer briefs are an excellent choice for those seeking sustainable, ethical underwear with a premium feel and superior comfort.
Pros
Constructed from eco-friendly, recycled materials
Supportive contoured pouch for a sleek fit
Stylish metallic logo waistband
Uses natural dyes
Cons
Higher price point compared to alternatives
Color may slightly differ from the product image
Currently available in a 3-pack only
Made from 88% recycled polyester and 12% spandex, the Calvin Klein Reconsidered Steel Micro boxer briefs offer a body-defining fit and flexibility for all-day wear. Their sustainable materials are not only good for the environment, but they also feel luxurious against the skin.
The supportive contoured pouch provides a perfect fit and ensures everything stays in place while maintaining maximum comfort. Moreover, the design features a standout metallic waistband with the iconic Calvin Klein logo, adding sophistication and style to the underwear.
Although the price may be higher than other options on the market, the quality of materials used and the excellent fit justify the investment in these sustainable boxer briefs. Overall, the Calvin Klein Reconsidered Steel Micro boxer briefs are an excellent choice for those looking to make a conscious purchase while still enjoying some comfy underwear.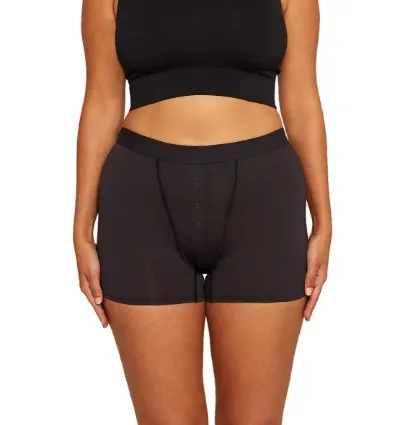 THINX has been known as one of the top sustainable underwear brands for years since its inception in 2013. Choose THINX Modal Cotton Boyshort Period Underwear for a comfortable, eco-friendly alternative to traditional period protection.
Pros
Eco-friendly, Modal cotton blend
Super absorbency holding up to the amount of 5 tampons
Plush, soft, and comfy fit
Cons
Requires multiple pairs on heavier days
It may not fit all body types well
Odor control could be better
The THINX Modal Cotton Boyshort Period Underwear offers remarkable eco-friendliness and comfort during your period. With a unique blend of Modal and certified organic cotton, this sustainable period underwear is gentler on the environment than other comparable options. The super absorbency can hold up to five regular tampons, providing an effective alternative to disposable products.
These affordable, ethical underwear come with a cozy fit that feels as comfortable as your favorite pair of sweats. While the plush and soft material ensures all-day comfort, some users have reported that these boyshorts may not suit all body types well and might require adjustments or multiple pairs on heavier days. Care for this underwear is also relatively easy; simply machine wash it on cold and hang it to dry.
One concern regarding these boyshorts is related to odor control. Some users have reported needing to change more frequently throughout the workday to feel fresh.
Overall, if you're seeking an eco-friendly, comfortable, and absorbent period product for your underwear drawer, the THINX Modal Cotton Boyshort Period Underwear is an excellent choice.
See Related: Sustainable Eco-Friendly Lunch Bags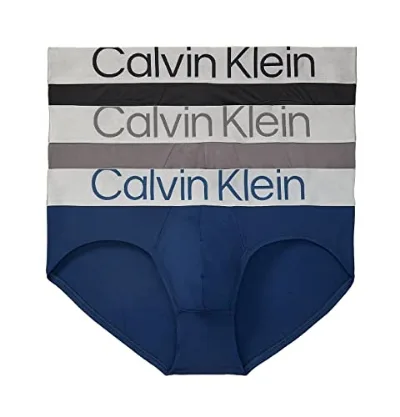 These Calvin Klein hip briefs deliver an excellent fit and feel for those seeking style and sustainable materials.
Pros
Comfortable, body-defining fit
Made from sustainable, recycled materials
Eye-catching metallic logo waistband
Cons
Higher price point than other underwear
Only available in packs of three
It may not be suitable for those with a Spandex allergy
Upon trying the Calvin Klein Men's Reconsidered Steel Micro 3-Pack Hip Briefs, it's hard not to notice the impeccable fit they offer. They boast a unique sculpted design that contours to one's body for a sleek, refined appearance. Furthermore, the fabric feels ultra-luxe, ensuring the wearer enjoys all-day comfort.
As well as being pleasing to wear, Calvin Klein prioritizes sustainability in their products. They use recycled yarns to make bamboo fabric, instead of typical cotton underwear, to produce these hip briefs, allowing eco-conscious individuals to feel good about purchasing. The metallic logo waistband adds a stylish, classy, and modern touch.
While these briefs come at a somewhat higher price point than other options in the market, the quality, comfort, and sustainability justify the expense.
Additionally, although they are only available in packs of three and may not suit people with a Spandex allergy, the overall experience makes them a standout choice for those searching for fashionable and sustainable underwear.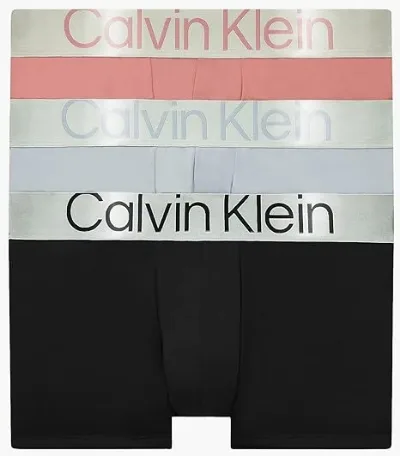 The Calvin Klein Reconsidered Steel Microfiber Trunks are a must-try for an eco-friendly and comfortable option.
Pros
Constructed from recycled polyester and spandex
Sophisticated comfort and fit
Elegant metallic logo waistband
Cons
Higher price point
Only available in a 3-pack
Lack of colors
The Calvin Klein Reconsidered Steel Microfiber Trunks offer an excellent blend of sustainability and luxury, composed of 88% recycled polyester and 12% spandex. Wearing these trunks, you can immediately experience the refined comfort and body-defining fit characteristic of premium underwear.
The metallic logo waistband is a stylish touch that sets these trunks apart from other selections. Once you slip into these undies, you'll appreciate the supportive pouch with contoured seams that provide a sleek and comfortable fit. Users will feel classy and guilt-free, knowing these trunks are crafted with eco-friendly materials.
Although these trunks may come slightly higher than other ethical and sustainable options, the superior feel, fit, and style compensate for the cost.
Remember that these trunks can only be bought as a 3-pack, so you must invest in multiple pairs upfront. The Calvin Klein Reconsidered Steel Microfiber Trunks are a top contender for luxurious, eco-conscious underwear.
See Related: Best Stylish Fair Trade Handbags
Buying Guide for Sustainable Underwear
When looking for the best sustainable underwear brands, it's essential to consider several factors. These will ensure you pick a product that meets your comfort, quality, and eco-friendly requirements.
Fabric
Choose underwear made from sustainable materials, such as recycled fabrics like certified organic cotton, organic bamboo, bamboo viscose, Tencel, or even recycled plastic bottles. These renewable materials derive from ethical sources and production methods, reducing their environmental impact compared to traditional materials.
You can also look for eco-friendly or recycled packaging, staples of ethical underwear brands.
Comfort and Fit
Ensure that the underwear you choose provides a comfortable fit. Check for stretchability, inclusive sizing (look for body-inclusive models in ads), breathability, and moisture-wicking capabilities. Remember that a good fit is crucial to prevent skin irritation and discomfort.
Quality and Durability
High-quality, ethical, and sustainable underwear that should last a long time. Look for brands prioritizing construction quality and using durable materials without producing excess textile waste. This ensures that your investment in eco-friendly products is worthwhile.
Certifications
Third-party certifications ensure that a product is eco-friendly and made with ethical production methods. When choosing sustainable and ethical underwear brands, look for certifications such as GOTS (Global Organic Textile Standard) or Fair Trade Certified.
Brand Values
Consider the company's values and what they stand for when you're looking for ethical and sustainable underwear brands. Support brands prioritizing environmental stewardship, fair labor practices, and transparent supply chains.
Ideally, the entire supply chain should be transparent. From seeing who harvests the sustainable materials, hopefully earning fair wages, to the factory conditions, it should be easy to tell how the underwear is made and whether the process is carbon neutral.
FAQs
Is organic cotton underwear the best?
Organic cotton underwear can help prevent bacterial infection and odors from the skin. The best ethical underwear brands use breathable and absorbent GOTS-certified cotton. Organic cotton does not require chemical fertilizers and pesticides and is a great undergarment option. We love tencel, silk or modal underwear too!
Is cotton underwear biodegradable?
Underwear made of 100 percent organic cotton and hemp is biodegradable, so worn-out pairs can be put into landfills instead of in the garbage.
What is sustainable underwear made of?
Ethical underwear is made from sustainable fabrics like organic cotton, hemp, modal, Tencel, silk, recycled poly, and bamboo fabric. Various materials have distinct properties and create different feelings. Some are better for everyday wear, like your favorite comfy briefs, whereas others might be for special occasions.
Related Resources