Scented candles are among the most popular home decor accessories, thanks to their accessibility and variety. Whether you have a house or an apartment, whatever your personal style or color scheme preferences, candles are a simple, inexpensive way to add warmth and ambiance to any room.
Decorative candles aren't going away anytime soon, but the market has seen a trend toward more sustainable candles. Consumers have begun to take note of some issues with conventional candles, and new businesses are cropping up to meet the needs of a more environmentally conscious public.
In this article, we'll get into more detail about what makes a sustainable candle and the best eco-friendly candles.
Best Eco-Friendly Candles
Now, without further ado, the most eco-friendly candles for your home or workplace.
1. Arbor Made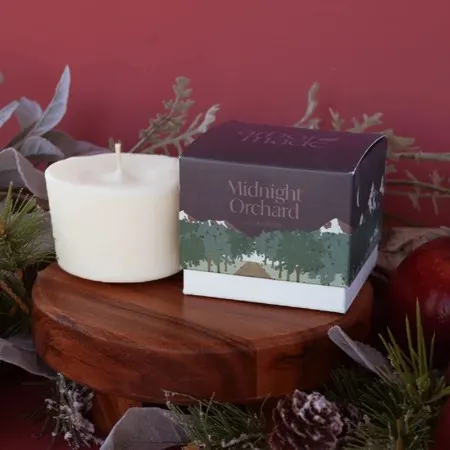 One complaint many eco-conscious candle users have is the wasteful disposal of candle jars. Usually, when someone uses up a jar candle, they burn it until it no longer looks its best or until it's difficult to light, then they throw the entire thing away, including the glass jar and the remaining wax. Why should all that sit in a landfill?
Michigan-based Arbor Made is the first candle company to address this problem. Its innovative reusable jar has a flexible bottom that lets you pop out the remaining candle wax and refill it with a new refill candle.
Arbor Made candles feature 100% organic soy wax, lead-free cotton wicks, and sustainable packaging. They're available in six all-natural scents, including Midnight Orchard, Vanilla Colada, Spiced Timber, Mellow Breeze, Petals Abloom, and Cinnamon Swoon. They also offer an unscented version.
When you buy any Arbor Made refill, the company will donate to a conservation org that corresponds to the scent. For example, purchasing a Petals Abloom refill donates to the Pollinator Partnership, which helps protect birds and butterflies.
I tried the original Arbor Made Candle Set in Midnight Orchard for this review. The scent is light but noticeable enough to radiate through the room as the candle burns over time. I'm partial to food-based scents, so it was a natural choice.
I haven't burned the candle all the way down yet, but the pliable bottom is easy to manipulate, so it should be easy to pop the wax out when the time comes.
The only downside of this candle is that it's not very eye-catching. All the containers look the same; a white jar with a natural wooden top. There's nothing wrong with that look if it's the aesthetic you prefer in your home, but some people like the variety of colors and embellishments of scented candle jars.
Pros: reusable vessel, ease of use, plastic-free
Cons: Only seven scents, no variety in vessel color or design.
See Related: Best Eco-Friendly Baby Products to Buy Today
2. Uguisu Store Traditional Japanese Candles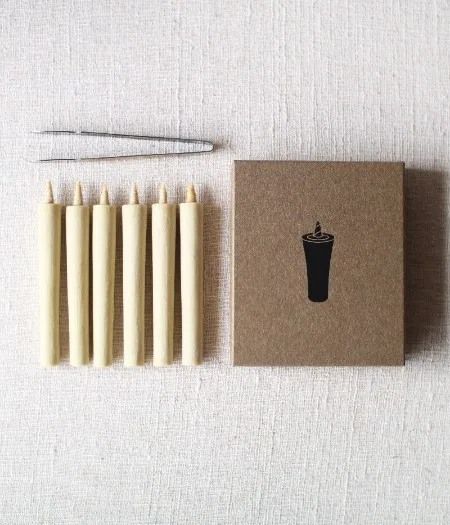 If you're looking for a sustainable candle that's different from a typical scented jar candle, consider Warosoku- traditional Japanese candles. The Uguisu store has a wide selection of these unique, nontoxic candles made with sumac and rice bran wax instead of the coconut wax or soy more common in the West.
The history of Warosoku candles goes back to the 14th century when monks used them in Buddhist temples for ceremonies and meditation. Today, people still use Warisoku in meditation rooms or other areas of their homes where they hope to create a sense of peace and calm.
The Uguisu Store offers their Japanese hand-poured candles individually or in multi-packs. You can also buy candle holders from this store and sets that include both candles and holders.
For the purposes of this article, I tried the Omori Ha-Ze Sumac Candle Gift Set, which includes four candles (two larger, two smaller) and a cast iron candle holder. The set comes in a reusable cotton bag.
Appearance-wise, the candles are very simple; much like standard tapers, you would get from your local store. However, once you burn them, you see the difference that high-quality materials and artisan craftsmanship make. Unlike most taper candles that drip and give off sooty smoke, these Warosoku burned clean, with very little dripping and almost no smoke. This is due to their all-natural wax and washi paper wicks.
If you're a scented candle fan who loves experimenting with different fragrances, these might not work for you because they don't have any added scent. Still, they have a unique "wet earth" aroma that comes from the sumac wax and contains no synthetic fragrances.
These Warosoku are vegan candles, are cruelty-free, and use sustainable packaging. They're available in color versions and floral designs as well. While I wouldn't use them as everyday ambiance candles, I think they're excellent for meditation/prayer times, quiet dinners, and relaxing baths.
Pros: Bright flame, low drip
Cons: not self-contained, doesn't come in scents
See Related: Best Compostable Plates: Eco-Friendly Options to Buy
3. Mythologie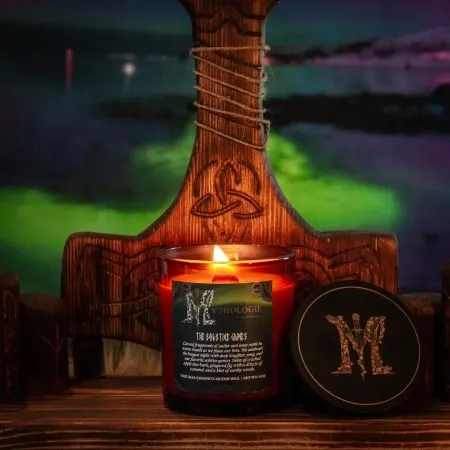 You may be familiar with Mythologie candles from their online ads. This company offers an impressive array of candle scents geared toward fantasy, literary, and historical themes. You won't find typical aromatherapy and sustainable candles with scents like lavender or beachy coconut at Mythologie; it leans more in a darker, richer direction.
This candlemaker puts their all into creating true ambiance candles formulated to take your senses on a trip. They treat their candles like fine wines, inviting you to sample all the scents and suggesting what activities and seasons pair best with them.
What you may not know about Mythologie is that their candles are sustainable and natural. Like many companies on this list, Mythologie uses coconut wax, high-quality essential oils, and wood wicks.
The candle I reviewed was called the High King of Men, which was formulated to evoke the feeling of a castle's freshly-cleaned halls. Its most noticeable note is amber. There is also a light, linen-like scent in the candle that gives it an uplifting air. I really liked the way the smell filled the medium size room, and the burn was clean and virtually smokeless.
Check out this company if you're a gamer, fantasy-fiction geek, or history buff! You can indulge your senses in the smells of your favorite imaginary places, and know that you're supporting a business that cares about our planet.
Pros: Interesting themes, excellent scents
Cons: Not many traditional scents
See Related: Best Sustainable, Eco-Friendly Toys for Kids
4. HyggeLight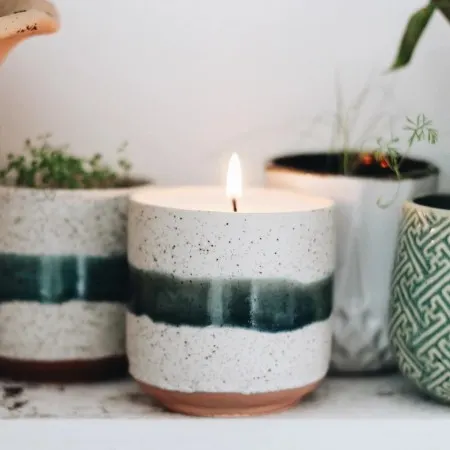 Built on the Scandinavian concept of creating a cozy, welcoming home, HyggeLight offers a line of natural, vegan, soy-based candles in repurposable pots.
Owners Cyndi and Chris Hileman were struck with inspiration one day and decided to make homemade, nontoxic candles by filling ceramic flower pots with soy wax. They loved the results but wanted to take it a step further and give people a chance to learn the joy of growing. So, they got creative with their label, making it out of wildflower seed paper, and putting their candles in reusable ceramic plant pots.
If you've never heard of seed paper (and I hadn't before researching HyggeLight) it's a special kind of biodegradable paper with seeds embedded right in it. Seed paper makes it easy to plant vegetables or flowers. You simply insert the paper into the soil, let it break down, and watch the seeds take root. It's a favorite of natural lifestyle advocates because it makes home gardening easy and accessible to more people.
Eight candle jars/planters are available from Hyggelight, so you can pick whichever one suits your taste. For this review, we tested the Ida candle in the Ginger-Lime scent. Several candle scents are available for each pot, so you can pick your own, but I thought the Lime scent went well with the pot's green geometric design.
The candle burned clean and smelled great. The fresh lime fragrance mingled perfectly with the sharp zing of ginger. It's an ideal scent to burn when you first wake up and want to be bright-eyed and alert.
These are long-burning, hand-poured candles, offering 55 hours of burn time, compared to the 15 to 25 hours you'll get from a candle of similar size from one of the largest mainstream candle brands.
I look forward to burning this candle all the way down so I can fill the pot with soil and try my hand at growing wildflowers. With a 75 to 90% sprout rate, even a black thumb like me should have some luck! The paper packaging looks super cute, and you can actually see the seeds dotted on the paper.
Pros: Reusable ceramic plant pots, seeds
Cons: Relatively small variety of scents
See Related: Best Eco-Friendly Glitter Alternatives
5. Earth Candle Company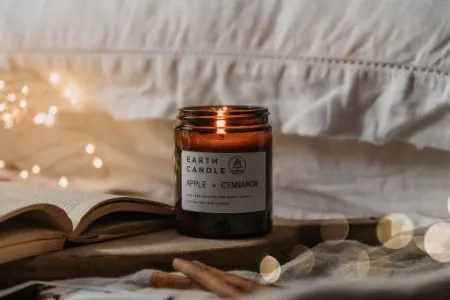 Cotton wicks are the most popular type among eco-friendly candle lovers, but there's plenty to love about wooden wicks. First, wood is easier to source and produce, so it places less strain on the environment than cotton. It also burns cleaner and longer than cotton wicks do.
But the main reason people love wooden wicks is the ambiance it adds to a room. The smell of burning wood and the sound of the crackling fire makes a wood-wick candle a mini fireplace that gives off the coziest vibes.
Earth Candle Company offers vegan, natural soy wax candles with wood wicks. The labels are made of paper, so there's no plastic to be found. The candles come in glass jars with aluminum lids, which you can recycle over and over.
The company was founded on the premise that a candle should take nothing away from our environment; it should only give. These clean-burning candles do not harm our planet, and every purchase of an Earth Candle helps one tree get planted in the Amazon Rainforests. To date, the company has planted thousands of trees in the Amazon, and it's easy to see why business has been so good.
The candle I reviewed was their Mulled Wine scent, a limited edition seasonal fragrance for winter. It arrived in an attractive white box with a goldish-brown logo. There was no plastic in any of the shipping materials. The candle itself is in a simple yet elegant amber glass vessel with a white label.
This candle burns clean, with no excessive smoke. The wood wick makes a pleasant crackling sound, and the scent of the wood mixes beautifully with the delicious mulled wine aroma. The candle made the room smell like a 19th-century Christmas gathering out of a Dickens novel, perfect for the fall/winter season.
Unlike many natural candles that use sustainable oils for their scents, Earth Candles don't all smell similar to each other or give off a weak fragrance. They offer memorable signature fragrances that you'll want to buy again and again.
I look forward to trying more of the seasonal scents from this brand. Not only do their candles smell amazing, but they also offer their products at very reasonable prices compared to other natural candle companies.
Pros: Wonderful scents, great price
Cons: No refills or specific repurposing instructions
See Related: Best Compostable Straws: Eco-Friendly Options
6. Candle by the Hour 70-Hour Beeswax Candle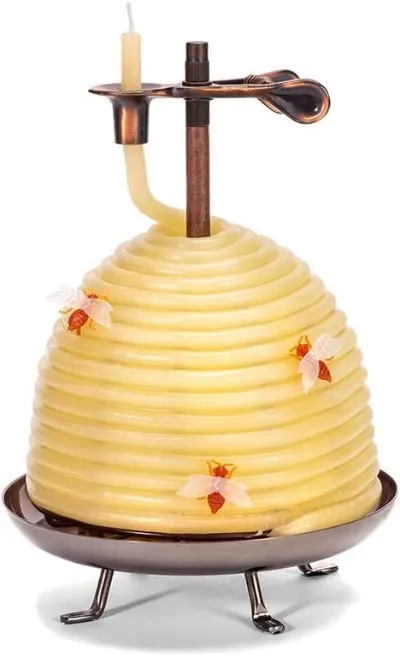 Soy candles are more popular than beeswax in the eco-friendly candle world because of soy's versatility.
Unlike beeswax's deep yellow, it's easier to add natural colors to soy's neutral white hue. Adding scent is much the same story. Soy can take on any fragrance oil, while beeswax has a honey-like aroma, which can clash with some oils. Still, beeswax candles have many merits.
Beeswax candles are said to remove impurities from the air and bring a sense of calm to a room, helping with relaxation and sleep. But beeswax candles have many merits. They're clean, smokeless, and phthalate-free and provide a comforting golden glow.
Candle by the Hour 70-Hour Beeswax Candle is made of pure beeswax and features a cotton wick. Its unique beehive shape and brass-look stand will make it a conversation piece, and the bejeweled bees added for style give it an elegant twist. This candle has a long burn time and because beeswax is naturally drip-free, it doesn't make a mess.
A candle-enthusiast friend of mine received one of these for Mothers' Day last year and was so impressed she suggested we add it to the list. She gets many compliments on the candle, which looks more like a sculpture. She loves the scent and the fact that it doesn't irritate her lungs as some conventional candles have.
Pros: Long-burning, dripless
Cons: Unscented (other than with natural beeswax fragrance)
See Related: Sustainable Eco-Friendly Lunch Bags
7. Homesick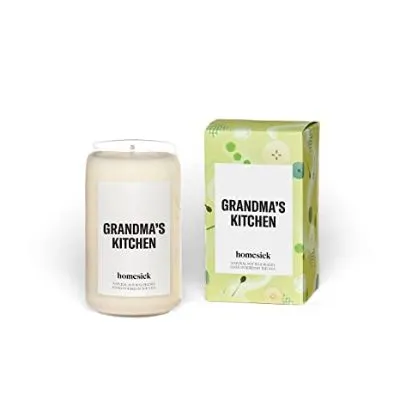 Natural candle enthusiasts adore the earth-safe, cruelty-free ingredients that go into sustainable candles. Still, once in a while, they might miss the one thing eco-friendly candles DON" T usually have: a wide variety of scents.
Mainstream candle stores offer a dizzying array of aromas that candle lovers enjoy exploring. There are scents for every season, mood, and occasion.
Meanwhile, due to the limited availability and cost of organic fragrance oil, many earth-friendly candle makers tend to lean toward a small selection of tried-and-true favorites like lavender, patchouli, sandalwood, or lemon.
Homesick wanted to change that, so they did. The company uses natural soy candle wax and cotton, lead-free wicks, and their candles are available in over 100 (that's right, 100!) premium scents. Their most famous candles are their "location" fragrances that seek to capture the spirit of a city, state, or building through scent.
This line got so massive that it now offers themed scents for fictional places and entities, including Central Perk from Friends, the Death Star, and all the Hogwarts houses. The best part is they managed to build this empire using materials that won't harm the planet.
The Homesick candle I tested for this review was the New York state scent. The candle burned clean with almost no smoke at all. For a 13-ounce jar candle, it boasts an impressive 65-80 hour burn time. It came wrapped in a paper box, so it was good on the eco-friendly packaging front, too.
Scent-wise, I found the candle pleasant, but nothing about it grabbed my attention. It was a classic autumnal blend of apples, pear, and spices. I'm sure their other state scents are probably more creative; I just happened to pick a state known for its apples.
The smell wasn't very strong, which seems to be a point other reviewers have made. This can be a good thing for some who have more sensitive noses, but it can be a bit bland for others.
Pros: great variety of scents, available in many stores as well as online
Cons: Too light a scent for some users
See Related: Best Compost Bags: Eco-Friendly Options to Buy
8. Ranger Station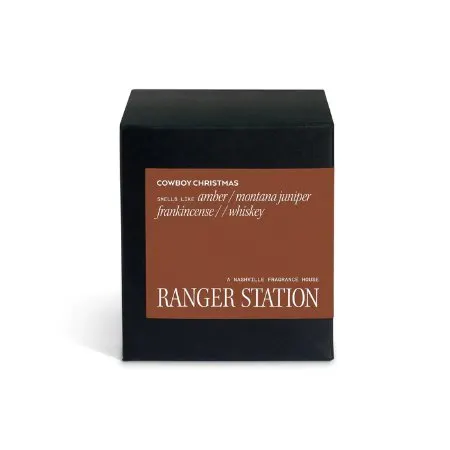 Most jar candles- particularly the natural, eco-friendly ones – are marketed almost exclusively to women. People assume that only women enjoy enhancing their surroundings with soft light and aromatherapy and that guys aren't as concerned with the planet as women are.
Tennessee-based lifestyle brand Ranger Station knows these assumptions are simply untrue, and they created their line of soy-based, naturally-fragranced, hand-poured candles with masculinity in mind. Their hand-poured scented candles come in standard 8-ounce cocktail glasses, so you can repurpose them after the candle has burned down.
The company was founded by a Nashville-based musician and his wife, with the goal of creating sustainable home fragrances that evoked emotion and memories.
Their cowboy-themed collection of candle fragrances is made with natural essential oils that are carefully blended to create the desired mood. The line leans heavily into smoke, tobacco, musk, and cedar notes. And with names like Yippee-Ki-Yay, Lumberjack, and Two Trick Pony, it's clear that the scents play to traditionally male tastes.
The scented candle for this review was a classic: Sandalwood and Cypress. The candle arrived in an eco-friendly paper box, which looked sophisticated thanks to its rich black color and brown label.
The candle itself is very simply packaged as well, in a clear cocktail glass with a modest white label.
The burn of this candle is quite good. It wasn't sooty, and the light was bright. These candles are relatively small, so you're not going to get a very long burn time out of them, probably around 15 to 20 hours. However, the scent was great, a warm, woodsy scent that brought the outdoors in the most pleasant way possible.
The only drawback of this brand is, honestly, its price tag. Nearly 40 dollars (before shipping) for a relatively petite jar candle struck me as being a bit much, even when taking quality into consideration.
Pros: Masculine look and scents
Cons: Cost
See Related: Best Eco-Friendly Travel Products
9. Mala The Brand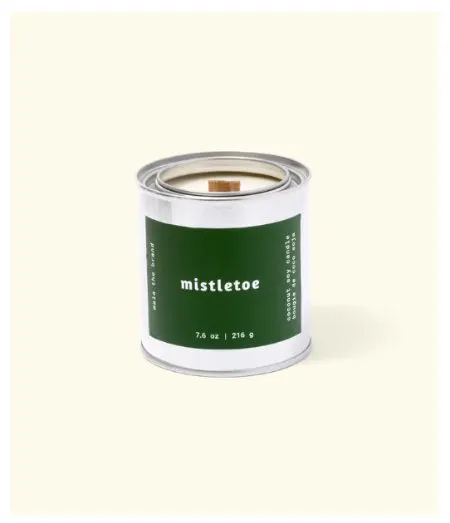 Mala is a small, woman-owned candle business based in Vancouver, Canada. Founder Melody Lim was inspired to start making her own candles in honor of her grandmother, who enjoyed burning candles when she lived with her family.
Since its founding, Mala The Brand has made a splash on the natural candle scene and is now being sold at major department stores, namely Nordstrom – where I first picked up my Mala candle.
I'd first heard of the brand when people were buzzing about its cereal-scented candle online, then noticed it at a couldn't-pass-up sale price online.
The design of these candles is similar to that of most eco-friendly candle brands; clean and low-key. They are in tins rather than glass jars, and they each come with a different color label, primarily pastels, and browns. This is a nice change from the usual white or kraft paper labels I'm used to on natural candles.
Mala candles are made from a coconut blend of wax and use sustainable wood for their wicks. They fragrance their candles with phthalate-free scents and essential oils and plant a tree for each candle purchased.
Their Cereal scented candle smells amazing. It smells like your favorite childhood cereal, with sweet citrus and cherry notes. But they balance it nicely with vanilla and sandalwood to add just enough sophistication. If you love happy, young-at-heart fragrances that trigger nostalgia, this candle is for you.
This candle has a burn time of about 30 hours, which is decent for its 7.5-ounce size. The scent radiated through the room quickly but never became overbearing. It was a happy medium, strength-wise, for me.
Pros: Great scents that make an impact
Cons: Relatively small size
See Related: Best Eco-Friendly Fireplaces: Top Sustainable Alternatives
Candles and the Environment
A candle's environmentally unfriendly elements often begin with its packaging. Some candles are sold with plastic covers or labeling, and people usually toss the container the candle comes in in the trash when they're done with it. And that's just the beginning.
If you've ever blown out a scented candle and noticed an unpleasant smell from the smoke, that's likely the result of benzene and toluene, two hazardous chemicals produced by paraffin wax. Paraffin wax is a petroleum by-product, so it's on the list of materials we should work to reduce our use of.
Even the things that make candles look and smell nice can cause environmental problems. Many mass-produced candles use artificial fragrances and colors derived from chemicals that can harm the planet and irritate people's eyes and lungs.
See Related: Best Eco-Friendly Microwaves to Buy Today
What To Look For in an Eco-Friendly Candle
Obviously, having a non-toxic candle is a no-brainer. In order to live a sustainable lifestyle, we need to rid ourselves of any potentially toxic chemicals in and around our lifestyle.
Non-paraffin wax. Think soy wax, coconut wax, and pure beeswax. Paraffin candles can be harmful to your health.
Clean-burning wicks. Avoid wicks made of synthetic materials or coated with harmful chemicals. Choose wood or a lead-free cotton wick instead.
Sustainable packaging. Skip plastics and go with simple, unpackaged candles with paper labeling.
Natural colors certified organic essential oils.
Made in small batches, hand-poured, not mass-produced
There are other characteristics to look for when shopping for an eco-friendly candle, but these are the basics. As we review some of our favorite brands, we'll explore the options and varieties of sustainable candle materials in greater detail.
Related Resources