In today's world, protecting our smartphones is just as important as protecting our environment. Thankfully, choosing a sustainable phone case can help you achieve both. With numerous eco-friendly options, you'll shield your phone from damage and contribute to a greener planet. In this article, we present the top ten eco-friendly phone cases, offering stylish and sustainable protection for your device.
Best Eco-Friendly Phone Cases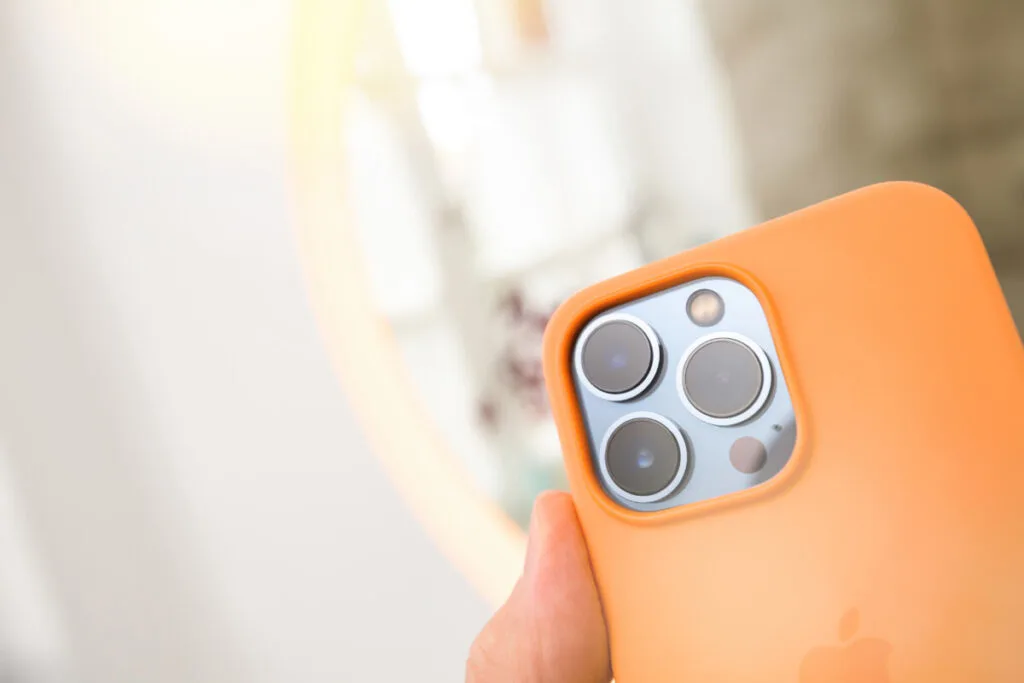 With no more delay, here are our top picks for the best eco-friendly phone cases. Every option is notable so that everyone can find what they need.
Best Biodegradable Phone Case: Wave Case
Leader in Compostable Phone Cases: Pela Case
Best Scented Eco-Friendly Phone Case: MMore
Best Protective Eco-Friendly Phone Case: Tech21
Best Upcycled Phone Case: Skate4create
Best Take-Back Program for Phone Cases: A Good Company
Most Colorful Eco-Friendly Phone Case: EcoBlvd
Best Customizable Eco-Friendly Phone Case: CASETiFY
Best Natural Material Phone Case: Reveal
Best Recycled Plastic Phone Case: Popsicase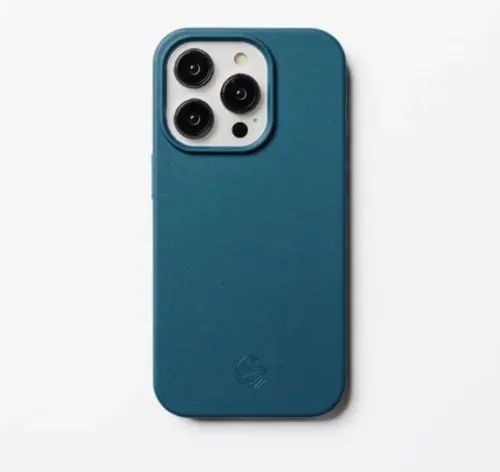 Price: $31-$32
Wheat straw, PLA and PBAT are all materials employed to create a variety of products. These three components give the necessary elements needed for successful manufacturing.
Compatibility: iPhone and Samsung Galaxy
Pros:
Environmentally-friendly
Cost-effective
Discount for exchanging old cases
Cons:
Slightly thicker than other options
Not suitable for composting at home
Only compatible with iPhone and Samsung Galaxy
Wave Case offers an appealing phone case made from biodegradable wheat straw, boasting fashionable designs and shock-absorbent corners for enhanced protection. Joining the Surfers Against Sewage 250 Club to support marine conservation, Wave Case donates £250 each year to help preserve oceans. They partner with Climate Partner to accurately measure their carbon footprint, which is offset by backing Plastic Bank as well as funding wind farms across Aruba and the Philippines.
The Wave Case:
Comes in 10 vibrant colors
Features unique designs such as daisies, hearts, clouds, and mushrooms
Offers the option to send your case to a composting facility or return it to Wave when you're ready to upgrade to a new phone
Provides a 20% discount on your next purchase in exchange for your old case
The Wave Case is a great option as it offers sustainability and affordability. The reasonable price tag of this case makes it an even better
Price: $36-$70
Specifications:
Material: Flaxstic (flax straw and plant-based biopolymers) Compatibility with iPhones range from iPhone 5 to 13 Pro Max. Similarly, for Samsungs you go from Galaxy S8 to S21+. Google Pixel versions 3a to 6 Pro and two Huawei models P50 and P50 Pro as well as OnePlus 9 Plus are all supported.
Pros:
Compostable
Wide selection of colors and styles
Free of plastic
Recyclable packaging
Cons:
Higher cost
Limited information regarding labor practices
Pela Case leads the industry in creating eco-friendly compostable phone cases crafted from flax straw and plant based biopolymers, known as Flaxstic. With multiple stylish collections, you can show off your style while doing your part for our planet with a Pela Compostable Phone case! All devices are compatible with their selection, eliminating worries about purchasing plastic ones. Get yours today and join Pela Cases' mission of reducing single use plastics!
You can be sure that your device is secured with a liquid screen protector, assuring you of protection. Hence, rest assured knowing your device has an extra layer of security thanks to this product.
iPhone
Samsung Galaxy
Google Pixel
Huawei
OnePlus models
Pela Case's compostable cases:
Designed to degrade in approximately 45-60 days when disposed of in an industrial facility
At home, biodegradation may take up to two years if placed in an indoor compost bin
Offers a guarantee of up to $200 for screen repairs if your device is wearing a case and a screen protector
Pela Cases can be costly compared to other available choices, and the limited data concerning their working standards should also be considered.
See Related: Best Decorative Metal Sheet for Greenhouses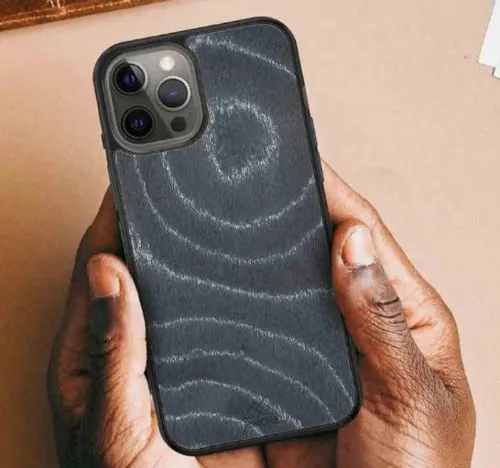 Price: $27-$60
Specifications:
Material: Organic Arabica coffee beans and polyurethane
Compatibility: iPhone 6 to 14 Pro Max, Samsung S5-S22, and some Google Pixels
Pros:
Unique scented and organic material
Wide variety of colors and designs
Handcrafted in Slovenia
Cons:
MMore has created a unique line of eco-friendly phone cases which feature the addition of natural fragrances due to their incorporation of organic substances. Crafted by hand in Slovenia, these covers use pressed Arabica coffee beans as part material for an exclusive texture and intense scent resembling freshly prepared coffee. MMore's selection offers several advantages including being environmentally friendly while also providing protective yet stylish cases for phones.
Eco-friendly
Unique texture and aroma
Handcrafted in Slovenia
Adds a touch of luxury and personalization to your phone
If you're looking to add some uniqueness and environmentally-friendly flair to your phone, MMore's scented cases for iPhones, Samsungs and Google Pixel devices are a great pick. There is an array of colors and patterns available. The aroma may fade over time.
Price: Starting at $29
Specifications:
Material: Biodegradable and recycled materials
Compatibility: Various phone models
Pros:
Made from biodegradable and recycled materials
Offers full multi-drop protection
Durable and stylish design
Cons:
Tech21 creates eco friendly phone cases that are made of biodegradable and recycled components. These protective covers for phones provide users with an environmentally conscious alternative, while still offering the same level of protection as other types of cases on
Full multi-drop protection for your phone, ensuring it stays safe from everyday knocks, shocks, and drops
Contemporary colors and trendy artwork available in their Eco range, including Eco Slim and Eco Art
Durability and a reduced impact on the environment
Tech21 offers a great selection of cases for those concerned about eco-friendly phone protection. Their recycled materials are stylish yet strong enough to provide reliable coverage against any potential damage. What's even better is that the brand commits to sustainability by using biodegradable components! Although there may be limited color options available, these sustainable solutions make an excellent choice for environmentally conscious customers.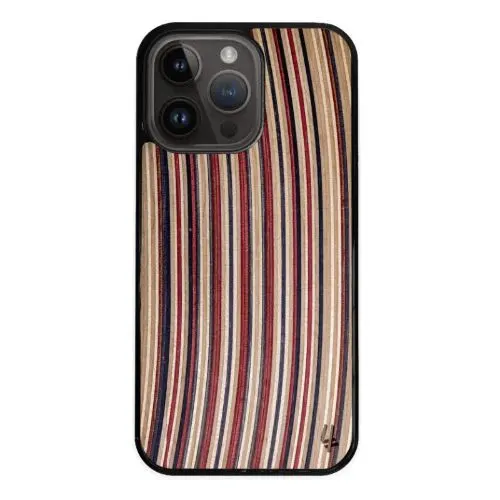 Price: $34.99
Specifications:
Material: Recycled Canadian maple skateboards iPhone 6 to iPhone 13 Pro Max are compatible. Samsung Galaxy S8 Plus to S21 Ultra and Google Pixel 4XL and Pixel 5 also supports this compatibility.
Pros:
Unique upcycled skateboard material
Handcrafted design
Vibrant pattern
Cons:
Limited phone model compatibility
Skate4create is a company that takes sustainability and creativity to the next level by transforming recycled Canadian maple skateboards into upcycled phone cases. Every item they make features an intricate, multi-colored pattern formed from eight or nine pieces of board adjoined together, making each one unique!
Their slim yet reliable protection works with iPhone, Samsung Galaxy and Google Pixel models too. These eco friendly cell phone cases allow you to express yourself in style without adding extra waste – offering those looking for something special apart from standard options a more ethical option in terms of ownership. Plus their 1.3mm flexible rubber construction provides outstanding defence against whatever life may throw at your device!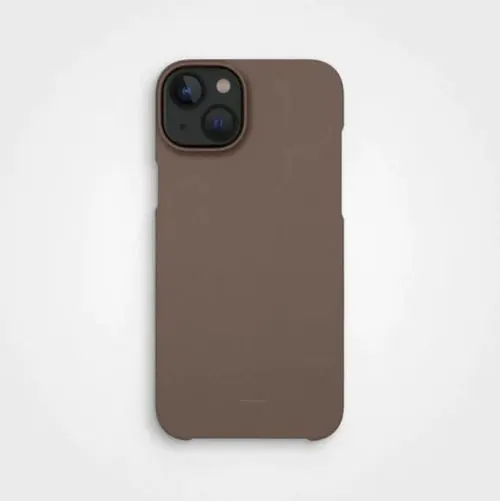 Price: $35-$45
Specifications:
Material: Corn starch, wheat straw, and flax
Compatibility: iPhone and Samsung Galaxy models
Pros:
Biodegradable and compostable materials
Stylish designs
Take-back program for recycling
Cons:
A Good Company has produced a range of eco-friendly phone cases made from biodegradable materials, such as corn starch, wheat straw and flax. Their prices start at $35 for the ultimate in reliable protection that also reduces plastic waste, making it an excellent investment! Not only are these products environmentally friendly but they offer features like no other.
With sustainable materials providing top quality safeguard against your device's battery life and everything else. From great value to taking care of Mother Nature with their take back program – A Good company offers unbeatable phone case options when you want something both efficient yet green!
Variety of designs and colors, ensuring a perfect match for everyone's taste
Take-back program, allowing you to send your old case back to be recycled into new ones
Truly sustainable choice
Those on the hunt for a sustainable phone case should look no Than A Good Company, whose eco-friendly materials and take-back program set it apart from other options available. Despite its higher price tag compared to others in the market, these cases are well worth investing in due to their environmentally conscious qualities.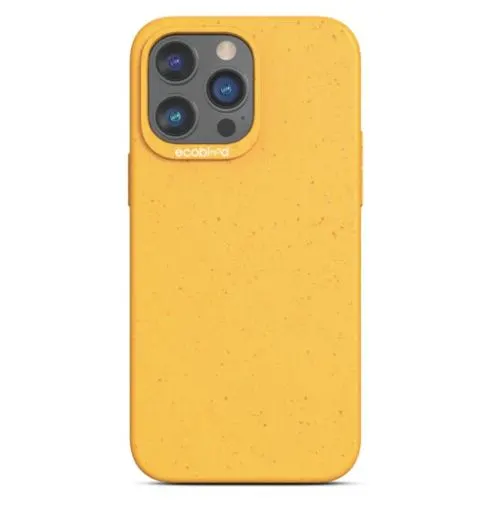 Price: $29
Specifications:
Material: Corn and bamboo-based plastic (CornBo)
Compatibility: iPhone 14 Pro, iPhone 14 Pro Max, iPhone 14, iPhone 13 Pro, iPhone 13 Pro Max, iPhone 13, iPhone 12 Pro, iPhone 12 Pro Max, and iPhone 12
Pros:
Compostable and eco-friendly
Rugged and durable
Protects phone from shocks, scratches, bumps, and drops up to 15 feet
Made from sustainable materials like corn and bamboo
Supports the Mojave Desert Land Trust
Cons:
Limited phone model compatibility
The EcoBlvd Mojave Collection presents a broad selection of phone cases that are eco friendly. Made from sustainable materials like bamboo and corn, these stylish designs allow you to protect your device without creating waste. Featuring fully compostable styles for compatible iPhone models, this rugged case provides excellent protection no matter the environment or outdoor conditions.
Get your own unique style with an environmentally conscious option today! For those searching for responsible mobile solutions look no Than the colorful range by EcoBlvd. Their durable cases crafted from green sources offer superior security while supporting ecological causes – it's all part of doing what's best for our planet!
iPhone 14 Pro
iPhone 14 Pro Max
iPhone 14
iPhone 13 Pro
iPhone 13 Pro Max
iPhone 13
iPhone 12 Pro
iPhone 12 Pro Max
iPhone 12
See Related: Different Types of Ecosystems Around the World
Price: Starting at $52
Specifications:
Material: Plant-based materials
Compatibility: iPhone, Samsung, and Google phones
Includes: other phone accessories
Pros:
Customizable designs and colors
Made from plant-based materials
Supports environmental organizations
Cons:
CASETiFY provides a personalizable selection of environmentally friendly phone cases that are created from plant-based biopolymer and recycled materials. A variety of stylish designs give you the opportunity to express yourself with your personalized case while supporting efforts to reduce plastic waste through their partnerships with environmental organizations. The customizable features include adding text, logos, or pictures for those who want something more unique than pre-made options.
Not only can they fit most devices including Apple iPhones, Samsungs & Google phones – but also offer an attractive alternative compared to non eco-friendly alternatives in the market today at slightly higher prices. Giving users peace of mind knowing their style comes without sacrificing sustainability aspects as well.
Price: $19.99
Specifications:
Material: Wood, bamboo, carbon fiber, cork, TPU rubber
Compatibility: iPhone X, iPhone XS, iPhone XR, iPhone 11, iPhone 11 Pro, iPhone 11 Pro Max
Pros:
Stylish and unique design
Durable and protective
Comfortable feel
Shock absorption
Cons:
Limited phone model compatibility
Reveal manufactures phone cases from natural materials, including:
Wood
Bamboo
Carbon fiber
Cork
TPU rubber
Reveal phone cases are an eco-friendly way to protect your device from damage while showcasing a unique look. Composed of multiple materials, each case is individually designed with sustainability in mind – ensuring you enjoy the benefits of both style and safety when safeguarding your friendly phone!
Reveal's phone cases are compatible with the following iPhone models:
iPhone X
iPhone XS
iPhone XR
iPhone 11
iPhone 11 Pro
iPhone 11 Pro Max
Reveal's phone cases have been crafted with natural materials to provide exceptional shock protection and an aesthetically pleasing, organic appearance. Although there may be some limitations as far as compatibility goes, for those who treasure nature's beauty, these stylish covers make a great selection.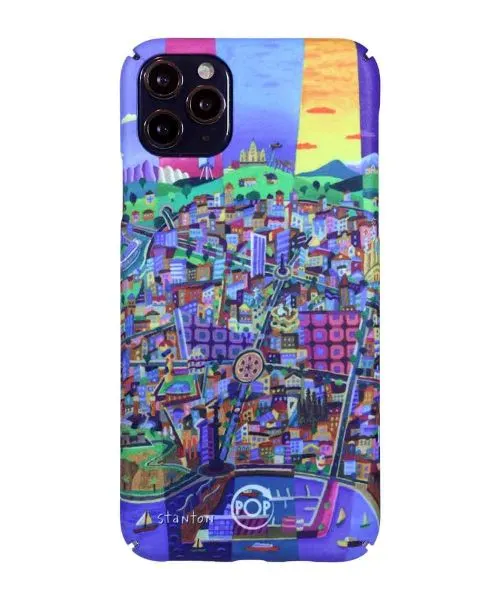 Claim a 50% discount on your second POPSICASE purchase when you use the code REDUCECO2!
Specifications:
Material: Recycled plastic (fishing nets)
Compatibility: iPhone, Samsung, and Google phones
Includes: Phone accessories
Pros:
Made from recycled plastic
Supports ocean biodiversity and the circular economy
Reduces CO2 emissions
Contributes to a plastic free environment and promotes plastic free packaging
Cons:
Limited information on durability and protection
For those concerned with sustainability, Popsicase offers the perfect solution to protecting your phone: a recycled plastic phone case. Recycling fishing nets that would otherwise end up in landfills or oceans reduces both plastic waste and CO2 emissions – ideal for eco-friendly consumers.
These cases are compatible with iPhone, Samsung, and Google devices, meaning no compromise on quality of protection either! Plus you can be assured each product is made using certified materials as part of their commitment to advancing circular economy principles even Than traditional plastics offer alone.
Choosing the Right Eco-Friendly Phone Case for You
When it comes to protecting your phone while being conscious of the environment, eco-friendly phone cases are a great choice. Materials such as wheat straw used in biodegradable Wave Case and flaxstic for compostable Pela Case phones are perfect examples of how sustainable designs have been implemented into this type of product.
You could also opt for recycled plastic like that found with Popsicase and still be environmentally friendly when using these types of protective casings. All brands offer unique features which you should consider before selecting an Eco Friendly Phone case. From design elements to sustainability initiatives associated with the brand itself.
It is possible not only protect yourself but take part in reducing global plastic waste by investing in a reliable yet environmentally conscious option for shielding your device, one that may even encourage others around you follow suit! And choosing something along those lines will enable everyone involved make positive impacts on our planet earth together.
See Related: How to Heat a Greenhouse Without Electricity
Summary
To protect your phone and help the environment, investing in an eco friendly phone case is a great choice. With options ranging from biodegradable cases to those made with recycled materials, there's surely something that can fit every consumer's needs. Whatever it may be – compostable or sustainable – getting one of these environmentally-friendly solutions will make a big impact for Mother Nature! So why not take action today and choose an eco-friendly alternative instead?
Frequently Asked Questions
What is the compostable phone case for Samsung?
Introducing the Inbeage Biodegradable Case for Samsung Galaxy S22 Ultra (2022) – a plant-based, drop-tested phone case that is 100% compostable and kind to our environment.
Are Pela cases actually eco-friendly?
Pela's phone cases are an environmentally friendly option, with their certified 100% compostability which will break down within three to six months in a suitable compost environment.
Is CASETiFY actually eco-friendly?
CASETiFY is an eco-friendly company that has taken numerous steps to be more green. Their production facilities are ISO14001 certified, which indicates high environmental standards. Their phone cases have been designed using compostable and biodegradable materials as well as recyclable packaging for shipping products out to customers. Even the compostables contain no toxins once they break down in nature after disposal!
All rainwater collected on site is recycled with efficiency so it can be reused by CASETiFY's operations if necessary or safely returned into the environment when appropriate measures are applied correctly. These responsible practices make CASETiFy a prime example of environmentally conscious companies striving towards sustainability initiatives .
What makes a phone case eco-friendly?
Eco-friendly phone cases are made from either recycled or compostable materials, chosen for their ethical sourcing instead of using virgin material like plastic. By opting to purchase such friendly cases we can help the environment while still enjoying all the benefits our phones have to offer.
What materials are typically used in eco-friendly phone cases?
Eco friendly phone cases are crafted from materials that will eventually break down into the environment, such as flax straw, wheat straw and biodegradable plastics made from recycled material. These eco-friendly options make for stylish yet sustainable choices for keeping your device protected.
Related Resources: