Bath and Body Works candles might be one of the most popular candle brands in the United States but are bath and body works candles toxic? It's one of the most common questions about scented and unscented candles in the home.
While non-toxic, Bath and Body Works candles aren't harmless – and more people are asking about safe, all-natural alternatives to this popular candle brand.
Here's what you should know about Bath and Body Works candles, and why all-natural makes for a better way to go.
The Best Nontoxic Candle Alternatives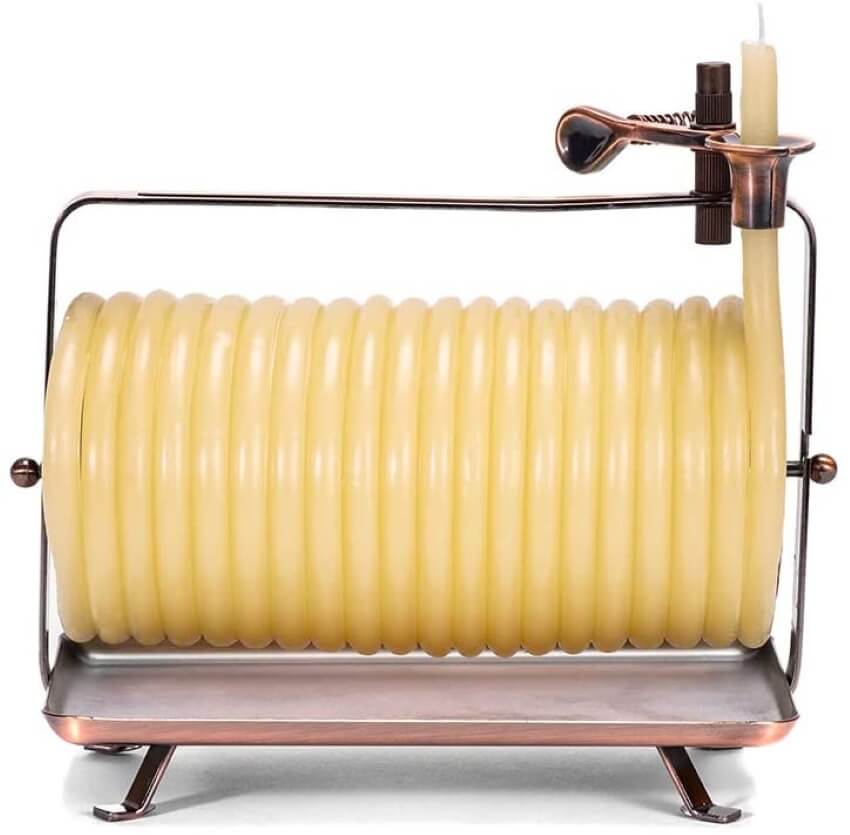 Candle by the Hour is one of the best all-natural candle manufacturers. Here is one of their candles that is both nontoxic and long-burning.
The product is made from natural and responsibly sourced beeswax that contains no added chemicals or preservatives.
As one of its best features, this candle has a total burning time of up to 80 hours (and other, longer-burning models are available from the same maker).
It's perfect for atmosphere and nontoxic light, and the whole design is rounded off with a faux-copper holder that looks great.
See Related: Energy Conservation Techniques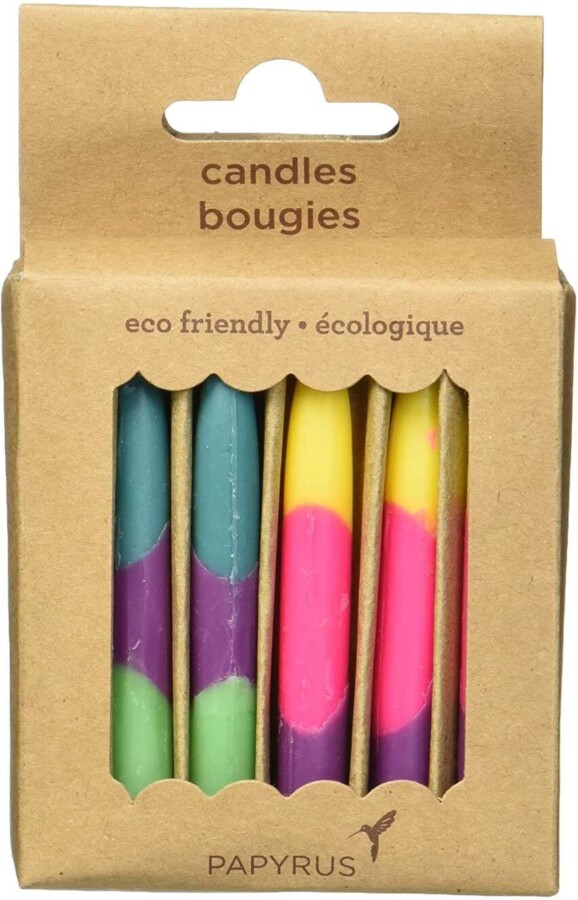 These Papyrus Eco-Friendly Birthday Candles are sold in sets of 12 candles each. All natural and nontoxic, these are made from a 60-40 mixture of beeswax and palm oil – which burns away slowly and with no potential harmful emissions.
Unscented, the inks in this candle are guaranteed to be all-natural too.
Its packaging is also environmentally responsible and made only from recycled materials.
These might be meant for birthdays, but can add atmosphere and light anywhere you need it.
See Related: Solar Vs Wind Energy: what's the Difference?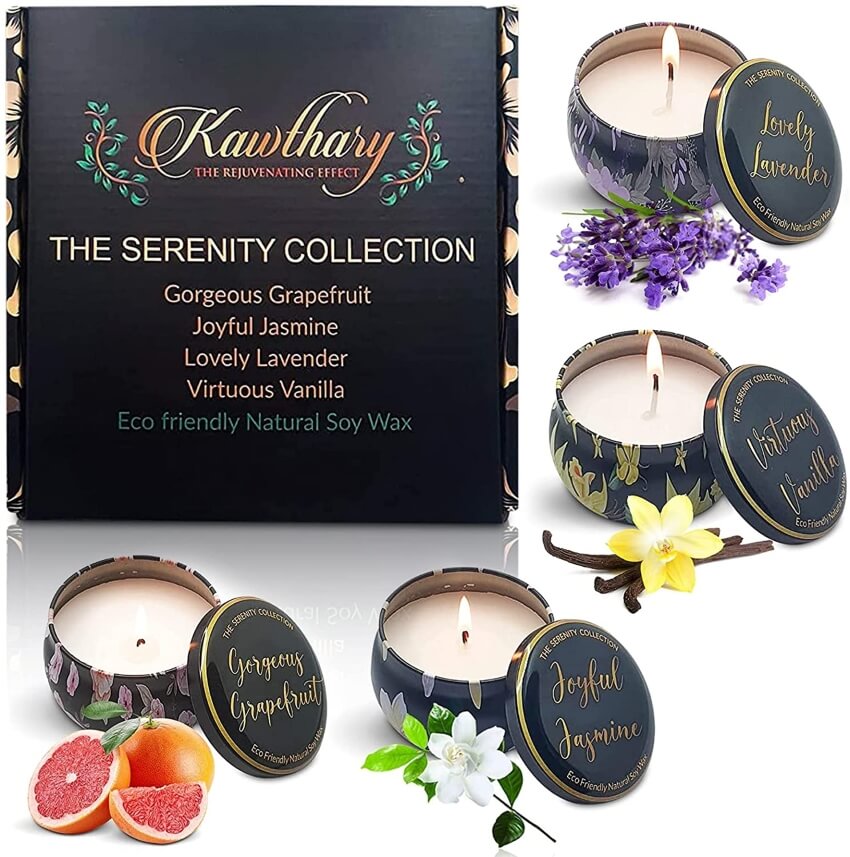 The Aromatherapy Candle Set for Stress Relief is an all-natural set of 4 simple candles made from all natural soy wax, at 4oz per candle. These contain no added ingredients like paraffin or formaldehyde, and makes them safe for the environment and pets.
These are great candles if you would like nontoxic candles for a relaxed atmosphere.
Only cotton wicks and natural fragrances are used. Ingredients have been tested to ensure their safety for pets and people.
An added satisfaction guarantee covers this candle against any factory issues.
See Related: Ways to Save the Environment in Everday Life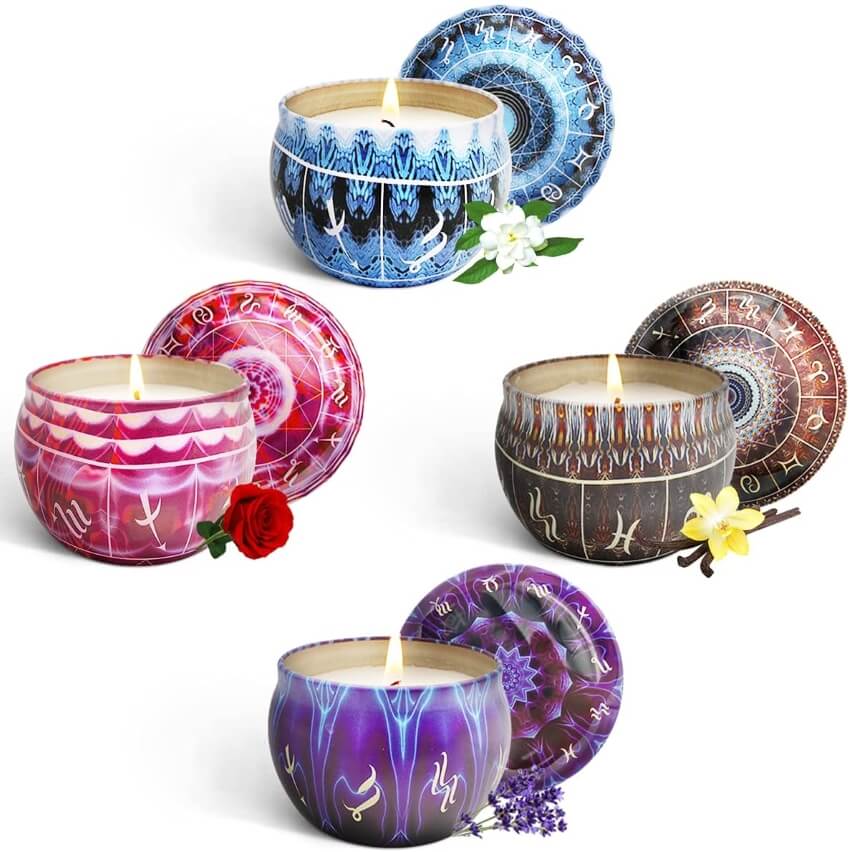 The Bisenghy Scented Candles are available as a 4.4oz candle made from all-natural soy wax, and available in several different nontoxic scents: Rose, Jasmine, Vanilla and Lavender.
Scents of this product won't cause harm to the environment or aggravate respiratory symptoms/conditions. They are also guaranteed to be safe for pets, since they're made from only natural ingredients.
No harmful emissions or potentially harmful ingredients are guaranteed.
While it's simple in its design, it's large and has at least several hours worth of burning time.
See Related: Best Compostable Plates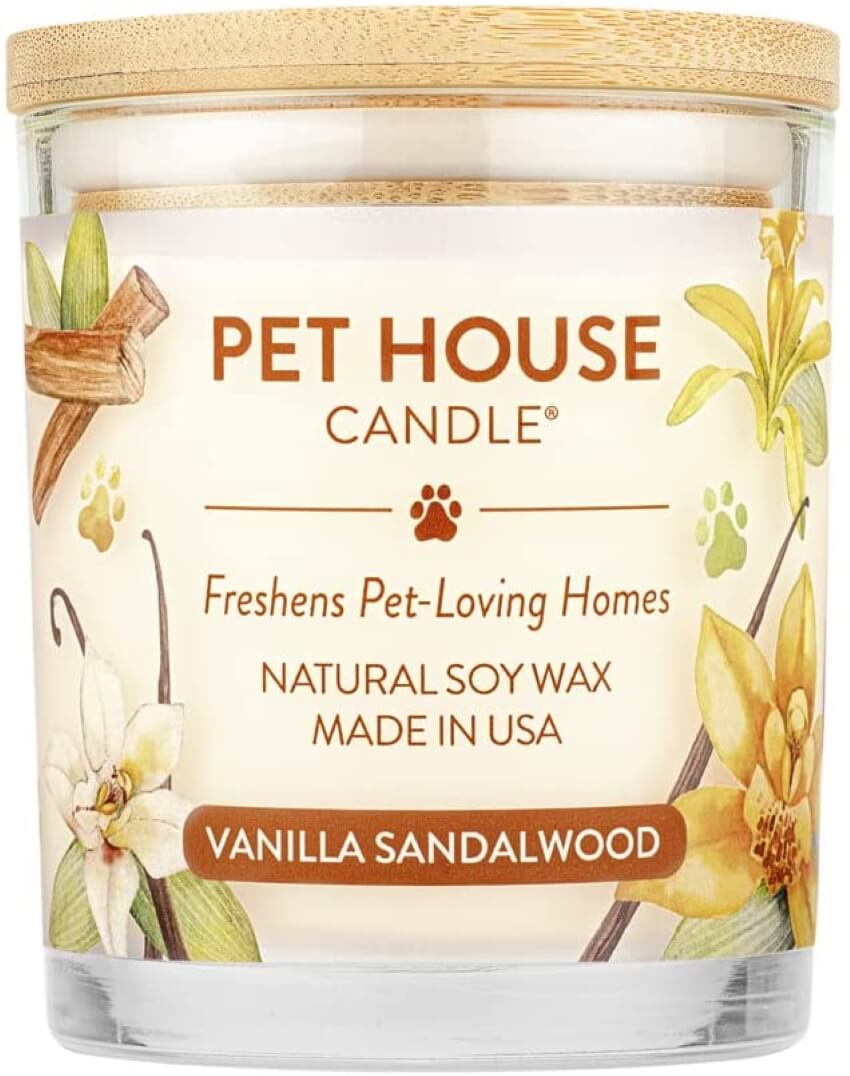 One Fur All 100% Natural Candles are marketed as an eco-friendly candle that has a special attraction for pet owners who happen to love burning candles in their space (but might be concerned about the health and the environment).
These are proudly made in the United States, and as all-natural as the label guarantees.
The One Fur All candles are available in packs of 1, these are made from natural cotton wicks and soy wax: no emissions or harmful chemicals make this one of the best pet-friendly and eco-friendly candles.
The One-Fur-All candle is available in several scents that include Vanilla, Sandalwood, and Apple Cider. These are all safe for pets and people and guaranteed to be safe for anyone who deals with respiratory issues or allergies.
It's great as an environmentally-friendly scented candle, and there are not many around.
Recommended burning time is longer than average, and up to 3 hours at a time. After this, allow the candle to cool before lighting again, according to the manufacturer's instructions.
An additional moneyback guarantee covers the One-Fur-All candle against any defects or manufacturing issues.
See Related: Most Beautiful Eco-Friendly Are Rags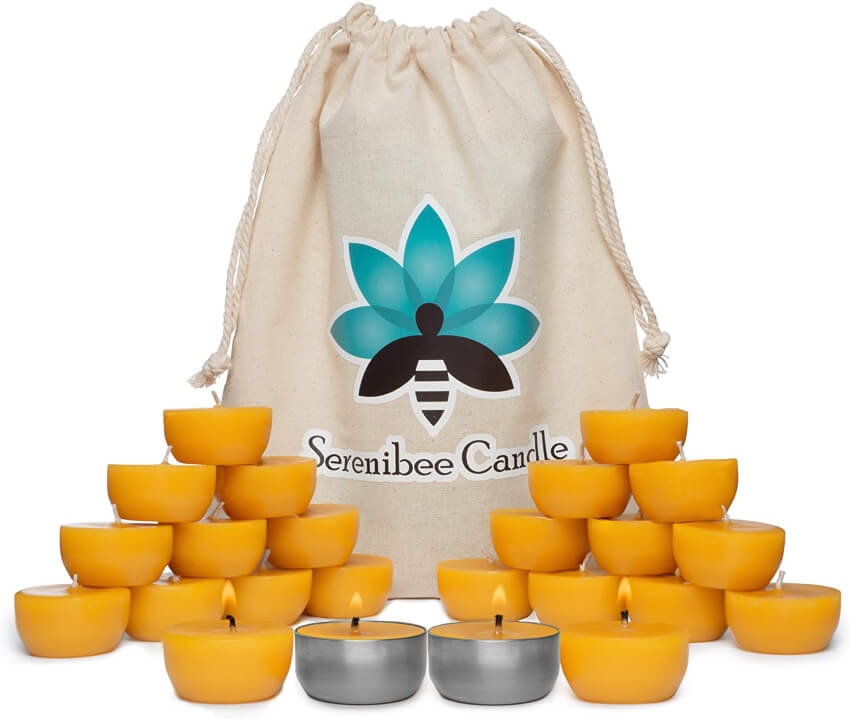 Beeswax Tea Light Candles have all the benefits of natural, responsibly sourced beeswax. It's the perfect candle option if you would like to provide ambient light or a little atmosphere with the guarantee that the product is nontoxic.
The candles contain no harmful chemicals or potential byproducts: nothing but clean and burning beeswax is produced when these little tea light candles burn away.
Since it's beeswax, the Beeswax Tea Light candles are completely unscented and guaranteed safe for pets, people and anyone with respiratory conditions.
Traditional tealight contains paraffin, phalates and even formaldehyde that could harm your health and the environment. Sometimes, regular tealight candles can even produce unnatural forms of heat when you burn several in a small space.
Beeswax candles will not contain these harmful additives, and produce just enough heat to guarantee light.
These are the perfect candle choice for a safe collection of candles that produce a great ambient effect.
See Related: Environmental Consequences of Fracking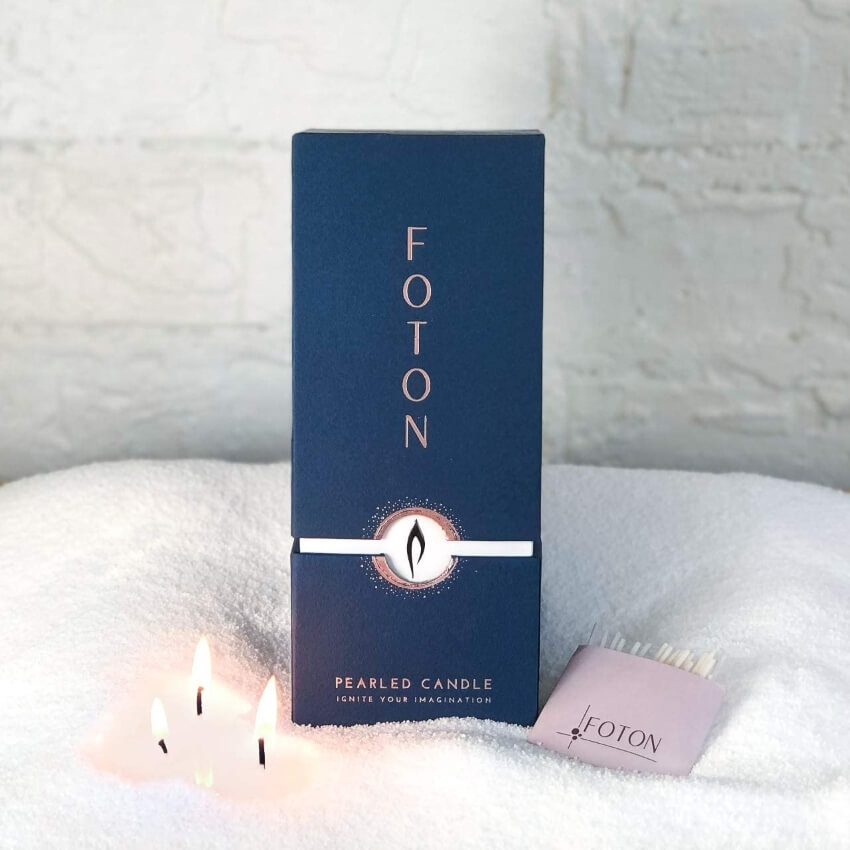 The Foton Pearled Candle Natural Eco Friendly Customizable Candle is one of the best candles on the market if you would like an excellent nontoxic candle that guarantees a safe and lengthy burning time.
Its eco-friendliness is a guarantee, and these candles are at their base a completely natural candle. But it's also one of the only candles on this list that you can customize to your own needs.
Add your own essential oils to the wax to produce scents, or burn the candle as-is to produce a simple light. Foton candles contain all-natural wicks made from cotton and are made from all-natural waxes that won't produce any harmful chemicals when they burn.
The Foton candles are great because they can be used more than once, and give you a long burning time of more than 120 hours. The non-toxic, customizable scent aspect helps to make this one of the greatest atmospheric candles you can get.
When using your own essential oils or scents, remember to check that the product is natural and can't cause effects, side effects, or environmental harm.
See Related: Best Erosion Control Products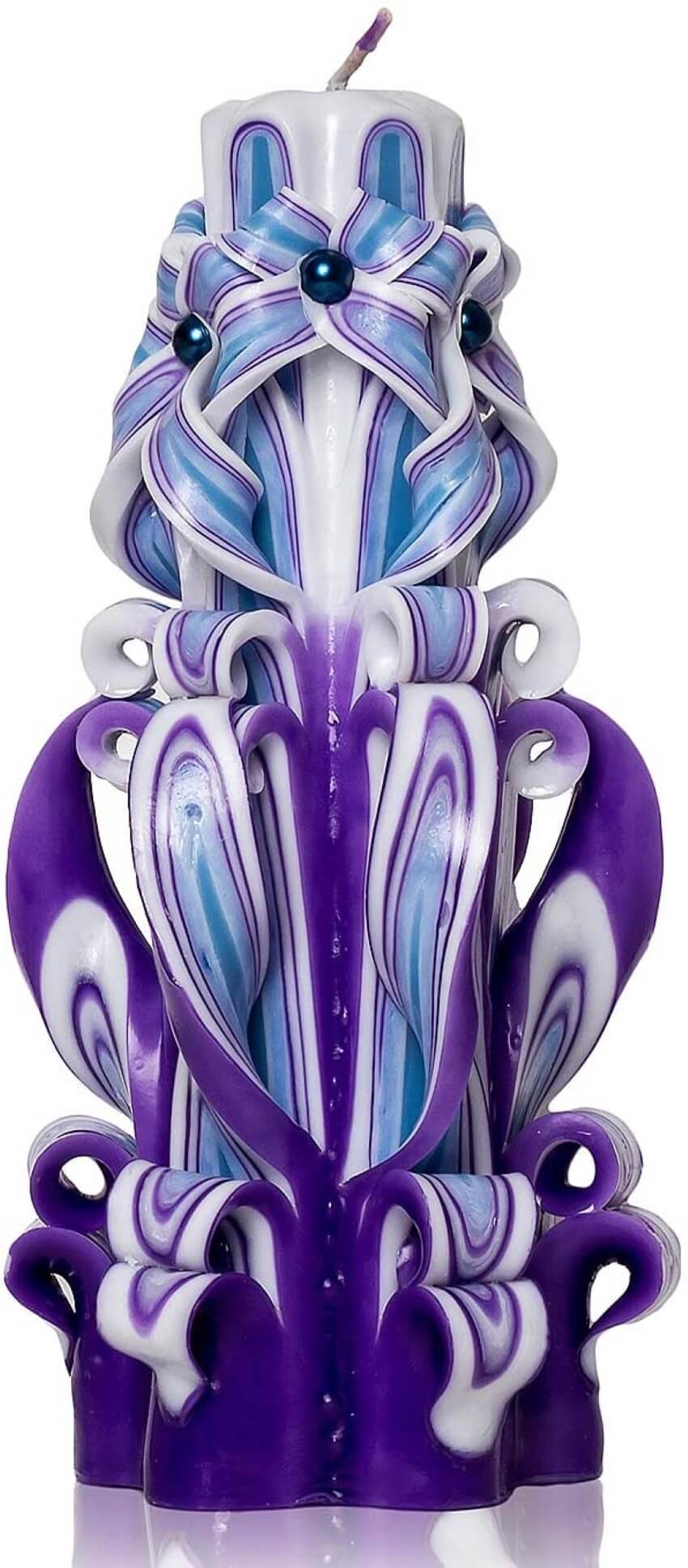 The Purple Blut White Handcrafted Carved Candle is one of the best eco-friendly options if you are looking for an impressive candle that also has a function as a table centerpiece. Impressive and almost imposing, this handmade candle measures at 8 inches.
The candle is guaranteed an environmentally friendly option. It contains no paraffin wax or added ingredients that might be harmful to health, pets or to the environment. Colors are made from materials that will not produce harmful emissions when burning away.
Handmade and carved, it might not be to everyone's decor tastes, but it can be a great centerpiece if it suits.
Though 8″ is the standard length, other sizes up or down are also available.
See Related: Electronic Scooters Pros and Cons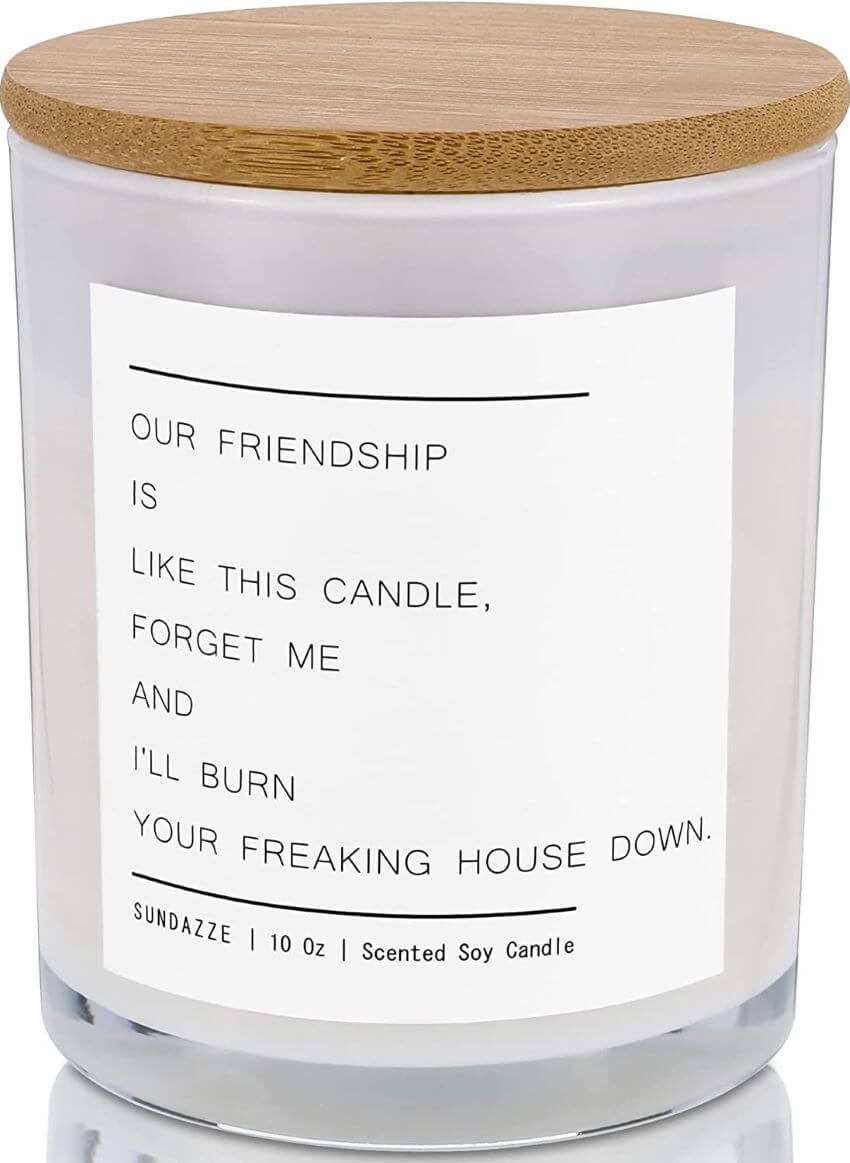 The Sundazze Candle is available as an eco-friendly candle with a novelty aspect. Vanilla-scented, the oversized candle is meant to be given as a fun friendship gift – but it can also be bought as an environmentally responsible candle for home use, if you can ignore the Friendship text on the front!
What's great about the Sundazze candle?
It's made from all-natural soy wax and contains a cotton wick: no additives or undisclosed extras, and the result is an almost perfect candle.
Burns with no emissions, and contains no potentially harmful ingredients like paraffin that can make other candles a danger to your health.
The Sundazze candle is a larger, 25oz candle that burns for up to 70 hours.
See Related: Best Books on Pollution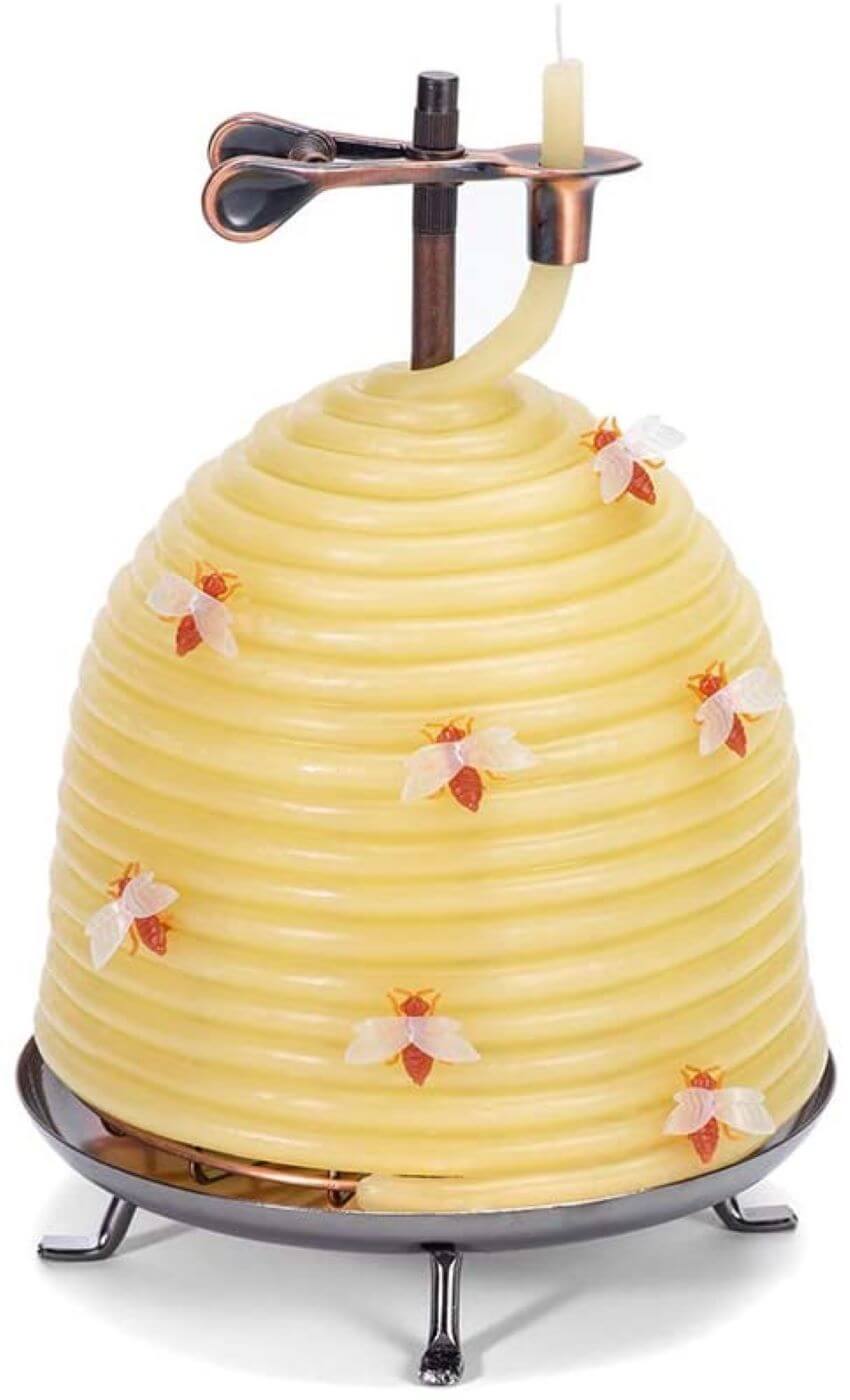 The Candle by the Hour 120-Hour Beehive Candle is one of the best eco-friendly candles on the market today, especially if you would like an affordable option that can provide mild light for a long time with just one purchase.
This is the longer-burning equivalent of the 80 hour candle from the same company.
Unlike potentially toxic candles, the Beehive Candle contains only responsibly sourced beeswax. No added colorants, preservatives or propellants are added to the mixture – and the result is one of the best candles.
The Beehive Candle is thematic, and made to "coil" around in the shape of a beehive. It doesn't just provide light but it's also something impressive to look at!
It's guaranteed to burn with no emissions: just clean-burning beeswax that's safer for the health and environment. Safe for pets, and even safe for those who might have respiratory conditions.
A mock-copper holder adds to the atmospheric look of the Beehive Candle just to round things off.
See Related: Best Composting Books You Need to Know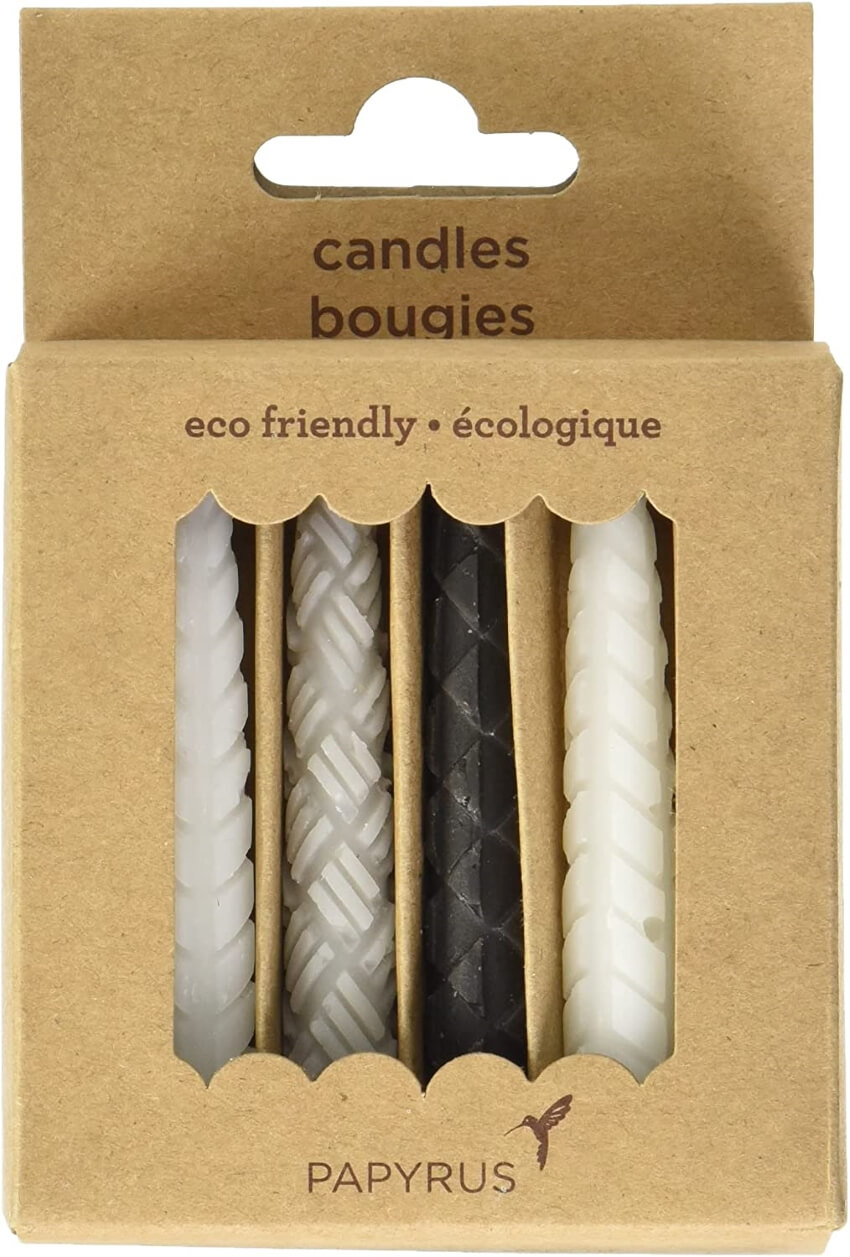 The Papyrus Eco-Friendly Birthday Candles (Black & White) are sold in sets of 12. They are meant for birthdays, but also great for other special occasions that could do with some extra light.
Papyrus guarantees that their ingredients are natural and responsibly sourced. These candles are a mixture of beeswax and palm oil, with no additives or potentially harmful chemicals like paraffin.
Wicks are crafted from natural materials to guarantee the perfect candle. No emissions, and no byproducts or scents.
According to the manufacturer's instructions, the recommended burning time for these great birthday candles is 1 to 2 hours.
See Related: How to Make Home More Energy Efficient?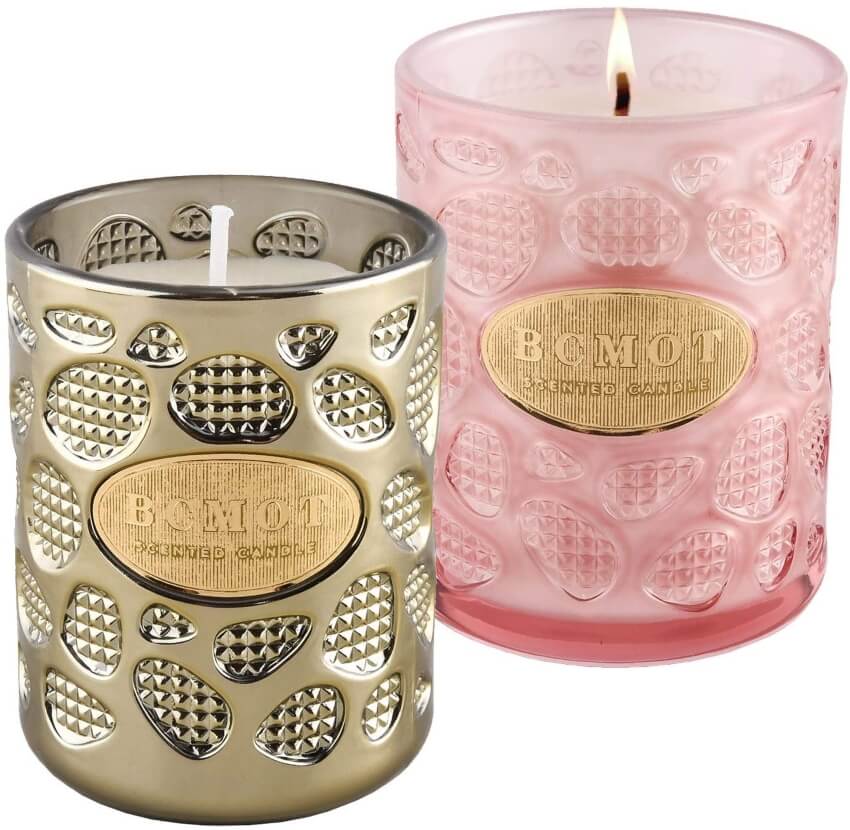 The BCMOT Scented Soy Candles are a great non-toxic alternative to scented candles. These candles are meant as a safe, refreshing way to bring light and fragrance to your space, minus the harmful chemicals you'll find in everything else on the market.
The range of scents is all-natural and guaranteed to be nontoxic for pets and people. BCMOT candles are made from soy wax and contain no added chemicals like paraffin or phthalates.
Wicks are made from cotton and burn slow and cleanly.
Longlasting, completely safe, and great for dim light and atmosphere, these candles come recommended.
FAQ
Related Resources