Buying eco-friendly bathroom products is good for you and the planet. If you want to improve your health and take care of the environment, opting for eco-friendly products is certainly an excellent idea. And, while these products might be expensive to buy, they are durable in the long run and offer numerous benefits.
In addition, the satisfaction of taking care of the planet can never be underestimated. Fortunately, we now have a lot of sustainable bathroom products in the market to choose from.
These products not only help us to reduce plastic waste but also some toxic substances that can harm us and the environment.
Whether you're looking for cleaning products or skin products, you'll definitely find something that aligns with your environmental convictions.
Top Eco-Friendly Bathroom Products
Here is a list of some excellent eco-friendly bathroom products to help you achieve your environmental protection goals.
Best Eco-friendly Bathroom Décor Products
This non-slip bamboo bath mat is what you need in your bathroom. Unlike cloth mats that are difficult to clean and keep absorbing water, this bath mat stays dry.
It looks good in your bathroom and easily blends with the other wooden décor. This everyday bath mat allows water to pass underneath and stays in place, so you do not have to worry about slipping.
Bamboo is an eco-friendly material, so you will be serving the environment well by avoiding plastic bath mats. Apart from using this bath mat indoors, you can use it outdoors near your swimming pool or on the entryway.
It is a luxurious mat, thus a good option if you are looking for something unique away from the normal clothes and plastic mats.
Also, bamboo material is durable, giving you value for money.
Pros
Eco-friendly bamboo material
Beautiful and unique
Fast drying and non-slip
Durable
Cons
You might need some padding underneath to avoid scratching the floor.
This bathroom décor box doubles as a storage box for all your accessories. The best thing is that it is made from wood, which guarantees environmental safety. With a combination of solid wood and hemp ropes, it looks natural and beautiful on your bathroom counter.
You can use the box to store mason jars, toilet paper, and towels. And, if you want to achieve a rustic look in the bathroom, then this is the perfect choice for you. It comes with a free succulent plant making it ideal for use as bathroom décor.
Additionally, it is a compact box, so it fits in tight spaces in your bathroom.
Pros
Eco-friendly materials – wood and hemp rope handles
Compact design for small bathroom
Free succulent plant to add to the décor
Multipurpose use in the bathroom and also kitchen.
Beautiful rustic design for a themed bathroom
Cons
You might need to add some Velcro straps underneath to keep it sturdy.
Might be too small with dimensions of 15.6 "L x6.0 "W x4.0" H
See Related: Best Biodegradable Baby Wipes
These glass and wood mason jars are everything you need to keep your bathroom organized. Besides being plastic-free, these jars are also eco-friendly and aesthetically pleasing. The set of four jars comes with a toothbrush holder, soap dispenser, and two small jars for holding other accessories.
For eco-friendliness, the lids are made from organically grown bamboo. Each glass jar is durable and stainless, meaning you can use it for a very long time. They also look cute in your bathroom, meaning that if you are working with a rustic theme, these jars are perfect.
Pros
Beautiful rustic design with decorations
Rust-free – glass and wood (no steel caps)
Practical design – four jars each for different uses.
Good quality materials and packaging.
Eco-friendly – plastic-free
Cons
Do not come with a holder, so you might need to buy one separately if you do not have shelves.
These wooden soap dishes come as a pair. They are a good alternative to plastic soap dishes, and the best thing is they are aesthetically pleasing. If you want to achieve a rustic look in your bathroom, then these soap dishes are perfect.
Apart from the good looks, they are also practical to use. They have holes, which prevent your soap from getting mushy. You will also notice the slotted design that adds to the beauty and helps in drainage.
The non-slip design also keeps the soap dish in place even when placed on a wet area of the bathroom. Since the wood is smooth, it is easy to maintain hygiene by regularly cleaning the soap dishes.
The soap holders are made from natural bamboo, which makes choosing this option ideal for environmental preservation.
Pros
Natural bamboo is friendly to the environment
Practical design with drainage and slotted design to keep your soap dry
Beautiful wood design and color
Non-slip design ideal for bathroom use
Hygienic – bamboo is a hygienic material for bathroom
Durable wood material.
Cons
Unlike plastic, it might get mold, so try to keep it dry.
See related: Fascinating Facts about Conservation
Best Eco-friendly Bath and Shower Products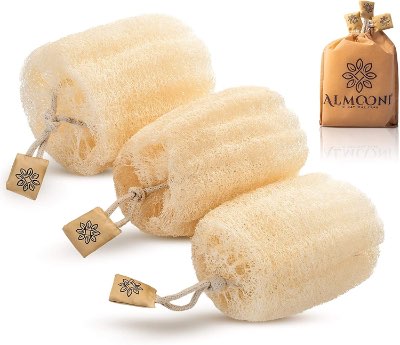 This natural shower sponge will transform your shower time. Unlike other sponges made with synthetic products, this one is made using Egyptian loofah, which is good for your skin and environment. Natural loofah is biodegradable and BPA free making it a better choice over plastic.
Natural loofah is good for skin exfoliation, meaning this will double as a cleaning and exfoliating sponge. You will also save money on buying a body scrub every now and then and save time in the bathroom since you will clean as you exfoliate.
Whether using soap or shower gel, this sponge lathers well and spreads soap on your body well, allowing you to enjoy an excellent eco bath. It is a practical size, which makes it easy to hold and also helps you to clean fast. After showering, you can hang it in your bathroom to dry with the string.
Pros
Non-toxic – natural sponge with no dyes and BPA free
Eco-friendly – a natural product, plastic-free
Good for the skin – cleansing and exfoliating
Durable – last for months and comes in a pack of three
Cons
Has some smell that goes off after some time.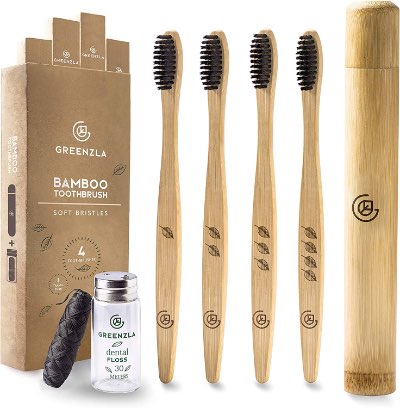 These eco-friendly toothbrushes are made using bamboo wood. In this dental pack, you get charcoal dental floss included to give you more value for money. The bamboo toothbrushes are all-natural, meaning they are free from additives, dyes and are BPA-free.
In case you want to use the toothbrush for travel, you can put it in a bamboo case for hygiene purposes. The toothbrush is made from all-natural materials, with a wooden handle and charcoal bristles. If you are looking for an earth-friendly option for your plastic toothbrushes, these bamboo and charcoal toothbrushes will give you the best.
The toothbrush is not just about aesthetics. It is also effective in removing stains from your teeth and eliminating plaque. These bamboo toothbrushes are an excellent option for eco-conscious consumers looking for a natural and organic option for their teeth.
Pros
Complete dental kit – four toothbrushes and dental floss.
Natural and organic – they are an excellent eco-friendly choice.
Safe – unlike your plastic toothbrush, these ones are both BPA and toxic-free.
Hygienic – comes with a toothbrush case for hygiene
Effective – soft bristles that are mild on the teeth and gums.
Cons
Bristles might feel a little hard at first but get soft over time.
See Related: Sustainable Toothpaste Products Ranked
This soap is made from natural products and comes in an eco-friendly package. It is a good option for people with sensitive skin and is also mildly scented with wildflower scents.
The Amish are known to pass down generations of recipes and have been using this soap recipe over the years with improvements.
This is an all-natural soap that can be used by all members of the family for different uses. It is moisturizing, so you can use it on your face, body, and also as shaving cream. The soap is also mild enough to be used by all members of the family, including the kids.
For an eco-friendly shower, this soap is paraben-free, vegan, and cruelty-free. Most of the soap-making processes are done by hand, including the cutting process. The soap is among the best plastic-free bathroom products you can think of.
Pros
Handmade to eliminate toxic factory processes
All-natural – paraben-free, vegan, and cruelty-free.
Multiple uses in the family to save cost.
Good for the skin
See Related: Best Erosion Control Blankets to Buy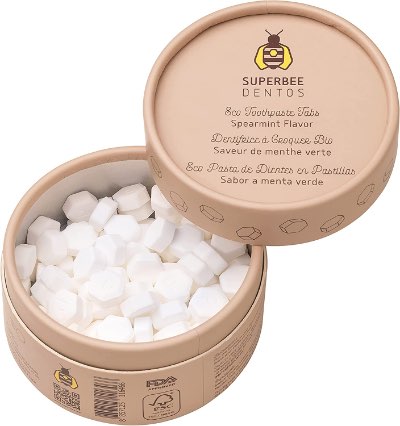 This zero-waste toothpaste is eco-friendly but still gives you sparkly teeth. It is built with environmental friendliness in mind, and every ingredient and process is well thought. Unlike normal toothpaste that comes in a plastic tube, this toothpaste comes in a reusable container that can be used for other purposes.
The toothpaste is BPA-free, organic, and vegan, so you do not have to worry about damaging the environment. All the ingredients used in making these toothpaste tabs are naturally sourced.
The toothpaste is fluoride-free and does not have any chemicals. Using tablets makes brushing your teeth convenient even when you do not have water because all you need is to chew them. You can easily travel with the tabs since the tin is compact, and you can take it anywhere with you.
Pros
Plastic-free packaging – compact tin made without plastic.
Toxic-free – no harmful chemicals are used in the manufacturing process.
Great taste – minty flavor
Easy to use – just pop one in your mouth without using a toothbrush
Ideal for travel since no tubes.
Cons
Might not be ideal for kids.
See Related: Is Paraffin Wax for the Environment?
Best Eco-friendly Bathroom Hygiene Products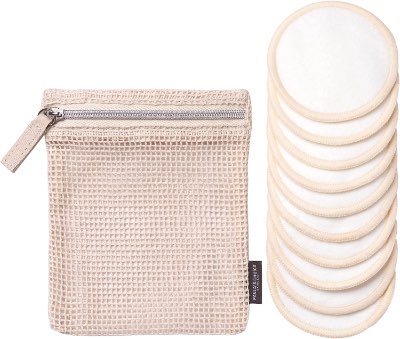 These reusable makeup remover pads are a good eco-friendly alternative to disposable makeup wipes. They are easy to use, and the fact that they are reusable makes them eco-friendly.
The makeup remover pads are made with natural cotton and bamboo, meaning they pose no danger to the environment. They come in a pack of 10 with one mesh bag for storage.
Unlike most single-use, disposable makeup wipes, these ones will last for some months. Even better, they can still be disposed of after use and decompose.
For easy cleaning, all you have to do is throw them in the washing machine with the mesh bag. The natural cotton and bamboo feel soft on the skin.
Pros
It's eco-friendly – a good alternative to the disposable pads that go to the environment
Saves you money – multiple uses saving money
Good for the skin – soft natural cotton
Easy to clean by machine wash
Made by skincare experts.
Cons
A little bit heavy and you might need more product.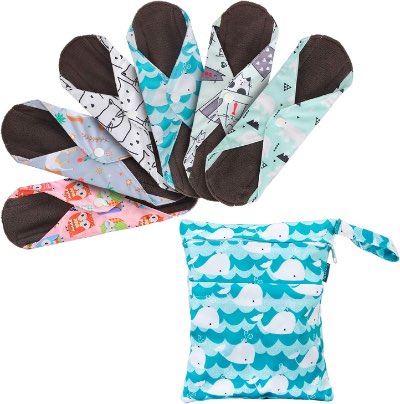 Reusable, cloth menstrual pads are the best for environmental protection. Disposal menstrual pads end up in the land, causing pollution. If you are keen on taking care of the environment, the Teamoy washable pads will be a good choice for you.
They are reusable and also made from natural ingredients such as charcoal bamboo. The pads feel good on the skin because of the natural fabric on the absorbency layer.
They are easy to wear, and all you need is to snap them on your panty. The pads are also unscented, but the charcoal microfiber layer eliminates any odors. Handwashing these pads and hanging them outside in the sun is recommended.
The sun will serve as a natural disinfectant. You can get a wet bag to keep your clean pads for hygiene purposes.
Pros
Made with natural materials
Good for the environment since they are reusable
Easy to use and clean
Hygienic storage
Cons
Might feel weird in the beginning when switching from disposable pads.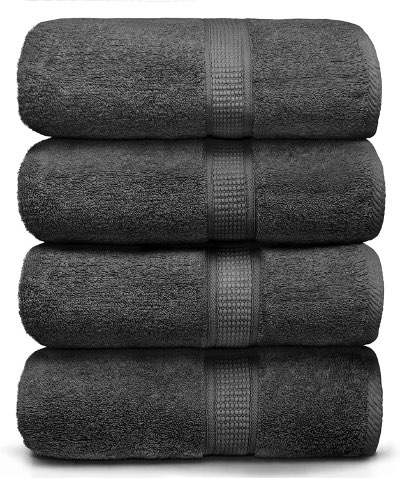 Eco-friendly bamboo towels are a great alternative to synthetic ones. They are made with natural cotton and bamboo fabric and meet the global organic textile standard (GOTS) requirements.
Unlike the synthetic ones, these eco-friendly towels are absorbent and will dry your skin fast without causing any irritation. The fabric is soft since it is made with natural fibers that are mild on the skin.
Made with natural materials, these towels are available in natural colors such as gray and linen. If you want to take a break from synthetic materials, you will enjoy the soft feeling of these towels and also their durability.
Also, they are easy to clean since you can put them in the washing machine and tumble dry them. However, when cleaning, avoid using hot water or harsh cleaning agents.
Pros
Soft on the skin
Made from natural fibers good for the environment
Easy to care
Highly absorbent
Environmental friendly.
Cons
Delicate fibers can be destroyed by heat.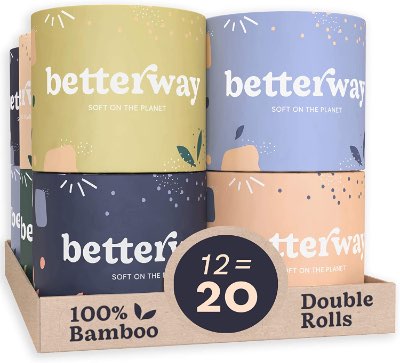 Bamboo toilet paper is good for the environment and is among the most common sustainable toiletries you can include in your bathroom. It is plastic-free and helps you to save the environment by avoiding materials containing harmful ingredients.
Unlike other toilet paper options, the Betterway bamboo toilet paper is long and comes in 3-ply instead of two. This means that it is absorbent, easy to use, and lasts for a long time.
This is also the best tissue if you are looking for something easy on the skin. Since it is made with natural fibers, the tissue is also non-toxic. It is scent and dye-free, making it ideal even for people with allergies and sensitive skin.
If you are concerned about cutting down trees to make toilet paper, this is the right toilet paper for you.
Pros
Plastic-free – both the tissue and its packaging are plastic-free, reducing plastic waste.
Nontoxic – no scents and dyes used in manufacturing
Natural bamboo is used to make the tissue
Cute packaging, making it a great gift
Economical – longer than normal tissue and 3-ply
Cons
A little expensive than normal toilet paper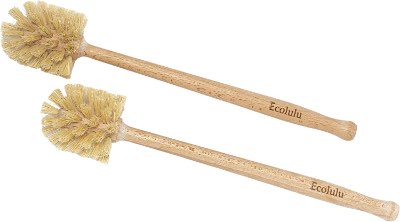 Your toilet cleaning brush doesn't have to be plastic. The Ecolulu brush is made with a beechwood handle and hemp bristles. It is the perfect choice if you want to eliminate plastic from your bathroom and switch to eco-friendly products.
Since this brush is made from all-natural products, it decomposes easily without causing any harm to the environment. For easy cleaning, it comes with a long handle and also has 360 cleaning abilities to help reach all parts of the toilet.
Pros
Plastic-free cleaning
Natural products that will decompose
Powerful cleaning with hemp bristles
Effective cleaning with long brush
Aesthetically pleasing design
Cons
Things to Consider when Buying Eco-friendly Bathroom Products
1. Compostable Material
Buy bathroom products that are compostable to save the environment. Plastic bathroom products like brushes end up in landfills causing adverse effects on the land.
Compostable materials like wood are the best, because after use, as they can end up as compost. Opt for such materials as opposed to plastic when buying bathroom products.
2. Ethical Practices
Before you buy any bathroom product, think about the ethics behind the company and the manufacturing process. It is advisable to buy from ethical companies that are concerned about employee welfare.
Even if your goal is to buy eco-friendly bathroom products, they should also have been sourced ethically without causing harm to the environment. The essence of sustainable living is to make sure that no animal or person is harmed in the process.
3. Non-toxic Ingredients
When buying eco-friendly bathroom products like shampoos, essential oils, soaps, and toothpaste, take time and look at the ingredients. It is advisable to go for non-toxic natural ingredients.
If possible, opt for products that are chemical-free and use natural ingredients instead. Some of the chemical ingredients that you need to avoid include artificial scents, dyes, and parabens.
4. Plastic-free
The goal of sustainable bathroom products is to reduce the use of plastic in our homes. It is possible to reduce plastic by going for alternatives that are good for the environment. Some of these alternatives include glass and wood.
They do not cause pollution and are produced from recyclable materials that make it easy to care for the environment. Most plastic-free bathroom items are also durable and will give you value for your money.
See Related: Plastic Pollution
5. Avoid Single-use Products
Single-use products are bad for the environment, especially if they are not biodegradable. They end up producing a lot of waste, which only pollutes the environment. If you have decided to buy eco-friendly products for your bathroom, opt for items that you can use more than once.
For instance, instead of buying wipes that you will throw after every use, go for towels that can be washed and reused. By using the items that you have several times, you will be taking care of the environment by reducing the need for more new products.
6. Natural Materials
Natural materials are the best when buying bathroom products. It is advisable to go for natural fibers as opposed to synthetic ones. Natural materials are easy on the skin and do not cause allergies.
The best thing is that they do not cause pollution to the environment. Buying natural materials might be expensive, but it is good for the skin and environment.
7. Vegan
Buying vegan products is always a good idea if you are thinking about sustainability. When buying bathroom products, make sure that they do not have any animal ingredients.
This plays a big role in protecting our animals against animal cruelty. For example, you should buy products from manufacturers that do not do animal testing as this is cruel to the animals.
8. Aesthetics
Aesthetics is still important when buying bathroom products. You need to buy products that look good and match your bathroom décor. For instance, if you have decided to go with a rustic décor theme, you can easily find wood and glass bathroom items that blend well with the space.
Fortunately, most eco-friendly products look good, so you do not have to worry about aesthetics.
Related Resources