Today, it's challenging to find something pure. Even if you ignore other essentials, no one can overlook the importance of hygienic food items, especially vegetables and fruits.
Growing vegetables by yourself at home not only ensures their purity but adds an extra flavor to them. A greenhouse lets you grow plants all year long without a pause.
However, you need to provide proper heat to get the best out of your greenhouse. One of the more recent and most energy-efficient ways is using a solar heater for greenhouses. But, it may be a bit difficult for you to find suitable heaters for a greenhouse if you aren't experienced.
By and large, installing a new heater in your greenhouse is not as pricey as you may think. You can easily get your hands on quality heating equipment with a bit of effort.
Here's a guide on how to select a suitable solar heater for greenhouses. In addition, we will also discuss some of the best solar heaters for greenhouses.
Best Solar Heaters for Greenhouses
It is now time to review some of the top-rated solar heaters you can use in a greenhouse. If you have been unlucky in finding a suitable heater yet, the following list can help you a lot in choosing one.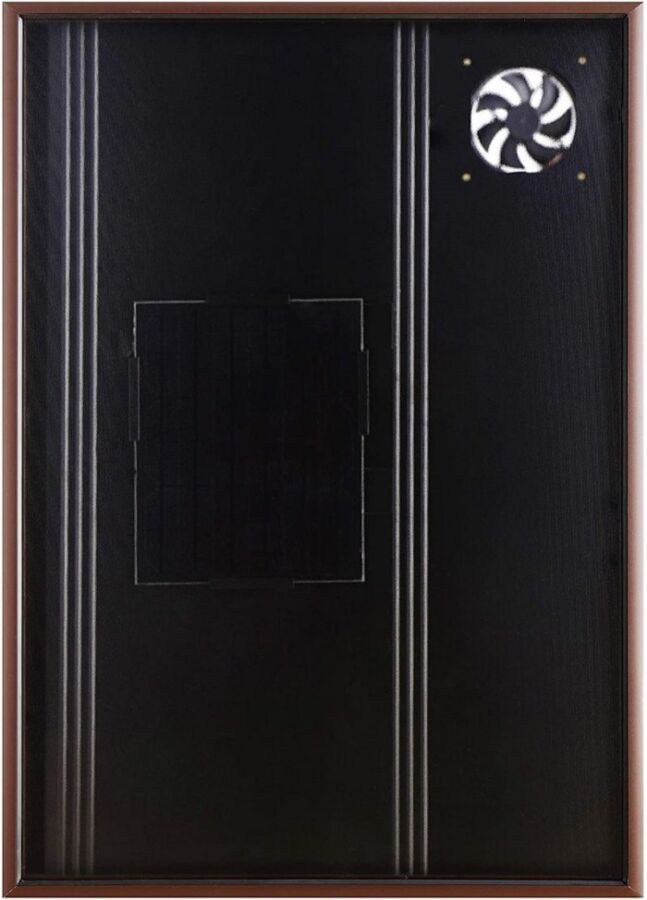 Key Features:
Can humidify or dehumidify room depending on its environment
Does not have any maintenance costs
Occupies less space
You can even switch between solar or electric energy as per convenience
Best for greenhouses
A cost-effective solar device, Nakoair solar air heater collector, creates a warm, healthy atmosphere for your crop in the greenhouse. Conveniently, this small solar heater for the greenhouse does not even require much maintenance.
Since it has a heating capacity of 72%, you can easily use it to avoid mold and moisture in a small spaced greenhouse. Moreover, it is specifically designed for extended working. Therefore, it definitely gives a tough time to other solar-powered heaters in terms of durability.
The Nakoair solar heater takes only 45 square meters, and you can easily place it anywhere. Also, with only 10 KWH annual power consumption, it can offer generous savings.
Since it comes with a European solar key mark certification, you can trust it blindly. This certificate is evidence of it being a quality solar thermal energy production. Moreover, it also indicates that this solar heater for the greenhouse meets European standards for use.
All in all, if you are looking for a solar heater that is cost-effective and trustworthy, then this product is the right choice.
POWOXI 10W Warm Air Solar Heater
Key Features:
Metal mesh cover
A fence on the back
Simple panel
Automatic movement option
No need to use long extension wires
Safe to use
Three-speed charging adjustment
Cuts off power itself at high temperatures
It is an efficient solar heater that is portable and would fit best in your greenhouse. Since POWOXO 10W Warm Air Solar Heater utilizes high-quality PTC ceramic heating, its heating system is quick.
Moreover, the device comes with a safety protection feature and does not have a loud noise. Its aesthetic design is quite alluring, and it will look appealing when placed in the greenhouse.
Its elegance and versatile features help it stand out from other heaters for a greenhouse. Moreover, you get a one-year warranty and lifetime technical support with this product.
This cost and energy-efficient heater can rapidly heat your greenhouse. Moreover, it is environmentally friendly, too.
See Related: Best Solar Power Banks
PK Green 10 W Small Solar Heater for Greenhouse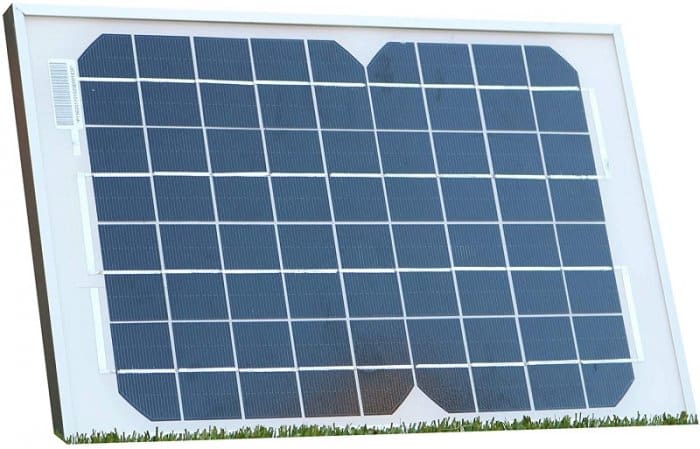 Key Features:
Uses far-infrared heating technique
No noise or pollution
Completely secure with thick metal protective cover
Saves you maintenance costs
High-thermal efficiency
Portable and easy to carry
Long term warranty
This environmentally-friendly solar heater is 10W and monocrystalline. It is also portable and can adequately provide your crops with an optimum environment in the greenhouse.
Since it has the best quality aluminum protective covering, it is highly safe and secure. To mount it with ease, you can find holes in the metal covering too.
Overall, the heater is UV and rust-proof. Moreover, it is water-resistant too. All these features make this product extremely durable and trustworthy.
The panel has a long wire in the package, and you do not need to connect other cables to get it going. Excitingly, the product has a 20-year limited warranty that would help keep it in the best shape for a long time.
As one of the best solar panels for a greenhouse heater, it offers you various features. It can effectively heat a small-spaced greenhouse rapidly. Furthermore, with its portable structure, you can place it even in a compact area.
This product is bespoke for anyone looking for an efficient heater with low maintenance costs. Plus, the warranty period adds to the credibility of the product.
Renogy 12V Monocrystalline Solar Panel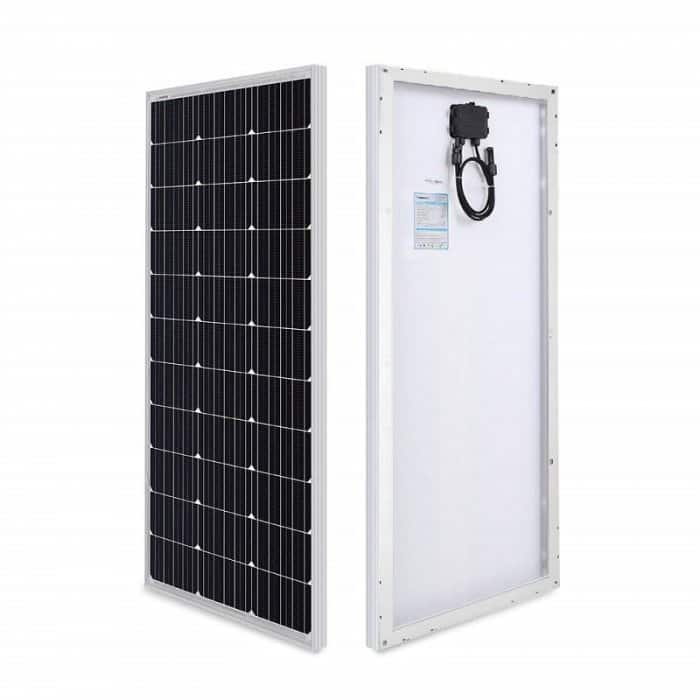 Key Features:
Provides heat even in low-light conditions
Easy to mount with a flexible metal handle
Highly durable
Charging controller makes it safe from catching fire
Energy and cost-effective
Can operate with different batteries
This is a durable, 100 W monocrystalline solar heater for greenhouse. With its sturdy structure, it can stand firm even in heavy snow and storms.
It has a total capacity of 200W with two 100 watts solar panels. Therefore, it can quickly provide heat to the greenhouse even in cold and cloudy conditions.
The multi-layers of sheet laminations on it ensure that your greenhouse continues to be warm for a long time. Moreover, a rust-resistant, sturdy, and adjustable stand also accompanies the panel.
The device also has a 4-stage charging regulator that makes sure it is not overcharged. Other safety features include temperature and battery sensors. All of them work in collaboration to keep the heater secure and protected.
Its ability to work well even in cloudy and overcast weather makes it a worthy solar heater. Moreover, its safety features, such as the charging regulator, are unique and offer you maximum protection from an uncalled-for hazard.
If you want a low-cost and eco-friendly solar heater for greenhouse, then this solar panel can be an apt choice.
Eco-Worthy 200W Solar Panel Greenhouse Heating Kit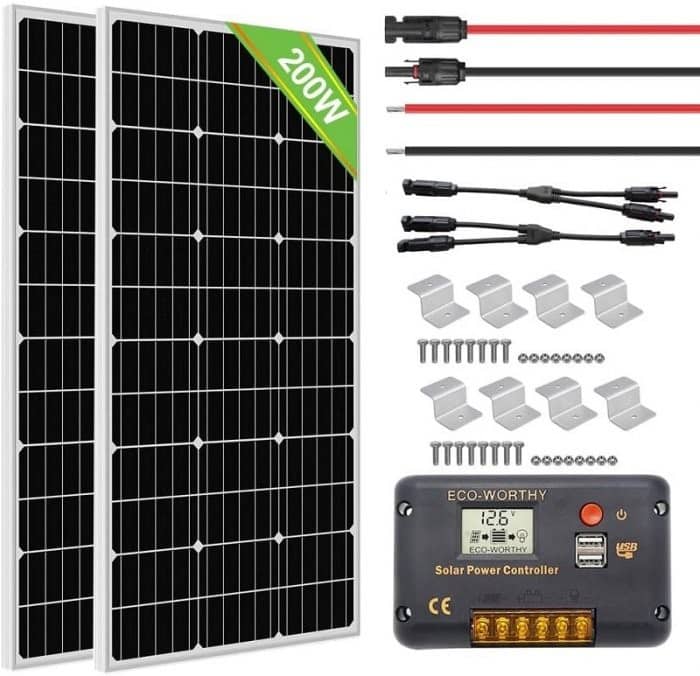 Key Features:
Easy installation
Automated charging controller
Heats rapidly
Works well in low-light conditions
Water and rust-resistant
The Eco-Worthy 200W solar heater can bear harsh weather such as snow loads and storms with a strong metal structure. Moreover, the aluminum frame is also rust-resistant and waterproof.
The two 100W panels heat the space in no time. In addition, like notch panels, there's a charging controller in it too. This controller does not let the device overheat, which, in turn, ensures its longevity.
Also, the panel has an in-built system to protect it from under-voltage, short circuits, or reverse polarity.
The built-in protection mechanism in this panel keeps it safe from any damage. Moreover, its superb durability and easy-to-install features make it a great product to use in your greenhouse. In addition, since this solar panel provides a constant energy flow, you no more have to worry about power cuts.
With its environmentally friendly features and effective heating, this solar panel is undoubtedly the best choice for your greenhouse.
Xinpuguang 100W Solar Panel for Greenhouse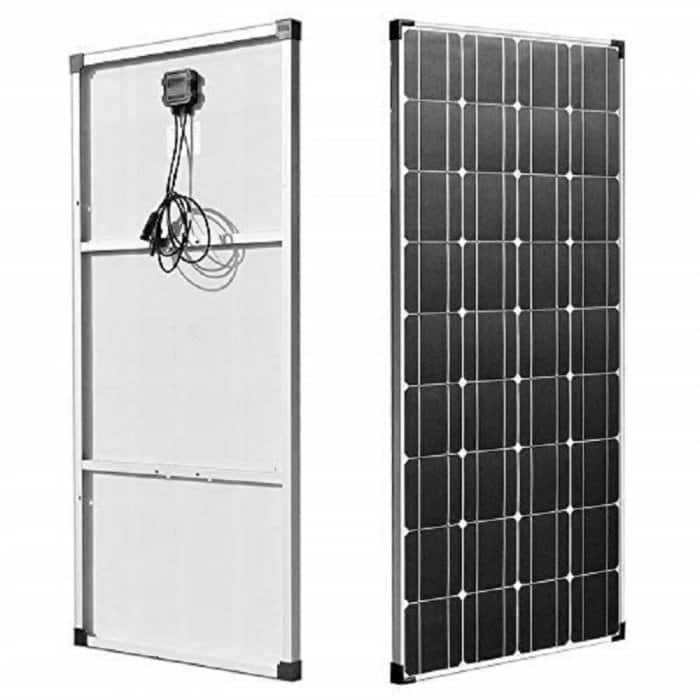 Key Features:
Designed for long-term use
Durable
Able to heat quickly regardless of the weather
Cell efficiency is 8%
This 100 W monocrystalline solar panel kit is an impressive device for heating your greenhouse. The silicon solar cells present in the panel are highly efficient.
Its PET material surface makes it water-proof and allows it to gather maximum sunlight. Subsequently, the device produces quick solar energy and heats the greenhouse rapidly.
These panels have built-in drilled holes that allow you to install them easily anywhere. In addition, the corrosion-resistant aluminum cover helps it withstand robust winds and snow. Even if you decide to mount it on top of your greenhouse, it will stay undamaged.
Although you may find it a bit costly, the product is worth all the money. The rust and water-proof material ensure its long-term usage and durability. Moreover, it is energy-efficient and eco-friendly.
For off-grid spaces such as greenhouses, this is an extraordinarily reliable and handy heating source. Moreover, since it does not eliminate any pollutants, you can proudly contribute to a cleaner environment.
Solar-Powered Heater for Greenhouse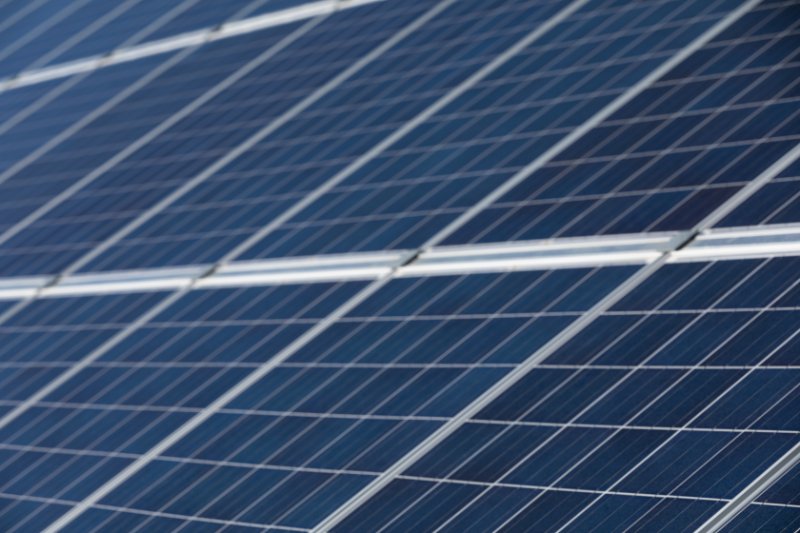 Conventional greenhouse heating techniques such as using electric or gas-powered heaters are expensive, to say the least. Moreover, they are unreliable too as a power cut can ruin your whole hard work in no time.
Therefore, seemingly, solar heaters are the correct answer to all your greenhouse heating needs. They are cost-effective and provide a continuous source of energy even on the days when sunlight is low.
Moreover, they help provide heat to the plants throughout the year, even in winter, leading to a healthy greenhouse environment.
Generally, there are two types of solar panels that are incredibly efficient including:
Monocrystalline Solar Cells
Made from monocrystalline silicon, these cells have a dark color and cylindrical shape.
These cells consume small space and have an efficiency rate of 15-20% that is above average. In addition, they show high performance even on cloudy days.
However, a drawback associated with them is that they might be more expensive than the other solar cells in the market.
Polycrystalline Solar Cells
Unlike monocrystalline cells, the production of polycrystalline cells has no silicon waste. Also, the high temperatures do not affect them negatively. In terms of costs, polycrystalline cells are more affordable than their counterparts.
Nonetheless, they tend to occupy more space and are less efficient than monocrystalline solar cells.
Things To Consider When Choosing Solar Heaters For a Greenhouse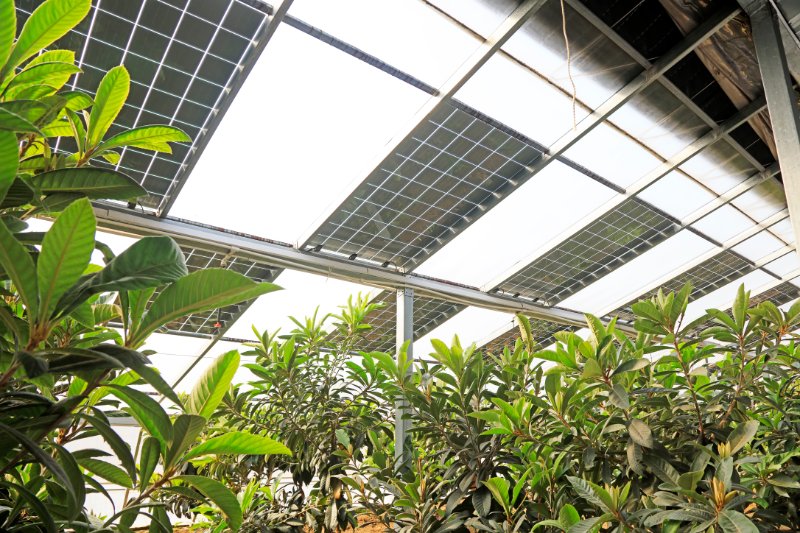 Finding a solar heater that best fits the greenhouse can be tricky for someone with no prior experience. However, with care and guidance, you can get your hands on a product that is worth the money.
There are some factors that you must keep in mind before buying a solar panel greenhouse kit.
Greenhouse Size
To start with, the solar panels for greenhouse heater will hugely depend on the size of the greenhouse itself. If you have a big outdoor greenhouse, you will undoubtedly need to have strong panels.
Plants Inside the Greenhouse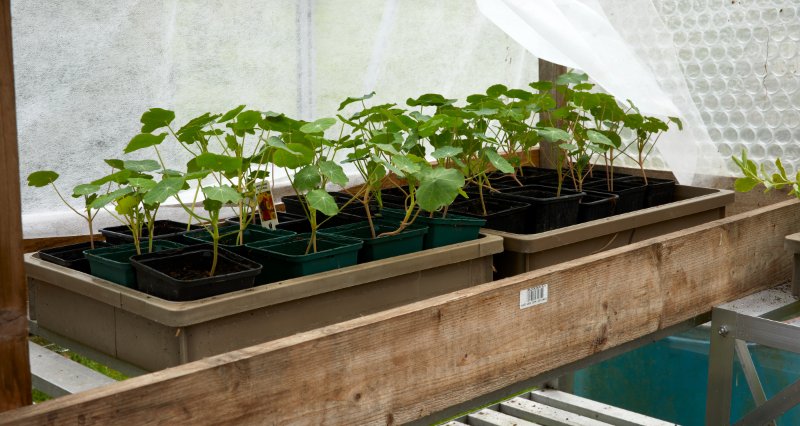 Secondly, the type of plants you are growing or want to grow decides what kind of solar heater you need. The reason for this is every crop requires a different temperature.
For instance, if you are growing plants that need more heat in winter, using small heaters for a greenhouse won't do the job.
Moreover, plants release heat of their own too. So, if you are not consuming the entire greenhouse, then even a small heater will be sufficient for the purpose.
Level of Insulation
Another essential thing to consider is how well your greenhouse is insulated. You should insulate your greenhouse well enough so that the heat leakage is minimum. It will allow you to buy even small solar panels for a greenhouse heater.
Handy Controls in the Panel
Ideally, the panel should have some user controls to help you regulate them more easily. They may include;
A controller for overcharging
Mounting bracket
Temperature sensors
The additions like these make your panel more trustworthy and secure.
Easy to Install
The solar panel must be easy to install with a direct mount option. Moreover, some panels are also versatile in terms of installation. You can fix them on a boat, cabin, or any rough surface.
Price
You will find a variety of solar heaters for a greenhouse in the market with different price brackets. So, before going out to buy one, you must at least have a rough estimate of your budget. This will save you much time and effort.
Advantages of Solar Powered Heater for Greenhouse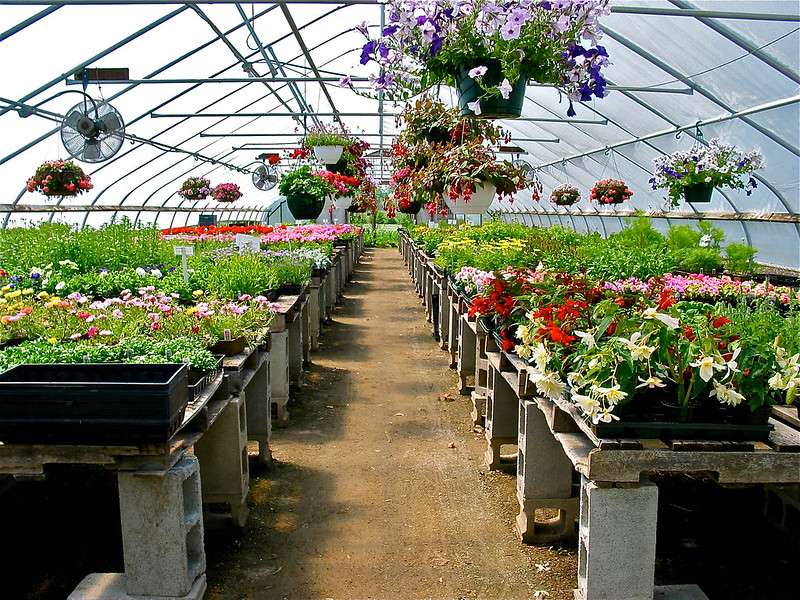 Apart from just effectively heating the greenhouse, a solar heater has other benefits too.
Here are the potential pros of using a heater for a greenhouse that is solar powered.
Cost-Effective
Although it may look somewhat expensive at first, a solar-powered heater is highly cost-effective in the long run. As a solar heater will use the sun as a source of energy, you won't have to worry about monthly charges.
Generally, the electricity or gas heaters mass up hefty bills at the end of the month. However, a solar heater for the greenhouse will immediately start saving you money as it does not have any running costs.
Uses Renewable Energy
The most alluring benefit of these heaters is that they get energy from the sun. Therefore, unlike natural gas, the sun is a renewable source of energy.
Easy installation
In addition to being inexpensive, the solar heaters are friendly to install too. You do not need to have a tight grip on science or technology to get it up and running. Mere know-how of how solar heaters work will get you through the process.
No Power Cuts
If you use electric or gas heaters for a greenhouse, you fear the power going out. However, a properly set-up solar heater will provide you with constant power. It also prevents your prize crop from getting destroyed in case of an extensive power outage.
Favorable to Environment
The sun is not only renewable but also a clean source of energy. This process does not produce harmful by-products or substances while heating the greenhouse. Therefore, you contribute towards a clean and green environment by reducing the carbon footprint.
Related Resources: