Location: United States
Founded: 1998 by a corporation of individuals and institutions.
Species: African elephants and Asian elephants.
What is the International Elephant Foundation?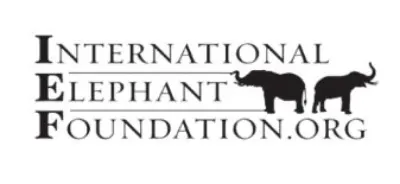 International Elephant Foundation is a 501c(3) nonprofit organization committed to protecting Elephants. They do many things and see themselves as an umbrella organization encompassing the International Elephant Society, International Animal Rescue, and International Veterinary Dental College.
The organization aims to support elephant conservation and protection—the International Elephant Species through education, conservation, research, veterinary programs, and International Elephant Sanctuaries.
See Related: Why Animals so Big in the Past?
International Elephant Foundation's Mission
International Elephant Foundation has many initiatives such as rescuing elephants, improving habitats for elephants in range countries, bringing awareness about mitigating human-elephant conflict, and informing people about natural elephant history.
The foundation's Education Initiatives are to teach the grassroots of education communities on elephants, like students and teachers, as well as conservationists and decision-makers on elephants and their living landscapes.
Here are the goals of the International Elephant Foundation:
End ivory poaching
End ivory markets and black market
End the endangered Asian elephant trade
End the increasing human-elephant conflict
Help human-elephant coexistence
Save critically endangered Sumatran elephant
Conduct scientific research about elephant diseases and cure
Educate people about elephant care and wildlife conservation education programs
International Elephant Foundation's International Animal Rescue program aims to create a safe space for animals that do not belong in captivity.
The nonprofit organization also aims to build a sustainable future for elephants, build conservation response units, use trained elephants to patrol forest units and have education programs with the help of the organization's community partners on its conservation projects.
International Elephant Foundation's goals are to support the protection of elephants threatened by habitat loss or increasing human-elephant conflict; end illegal wildlife trade; advocate for life before death (euthanasia), and promote sustainable livelihoods to empower communities with whom elephants coexist.
See Related: Ways to Save Animals from Extinction
Projects
International Elephant Foundation supports different projects and operates directly in many countries throughout Asia and Africa. Since its beginnings, International Elephant Foundation has led elephant conservation.
The International Elephant Foundation manages the International Elephant Research and Management Center, International Elephant Awareness Day, International Center for Asian Elephants, International Elephant Conservation Centers, and International Conservation of Asian Elephants.
Their focus is on management and elephant protection, such as anti-poaching activities and scientific research, but they also support outreach programs to encourage peaceful coexistence with local communities.
See Related: David Sheldrick Wildlife Trust
Elephant Conservation
The International Elephant Foundation is a global organization that helps to protect the existing elephant habitat. The organization also works to save the endangered Asian elephant and other highly endangered species.
The International Elephant Foundation has worked on several aspects of elephant conservation in the past few years to ensure a dynamic Elephant future.
One of their projects is to operate elephant conservation and train park rangers in Tanzania about protecting the country's elephants from poachers. Another project they are involved with is providing freshwater sources for wildlife in central Kenya.
The International Elephant Foundation is also working on educating the community about elephant conservation, including teaching children about the importance of protecting these endangered species.
See Related: Animals With Best Sense of Smell
How can I donate to Elephants?
International Elephant Foundation provides rescue and cares for elephants that have been victims of the illegal wildlife trade, elephant tourism, or other abuses. International Elephant Foundation educates about the culture, biology, and conservation challenges facing wild elephants in their natural habitat and those in captivity.
See Related: Why Do Animals Like Being Pet?
How can we save elephants?
Countless wildlife organizations help endangered species and global management programs on wildlife conservation.
The International Elephant Foundation is among these wildlife organizations that work tirelessly to save elephants by funding international conservation projects and education programs and producing original content about elephant-related topics.
In addition, it protects existing elephant habitats and partners with zoos across the globe. Supporting the wildlife organization of the International Elephant Foundation is among the best ways to save elephants.
See Related: Best Books on Endangered Species
How to help
Do you want to support the different research projects and conservation efforts of the International Elephant Foundation to protect Asian and African elephants, then click on the donate button and go to their website to make your contribution.
Related Resources