The world is facing an unprecedented plastic pollution crisis. According to reports, there are up to 75 trillion pieces of single-use plastic filling up our oceans nowadays, which is a major threat to marine life and can lead to deadly consequences.
Since taking action is critical to saving our planet, many people choose a zero-waste lifestyle to reuse and recycle to reduce their consumption of single-use plastics.
A good way to reduce plastic consumption is to buy products from zero-waste shops online. These waste-free stores offer a remarkable variety of products without sustainable, plastic-free packaging, including beauty products, cleaning detergents, and everything in between!
If you're looking for ways to shop responsibly, this guide will help you by walking you through amazing zero-waste stores and eco-friendly refill shops. So without further ado, let's dive right in.
Best Zero-Waste Stores
1. Life Without Plastic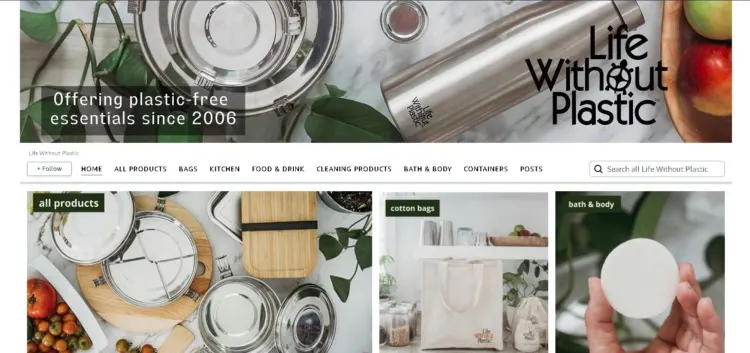 Kicking off the list with one of the best zero waste stores out there, offering a variety of home and kitchen supplies. The co-founders of this zero waste are the authors of a bestseller book of the same name, which launched the brand in 2006.
Since the idea of the brand came to the co-founding couple after the birth of their child, Life Without Plastic started by selling baby bottles made from stainless steel and glass.
However, the brand's success over the years allowed Jay and Chantal to expand the shop's inventory to a huge variety of everyday-use items made from sustainable and ethically sourced materials.
Besides kitchen utensils and composting bags, you can also find eco-friendly soap bars, natural sponges, compostable bamboo toothbrushes, travel mugs, and much more!
In addition to its regular products, Life Without Plastic also offers wholesale products for discounted prices, which makes it a great source for retailers that want to stock up on their items.
The vast majority of the store's products use compostable materials for packaging. For instance, the store uses compostable cornstarch peanuts as a packing material.
Keep in mind that the store also reused materials to reduce waste, so you may come across some recycled plastic every now and then.
See Related: Best Eco-Friendly Baby Products to Buy Today
2. Eco Roots
Next up, we have a store that makes zero waste shopping easy and enjoyable, offering an amazing variety of everyday products made from alternative materials for sustainable living! Whether you're looking for products for your kitchen, bathroom, or even skincare routine, Eco Roots has got you covered with tons of options, such as face creams, lotions, moisturizers, hair oil, conditioner bars, and more.
On the other hand, you can also find products like shaving kits, cleaning kits, reusable dishcloths, scented candles, reusable bamboo cutlery, and more! The waste free small business was founded by Antonia Pitica with one goal in mind: zero waste living and reducing our environmental impact, all without sacrificing quality.
One thing that makes Eco Roots an excellent stop for eco-friendly shopping is that it also cares about sourcing the materials used for its products. For instance, all beauty products made by Eco Roots are not only zero waste, but they're also vegan and cruelty-free. This means no animal testing or using harsh chemicals that can harm your skin.
Not only that, but the company also donates a small percentage of its profits to ocean conservation efforts. Additionally, the store often offers product refills, so you don't have to buy the original package and pile up your waste bin.
The brand's products are sustainable, stylish, and affordable. And with their giving back pledge, you rest assured that every purchase you make will make a difference!
See Related: Eco-Friendly Tips for Sustainable Living
3. Bars Over Bottles (B.O.B)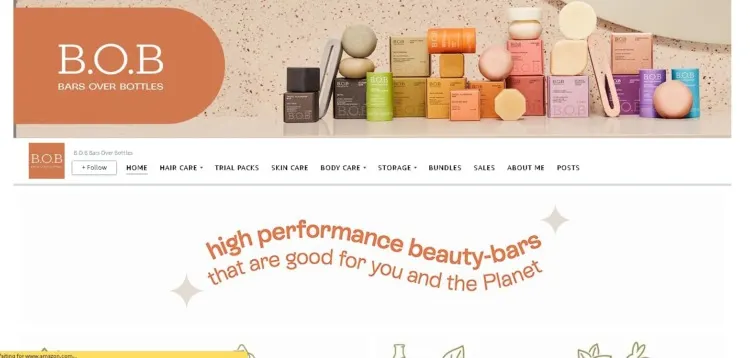 Bars Over Bottles, also known as "B.O.B", is a heavily underrated brand when it comes to beauty products. The waterless beauty brand has a unique collection of items, including hair care products like shampoo bars, conditioner bars, and hair mask bars. The store also offers skin and body cleansing bars for a complete skin and hair routine!
According to the brand, selling waterless products in solid bars lowers the product's carbon and water consumption during manufacturing.The bars are also much easier to store in reusable packaging materials like aluminum and recycled paper while being relatively compact and easy to store.
Additionally, the lack of water in the products makes it an unfriendly environment for bacteria and fungi. In other words, the products last relatively long without needing artificial preservatives and chemicals to do the job!
While Bars Over Bottles is mainly a cosmetics brand, it offers a small collection of accessories on its official website, including aesthetically pleasing aluminum tins and mini bar holders. B.O.B. also makes it easier to shop for hair care products by offering a "shop by hair goal" tab, including options like curl defining, oil control, moisturizing, and hair rebuilding.
4. Colony Co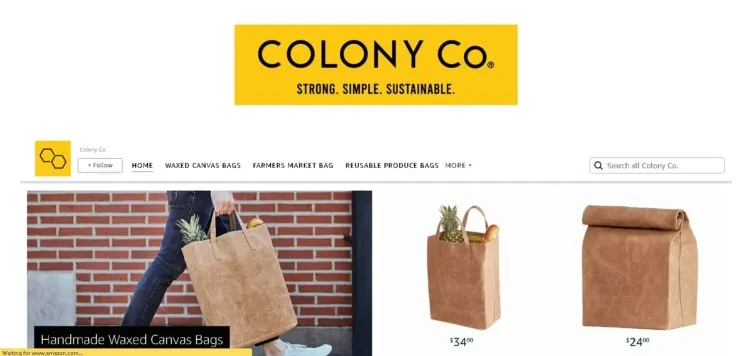 One of the biggest issues associated with buying groceries from the store, even if you're buying eco-friendly products, is that you typically end up packaging them in plastic bags. That's exactly what Colony Co thought of and found a solution for!
Colony Co is a small family business co-founded by Laura and Dave, an earth-conscious couple from the Midwest. The packaging-free shop offers a small variety of handcrafted bags that are durable, fairly affordable, and made with excellent care.
The most popular product that Colony Co offers is canvas bags. These bags are made from organic cotton and covered with a layer of beeswax to give the bag a protective coat against the elements and extend its life considerably without using toxic ingredients.
The bag comes in a variety of sizes, including lunch bags, grocery bags, regular-size bags, and tote bags. Colony Co also extended its inventory to include reusable produce mesh bags and canvas farmer's market bags. Both these bags come in a variety of sizes and even colors (using safe and natural dyes), allowing you to shop in style while having a bag that stands the test of time and continuous use!
5. For Earth By Us (FEBU)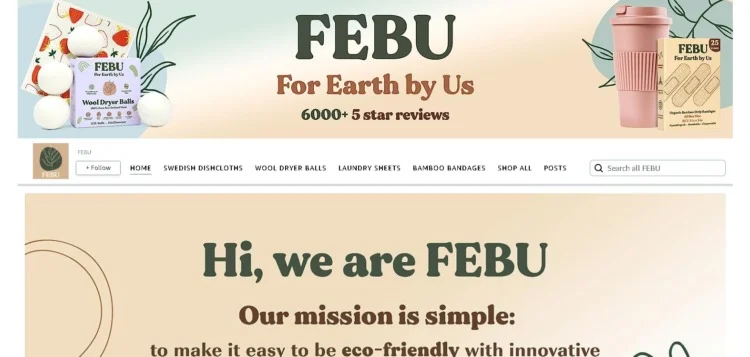 If you're looking for a store that emphasizes quality while providing sustainable and earth-friendly products, you should keep this one in mind. For Earth By Us, simply known as FEBU, is a small business that is well-established on both Amazon and Etsy, with thousands of happy customers and excellent reviews for the majority of the store's products.
The online zero-waste store has a strict process when it comes to sourcing ingredients and materials to make their products, as they must be safe for consumption and recyclable. With that being said, the FEBU store has a fairly limited collection of products. Among the most popular products by the store are Swedish Dishcloths, which are perfect alternatives to single-use paper towels.
These dishcloths come in a wide range of patterns and designs to suit your kitchen's aesthetics while also boasting excellent absorptivity and lasting a lot longer than standard dishcloths. Besides Swedish dishcloths, the store also has laundry sheets that are 100% natural, hypoallergenic, and completely free of microplastics like other options on the market.
Moreover, FEBU also sells bandages made entirely from bamboo byproducts and uses a pressure-sensitive adhesive. The bandages are also hypoallergenic, come in various shapes and sizes, free of harsh chemicals, and are highly breathable. Besides their zero waste qualities, they're also vegan, lab-tested, and cruelty-free.
See Related: Sustainable, Eco-Friendly Candles to Buy Today
6. My Zero Waste Fam Store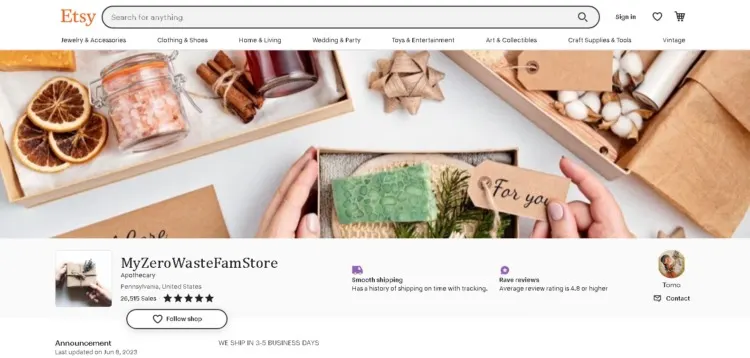 My Zero Waste Fam Store is a zero waste apothecary store on Etsy that offers surprisingly good quality for its price. The small business prides itself on using organic and natural ingredients only while formulating its products, which makes its skincare routine ideal for all kinds of skin, including highly sensitive ones.
Since a single person mainly runs the entire store, the store focuses more on quality than quantity. As a result, My Zero Waste Fam Store typically has a limited selection of items but with a nice variety!
For instance, the store makes zero waste soap bars and organic soy candles in addition to bath bombs/salts, sugar scrubs, essential oils, and lip palms. In addition to skincare and bath formulas, the store also has a fabric section that includes multiple items, such as headbands, scrunchies, cotton towels, and face masks.
That being said, what the no waste store excels at is the bundle boxes and sets. My Zero Waste Fam Store has a variety of spa sets filled with many of the store's products in an incredible presentation without using any plastics or other wasteful packaging materials.
7. Isshah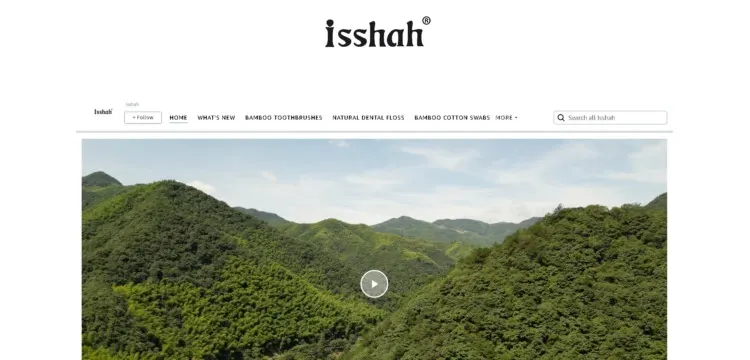 Dental care products are notorious for their excessive use of plastic. Whether it is a toothbrush or dental floss, these items always end up in landfill, and most of them find their way to the ocean. Bamboo is a good alternative to these wasteful plastic items, and that's where Isshah comes in handy!
This little store is one of the few options specializing in zero waste dental products, especially toothbrushes and dental floss. The Isshah toothbrush's main body is made from bamboo, which is durable and reliable yet biodegradable. The bristle is made from BPA-free nylon, which keeps the plastic used in the toothbrush to a minimum.
The toothbrush is designed so you can use it daily for three months, around the same amount of time a regular plastic toothbrush should last. Besides toothbrushes and bamboo cotton swabs (buds), Isshah also sells floss picks made from bamboo instead of plastic. The package comes in a cardboard box with over 50 flossers and is available in two flavors: mint and charcoal.
Isshah also sells biodegradable bamboo interdental brushes that offer a deeper cleansing of the teeth and helps in removing plaque from the back of the teeth.
8. Marley's Monsters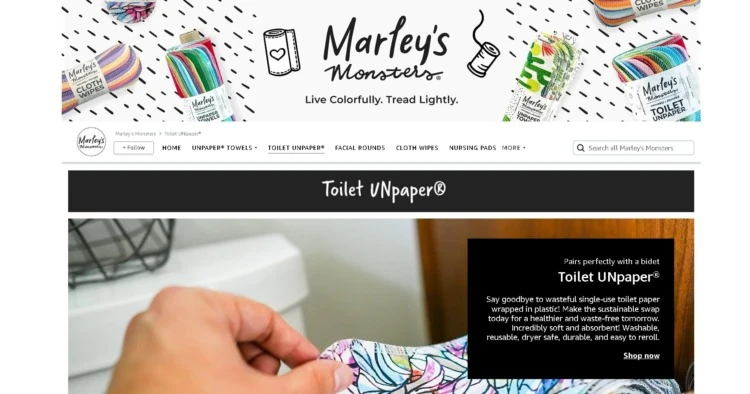 Next up we have another great store that revolutionized kitchen towels. Marley's Monsters is a zero-waste brand that sells many sustainable items, including kitchen products, skincare products, and cleaning products/laundry, and much more!
However, one of the most popular products that Marley's Monsters produce is the UNpaper Towels. These reusable kitchen towels are made from sustainable, highly absorbent, and durable cotton flannel fabric, which allows you to wash and reuse them several times. One thing that makes this brand unique is the variety of prints and colors that these UNpaper towels come in.
The success of the UNpaper towel allowed Marley's Monsters to expand the store's inventory, which now also offers several categories like washable sponges, reusable bags, utensils, zero-waste products, deodorant sticks, and much more. We also like that all items shipped by Marley's Monsters are free of plastics while being secure and protected, which adds to the overall quality of your purchase.
Marley's Monsters also has a unique bundle of miscellaneous items, making it a perfect hub for other zero-waste and eco-friendly products, such as bamboo popsicle sticks, poppers with refillable confetti, reusable balloons, and much more!
If you want to reduce your environmental impact, Marley's Monsters is an excellent option. Another aspect that we like about this store is its pricing and offers. The store has a wide range of amazing bundles, including essential skincare products, for a reduced cost.
See Related: Best Products to Help Climate Change to Buy Today
9. Juniperseed Mercantile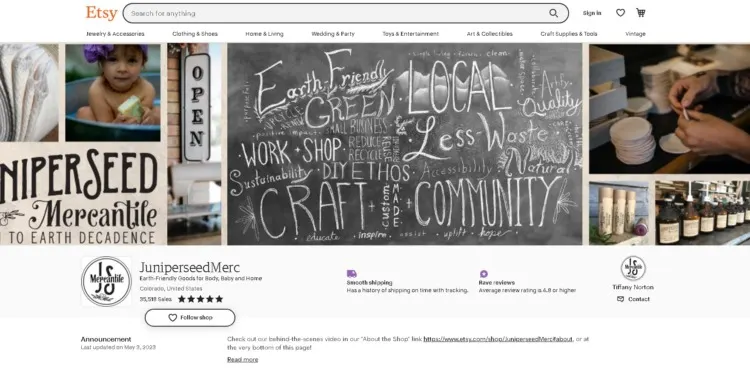 Juniperseed Mercantile is the true definition of a small business with big passion, especially regarding sustainability. The Colorado-based business was founded by Tiffany, a science teacher who combined her interest in herbal ingredients and concern about Earth Earth to create one of the most underrated no waste shops!
Despite being a relatively small store, Juniperseed Mercantile offers many products. You can browse the shop's page on Etsy to find various home and skincare products. The most popular products by Juniperseed Mercantile are facial creams, serums for oily skin, and cotton unpaper towels.
However, the store's scope of products is much wider than that. For instance, Juniperseed Merc Store also sells laundry stain sticks, vegan lip gloss, sunburn soothing formulas, and many other remedies and formulas!
10. Jungle Culture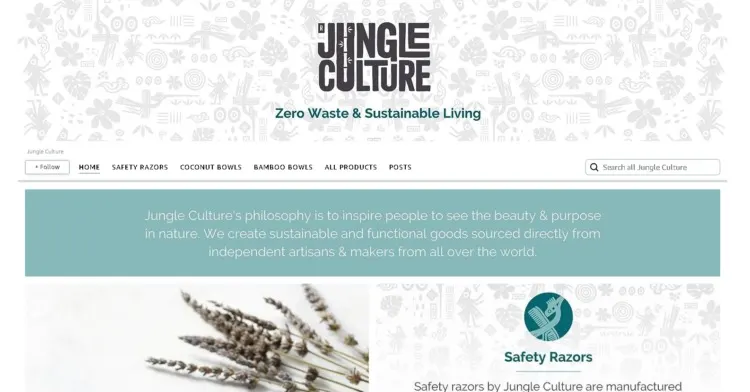 Jungle Culture is an online store passionate about sustainability and building an eco-friendly world. The store's core mission is to provide plastic-free, ethically sourced products that are made to last.
The company has a decent range of unique products. Yet, the most popular product that Jungle Culture offers is its zero-waste safety razors.
These razors are made with stainless steel and durable chrome, so they're incredibly durable and last a lifetime. They also come in a variety of unique colors, so you can find one that matches your style.
The blades are double-edged and incredibly balanced, which reduces the risk of accidents while shaving, even for beginners. Jungle Culture also designed the razors so that they're suitable for men and women for extra sustainability.
Another product that Jungle Culture is known for is the coconut bowl, made from ethically sourced materials from Vietnam. Jungle Culture even has a team of supervisors that oversee the process of harvesting and manufacturing these bowls. In addition to these two items, Jungle Culture also offers sustainable products like zero waste utensils and cutlery as well as aesthetically pleasing bamboo bowls.
11. Dab Herb Makeup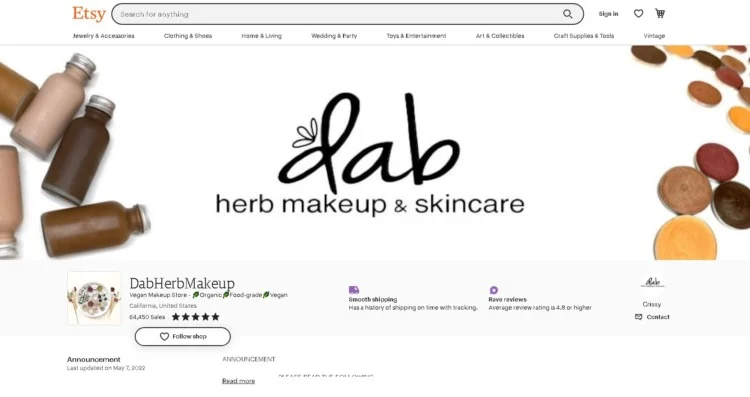 Dab Herb Makeup is a brand that believes that beauty and nature are inseparable. They are committed to providing top-notch makeup and skin care products made with organic, vegan, ingredients.
The shop's formulas are all made with a gentle blend of herbs and flowers. These ingredients are carefully selected to promote healthier, nourished skin while being free of harsh chemicals and synthetic fragrances.
In addition to being safe, effective, and decently affordable, Dab Herb Makeup's products are also beautiful. Moreover, they are packaged in elegant, sustainable packaging made from recycled materials. The small company was founded by Crissy, who has much experience creating medicinal organic formulas and makeup.
Among the most popular products by Dab Herb Makeup are the Tinted Lip Gloss Oil and the Organic Liquid Eyeliner. The company also sells a variety of zero waste items, including bronzers, lip paint, moisturizers, eyebrow pomade, mascara sticks, face serum, and much more!
See Related: Best Zero-Waste Dish Soap Options
12. Bee's Wrap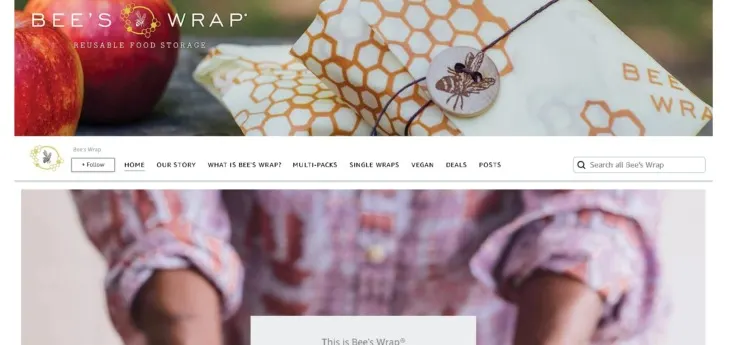 Bee's Wrap is a small business founded by Sarah Kaeck, who was looking for a sustainable alternative to regular plastic wraps, which led to the creation of this brand. Kaeck combined organic cotton with molten beeswax and other organic ingredients like tree resin and plant oil. The result was a soft yet remarkably durable wrapper you can use several times.
Since the ingredients used to make this wrap are all food-safe, you can easily use this product as food wrap, whether it's to store it in the fridge or to keep your hands clean while enjoying a sandwich! Besides the vegan beeswax wrap, the company also produces other items like beeswax-soaked cotton tote bags and rugs.
Bee's Wrap is also certified by many nature-conscious and quality control organizations, such as B Corporation, so you don't have to worry about the quality of its products. Additionally, the company is a member of the 1% For the Planet, which means that a small percentage of the company's profits actually go towards solving the problem and achieving a plastic-free future!
13. Superzero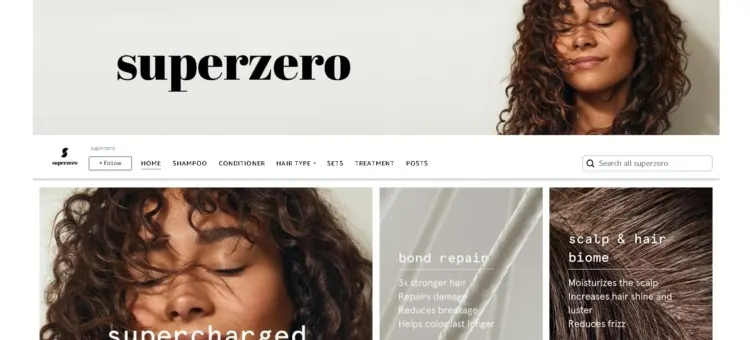 If you're looking for reliable zero waste hair care products, keep this one on your shortlist. Superzero is a small business specializing in one thing but does it perfectly: creating zero waste hair care products.
The company sells shampoos, conditioners, serums, and hair treatments. However, the products are sold as waterless solid bars, eliminating the need for plastic packaging.
Superzero's products come in a wide range of formulas to suit different hair types, such as oily, dry, frizzy, and thinning hair. Superzero also has a waste online shop that sells storage cases for their hair products so you can use them on the go.
These cases are made of aluminum or recycled wood chips. All Superzero products are waste-free, vegan, and never tested on animals.
14. The Rounds Co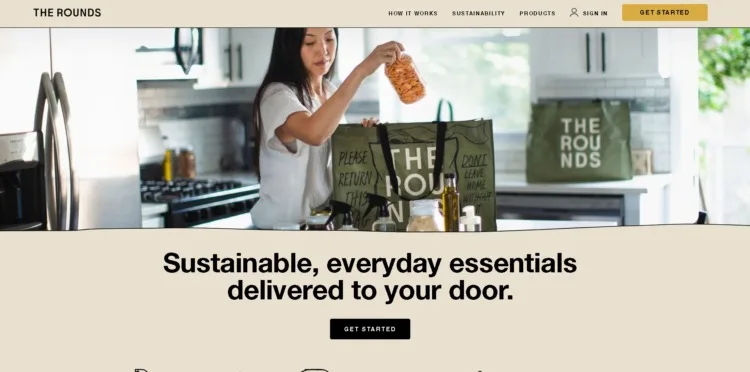 Last but not least, if you're searching for a zero waste online shop or grocery store that sells its products in waste-free packaging, you shouldn't look further than this one. The Rounds allows you to shop for essentials and deliver them to your doorstep within a closed logistics network of couriers on e-bikes!
In other words, not only will you enjoy your products without any unnecessary plastic wrapping, but you'll also ensure an emission-free delivery process. The company sells a huge variety of products, including different types of food, beverages, baby products, pet supplies, kitchen items, personal care and beauty products, snacks, and much more!
Although this one is currently only available on its official website, the Rounds offer an incredible solution for anyone who's serious about sustainability, which makes it a perfect alternative to large corporations like Etsy and Amazon.
This marks the end of today's guide that walks you through the best zero waste stores. As you can see, there's no shortage of great zero waste online stores that offer a huge variety of items. Whether you're looking for personal care items, kitchen products, cutlery, or more, you'll definitely find what you're looking for at one or more of the previously mentioned stores.
Remember, by shopping at waste-free stores, you will achieve a more sustainable lifestyle and do your quality of life a favor, as most of these products are also organic, ethically sourced, and safe for your health!
Related Resources