There's something fulfilling and refreshing about growing plants at home. Having flowers and produce available year-round can benefit you in many ways. However, nurturing plants can be a challenge if you live in a cooler climate unless you have a greenhouse.
You have multiple options for creating proper grow spaces, including greenhouse window units, portable styles, and free-standing structures. If you're ready to take on year-round growing, you need to do some serious greenhouse window DIY.
Read on to learn about your options, including the best greenhouse windows on the market, the top products to replace existing panels, and how to build a greenhouse from old windows.
Greenhouse Window Units
Have you ever seen a window unit extended from the side of a house? It could be a greenhouse window, commonly listed as a garden window.
These add-ons feature greenhouse windows that allow sunlight in and create ideal circumstances for plants in any weather.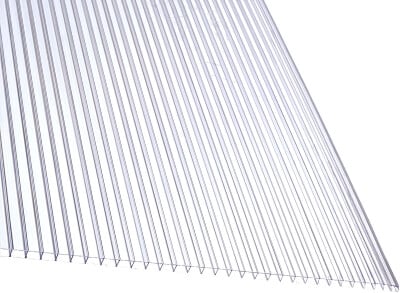 Garden windows expand your space by attaching to the side of your home. Solar Innovations creates custom solutions for every homeowner to find the perfect size and fit.
As part of the custom-fit approach, they can match existing structures, add decorative elements, and adjust ventilation options to work for the space.
Solar Innovations uses sustainable products that are made in America. The company even offers a range of glazing solutions for the greenhouse windows to meet each customer's individual needs.
This company does handle greenhouse replacement windows. Professionals will craft custom panels to replace damaged pieces in existing units.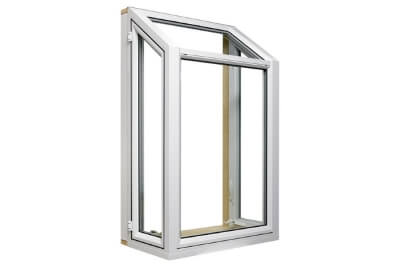 Simonton is a well-known window manufacturer that's part of the Cornerstone Building Brands. Though it's better known for making replacement sliding, single-hung, and double-hung windows, Simonton also makes some bay, bow, and garden styles.
The company's garden windows don't offer the bells and whistles that you get with Solar Innovations, but it does have some customization. Customers can choose the colors, hardware finishes, and grille styles. Plus, Simonton does custom sizing to fit the dedicated space in your home.
All of Simonton's windows are vinyl, making them durable and low-maintenance. The company uses special glass and ventilation to support temperature control for the plants.
See Related: Best Greenhouse Accessories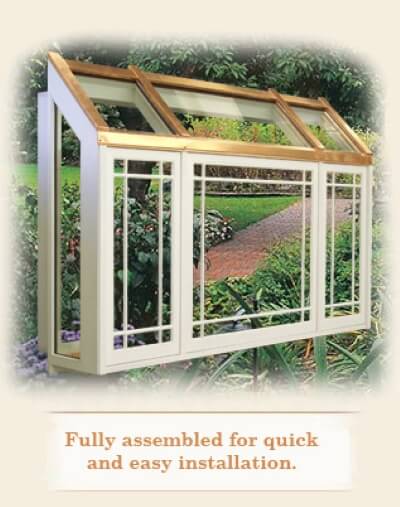 Renaissance Conservatories made a name in the industry as an innovative company that creates unique, thoughtful conservatories.
Most of the product line focuses on add-ons that are grand, full-size, detailed conservatories. However, the company expanded its catalog to offer some of the most beautiful greenhouse window units on the market.
This company creates custom designs that match your space, down to the interior staining.
Each greenhouse window unit includes a tempered glass shelf and fully functional windows to help you manage the temperature for your plants. The company crafts each window from premium mahogany hardwood.
See Related: Best Portable Greenhouses to Buy Today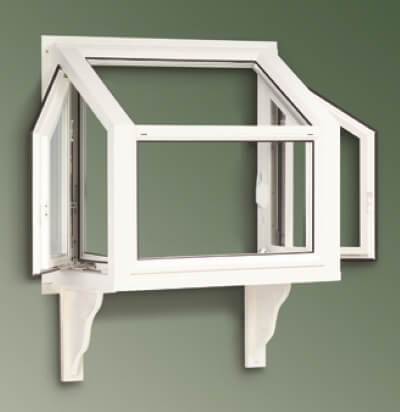 Ventana is a popular manufacturer that has a collection of greenhouse windows for sale. The company started with new constructions, but does significant work with renovations, including replacing or upgrading greenhouse windows.
Customers can choose between three garden windows or a 90-degree bay window. The Series 2050i is the only impact-rated vinyl garden window available and the Series 2051 is one of the few options for stucco homes.
All greenhouse windows feature vents, locks, and durable frames. Customers can choose from a selection of colors for the exterior and interior. Plus, the units come with adjustable shelving to expand the space.
See Related: Best Greenhouse Lights for Plant Growth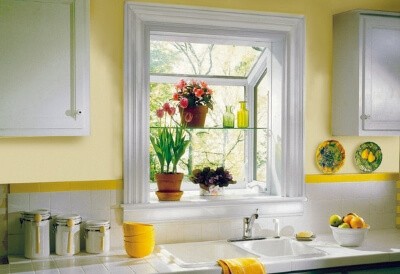 Harvey also makes vinyl greenhouse window units, but this design includes an adjustable glass shelf and happens to come with an AAMA Certified R-50 rating. Every glass package features Thermaguard and meets Energy Star requirements.
You can choose various vinyl and exterior paint options and add a grid for decoration. The company also offers various upgrades to create a custom look that works with your space.
See Related: Best Greenhouse Paint & Spray-On Shading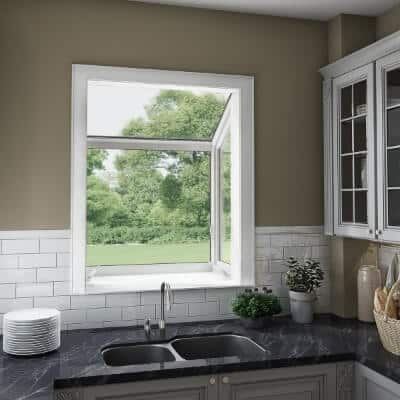 Atrium makes one style of window greenhouse units that feature energy-efficient, laminated safety glass. It's a simple, yet elegant design that can fit in existing window spaces to expand your growing capacity.
Customers can choose from a selection of vinyl colors and customize further with grid patterns and types. It's easy to fit shelving into the unit to create a multi-tiered arrangement to accommodate more plants.
Greenhouse Window DIY Options
If a greenhouse window box doesn't fit your aesthetic, there are other options. Even if you aren't especially handy or crafty, you might want to try your hand at making a greenhouse from old windows. It might take a little time to scavenge for the windows you need, but it's not overly complicated to make one.
To create a greenhouse with old windows, you need to collect as many windows as you can find from junkyards, vintage shops, and friends. Arrange the greenhouse windows into walls to get an idea about size and fit. Don't forget to leave room for a door and ventilation systems! Build a frame with two by fours and four by fours, then install the greenhouse windows.
You could also build a frame and fit it with polycarbonate sheets. It's an affordable option for DIYers, though you might want to have professionals cut the sheets to size if you don't have the necessary equipment.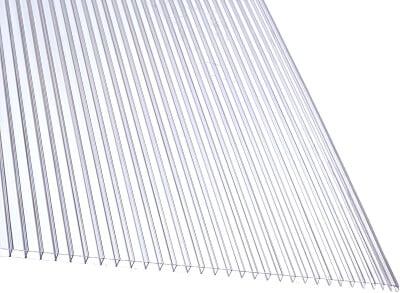 Be Cool Solutions offers several types of paneling for greenhouses. It's possible to replace damaged panels or construct an entirely new unit.
This paneling is a twin-layer sheet that handles cold weather by minimizing heat loss. It also offers 99.5% UV protection so that your plant's leaves don't burn.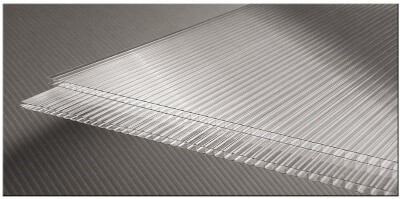 Macrolux offers clear polycarbonate sheets with double-wall construction. It's lightweight, UV-protected, and impact-resistant to withstand normal wear and tear.
The sheets can handle extreme temperatures and still provide exceptional light transmission. The company sells 24-inch by 48-inch sheets in packs of five and offers a 10-year warranty.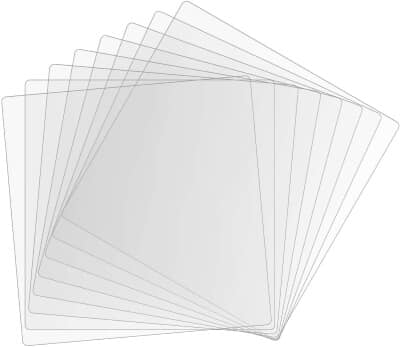 XCEL offers shatter-resistant sheets that you can mold to fit nearly any shape. It comes in 12-inch by 12-inch squares with protective film on both sides that you can leave in place or peel off.
Plus, you could decorate these panels with ink or markers to add a little flair to your greenhouse.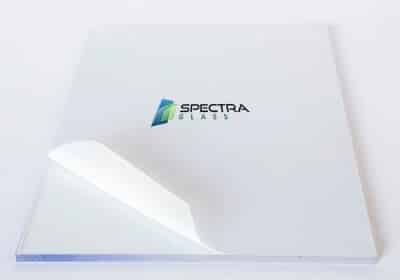 Spectra Glass created one of the most versatile lines for greenhouse owners. Aside from choosing the panel size, you can choose between six different thicknesses. It's clear polycarbonate that's easy to cut, drill, or bend to fit your greenhouse, and it doesn't yellow due to special UV treatment.
The company notes that its polycarbonate sheets for greenhouses are significantly stronger than glass and plexiglass. These sheets are also impact-resistant and weather-resistant.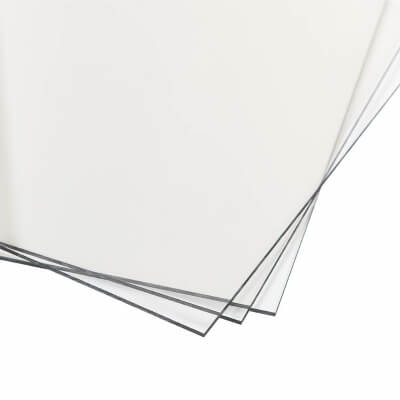 KastLite allows you to choose multiple sizes and quantities to meet your needs. It's possible to create an arrangement with various sizes, like larger windows on the bottom and smaller ones on the top.
The sheets are versatile and lightweight but durable with UV stability and a smooth surface. It comes with a protective film that's easy to peel off or leave in place if you prefer.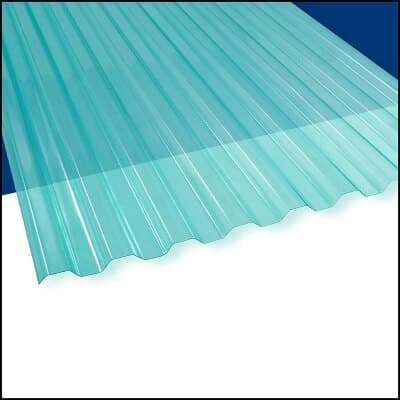 Suntuf's panels can add a little flair to any greenhouse with the translucent blue-green hue.
The pack includes ten 72-inch by 26-inch panels that would function well for a greenhouse roof since they are durable and offer UV protection. The corrugated panels are stronger than fiberglass and retain the color.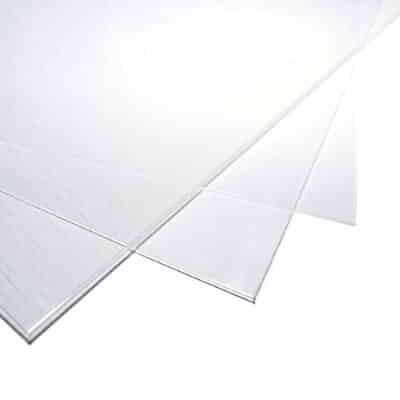 Robosource is another company in the polycarbonate sheeting industry.
These sheets are shatter-resistant but easy to cut or drill to size. It's possible to apply heat to mold the rectangles into alternate shapes if necessary. You get 88% to 90% light transmission with this product, but you might want to add a UV-protective film.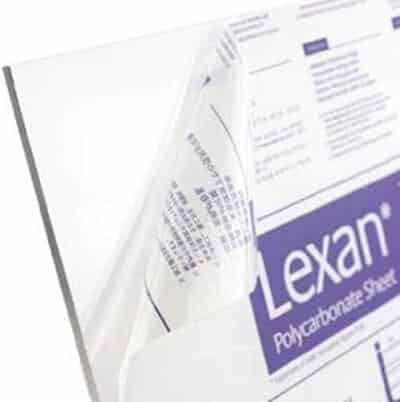 Lexan also offers an impact-resistant product that you can mold to different shapes by applying heat. It's clear and lightweight with UV stability to prevent yellowing. However, it might require an additional treatment or film covering to offer enough protection for plants.
Films and Covers
Taking the DIY route might require some minor compromises. For example, choosing a cheaper sheeting or glass and applying a film or cover to protect your plants might be easier and more cost-effective. Here are some films and covers that could enhance your DIY greenhouse windows.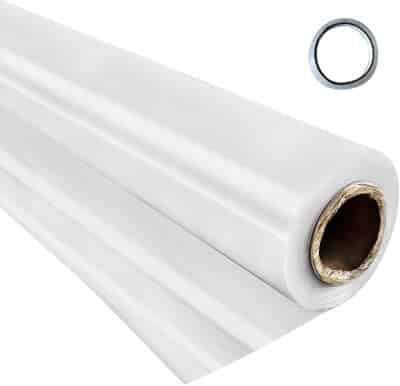 Adding this polyethylene film to your existing greenhouse can enhance protection against harmful UV rays and help regulate the temperature in your greenhouse.
It's an excellent option for extending the life of your existing greenhouse windows or upgrading a DIY structure. Happybuy offers rolls in multiple sizes so that you can find the right size.

ECOgardener makes a popular polyethylene cover specifically designed for greenhouses.
It comes in rolls so that you can trim off the amount you need to cover your greenhouse windows and store the rest for later. This film is anti-condensation and adds UV protection for up to four years without impeding light transmission.

Instead of playing around with a film that can bunch or leave air bubbles, you might want to try a spray. This product dries with a smooth, matte finish but offers UV protection while repelling dust and other debris to maintain a like-new appearance.
It's not greasy or oily, and it's made for marine surfaces, so it can endure rain and snow. This spray is a versatile choice that allows you to upgrade the inside and outside of your greenhouse.
However, you need to reapply it every three to five weeks for optimal protection. The company notes that the shelf life is up to two years, and there are multiple bottle sizes available.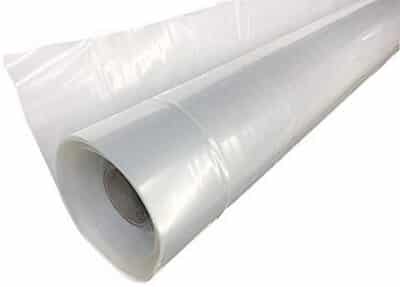 Whether you're filling holes or temporarily covering a damaged window, this polyethylene cover can protect your plants without interfering with sunlight.
It offers UV resistance for four years, and it's weather and tear-resistant. This covering comes in 25-foot long rolls of 8-foot wide material.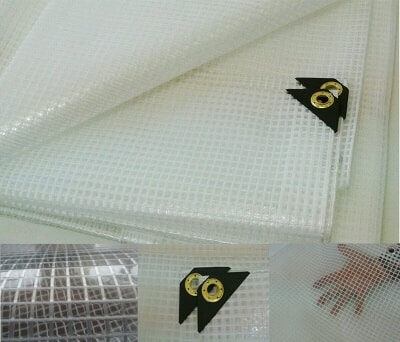 Arc Direct offers up a heavy-duty tarp that you can cut to size. It provides 100% UV protection, and it's waterproof, rot-proof, and tear-resistant.
This tarp could offer another layer of protection for your greenhouse in extreme weather, and it is possible to cut out holes to accommodate windows.
Portable and Freestanding Greenhouses with Windows
Window insert greenhouses and DIY options don't work for everyone, but there are plenty of freestanding and portable greenhouses that feature windows and expand your growing space.
Assess your space to determine what type of greenhouse works best for you and your space. Keep in mind that many greenhouses have windows that need extra room to open them.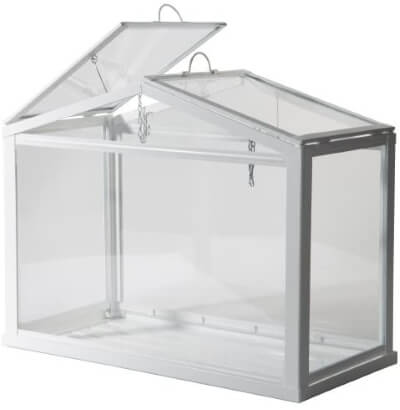 Ikea makes several glass window greenhouses and terrariums in varying sizes and shapes. This glass window greenhouse is a medium-sized box with windows on top.
It features a sturdy steel frame and is large enough to handle a few plants. It's plain white with clear glass sides. You can vent the top in a halfway open position for improved ventilation.
The unit is easy to clean and portable so that you can move it with the sunlight. Additionally, you could start plants inside and shift the entire unit outside while providing protection from late frosts.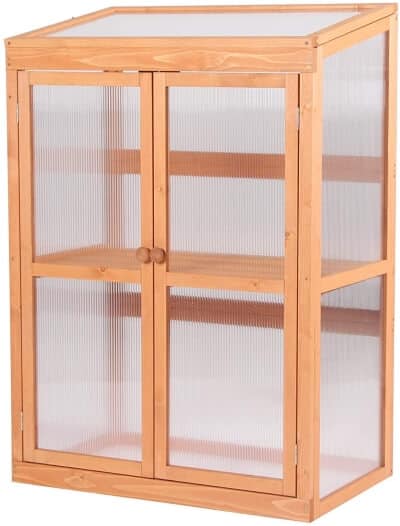 If you want a glass window greenhouse that's a bit larger but not a full walk-in style unit, this cabinet might suffice.
It's a sturdy wood frame with clear polycarbonate panels to maximize light, keep heat inside, and protect from critters and unexpected frosts.
It's a neutral color with adjustable shelving and doors at the front for easy access.
This unit is easy to install anywhere in or around your house to meet your needs. While it's not a full-sized greenhouse, it might be a bit large to move it around much.
One of the unique features that sets this product apart is the slightly sloped roof. You can open the top to access plants from above or vent the inside. The slight decline also prevents water and debris from collecting and blocking the sun or damaging the unit.
See Related: Best Greenhouse Ideas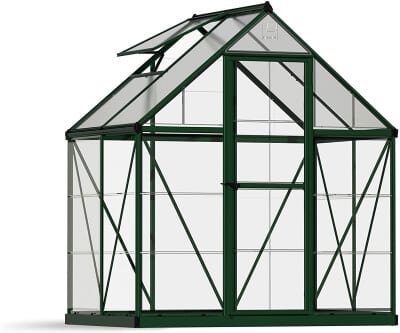 If you want a greenhouse with windows, this freestanding option might be a solid choice. It comes in various sizes, so there's an option to fit your space. The chic design is reminiscent of a conservatory or commercial greenhouse.
This greenhouse doesn't have glass windows, but the polycarbonate sheeting is durable and protects your plants from harmful UV rays while letting them soak up the sun's rays. It features several key pieces, including roof vents, rain gutters, and a magnetic catch on the door. Plus, it can handle winds up to 56 miles per hour.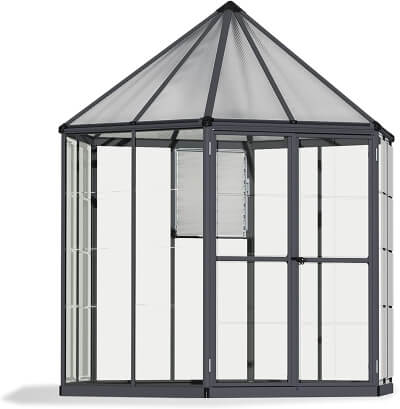 Palram's Oasis Greenhouse is slightly different from the Hobby style. It's shaped more like a traditional gazebo and comes in two sizes. This design features twin-wall roof panels that protect against harmful UV rays and the frame is heavy-duty aluminum coated in anthracite powder.
Some of the key features that set this greenhouse apart include a gutter system and side Louvre windows to regular temperature and humidity. This greenhouse is impact-resistant and can handle the elements, including snow and ice.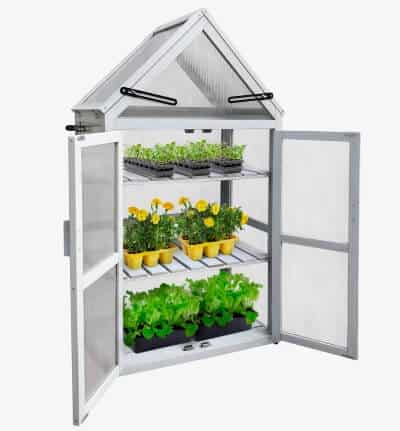 Kitchen Joy minimized the classic greenhouse design into this cute yet functional greenhouse with vented windows. It's easy to insert almost anywhere, and the sloped roof features two ventable windows to protect plants while promoting proper ventilation.
Though it doesn't have glass windows, this greenhouse uses clear panels to protect the plants and promote full visibility.
The kit comes with wall brackets so that you can secure it inside or out, and features "feet" that keep it off the ground. It's small enough to work inside but large and sturdy enough to work outdoors.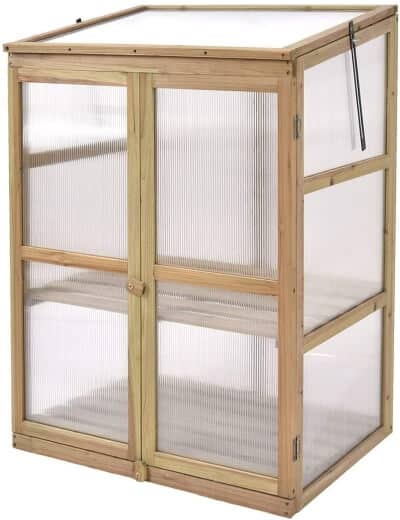 This greenhouse is similar to the MCombo design with a slanted rooftop that you can vent to improve circulation. It's a wooden frame with transparent sheeting for windows. The front doors open for easy access, but it has a lockable feature so they don't blow open.
Unlike some other portable greenhouses, this product features sturdy wooden shelves.
They aren't adjustable, though you don't have to use both shelves. It's easy to assemble and transport, and you have three size options available. However, you might want to add a protective cover as a windblock if you keep this mini greenhouse outside.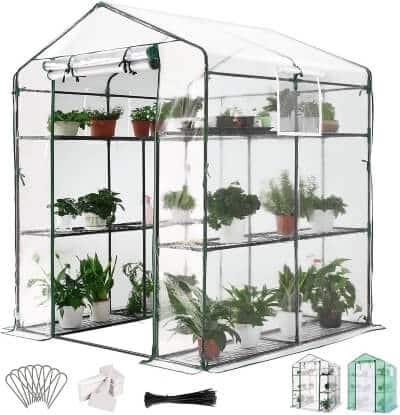 For those homeowners seeking something larger but less permanent, the Quictent Greenhouse might be a solid choice.
It's a sturdy frame fitted with a clear polyvinyl chloride cover in the shape of a traditional greenhouse. This greenhouse even has a roll-up door and three windows for ventilation.
The frame features shelving to hold several plants and a sloped roof to prevent water and debris from pooling.
It's waterproof and offers UV protection so that plants don't burn. Plus, it's easy to assemble and disassemble in case you don't want to use it year-round.
Related Resources