A handbag is a must-have item in every wardrobe. This article explores 14 fair trade handbags that you shouldn't miss having in your closet. Whether it's for everyday use, traveling, or hanging out with friends, you can never go wrong with having one or two.
Fair Trade Handbags are made of different materials. From sisal, elephant grass, canvas, fabric, faux leather, leather, raffia, and synthetic, there are a wide variety of options to choose from.
Fair Trade is a global practice designed to support producers in evolving countries by buying from them directly to get fair and stable prices for their handiwork. It aims at shrinking poverty, creating equitable and ethical treatment of workers, and accessible markets.
And, whether you are looking for fair trade handbags wholesale or retail prices, various websites offer just that. You can buy one piece or a dozen of them from online shops.
So, thinking of getting yourself an additional closet staple? In this article, I've summarised more than 12 stylish fair trade purses and handbags you can pick from.
Best Fair Trade Handbags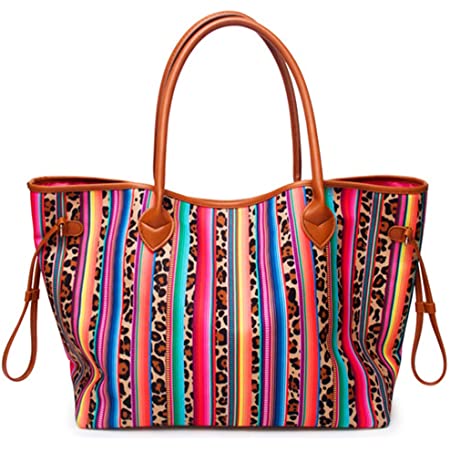 If you're planning for a road trip, weekend getaway, a sleepover, or just a family vacation, then you need a good durable bag. Plus, one with a large capacity to fit all your toiletries, kids' stuff, or baby essentials if you have a little one.
These fair trade canvas bags by Consuela bags are an excellent choice for any occasion. From travel, school, work, shopping, beach, gym, or even as a diaper bag, this particular bag fits well as it's made of 100% cotton canvas & faux leather with sturdy handles.
It is lightweight, zipperless, has bottom metal studs, magnetic straps, and drawstrings, making it more stylish.
Don't worry about it getting stained with all kinds of dirt because the inner layer is made of a high-quality polyester lining that's easy to clean and maintain.
Wash it separately with water at room temperature to avoid staining. But, avoid hot water, alkaline cleaner, and direct sunlight.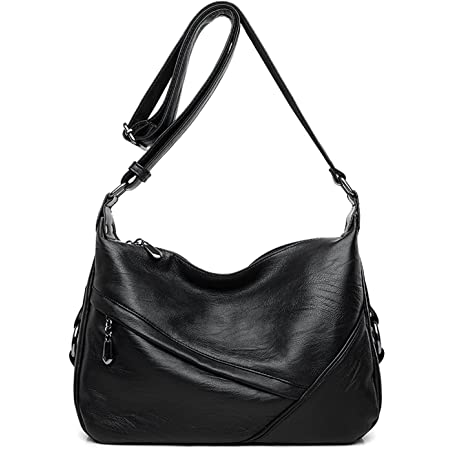 There's a party that you need to go to, but you're running out of time; outfit-check, shoes-check, makeup-check, handbag-???? No bag or purse to go with.
Ever found yourself in that situation? Not the best feeling, right?
Upgrade your wardrobe with one of these fair trade crossbody bags so you won't have to miss any more parties in the future.
The good thing is that each piece has six compartments; 1 small zippered pocket, one middle zippered pocket, one back+1 oblique front zippered pockets, and 2 sided open slots, which helps you get more organized.
It's medium-sized, so it's ideal for small toiletries, a makeup kit, a phone, keys, a small notebook, and Ipad. Also, these type fair trade leather handbags are durable as they are made of soft polyester leather with a polyester lining.
The shoulder strap is adjustable such that you can convert it to a sling or tote bag. If looking for style, then its retro look and elegance will definitely catch your eye. It is not limited to party use only. You can also use the bag for daily use, work, school, or traveling.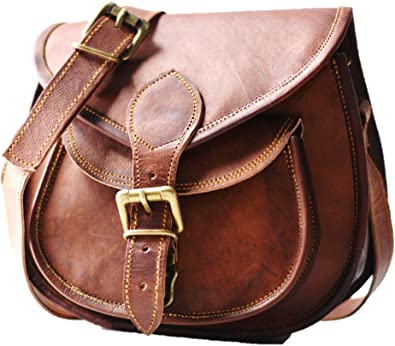 Vintage handbags will never go out of fashion. Everyone has a leather bag hidden in their closet.
If you get genuine leather, it'll last for years, granted it's well maintained.
These handbags are affordable and durable because they're made with precision, 100% heavy-duty leather, strong buckles, and long adjustable straps.
This bag has three inner compartments; 1 front pocket, two zipper pockets, and a concealed lock under the primary buckle. The staple is great for light usage, traveling, daily use, work, or school.
Whether you are looking for fair trade handbags Australia or fair trade handbags Africa, these pieces never disappoint.
See Related: Most Eco-Friendly Cars in the World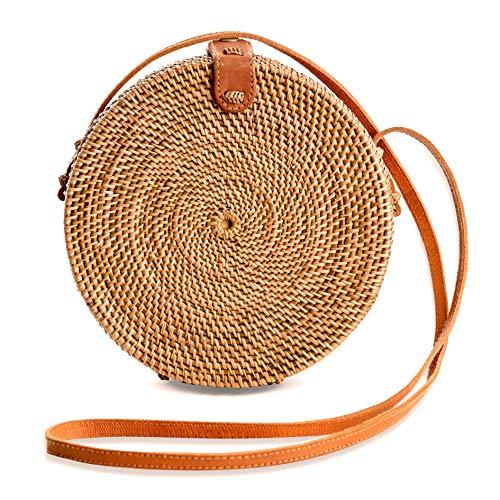 The combination of old tradition + new fashion in this fair trade boho handbag purse is inspirational. It's the epitome of chic, elegant, and stylish.
The design itself is appealing to the eye. You can use it while on the beach, on vacation, brunch with the family, or simply your day out.
It's 100% handmade made with real natural grasses and genuine buttery leather, and it also has plenty of space to carry your belongings.
The leather straps are installed to ensure comfort and safety for your items.
It's ideal for outdoor use.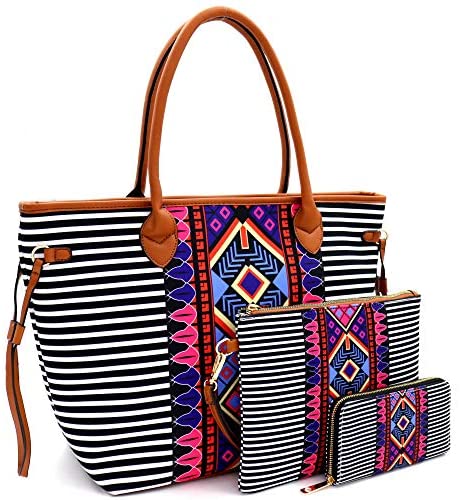 Wouldn't it be fantastic if you had a neat bag and fit all the essentials? You want to put your laptop and notepad separately, but the bag you have doesn't hold compartments or extra purses.
This fair trade 3-1 handbag and purses is what you need. It comes with sturdy drop handles and an optional adjustable shoulder strap.
The material is made of canvas and faux leather with brass-tone hardware/interior. And, its extra-large capacity can be ideal for moms with kids, shopping, traveling, diaper bag, or beach bag.
The pockets are zippered, two on the side and a closure. The best part is it comes with a clutch/purse and wallet, so you don't have to worry about stashing your things in one place.
See Related: Eco-Friendly Area Rugs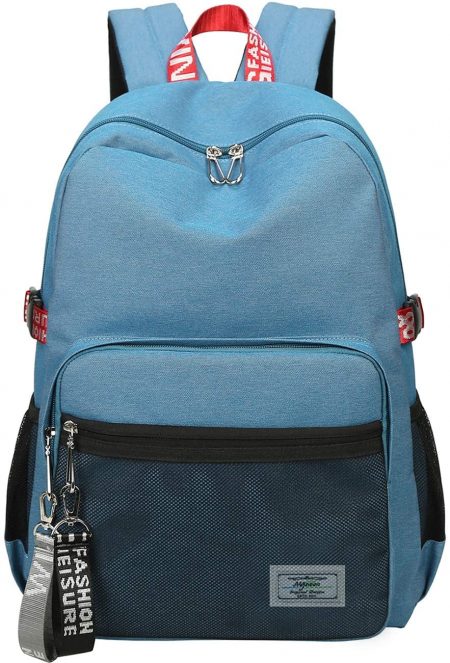 So you've just stepped into the store to do some shopping and get a bag for your child, then you realize they don't have what you're looking for in terms of durability and comfort.
That disappointment is every parent's dread. What to do, but just get that in the meantime before you buy the preferred one.
If that's, you then don't just get something you're not satisfied with. You need a bag like this fair trade bag that's multipurpose.
Whether it's travel, work, school, hiking, or camping, you're sorted. Its capacity is big enough for your clothes, books, files, or magazines.
The padding in the shoulder straps and the back help offer comfort, plus a handy top loop for easy grabbing and hanging.
It has so many cool features that make it more attractive. And multiple inner compartments, a side pocket, a front utility pocket, and a side buckle.
The compartments are;
One laptop sleeve for a 14" in size,

One zipper pocket,

Two pen slots,

Two open pockets
The side pocket is made of mesh that you can use to put an umbrella or a water bottle. The front utility pocket is also made of mesh for your notebook or stationery.
Last is the side buckle, which is great because you can adjust the side to accommodate more stuff. The material used is water-resistant polyester.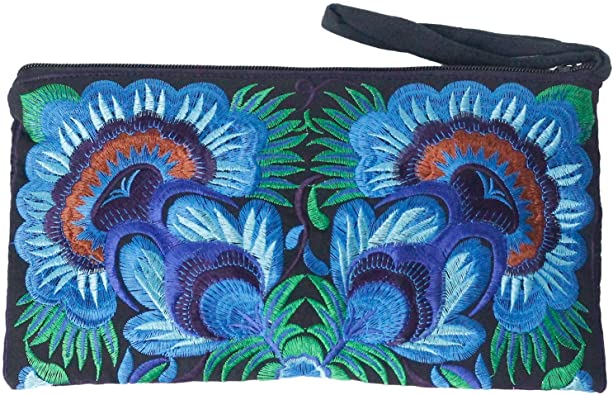 Gifts are a thoughtful way of showing how much you care or love someone.
Finding a meaningful and sleek gift can be a daunting experience, especially if you don't know what exactly to look for.
But then again, it doesn't have to be if you know where to search.
Sabai Jai offers some of the best fair trade purses and bags, that are simple but fancy. Materials used are organic cotton and natural dye that gives it a soft feel.
Best for light travel with enough room for your daily necessities like; phone, cards, cash, and personal care items.
The design is a high detailed, hand-stitched, and floral embroidery on both sides, which can definitely turn heads.
This is a must-have in your wardrobe.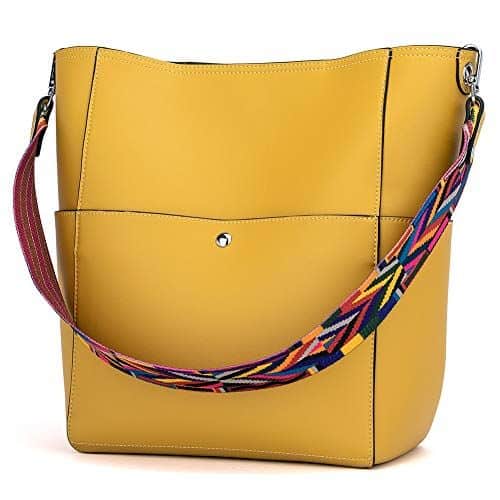 By looking at it just screams chic and elegant. With its textured and smooth vegan leather material, it's suitable for all occasions; shopping, outdoors, work, school, vacation, or use a diaper bag.
The shoulder straps are adjustable to any size, like a crossbody, shoulder bag, or bucket bag. If you dislike zippers, this is an excellent alternative because it has a magnetic buckle for easy closure and safety.
This bag can accommodate a lot of your items since it has plenty of space. There are two side sliding pockets on the outside, one inner sliding pocket, and one internal zipper pocket.
Its unique style can be matched with any kind of outfit to give you that sophisticated look. It can also be a marvelous gift for your mom, friend, sister, wife, or even your boss-if it's a lady.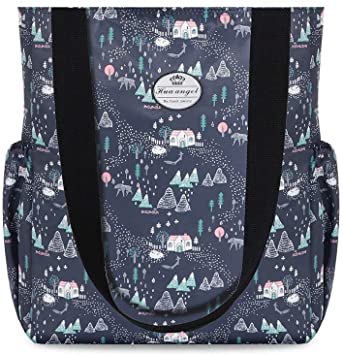 This lightweight, versatile, waterproof tote bag is suitable for going to the gym, shopping, meeting, interview, yoga, hiking, camping, and daily usage—also a beautiful choice for loved ones.
It's made of waterproof polyester fabric that's smooth, soft, and wrinkle-resistant, as well as able to withstand rain keeping your things dry.
Another advantage is it's easily foldable to fit in a bigger suitcase or backpack.
Capable of holding clothes, towels, books, magazines, files, folders, valuables, umbrella, water bottle, baby essentials, phones, and Ipads.
It's one of the most flexible fair trade bags for almost any occasion. You can convert it to a shoulder bag, beach bag, or tote bag. And, this piece is easy to clean too.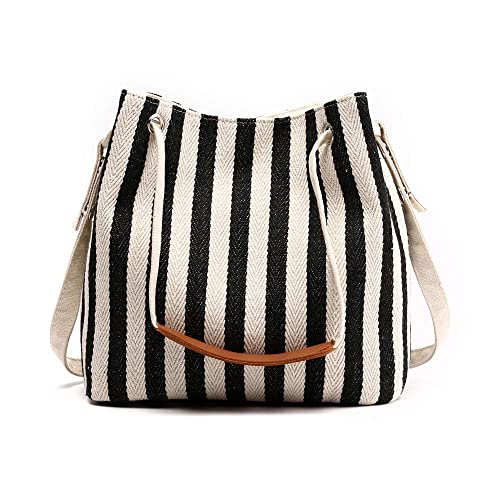 Did you know that traditionally, the canvas was made with hemp or linen? But, now in the modern world, it's made out of heavy-duty cotton and, to some extent, linen? And is known for durability and sturdiness.
For style, comfort, stability, and quality, this bag is a great choice. The bag's space is ample enough to carry your essential possessions.
Perfect for outdoor use, recreation, school, work, traveling, shopping, or occasional daily use. You can adjust the straps to fit a tote, shoulder, or sling bag.
Get it for yourself or as a present during thanksgiving, Christmas, valentine's day, or birthday.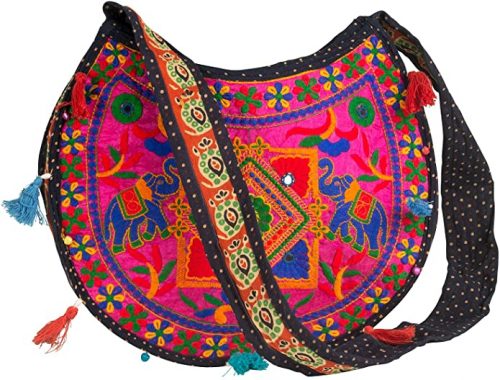 Fabricated from authentic and exquisite patchwork tapestry, this pouch is best for outdoorsy occasions.
Tassels and the colorful embroidery give it a stunning and exciting look. For longevity and strength, the fabric is a double stitched thick quilted cotton and black canvas lining for the interior.
The handle is 23" in size, and the interior can fit an Ipad, phone, notebook, and any other personal items.
Zips are on the outer opening and the inner section to create more room. From the color and design of the bag, you can easily match any outfit with it. Easily foldable to fit in another bag and easy to maintain- do not use bleach.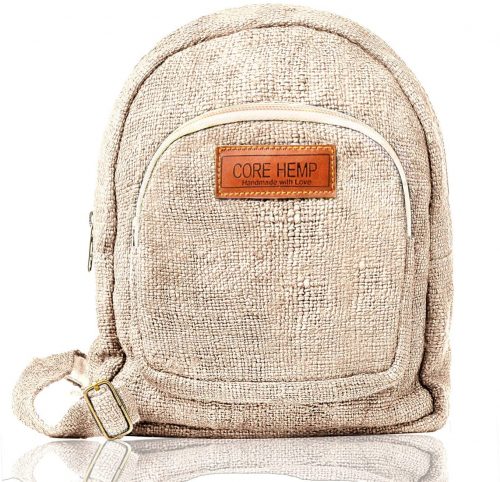 Hemp is one of the most robust and durable organic fibers made from plant stems. It retains more color when dyed even more than cotton.
Hemp fiber is dreamingly soft on the skin. Has absorbency capability in water is due to the porous nature of the fabric.
This mini backpack is designed to ensure quality, style, sustainability, and comfort.
It best suits women, teens, kids as a gift or a souvenir. Size is perfect for items like Chromebook, Ipad, passport, keys, cards, a phone, a notepad, a pen, and a makeup kit.
To get you more organized, the interior has one large compartment and one mini front pocket. Straps are adjustable up to 38 inches in size.
See related: 12 Best Sustainable Shoes for All Different Occasions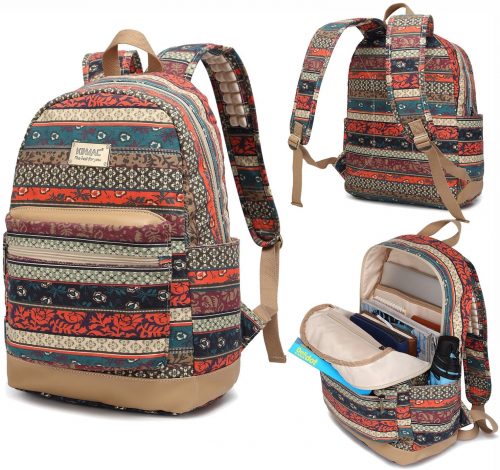 Hiking, camping, or road trip will not be fun if you can't take photos for those memories just because your phone died and there's no place that you can charge it.
That's why you need this bag because it comes with a built-in cable and a USB charging port. How cool is that?
It's so spacious that it can hold a 15.6-inch laptop, plus it has a cushioning to protect the laptop. It also has enough pockets inside for snacks.
They say when it rains, it pours, but that shouldn't make you panic since this backpack is made of waterproof canvas fabric that will shield your gadgets from water or rain.
Did I mention it has a massage cushion on the straps to save you from those shoulder aches due to the heaviness of the bag?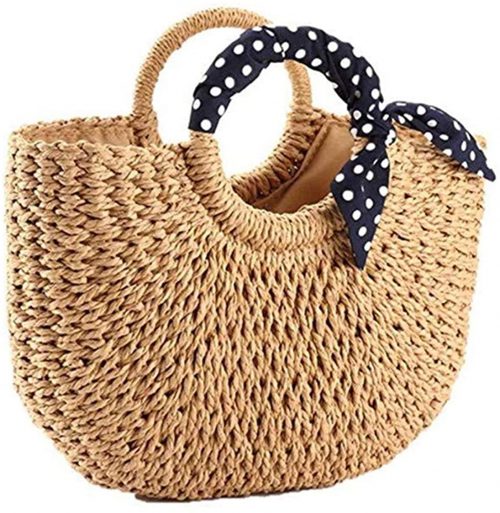 Summertime is the best time of the year to take a beach walk or go swimming with friends or family.
With all the heat and wind at the beach, you need to carry some sunscreen, extra sandals, a camera, lip gloss, and a hat.
This summer beach is just what you need for all your belongings to be in place. It's cute, sleek, simple, and easy to carry.
The material is handmade with 100% natural straw fiber that's also environment friendly. The inner closure is an authentic drawstring design. So, grab this summer bag, and let's head to the beach.
Related Resources