Have you decided to add lamp posts to your lush and cozy garden, whether for the extra security or to be able to enjoy a relaxing night out in the yard with your family or even a whole bunch of friends? Are you are looking for the best outdoor lighting solution for your small business?
Do you already have lamp posts for your yard, but are you hoping to replace them with more sustainable, solar, alternatives?
Solar lamp posts can be the perfect solution for your outdoor lighting needs for a number of reasons. In the face of grim climate change warnings, the fact that solar energy is the single most efficient and accessible source of truly renewable and sustainable energy alternative has to be at the forefront of your mind, of course.
It's true — investing in solar lamp posts is an excellent and proactive step on your broader path of becoming more environmentally aware. A desire to be environmentally sustainable is not the only reason for which outdoor solar lamp posts for your yard are so great, however.
Because solar lamps for your yard are not connected to your electric grid — generating their own power, they don't need to be — you will not need to have these energy-efficient lighting systems installed by a professional electrician
. Indeed, the top solar lamps are also incredibly low-maintenance, and it is unlikely that you will ever need to call in a professional to have them repaired.
The potentially steep cost of solar lamp posts is likely to be your biggest reason to hold off on making this decision.
While there is no question initial purchase of solar lamp posts can hurt you in the wallet, especially if you opt for higher-end solar lamp posts, also consider the fact that once you have them, solar lamps don't attract any further costs.
With solar lamp posts, your monthly utility bills are going to be a great deal lower than with traditional outdoor lighting solutions. You will inevitably make the money you invested in back pretty soon.
How Do Solar Lamp Posts Work? What Do You Need to Look Out for as You Shop?
Solar lamp posts contain powerful rechargeable batteries that are powered directly by the sun through the use of compact solar PV panels.
Your solar lamp posts will recharge during the day, when the solar PV panels are receiving sunlight (this does mean that you need to place them in optimized locations free of large trees or other sources of significant shade).
As day turns to dusk, a sensor in your solar lamp post will trigger the LED lights in the solar lamp posts to turn on, providing seven, eight, or even up to 11 hours of light for your yard.
As you consider what solar lamp posts are right for you, here are some important things to think about:
The rechargeable batteries in solar lamp posts vary in quality, and the most powerful batteries are the reliable and durable Lithium-ion (Li-ion) or Nickel-metal Hydride (Ni-MH) batteries.
Metal, wood, and plastic are the core materials used in the manufacture of solar lamp posts themselves. Each material has its own unique characteristics and associated cost.
Aesthetically, as solar lamp posts are rising in popularity, you can choose from numerous different styles, from quaint Victorian-style solar lighting to extremely modern designs. Solar lamps can be free-standing or wall-installed.
The fact that solar lamp posts work with LED lights, which are somewhat less powerful than traditional light bulbs, means that some people who buy solar lamp posts for their yard are not satisfied with the brightness level. If you are looking for a super bright solar lamp post, you will want to look for designs with multiple lanterns — more LED lights means a brighter overall result. The brightness of solar lamps is measured in lumens; the higher the number, the brighter the light you will get.
It goes without saying that the best solar lamp post designs are sturdy, durable, and constructed with quality in mind. That's why you will want to look for riveted, welded, or soldered fixtures.
With that out of the way, let's have a look at some of the top solar products to buy. Because not everyone agrees what great design looks like, we'll showcase a range of styles so you'll find the best solar lamp post for you.
See Related: Solar vs Wind Energy: What's The Difference?
1. Gama Sonic Prairie Outdoor Solar Light Fixture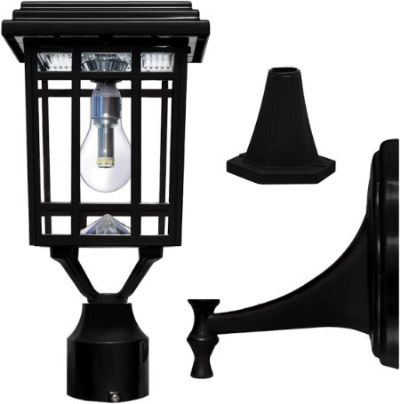 This stylishly cool solar lamp is brought to you by Gama Sonic, one of the most reputable companies in the solar lamp industry. With a design inspired by the American Arts and Crafts Movement, we think that the Gama Sonic prairie solar light will appeal to people with eclectic tastes and those who are after a more traditional style alike.
You can choose between black and weather bronze, and will get a high-quality cast aluminum body either way.
Its versatility is what makes Gama Sonic's Prairie Light one of the best solar lamp post options — this solar lamp can be mounted on a pole to create a solar lamp post, wall-mounted, or mounted on flat surfaces. This solar lamp post has a Ni-Cd battery pack and provides 50 lumens as long as 12 hours. One will set you back only $80.
See Related: Best Compostable Trash Bags
2. Aootek Solar Security Lights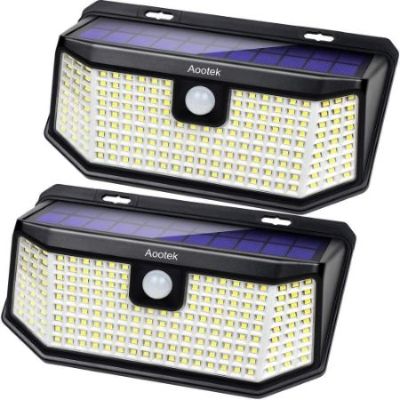 Aootek's solar security lights are described as having an "Art Deco" style — but it would be more accurate to call it utilitarian. These solar security lights aren't pretty.
They are, however, practical, especially if you need a motion-sensor solar light for your porch or garage. This solar light offers three different settings — have the solar light on all night, choose a default dim setting that immediately brightens when motion is detected, or allow the light to turn off unless someone passes by.
If you are looking for high lumen solar post lights for a very friendly price ($30!), this is the way to go.
See Related: Are Brown Paper Bags Compostable?
3. Westcharm 3-Head Solar Lamp Post with Planter
Are you looking for the best solar lamp post in a traditional, rustic and romantic style? Westcharm's 3-head solar lamp post with a planter may just be perfect for you!
Made with aluminum and beveled glass, this charming solar lamp post comes with three lanterns and six super bright LED lights per head.
The advantages of choosing a solar lamp post with planter are two-fold — you can incorporate the solar lamp into your landscaping plan, while simultaneously adding weight to help secure the solar lamp post. At $200, this lamp post offers a whimsical feel for an affordable price.
See Related: Best Biodegradable Glitter for Candles
4. TomCare Solar Lights with Flickering Flame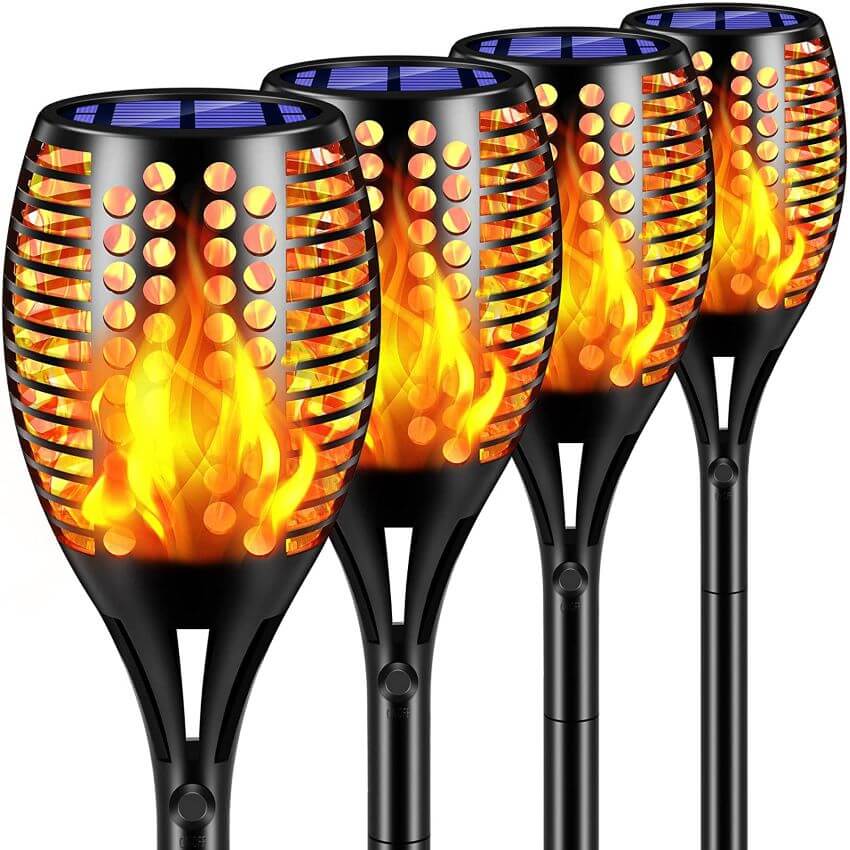 These TomCare solar lights with flickering flame are a great way to get started with solar landscape lighting, and they'll also make a wonderful addition to solar lighting in street lamp style if you want to add extra ambiance to your yard.
Providing a warm, captivating yellow light that mimics natural flames, these solar lights for your yard are incredibly easy to install and cost $70 for four.
See Related: Pros and Cons of Biofuels
5. iGlow Outdoor Garden Solar Lamp

The iGlow outdoor solar lamp posts have a simple but stylish design that will fit into absolutely any yard and provide 100 lumens as soon as it gets dark. Made with a rust-resistant cast aluminum, these solar lamp posts are almost indestructible.
They come with anchor bolts, screws, and ground spikes to get them set up safely and securely, and have a manual on/off switch to allow you to turn them off whenever you want to.
At $76, these iGlow solar lamps are among the best solar lamp post and ecol-friendly options people looking for affordable options have.
See Related: Energy Conservation Technique
6. Gama Sonic Everest Downlight Lamp Post Outdoor Solar Light Fixture
Have you been looking for a beautiful, sturdy solar lamp post design that married modern and traditional styles to light up your yard? Look no further than Gama Sonic's lamp post!
This solar street lamp's 360° light reach makes it a perfect option for side walks and businesses, and the lamp automatically lights up when the built-in sensor detects that it is getting dark outside.
At $381, this is not one of the cheapest options, but Gama Sonic's Everest series is among the best solar lamp post choices you could make if you want your investment to pay off.
See Related: Ways to Save Environment in Everyday Life
7. Sun-Ray Crestmont Solar Lamp Post and Planter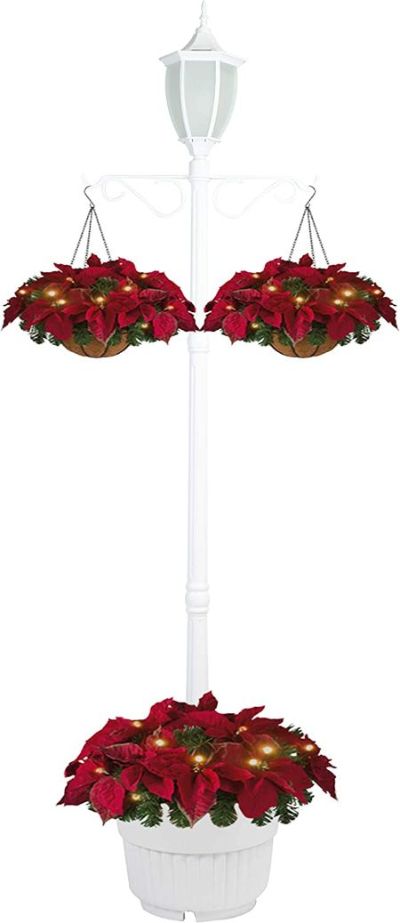 Those environmentally-aware consumers who just love delightfully quaint styles are bound to fall for the Sun-Ray Crestmont solar lamp post and planter in no time. Unlike the other solar lamp posts and lighting solutions we have looked at so far, this one is available in a stunning white color as well as a solid black.
Sun-Ray's Crestmont lamp post offers a warm and flickering light with around 80 lumens, which will ensure that your yard feels cozy and soft into the early hours. Made from a die-cast aluminum and magnesium alloy, it is resistant to weather conditions — and of course, you get the planter, too!
See Related: Best Compostable Plates
8. Kemeco Cast Aluminum Solar Post Light Fixture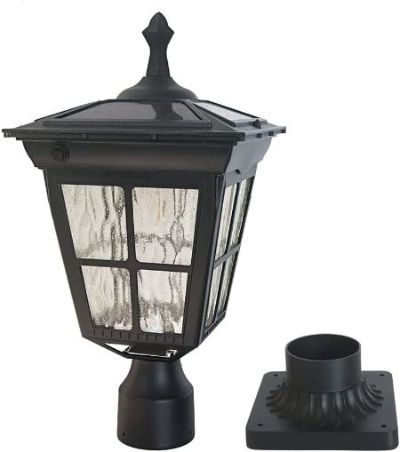 For a traditional garden vibe, check out the Kemeco cast aliminum solar post light fixture — which can easily be turned into a great solar lamp post for outdoors when you mount the light fixture onto a pole. You can also, however, get as creative with its installation as you want.
Because Kemeco's light fixture has strong ripple glass, the soft white LED light spreads out beautifully over your patio or yard. Able to provide up to 150 lumens, this solar light fixture is just bright enough. Although the fixture will cost you $100, you will need to invest in a pole separately if you are after the street lamp look and feel.
See Related: Different Uses for Solar Panels
9. LeiDrail Solar Wall Lanterns
LeiDrail's solar wall lantern lights are wall-mounted solar lamp posts that the manufacturer describes as being classic in style. With a bit of imagination, mind you, you can almost see the design as a very nifty vintage miners' lamp. For $36, you get not just one but two of these decorative solar lamps, complete with the mounts and screws you need to attach them to a wall.
See Related: Best Erosion Control Products
10. LUTEC London Solar Vintage Street Lights

Do you instantly want to be transported to 19th century London — near a subway (or "tube) station, of course — as you head into your yard after dusk? LUTEC's solar vintage street lights are going to be, well, right up your street!
Because these solar lamp posts offer 12 LED lights that provide 210 lumens, they are also among the bets solar lamp post choices for folks who are looking for a super bright solar lamp post that actually allows them to see where they are going. That makes them a solid pick for stairways.
LUTEC's vintage street lights are manufactured from solid cast-aluminum and a nice clear glass, and the lights automatically turn on when the sensor detects that you will need them.
See Related: Electronic Scooters Pros and Cons
11. DenicMic Solar Post Lights
While some people will be looking for environmentally-conscious solar lamp posts that blend into the background, others are going to want to delve into the world of artful solar lighting designs for outdoors.
Once you start browsing, you'll soon discover that you have no shortage of options — and this two-pack of DenicMic solar post lights that is not only easy on the eye itself, but also casts beatiful shadows, is just one possible choice out of many.
For only $33, you will get two of the best solar lamp posts. Given the fact that they are dimmer, you will want to use these to enhance the ambiance rather than as a sole light source.
Now that you have seen that the best solar lamp posts do not, in fact, have to break the bank, you have very little reason to consider anything else.
Solar lamp posts are easy to install, super simple to maintain, free to power, and can offer all the light that you need outdoors. Above all else, while you get the benefits of endless sun-fueled light, you will be doing your bit to help the environment.
Related Resources