If you love coffee having a coffee maker and filters in your kitchen can be an excellent addition to your home if you enjoy coffee. Given the fact that you consume coffee on a daily basis, you may dispose of a large number of coffee filters in the garbage can.
Is this, however, the best action to take? Have you ever considered whether it's actually necessary to toss away the used coffee filter after it's completed its expected usage?
Coffee filters were not only used in households that have coffee makers, but it is also commonly used in coffee shops.
Imagine how many coffee shops are there are how many coffee filters are used every day or even in a whole year?
For sure, it is tons of filters, but where do they all go? Are they best to add to your compost pile or compost bin?
If you're an environmentally conscious individual or starting to live sustainably and love drinking coffee simultaneously, there might be several questions running into your head.
Are coffee filters compostable?
Is it safe for the environment?
Is It safe to compost coffee filters?
Are coffee filters biodegradable?
If you're constantly throwing your coffee filters every time your make coffee, this article will change your mind. Keep reading as we will tackle everything about these coffee makers' essentials and their environmental factors.
Before we head on to whether these products were compostable, let us first know what a coffee filter is.
What is a Coffee Filter?
A coffee filter is used in brewing a coffee process that is often built of disposable paper. The filter separates the water from the grounds of the coffee bean.
Coffee filters were generally utilized in coffee shops, although there were some households that also used a huge amounts of coffee filters in their houses.
It is light, thin, and absorbent enough to enable liquid to get through, but not the tiny granules of coffee. Once the filter collects the grounds and other elements that you don't really want to add to your drink, it makes drinking coffee even more delightful.
See Related: Ways Coffee waste Can Be Recycled
Type of Coffee Filters
There are three primary varieties of coffee filters in the market: paper, metal, and cloth filters. Paper coffee filtration productions are the most commonly used.
In these three major types, there are a wide variety of different forms and manufacturers from which to choose the one that is most suited to your needs and preferences.
Paper Filters
Paper coffee filters are among the most utilized sort of filters because they produce a clear, light cup of coffee with complex flavors and without a hint of silt of coffee granules. It is among the great paper products that is useful in your kitchen.
However, they are a single-use filter where you'll have to keep buying replacements if you run out of paper filters. But many brands of these useful paper products were beneficial for the environment. This sort of filter is affordable, easily accessible, and easy to clean.
See Related: Best Conservation Posters
Metal Filters
It is the second type of coffee filter that is used in the preparation of coffee. It provides a coffee with a light texture and a delicious taste, and naturally occurring oils.
The usage of metal filters is exceptionally environmentally friendly because it is a reusable coffee filter. However, they have a considerable upfront cost and require constant cleaning every time they are used.
See Related: Beautiful Eco-Friendly Rugs
Cloth Filters
Cloth filters are another low-cost and environmentally sustainable filter option available on the market.
Due to its ability to absorb oils and prevent pleasant grounds from passing through produces a coffee with a savory flavor that is delicate and clear in appearance. These products, however, demand a significant amount of maintenance, including periodic rinsing and cleaning.
See Related: Sustainable Gifts for Your Eco-Friendly Friend
Are Coffee Filters compostable?
In case you're interested in whether or not you can compost coffee filters or are coffee filters compostable? the simple answer is yes. As long as they're just the regular paper type of this product, the answer is yes.
The majority of paper filter products are suitable for composting. This implies that instead of tossing your used filters directly into the garbage can, you may place them on your compost pile instead.
However, if the coffee filter is made of a different material, such as linen, it may not be compostable, as only paper filters can be composted. In these circumstances, the coffee filter should be discarded but can be reused.
Furthermore, coffee filters are frequently treated with chemicals like bleached filters or white coffee filters that have bleach. Because bleach itself takes hundreds of years to crumble and decompose, it is not recommended.
As a result, unbleached filters should be used in order to retain the organic compost content of the filter in good condition. It's the same as with parchment paper, where the majority of unbleached varieties are compostable. Not only were these coffee filters beneficial to your compost pile where they can properly decompose, but they were also biodegradable.
See Related: Amazing Sustainable Swimwear
Are Coffee Filters Bad for the Environment?
No, coffee filter bags are compostable and made of paper, and there is nothing about the paper are generally considered and deemed to be not harmful to the environment, as opposed to plastic. Furthermore, even the manufacturing process for these essential coffee products is considered to be environmentally friendly.
Because the paper coffee filter is compostable, the product is environmentally beneficial, especially
when it comes to the unbleached variety. In addition, different types of filters can be utilized that are beneficial for long-term use without composting. These were the reusable filter mentioned above.
See Related: Are Brown Paper Bags Compostable?
Best Compostable Coffee Filters
If you deem to start living sustainably, here is the list of compostable coffee filters to add to your home.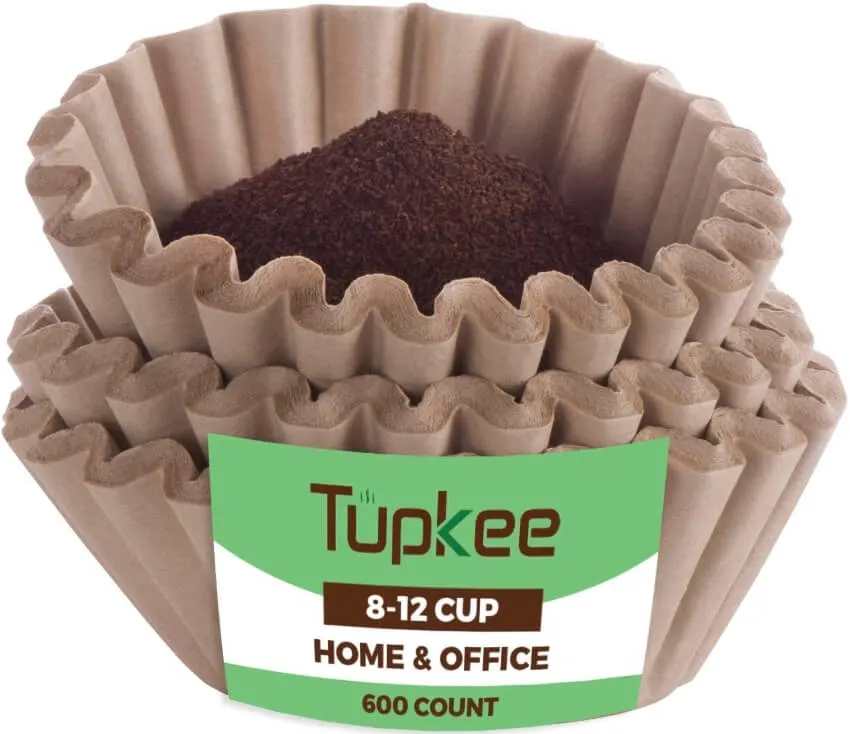 Whenever you are looking for a beautiful filter to use for your coffee, the Tupkee Coffee Filters is one of the best options available because it is one of the biodegradable filters. This environmentally friendly product is available in two shades, bleach-free, 100 percent compostable, and leaves no toxins in the soil when composted.
Tupkee Filters are high-quality products that produces better-tasting coffee. They are produced from a good quality particular grade natural brown filter with unbleached material that has a natural brown color. When using this brand, the water runs properly through the coffee grounds, resulting in the optimal extraction for a richer, more flavorful cup of coffee to enjoy.
The filter was quite adaptable, as it could be used with a variety of various Basket-Style coffee machine manufacturers or a french press available on the market.
See Related: Best Conservation Books to Read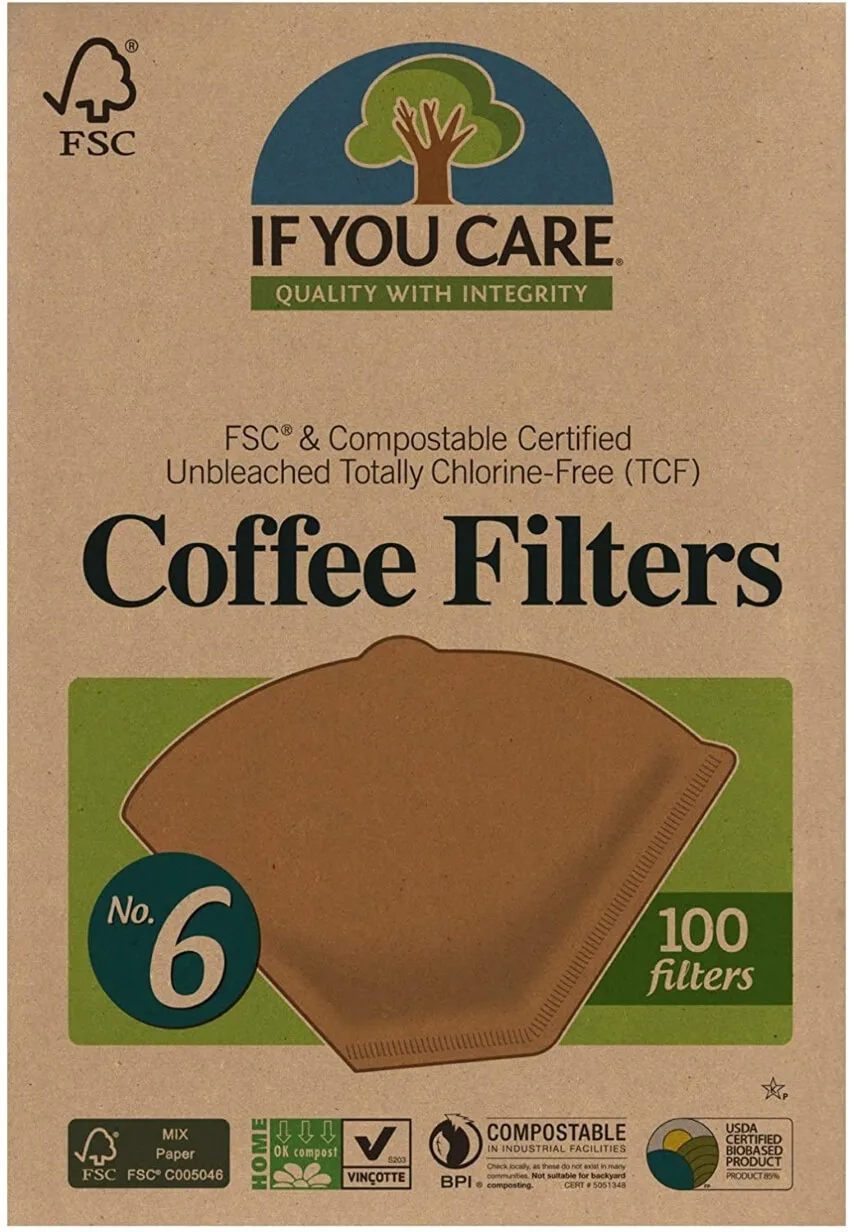 If You Care is a company that excels in making numerous biodegradable products that are great for creating a sustainable home for those who are concerned about the environment.
They also have a white filter but it is not a bleached filter but rather it is a bleach-free product. Its unbleached cone-shaped coffee filters are among the eco-friendly products that you may include in your home basics to reduce your carbon footprint.
The cone-shaped product is constructed with a robust "never break" unique wave seam, which ensures their strength and endurance throughout time.
These paper coffee filters were created with excellent quality because it is FSC Certified and manufactured of chlorine-free material, which means that it has no chlorine or chlorine compounds in their structure. It performs an excellent job of reducing the number of coffee grounds that get into your cup of coffee.
The If You Care unbleached coffee filters are carefully developed products to have the least amount of environmental impact possible on the environment.
The fact that they are compostable and biodegradable means that they will have no effect on the taste of your coffee, great addition to your compost pile, and will help to minimize the quantity of pollution in our environment.
See Related: Best Compostable Mailers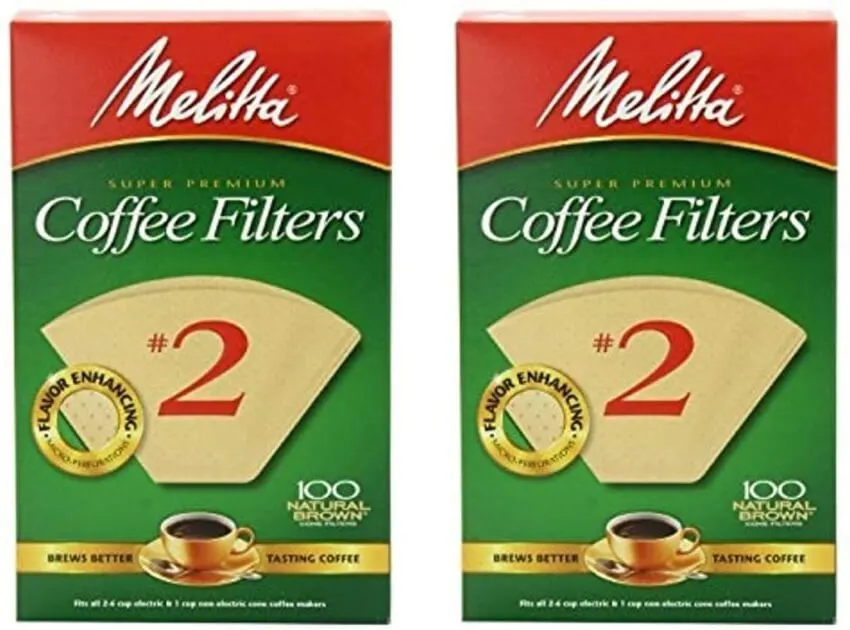 Look no farther than this luxurious yet environmentally friendly filter. Melitta Cone Coffee Filter is one of the most outstanding options available on the market. It's all 2-6 cup electric coffee appliances, as well as a 1 cup non-electric cone coffee maker, making it a very convenient and environmentally friendly product to buy.
The cone coffee filter has a natural brown coloring, is unbleached, is compostable, and is a Kosher-certified product, among other characteristics.
It includes a double crimped filter design that helps prevent ripping and bursting when in operation. The filter's microfine taste amplifying slits allow the full coffee flavor to filter through, resulting in a rich, tasty cup of coffee.
See Related: How to Make Home More Energy Efficient?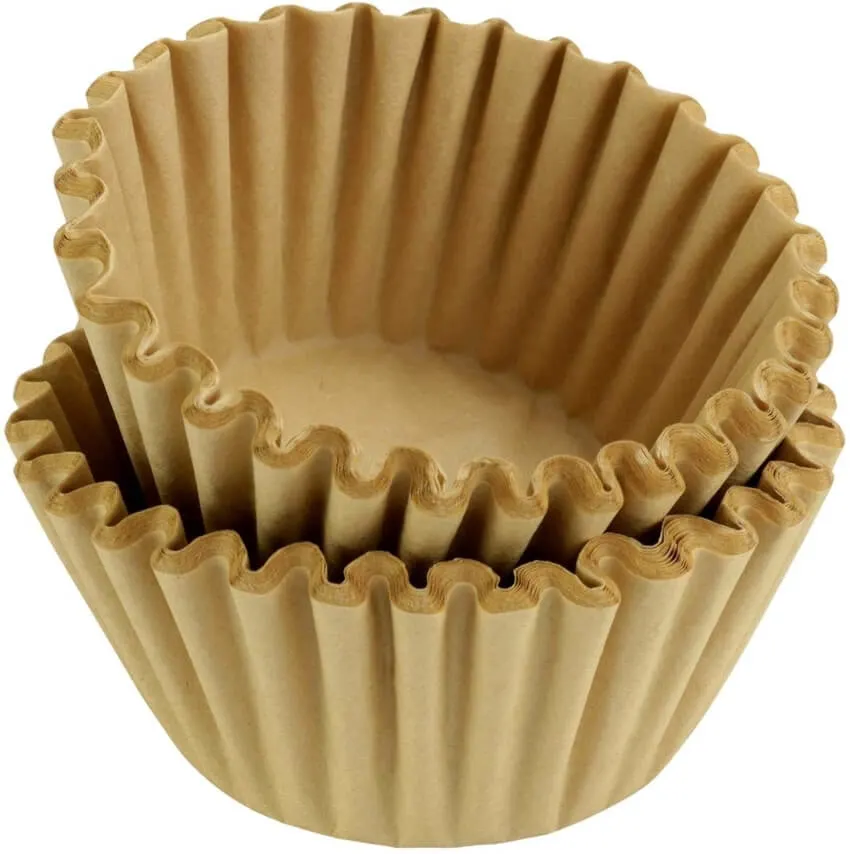 Rupert & Jeoffrey's Trading Co. is a brand that sells a variety of biodegradable products that are excellent for those who are environmentally conscious and want to build a home. Its unbleached coffee filters are one of the environmentally friendly things that you may use in your coffee making.
The product is of good quality because it is constructed with solid sides that will not collapse during the brewing process. It performs an excellent job of reducing the number of coffee grounds that get into your cup of coffee.
A standard size, the Rupert & Jeoffrey's Trading Co. unbleached coffee filters eliminate most oils like cooking oil coffee filters in the market. In addition, it separates the micro coffee particles (which can cause coffee to taste bitter) while also making the coffee taste better and more pleasant.
Because the product is composed of paper and is biodegradable, it is simple to clean up and dispose of in your compost pile after use. Though it is a compostable product it can not easily rip like a paper towel for the product is high quality one.
See Related: Best Composting Books You Need to Know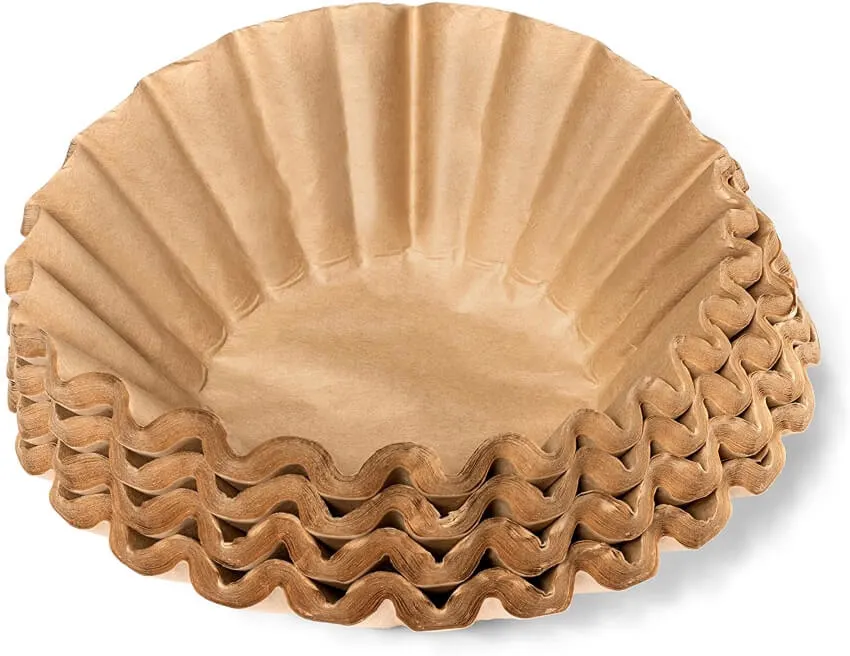 The California Containers Coffee Filters are one of the excellent filter options available to buy and incorporate into your kitchen. They are constructed from an unbleached paper coffee filter that is 100 percent biodegradable and compostable, making them an environmentally friendly option for coffee filters.
Use these paper products on the coffee machine for your morning cup of great brew and do a good deed for the environment.
This product is created without the use of harsh chemicals or bleach, which is a component that is harmful to humans. California Containers Coffee Filters were also durable, as they did not degrade when exposed to moisture. They performed admirably in filtering coffee grounds residue and assisting in the production of a fine cup of coffee.
Its cone style filters have a natural brown coloring, are unbleached, are compostable, and a Kosher-certified product, among other characteristics. It includes a double crimped filter design that helps prevent ripping and bursting when in operation.
The filter's microfine quality improving perforations allow the full coffee flavor to filter through, resulting in a rich, tasty cup of coffee. It is because it separates have a semi-permeable layer that allows the water to pass through but not the coffee grounds that it is so effective.
See Related: 12 Essential Environmentally Friendly Tech Products
Why should you compost coffee filters?
One advantage of using compostable coffee filters is that it is beneficial to the environment in the long run. The use of such products contributes to the preservation of the environment from pollutants and waste.
Choosing biodegradable filters and composting coffee filters may appear to be a minor step toward a more environmentally friendly lifestyle, but it makes a significant difference and positively impacts the environment.
Composting these products was pretty easy to you don't need to take out the used coffee grounds on the filter when composting it just directly adds them into your composting bin. Composting will reduce the amount of garbage you produce while also making your garden healthier and greener.
It helps you live more sustainably and encourages you to do so even more. In the case that you enjoy coffee and use these products consistently throughout the year, consider how many filters you'll use and throw away.
Instead of throwing them away, put them into your composting pile and utilize them in your garden. You may also directly add it to your plant pots. People and the environment benefit from it, making it a win-win situation.
Related Resources