A comforter is one of the essential items you can buy for turning a house into a cozy home. There are many excellent eco-friendly cotton comforters available online – let's check them out in this article!
Comforters are duvet covers – and they help to add a homely, comfortable feel to a room. They are made from the highest quality organic cotton, some stuffed with materials like down for that extra soft feel.
Professional decorators know the importance of a durable comforter to complete a room's decor. But more people realize this simple industry trick: if you want to make your room look great, you must buy a cozy comforter!
The right comforter can provide warmth, comfort, and a better night's sleep. But an uncomfortable comforter can keep you awake for nights on end.
Consider certified organic cotton if you are in the market for a new comforter. Cotton is one of the best materials for durability, breathability, and comfort. It is also more ecologically sustainable than some types of blended materials that cheaper, non-eco-friendly comforters are made from.
If your bed doesn't feel like a bed, a comforter might be what you need to buy next. But what is exactly a comforter and what are the important features of a good comforter? Let's find out below!
What is a comforter?
A comforter is a type of bed covering, usually made from two separate pieces of joined fabric. They are meant to be thrown over last, while a duvet is a cover that goes UNDER the comforter. Yes, technically, there's a difference to know about!
Why are some comforter types called eco-friendly?
Some blankets are from cheap, low-quality materials – and are sometimes produced in factories that pay their workers less than minimum wage. Cheap, bad comforters are an entire industry: these are non-ecologically sustainable comforters you don't want to buy.
Cheap comforters won't last long, don't breathe well, and the fabric might even contain high amounts of formaldehyde. What about any of that could give you a good night's sleep?
Eco-friendly blankets are ethically sourced from high-quality material. These last longer, breathe better, and make for a much more ethical buy. An environmentally-friendly comforter has not been treated with any potentially dangerous chemicals.
What are the important features of a good comforter?
The first important thing to look for in a good blanket set is the material. Cotton and bamboo are materials that breathe, while polyester blends do not. Cotton and bamboo are the obvious eco-friendly choices.
Consider size next. Ecologically sustainable blankets are available in different sizes, like Queen and Medium. It's best to get one that fits your bed, though many people choose to go one size larger for the extra overhang.
Color is just as crucial for your comforter. White is a popular comforter option, but any other shade you can imagine is available. Make sure your comforter choice compliments the rest of the room (and consult an expert or color wheel if you aren't sure about this).
Now, let's discover some organic cotton comforters you can buy to have a good night's sleep!
See Related: Why Should We Care About Climate Change?
12 Eco-Friendly Cotton Comforters to Buy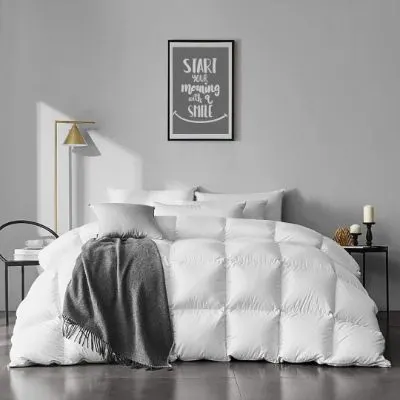 The APSMILE Organic Comforter is made from 100% organic cotton and guarantees to be completely hypoallergenic. It's available in Queen and King sizes, but you can also find other sizes in their range if you have a large bed.
It is one of the best all-season organic comforters you can buy: its best attributes are high-quality material, breathability, and affordability. It comes with pillowcases and a lightweight duvet insert, made from the same quality fabric and guaranteed to last.
Filled with goose feathers, it's perfect for anyone who likes to sleep warm.
The APSMILE comforter retails for just over $80.
See Related: Best Composting Books You Need to Know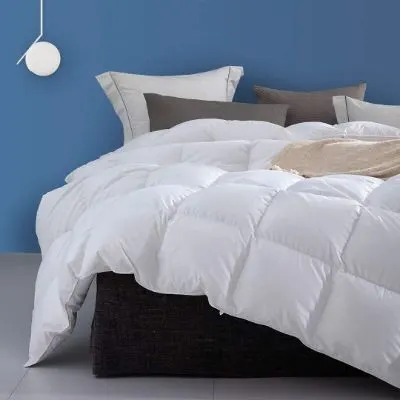 The Daffiner Organic Cotton Feathers Down Comforter is available in Queen, King, and Single sizes. The Queen-size retails for $75.90 and is considered a comfortable medium-fill comforter that could give you the sleep you need.
The special, quilted organic bedding design guarantees a superior feel and a great look. Organic and responsibly sourced fabric is guaranteed. This way, you know it will last for a very long time.
The Daffiner is filled with goose feathers and made from 100% pure cotton fabrics. It's one of the best ecologically sustainable blankets out there.
As a bonus, it also has added cotton pillowcases to complete the look.
See Related: Most Eco-friendly Cars for Any Lifestyle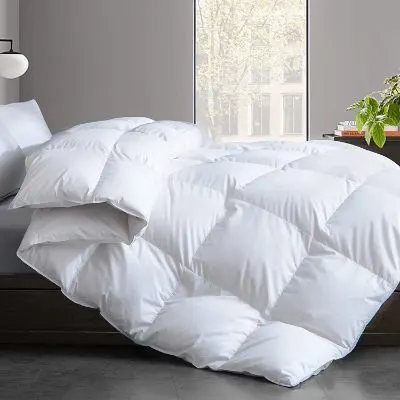 CosyBay is a well-known manufacturer of supreme-quality sheets, linen, and blankets. The 100% Cotton White Quilted Feather Comforter retails for $64.99, and it's their answer to the environmentally-friendly comforter question – but how does it sleep?
The quilted design allows it to breathe and makes it feel lighter than air, even during warm nights. High-quality cotton also adds to what makes this an ideal product.
The CosyBay comforter is filled with feathers for added good feelings while you sleep. Feathers are hypoallergenic and sustainably sourced: you know this is a suitable environmental buy when you get it.
Pillowcases are included, and you can find other ecologically sustainable items like sheets to match from the same manufacturer.
See Related: Best Energy-Efficient Curtains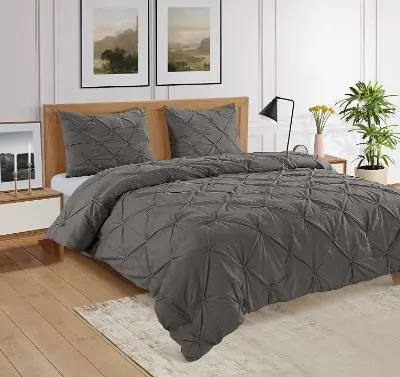 The Alternative Bedding 100% Organic Cotton King Comforter Set retails for $69.99, and even though it might seem priced higher than some of the other conventional cotton comforters buys you could make, the price is worth it for the extras they include in the deal.
It's a guarantee that you will buy this product with its 100% organic cotton and feathers. It's ecologically sustainable, comfortable, and breathes as a great organic comforter should.
It is a proper 3-piece set that makes the Alternative Bedding set worth its price. Sheets and pillowcases are included with the comfortable comforter. All items in the set are from the same high-quality materials as the comforter itself.
If you need a different size, you'll find others like Queen and Single in the same range.
See Related: Ways Coffee Waste Can Be Recycled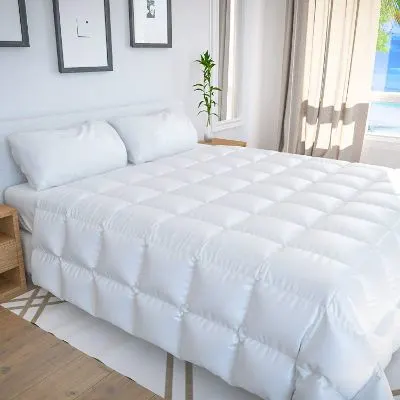 BAMBOO BAY is in the business of bamboo products, a common ecologically sustainable material used for everything from fabric to paper – and now, for eco-friendly blankets. Bamboo breathes just as much as cotton and can be super light. That's why the Bamboo Bay comforter is ideal for those with sleeping preferences and those who sleep hot.
Available in Queen size, the sustainable blanket is made from natural bamboo. Bamboo is easy to wash and more breathable than traditional pure cotton products.
If you need another size, browse through the rest of the Bamboo Bay range. The Queen size retails for $71.99.
See Related: Pros and Cons of Biofuels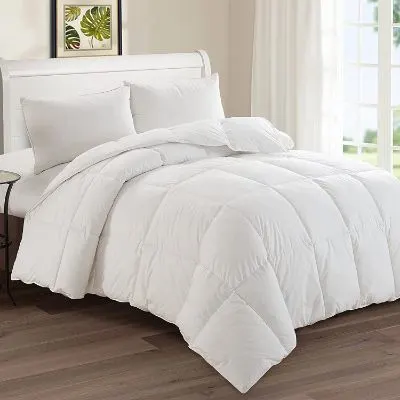 The APSMILE All Seasons Goose Feather Down Comforter retails for a good mid-priced and environmentally responsible blanket made from high-quality 100% cotton and then filled with goose feathers.
All APSMILE products are made with eco-friendliness in mind: the product guarantees that no chemicals like formaldehyde have been part of the manufacturing process. It's great as a large, hypoallergenic comforter – if you don't mind priced more towards the mid-range of the scale.
A quilted design guarantees that its segments are cool and comforting. Heavier, non-segmented blankets can never breathe or cool as well as this can!
See Related: Best Compostable Mailers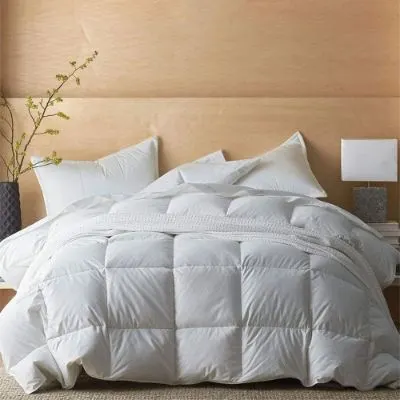 The Kotton Culture Down Soft & Fluffy Set retails for $113.00, and it's an excellent comforter choice if you need a mid-priced set with guaranteed quality. Available in Queen and various other sizes, it brags with a 600 thread count and unique ecologically sustainable filler material made from microfiber, and feathers.
An environmentally sustainable, comfortable product is their guarantee. The name says soft and fluffy, and they're not wrong!
White is the default color, but you can buy the Kotton Culture comforter set in other colors to match your bedroom.
Being a set, it also comes with accessories: several pillowcases and sheets are included.
See Related: Eco-Friendly Wrapping Paper
The Enmujoy Goose Down Comforter Set is available in several sizes, but their twin size is perfect for most beds and retails for around $69.99. It's a medium warmth, and the feather-filled duvet is made from combining 100% pure cotton and goose feathers.
Goose feathers are an excellent choice if you would like a material that breathes throughout cold nights. The Emmujoy Comforter Set is as light and airy as you would need the best comforter to be.
As a set, sheets, and pillowcases made from high-quality cotton are included in the deal. It's the happiest, fluffiest way you'll ever sleep.
See Related: Best Posters on Saving Earth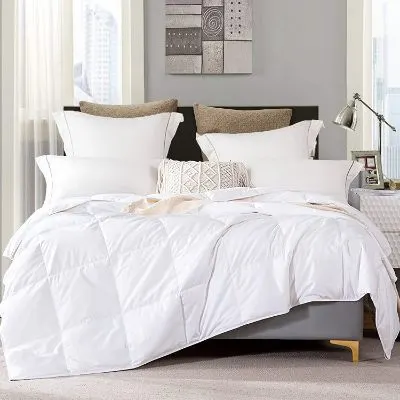 The LOVSOUL Goose Down Fiber Comforter is made from 100% pure cotton and filled with goose down. It's one of the best eco-friendly blankets on the market. And it seems to be a favorite for buyers online: more than 1,000 good reviews vouch for it.
It's made for real comfort and stays cool throughout the night. There's no need to toss and turn when you have a properly made down blanket!
Available in Queen size as a default, other standard sizes like Single and King are available too.
See Related: Are Double Ovens More Energy Efficient?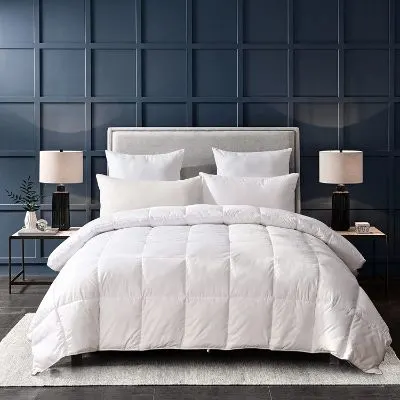 The ORIENT Down Comforter is available for $80 in Queen size, though other sizes are available if you need one to match a Single, Twin, or King sized bed instead. It's made from 100% organic cotton and remains cool to the touch, even during the hottest nights.
Filled with goose down, it guarantees a great night's sleep – and it's one of the lightest duvets on the market.
Aside from the eco-friendly rating, no chemicals like formaldehyde have been used in manufacturing.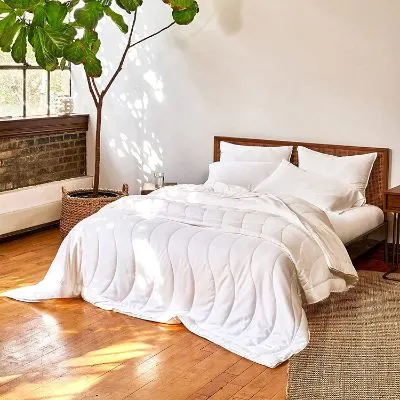 Buffy is a cruelty-free, eco-friendly, lightweight, breathable, and antibacterial eucalyptus blanket. Buffy's cover is constructed entirely of eucalyptus fiber, known as lyocell, and the wood pulp is from regenerating eucalyptus trees. They employ a closed-loop technology that reuses 99% of the solvents and produces very little trash.
What makes Buffy comforter ideal is its inside is made from recycled water bottles! Buffy claims they have already recycled 6 million bottles, and their blankets are free of hazardous bleaches and dyes. Buffy comforters are filled with 100% recycled polyester made from BPA-free PET water bottles.
The best part is that Buffy blankets are cloud soft and hypoallergenic (unlike down), plus they don't harm the geese. Eucalyptus is also naturally dust, mite, and mold resistant.
See Related: Best Erosion Control Blankets to Buy
The Global Organic Textile Standard (GOTS) is the world's leading certifier of organic textiles and the best label to seek on certified organic cotton bedding. GOTS guarantees that a product's whole supply chain is organic, from source to end product.
The Whisper Organics is 100% GOTS-Certified Organic cotton and a natural choice for families! The 6-Inch Diameter Diamond-Stitched Squares keeps the filling from shifting and are well-suited for comfort and warmth.
With this Ultra-Soft Queen Size blanket, you'd be wanting to stay in bed all day!
FAQs
How Much Do Sustainable and Organic Comforters Cost?
Some affordable sustainable blankets can cost around $60, though you can pay $80 or more for a high-quality large size, eco-friendly comforter. The rest of it is all about personal choice. Find the comforter that matches your style and idea of comfort.
What is the softest and most sustainable bedding?
Organic cotton is the most popular environmentally friendly and long-lasting fabric. It's lightweight and long-lasting, and it's simple to clean and maintain. Organic cotton provides numerous environmental advantages over conventional cotton. It is less likely to contribute to freshwater acidification and eutrophication. And it contributes to soil fertility and biodiversity.
What are the benefits of choosing certified organic cotton fabrics?
Certified organic cotton fabrics are softer and gentler for the skin than ordinary cotton since the fibers are significantly longer. Organic cotton is free of hazardous chemicals and pesticides, and it is grown on healthier soil. As a result, organic cotton fabrics are often of much higher quality.
Related Resources