Palm oil is a common component in most soaps. Though palm oil is a versatile oil with several properties, it is also known as a driver of deforestation. Harvesting palm trees not just destroys rainforests but also wipes out endangered species. This is one of the major reasons most people don't prefer using soaps with palm oil. If you're also thinking of ways to contribute to environmental protection and conservation, using no palm oil soap can be an excellent deal.
When buying a palm oil free soap, it is mandatory to check all the ingredients carefully before choosing one. Since a soap comprises a vast range of elements, the process of finding palm free soaps can be quite hectic and time-consuming.
If you're looking to buy a palm oil free soap, you're at the right place. To save you some effort and time, we have researched and put together 10 best palm free soaps you surely need for your home. Let's take a quick look at the list below for details.

10 Best Palm Oil Free Soaps to Buy Today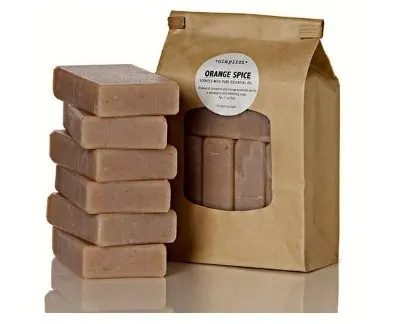 SIMPLICI Orange & Cinnamon Bar Soap is a multi-purpose palm oil free soap. This is one of the skin cleansing bar soaps that can also be used in regular cleaning. This refreshing and stimulating soap comprises cinnamon essential oil, sweet orange essential oil, cinnamon bark, and coconut oil.
The ground cinnamon bark adds a natural brown color to the soap bar, and the sweet orange essential oil gives it a natural and fresh orange scent. Additionally, the pinch of coconut oil hardens the bar, making it last longer. Not only this, but the coconut oil also increases soap lathering, making it good to use with sea and salty water.
Overall, the premium-quality ingredients and smooth texture of this natural soap leaves skin feeling squeaky clean and refreshing.
Other Product Details:
Bar Weight: 4.5 ounces (127 grams).
Carefully formulated and handcrafted.
Suitable for sensitive skin.
Produces great leather; perfect for shaving.
Rinses easily.
Each value bag includes six soap bars.
Minimal, simple, and hassle-free packaging.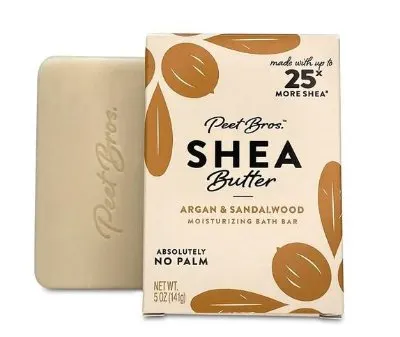 Peet Bros Shea Butter Moisturizing Soap Bar is made from 25% organic pure shea butter, perfect for skin nourishing and extra soothing. This absolutely palm free soap makes for a super moisturized, luxurious, and whole-body clean. Made with premium-quality essential oils which provide various health benefits, this soap bar contains no artificial fragrances or dyes.
An exceptional blend of argan and sandalwood, the earthly combination of this palm free soap makes it suitable for curing skin infections. This 4 in 1 soap is for shampoo, face, body, and shaving for men. The soft aroma of the soap is inviting, giving a feel of being in a spa.
Overall, this unscented shea butter palm oil free soap will leave a moisturized, fresh, clean, and silky soft feel on the skin.
Other Product Details:
Weight: 5 ounces per bar.
Vegan ingredients.
Perfect for all skin types.
Paraben-free.
Phthalate-free.
Recyclable packaging.
Healthy skin regeneration.
No-plastic packaging.
See Related: Best Biodegradable Baby Wipes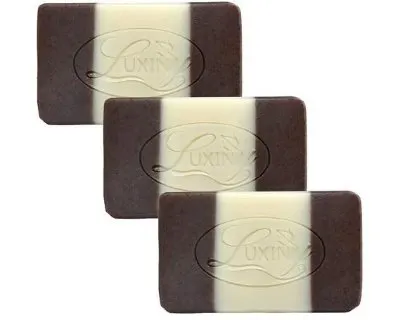 Made using all-natural plant-based ingredients, Luxiny Colloidal Oatmeal Cinnamon Soap is a palm free moisturizing vegan castile soap. The soap is composed of coconut oil, olive oil, cocoa butter, shea butter, and natural colorants. Infused with cinnamon, this 100% pure shea butter soap is ideal for treating eczema, mild burn, sensitive skin, and dry skin.
The skin-nourishing natural oils and nut butter drench the skin in vitamin-rich hydration, leaving it immaculately clean, soft, and supple.
Additionally, aloe vera juice can help in fighting free radical damage. This long-lasting oatmeal cinnamon soap without palm oil produces a rich, creamy lather that cleans and moisturizes skin gently.
Moreover, each soap bar is infused with sodium lactate, a high-quality moisturizer that can increase skin moisture content by up to 80%.
This handcrafted palm oil free soap will give a hydrating and reinvigorating clean to your skin, leaving it feeling silky smooth and soft. If you want a truly luxurious cleansing experience, then consider giving a try to Luxiny Colloidal Oatmeal Cinnamon Palm Oil Free Soap.
Other Product Details:
Weight: 13.5 ounces per bar.
Perfect for all skins.
No artificial dyes or additives.
Sulphate-free & cruelty-free.
Paraben-free.
100% vegan ingredients.
No artificial fragrances.
Eco-friendly packaging.
See Related: Best Products to Help Climate Change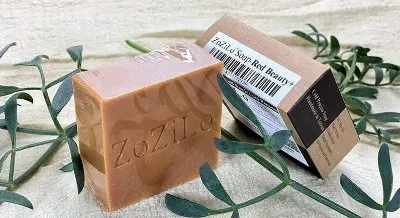 ZoZiLo Red Beauty Shea Butter Soap is handcrafted with natural and organic ingredients combined with pure essential oils. This soap comprises Ylang Ylang essential oil, extra virgin olive oil, unrefined shea butter, sea fennel hydrosol, coconut oil, and natural monascus purpureus powder.
Full of natural ingredients, this all-purpose palm oil-free soap helps cleanse skin dirt while moisturizing it deeply from within, leaving it satiny soft, and dewy. The soap also boosts collagen, unclogs pores, speeds cell turnover, lowers fine lines, and evens out skin texture and discoloration.
Also, the soap is unscented with no artificial additives, perfumes, or dyes. Add this palm oil free soap to your daily regimen and improve your overall skin health.
Other Product Details:
Weight: 3.99 ounces bar.
100% handmade.
Prevents pimples and breakouts.
Produces great lather.
Light-weight.
Non-greasy.
Suitable for all skin types.
No artificial colorants.
Paper packaging.
See Related: Non-Toxic Dishwasher Detergent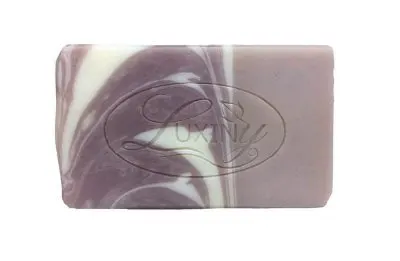 A blend of sustainable organic ingredients, Luxiny Rosemary Lavender Body Soap is another palm oil-free soap made to give you and the earth a fresh, long-lasting clean. The soap combines coconut oil, olive oil, essential oils, shea butter, cocoa butter, and natural colorants. It produces a rich, creamy moisturizing lather that gently hydrates and cleans your skin.
Each homemade soap bar is infused with purple Brazilian clay to help eliminate impurities, dead skin cells, and oiliness to promote healthy-looking skin.
The soap includes multiple essential oils which are known to soothe redness, complement acne treatments, and clean oily skin. The lavender oil works as a natural skin healer and may help with the dry skin linked to psoriasis, dermatitis, and eczema.
Also, the fresh lavender scent of this cleansing palm oil-free soap gives a soothing clean to the irritation caused by insect bites, acne, and other skin irritants. Apart from these skin benefits, the relaxing properties of the lavender can help improve sleep and mood, making it ideal for relieving stress.
Other Product Details:
Weight: 3.84 ounces bar.
A natural antioxidant.
Sulphate-free.
Paraben-free.
Cruelty-free.
100% vegan ingredients.
Improve sleep and mood.
Suitable for all skin types.
Helps combat aging skin.
See Related: Important Pros and Cons of Offshore Drilling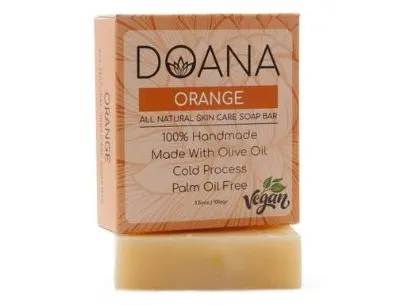 Doana Orange Soap Bar is palm oil-free, antiseptic, anti-aging soap. Since it promotes collagen production, this soap reduces dark spots & wrinkles and makes skin smooth and supple. The soap ingredients include aqua, castor seed oil, cottonseed oil, coconut oil, sodium hydroxide, Helianthus Annuus oil, and citrus sinensis peel oil.
The olive oil in the soap works as an antioxidant and can help improve acne problems by killing bacteria. Rich in vitamins, Doana Orange Soap Bar includes vitamins A, D, E, and K. This palm kernel oil-free soap also contains coconut oil, which can help improve your skin's moisture content.
Additionally, the cottonseed oil available in the soap contains vitamin E, antioxidants, and fatty acids that provide several skin-related benefits, such as anti-aging, anti-inflammatory, and moisturizing.
Moreover, free from palm oil derivatives, this soap itself lathers pretty nicely and can make the skin feel squeaky clean by the end of the shower.
Other Product Details:
Weight: 3.92 ounces.
Fully vegan.
Cruelty-free.
Paraben-free.
Silicon free.
No preservatives.
Suitable for all skin types.
See Related: Best Erosion Control Products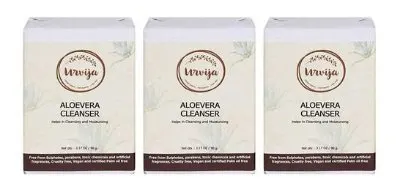 Responsibly made using ethically sourced ingredients with no palm oil derivatives, Urvija Aloevera Cleanser Soap is perfect for dry skin. This palm oil free soap is a mixture of multiple soaps, including aloe vera pulp, oats, rice, cane sugar, mahua oil, coconut oil, jasmine oil, glycerin, castor wax, sodium hydroxide, and vitamin E.
This organic no palm oil soap deeply cleanses the oil, dirt, and makeup, all without stripping your skin's natural oils. Rich in antioxidants, the soap can help clean skin gently and effectively, leaving it feeling tight and smooth.
The aloe vera pulp and active ingredients in the soap soothe and moisturize your skin in a natural way. An exclusive addition to your daily cleansing routine, the hydrating properties of this facial cleanser keep your skin healthy and can make you feel good. Specifically formulated for sensitive skin use, this certified palm oil free soap can be used for both face and body.
Additionally, as this cleansing bar is chemical-free, it evens out skin tone along with moisturization. Overall, bring this skin hydrating soap to your daily use and get clean, soft, and hydrated skin.
Other Product Details:
Weight: 3.17 ounces per bar.
Vegan approved and non-toxic.
Sulphate-free.
Paraben-free.
Cruelty-free.
No artificial fragrance.
Reduces skin blemishes and spots.
Good for all skin types.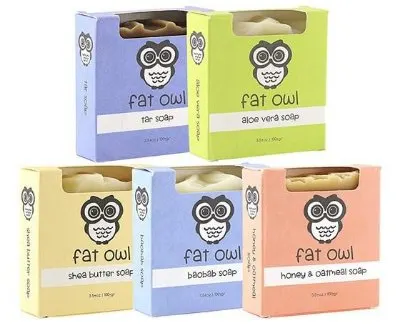 Fat Owl Organic Soap bars are handmade from certified and organic ingredients, perfect to replenish your skin. Rich in antioxidants and vitamins, these all-natural soaps can hydrate and repair your skin with gentle almond, coconut, jojoba, and olive oils.
This pack includes a wide variety of vitamin-rich soap bars, such as Tar, Shea Butter, Baobab, Aloe, and Honey & Oatmeal, to suit all your skincare desires. Infused with aloe vera, turmeric, goat milk, avocado, and activated charcoal, each body soap bar provides several healing properties.
Suitable for hair use, these are some of the best palm oil free soaps by Fat Owl to promote a healthy pH balance of skin and scalp. They are also suitable for the face and body, leaving your skin feeling more refreshed, softer, and smoother.
Additionally, all soap bars are free of synthetic dyes and fragrances. However, essential oils or organic ingredients do make them a little scented.
Other Product Details:
Weight: 3.5 ounces each bar.
Fully Vegan.
No synthetic chemicals.
Unscented.
Light-weight & non-greasy.
Recyclable packaging.
Perfect for all skin types.
Make an ideal and sustainable gift option.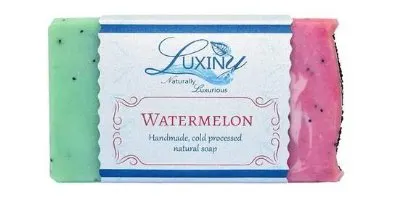 Made using plant-based sustainable ingredients, Luxiny Handmade Moisturizing Vegan Castile Soap Bar is a palm oil free soap. This body and bath soap has a rich, creamy lather, ideal for cleaning and moisturizing skin. It gives a hydrating and reinvigorating clean, making your skin soft and silky smooth.
With a touch of coconut and olive oil, this soap is perfect for moisturizing your skin. Also, the delightfully sweet and crisp juicy watermelon aroma provides a remarkable, carefree experience. The sodium lactate in the soap can increase the moisture of the skin by up to 80%.
Add this certified palm oil free watermelon castile soap to your daily routine, and be ready to enjoy a spa-like experience.
Other Product Features:
Weight: 4.2 ounces per bar.
It lathers nicely and rinses clean.
Non-irritating to eczema-prone skin.
Perfect for all skin types.
Fresh and long-lasting clean.
Plastic-free and eco-friendly packaging.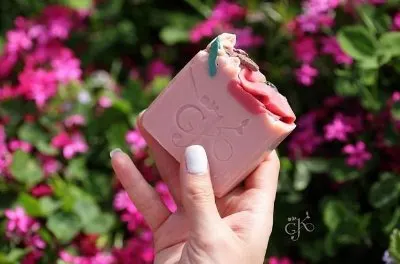 Beautifully topped with parrying exotic butterflies and red poppy flowers, Artisan Silk Infused Red Scarlet Poppy Luxury Soap bar is a piece of art on its own.
The soap is composed of aqua, olive oil, grape seed oil, shea butter, coconut oil, sunflower oil, sodium hydroxide, cocoa butter, jojoba oil, hemp seed oil, avocado oil, tea tree oil, sodium lactate, silk fibers, mica, sea buckthorn extract, and capric triglycerides.
Enriched with luxurious oils and butter, each palm kernel oil free soap bar is formulated and handcrafted in small batches. The natural silk fiber makes sure to produce a creamy lather.
Infused with deluxe botanical extracts, phthalate-free fragrance oils, and high-quality essential oils, the soap is ideal to use on all skin types. However, consider checking out the available ingredients carefully before buying if you have sensitive skin or skin allergies. Avoid continuing use in case of any irritation.
Additionally, for best results and longevity of your soap, make sure to keep it on a draining soap dish and let it dry between each use.
Other Product Details:
Production Method: Traditional cold process.
Fully vegan.
Produces perfect creamy lather.
Skin-safe phthalate-free fragrance.
Moisturizes skin properly.
Perfect for all skin types.
These are some of the best palm oil free soaps from different brands you can consider adding to your daily-use product list. If you're thinking of changing your washing routine and contributing to environmental sustainability, this post is definitely for you.
Using any of these soaps can be a great initiative towards promoting green living. Though this list is not exhaustive, we hope it will help you find soap without palm oil at the best affordable price, perfect for face, hands, and body.
Overall, we recommend you to start using soaps without palm oil derivatives to reduce your carbon footprint and make the earth a better place.
FAQs
What are some oil free soaps?
Oil-free soaps are cleansing products that do not contain any oils or fats. They are designed to remove dirt and impurities from the skin without leaving any oily residue. Some popular oil-free soap brands include Neutrogena Oil-Free Acne Wash, Cetaphil Gentle Skin Cleanser, and Aveeno Clear Complexion Foaming Cleanser.
Is Dove soap oil free?
Dove soap is not oil-free. In fact, it contains a mild cleansing formula that includes a blend of fatty acids and stearic acid. These ingredients help to moisturize and nourish the skin while also removing dirt and oil. So, if you're looking for an oil-free soap, Dove may not be the best choice for you.
Does bar soap have oil?
Bar soap is a cleansing product that is typically made from a combination of oils or fats and an alkali substance. These ingredients are mixed together through a process known as saponification, which creates a solid bar of soap. Therefore, it is likely that bar soap contains some form of oil or fat, as it is a key component in the soap-making process. However, the specific types and amounts of oils used can vary depending on the manufacturer and the desired properties of the soap.
Does Dove still use palm oil?
Dove is a personal care brand that is owned by Unilever. As of 2023, Dove still uses palm oil in some of its products. However, the company has committed to sourcing sustainable palm oil and has set a target to achieve 100% sustainable palm oil by 2023.
Related Resources