We all start life doing the same three things: eating, sleeping, and… pooping. Parents everywhere know that the beginning of a child's life is defined by non-stop diaper changes and the endless use of baby wipes. But as children develop past their need for diapers, baby wipes maintain a constant presence into adulthood with a myriad of uses.
It's estimated that the average baby goes through 6,000 disposable diapers within their first 2 years and, I don't know about you, but I've never used just one baby wipe for a diaper change.
It's estimated that plastic-based baby wipes take over 100 years to begin to break down. With an estimated 20,000+ individual wipes used per child, it's no wonder that 90% of the material clogging sewage systems is attributed to baby wipes.
Baby wipes are essential for parents of young children today but their impact on the environment has a lot of people looking for options that are eco-friendly and sustainable.
Biodegradable baby wipes are the best option when it comes to minimizing the impact of these disposable products on our environment, oceans, and sewage systems.
Best-Of by Category
What are Baby Wipes?
Invented in the 1970's, baby wipes were designed to be convenient, disposable, and able to gently clean sensitive skin.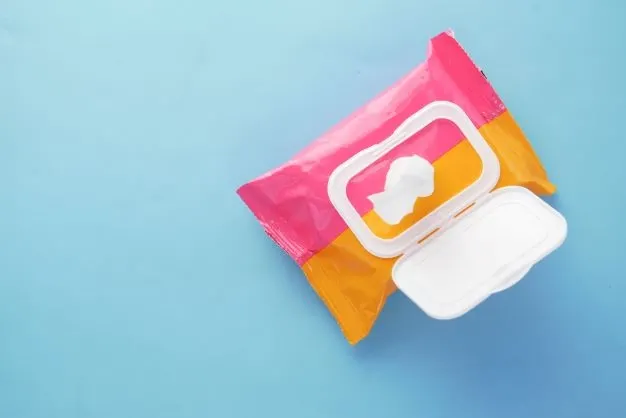 Traditional baby wipes are generally not environmentally friendly and are made of a non-woven fabric that could include cotton or rayon and is enhanced with PET or plastic resins (the same stuff found in food packaging or plastic bottles).
The fabric is then soaked in a water-based solution that could include a mild, detergent-like cleanser or lotion and packaged in a container that will retain the moisture of the solution and easily dispense the sheets.
When you combine these plastic features with the water-based solution, you get a product that cannot be recycled. Therefore, non-eco-friendly baby wipes either end up in landfills or are flushed into sewage systems and find their way into oceans, becoming a recipe for environmental disaster.
See Related: Best Eco-Friendly Baby Products to Buy Today
The Environmental Impacts of Wet Wipes
The baby wipe industry, though relatively young, has already stained our world's natural landscape.
Non-biodegradable baby wipes that end up in landfills may be incinerated which contributes to carbon emissions and climate change but the wipes that are flushed end up in our oceans.
It's the oceanic impact of disposable wipes that is most concerning. Flushed and discarded baby wipes contribute to the estimated 10 million tons of plastic that finds its way into our world's oceans every year. 50% of those plastics were manufactured for single-use purposes, like baby wipes.
As baby wipes float in ocean water, their plastic components are unable to decompose. They whittle down into microplastics which affect marine life and end up in the fish we eat and the water we drink. Some wipes even find their way back to land, littering coastal beaches.
See Related: 4 Types of Water Pollution You Need to Know About
The Shift To Biodegradable Wipes For Sensitive Skin
While intentionally designed for newborn children, baby wipes have a wide range of everyday functions. From dry showers on camping trips to wiping down household surfaces, adults continue to purchase and find uses for baby wipes past their child's diaper needs.
Fortunately, consumers are becoming increasingly aware of the environmental impacts of the products they purchase with 80% of millennials preferring to spend more on quality baby products that don't harm the environment.
Concern for the environment has even prompted Amazon to develop their Climate Pledge Friendly certification system to label and better identify eco-friendly products on their website.
The demand for biodegradable and earth-friendly baby wipes has grown exponentially with encouragement from consumers and environmental laws alike.
It's important to note that eco-friendly wipes are not always biodegradable. Biodegradable wipes do not contain any plastics or harmful chemicals and naturally decompose once they've been used.
When looking for the most environmentally friendly wet wipes it is important to find completely biodegradable products whenever possible.
See Related: Biodegradable vs Compostable: What is the Difference?
Best Biodegradable Baby Wipes to Buy Today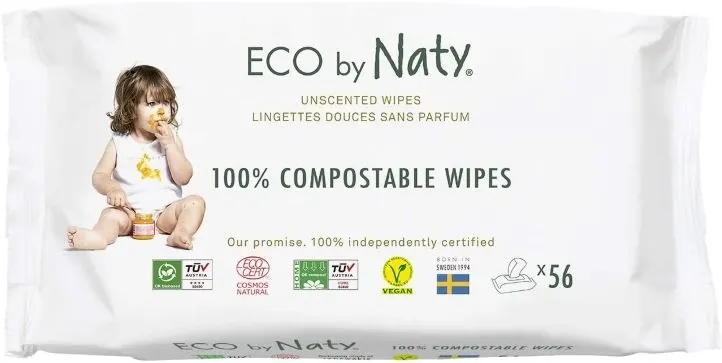 Leading us off are the completely biodegradable, compostable and environmentally friendly baby wipes from Naty.
Not only are these wipes certified by Amazon's Climate Pledge Friendly campaign but they have also been awarded the Ecocert COSMOS certification. The COSMOS certification is a US-based process that vets cosmetic products for their focus on human health, environmental responsibility, respect for biodiversity and the absence of petrochemical ingredients.
These baby wipes come in packs of 56 plant-based wipes that are hypoallergenic and have been dermatologically tested for sensitive skin. They contain zero plastics and are cruelty-free, earning their vegan label.
But the real benefit of using these wipes is that they are 100% compostable. Within 12 weeks these wipes can completely decompose and are packaged in bio-based materials.
One downside of these wipes (and of many more on this list) is that reviewers claim they're not as strong as traditional, plastic-based wipes. Being completely biodegradable, it's not that surprising and it would pertinent to note that the sooner these wipes are used, the more durable they may be.
See Related: 10 Best Biodegradable Dog Poop Bags | Eco-Friendly Options to Buy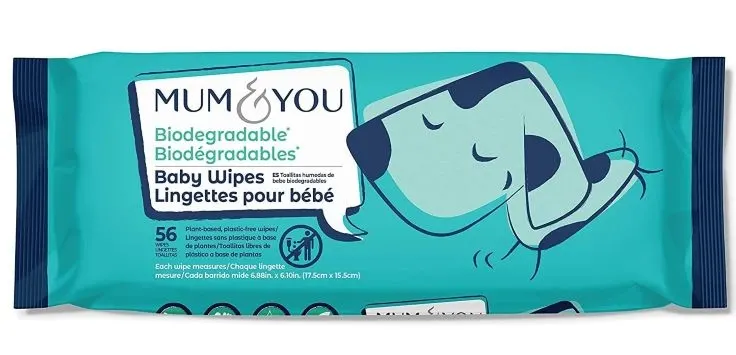 Boasting minimal ingredients, Mum & You Biodegradable Baby Wipes are also completely compostable and contain zero plastics.
These wet wipes are 99.4% water and have been dermatologically tested to be suitable for babies with eczema-prone skin. The wipes are made of viscose, a cellulose-based fiber that is completely renewable. They completely break down in a landfill setting within 15 days.
Coming in packs of 56, these eco friendly baby wipes also boast a PEFC certification which verifies that products are sourced from 100% sustainable forests.
These biodegradable wipes now come in completely recyclable packaging.
The compostable aspect of these wipes also make them perfect for cleaning kitchen surfaces and then adding these non-soiled wipes to your household compost bin.
A lot of reviews for these wipes point out that the sheets are thicker and more durable when compared with other biodegradable brands to the point that some negative reviews comment on the product being (ironically) almost too stiff.
See Related: 10 Best Compostable Trash Bags | Eco-Friendly Options to Buy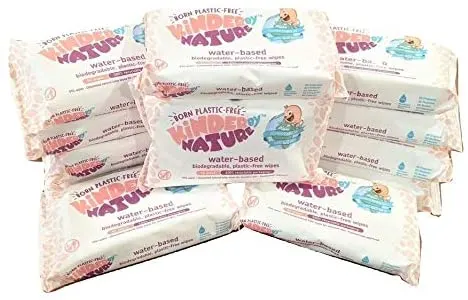 These wet wipes earned the Eco Excellence Award for Best Baby Gear in the Wipes category in both 2019 and 2020 and have also won a Mom's Choice Award.
The cloth of these wipes is made from 100% organic wood pulp which makes them both biodegradable and compostable.
They offer both a water-based and a plant-based version, the difference being that the water-based wipes do not contain the added organic aloe vera or chamomile that are found in the plant-based version. 99% of the ingredients in each are derived from plant or vegetable extracts.
This product also meets Amazon's Climate Pledge Friendly certification and fits their Compact By Design requirements which minimize excess packaging, contributing to a smaller carbon footprint.
These biodegradable wipes are praised for their use of natural extracts instead of chemicals and reviewers appreciate the natural or neutral smell of both the water-based and plant-based products.
This is another brand where the wipes are considered by some to be thinner than plastic-based options but the certifications and awards that come with this brand really make it stand out in the biodegradable wipes category.
See Related: Are Coffee Filters Compostable?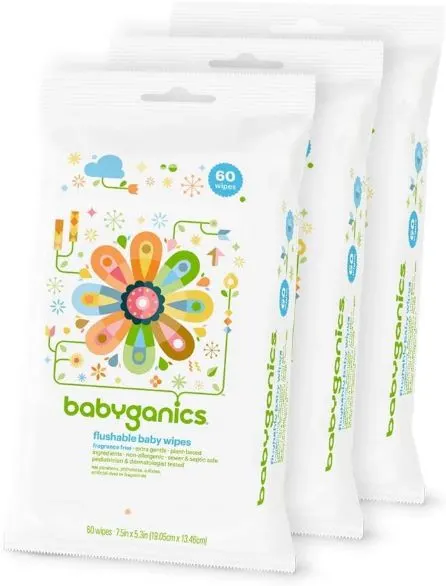 While the general rule is to never flush wipes if you can help it, these biodegradable wipes are meant to be flushed. The wipes are made of cellulose that is specifically designed to decompose in a water-based environment.
Another product that is never tested on animals, these wet wipes are both dermatologist and pediatrician tested. Made without parabens, these wipes are unscented and hydrating while coming in recyclable packaging.
Just remember to always flush this brand as they are only biodegradable in water.
Consumers have really focused on the flushable aspect of these baby wipes and claim they're perfect for a baby's skin with no harsh chemicals that could lead to diaper rash. Reviewers also appreciate the thicker closing flap on the packaging to preserve moisture.
On the other hand some reviewers add this brand to the list of biodegradable wipes that are thinner than their traditionally plastic-based counterparts.
See Related: 9 Best Biodegradable Clay Pigeons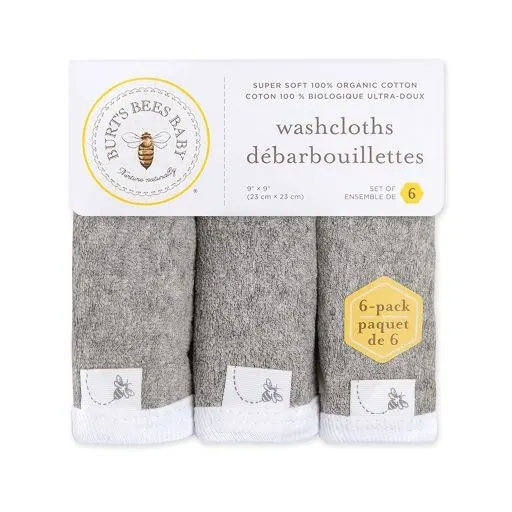 As an alternative to disposable eco friendly baby wipes, these 100% organic cotton washcloths are technically biodegradable (though it does take longer than disposables) and are a truly environmentally friendly option.
When buried in the correct compost, a 100% organic cotton cloth can completely decompose within 6 months and sometimes within only 5 weeks.
Coming in packs of 3, these cloths are GOTS certified, meaning they're completely sustainable, ethical and organic. The natural fibers are super absorbent and soft.
While not fitting into the convenient category, these reusable organic cotton wipes give every parent a greater level of control when it comes to their baby's bottoms. The entire product is only organic cotton, meaning that you get to choose to add water or another sensitive skin cleaning solution to it.
While not for everyone these reusable baby wipes can be most beneficial for babies who have extra delicate skin.
The less you purchase the less negative impact you have on the environment. These reusable baby wipes are also extremely cost-effective over time as they stand up to wash machines.
It's also important to note (because I honestly didn't know) that newborn babies' poop is completely water soluble. This means you can safely put soiled cloth wipes (or cloth diapers) in the wash machine and it won't affect the cleanliness at the end of the cycle. As a baby grows older, however, you will need to dispose of anything solid before putting these in the wash.
These cloth wipes have a myriad of uses for everything from diaper messes to dirty pets. Reviewers love the softness of these washcloths and confirm that they're excellent for use on delicate skin. While a common theme among negative reviewers is some shrinkage in the wash.
See Related: 12 Best Sustainable Shoes for All Different Occasions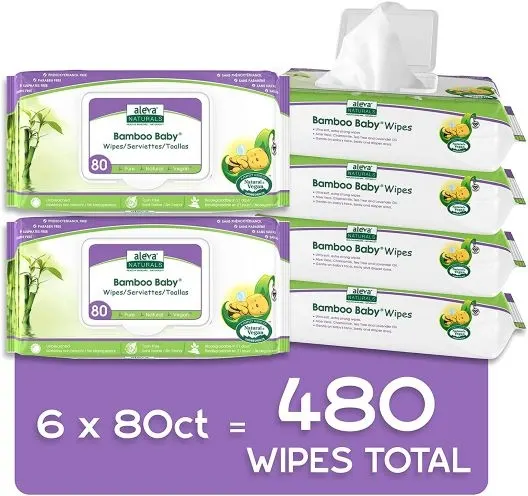 These certified vegan wet wipes are made from 100% rayon and bamboo fibers. The natural fibers make this product soft and strong.
Developed by a pharmacist, naturopath and herbalist with sensitive skin in mind, these eco friendly wipes contain aloe vera and organic essential oils. There are no harsh chemicals or parabens.
These wipes come in packs of 80 and the un-bleached bamboo fibers are completely biodegradable within 21 days.
Some reviewers highlight the large pack size which is great for newborns going through 10-12 diaper changes per day and the size of the individual wipes is also purportedly larger than other brands Reviewers also mention the softness of the product.
See Related: 12 Best Sustainable Gifts for Your Eco-Friendly Friends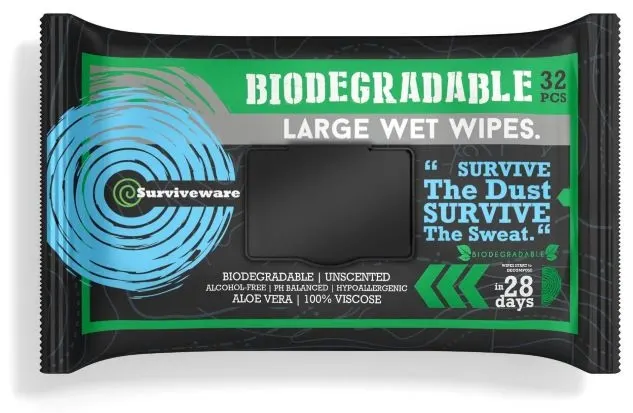 Made of 100% viscose, these wipes are specifically designed for older children and adults. Acting as a rinse free body wipe that boasts a large 8 x 12 inch surface, they're perfect to bring along on camping trips or to sports practices.
These cleansing wipes are meant to be left in the woods. When buried in soil they fully decompose within 6 months (due to their size and durability).
Meant for sensitive skin, these wipes are pH balanced and made with aloe vera. They are also great for cleaning off dirty pets.
A lot of reviewers mention size of the wipes as they're perfect for adults and the strength of the wipe.
See Related: Is Hair Biodegradable?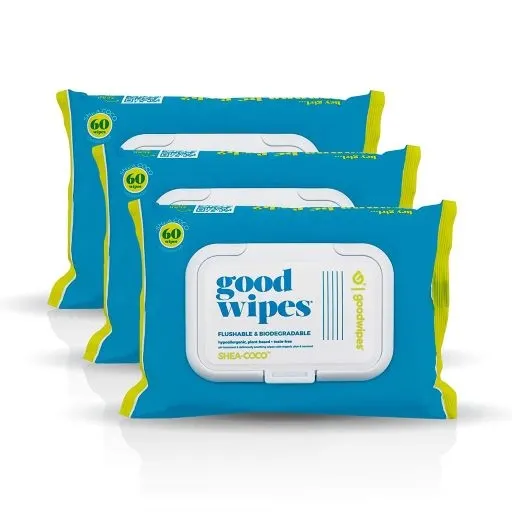 Best for every day bathroom use, these eco friendly baby wipes are another brand perfect for adults.
These organic wipes are FSC certified, meaning that they are derived from responsibly managed forests.
Completely made of a bio-based wood pulp, these hypoallergenic wipes are biodegradable, compostable and flushable. While caution should still exist when it comes to flushability, these wipes are proven to break down in sewage systems, not clog them up.
Specifically designed with women in mind, these wipes are pH-balanced to match the average pH of female genital areas.
They are naturally scented by water-soaked botanicals and essential oils.
See Related: 10 Ways to Help the Environment in Everyday Life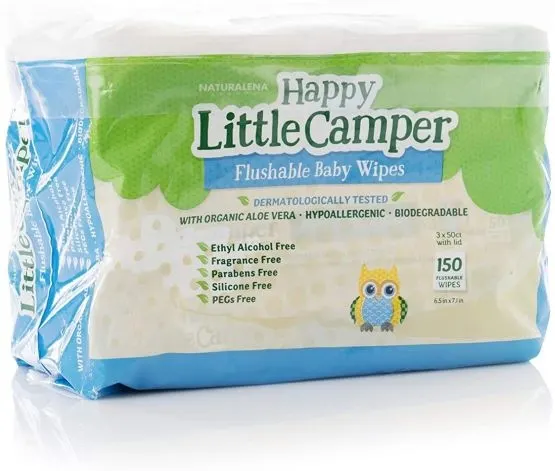 Coming in packs of 150 wipes, this brand boasts a hypoallergenic formula with aloe and vitamin E.
Made of 100% wood pulp, these wipes are biodegradable and totally flushable, meeting flushability standards set by both INDA and EDANA. All of their products are GMO-free and non-synthetic.
These hypoallergenic wipes are dermatologically tested and specifically designed to prevent diaper rash. Meant for a baby's skin, they're ultra-absorbent and super soft.
See Related: Is Cardboard Biodegradable? 7 Things to Know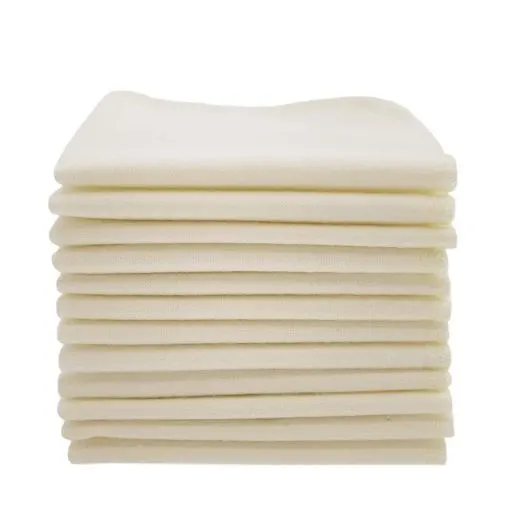 The title says it all for this brand of reusable wipes!
Made in Sweden, these organic cotton wipes are Standard 100 OEKO-Tex certified. The Standard 100 certification meets and even exceeds international safety standards for textiles.
In addition to that, the cotton used to make these wipes comes from suppliers that are certified by the Control Union Certification program which focuses on sustainability.
Again, while reusable baby wipes lack the convenience of flushable wipes, they are made of organic cotton that is biodegradable and extremely safe for a baby's delicate skin.
Coming in packs of 12, these wipes really focus on sustainability and affordability.
See Related: 15 Best Compost Bags: Eco-Friendly Options to Buy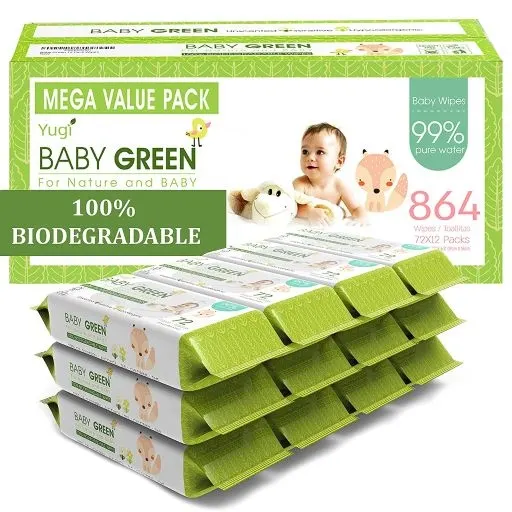 The gentleness of these unscented wipes is perfect for newborn or premature babies. Their biodegradability comes from 100% viscose and are moistened with 99% pure water.
They are paraben, toxin, plastic and cruelty-free while meeting FSC standards. These fragrance free wipes boast a larger size than competitors and a more durable thickness than other biodegradable brands.
The best part about these wipes is their risk-free guarantee. They offer a full refund if returned within 30 days.
The next time you head to the store to stock up on wet wipes, take a look at some biodegradable brands and give them a try. Any of the products we've suggested here would be a great step towards more sustainable living and environmental accountability.
As disposable baby wipes continue to offer great convenience to our lives we can take the right step to making this convenience on that is also beneficial to the environment.
Subscribe to our newsletter for more suggestions on sustainable and environmentally friendly products!
FAQs
Are baby wipes biodegradable?
Baby wipes are not always biodegradable as many are made from synthetic materials that do not break down easily in the environment. Some baby wipes are labeled as biodegradable, meaning they are made from materials that can decompose naturally in the environment without causing harm. It is important to check the label or packaging to determine if a particular brand of baby wipes is biodegradable.
How long do baby wipes take to biodegrade?
Baby wipes are disposable wipes used for cleaning infants during diaper changes. They are typically made of non-biodegradable materials such as polyester or polypropylene, which means they can take hundreds of years to decompose in landfills.
Some wipes are marketed as biodegradable, but it is important to check the specific materials used and the conditions required for biodegradation. In general, it is best to dispose of baby wipes in the trash and avoid flushing them down the toilet to prevent clogs and environmental damage.
What brands of baby wipes are biodegradable?
Baby wipes that are biodegradable are wipes that are made from materials that can break down naturally over time, without causing harm to the environment. Some popular brands of biodegradable baby wipes include WaterWipes, Seventh Generation, and The Honest Company.
These wipes are typically made from plant-based materials and do not contain harmful chemicals or synthetic fragrances, making them a safer and more eco-friendly option for parents.
Are WaterWipes really biodegradable?
WaterWipes are not biodegradable. They are made of 99.9% water and a drop of fruit extract, which makes them safe for sensitive skin, but they do not break down in the environment like biodegradable wipes would. It is recommended to dispose of WaterWipes in the trash and not flush them down the toilet to prevent clogging and damage to the sewage system.
Related Resources