Do you want to be more eco-friendly this summer? Well, having some sustainable swimwear is an excellent way to do so. Our comprehensive list offers you the best choices.
With the summer around the corner, one thing is certainly in everyone's mind – quality time at the beach. And in light of that, shopping for swimsuits!
But with the increased sense of environmental responsibility, most people are looking for sustainable swimwear. And it's an excellent thing!
But, there's one thing you should note when shopping for sustainable swimwear. You may not find many that are not made from synthetic materials. And if you do, they will not, in most cases, offer you the best quality for the best swimming experience.
So, how will you enjoy that summer beach time while still taking care of the environment? Well, this is just how. Shop for swimsuits from sustainable swimwear brands made from recycled fabrics, especially materials like plastic bottles and fishing nets, which pose a great danger to marine life.
Also, ensure that these brands use a sustainable and ethical production process. This way, your conscience will be clean, and you'll have helped save nature.
Lucky for you, I've made the search pretty easy. This list contains some of the best sustainable swimwear you can choose from.
What is Sustainable Swimwear?
As humanity gradually realizes its negative effects on the environment, the search for eco-friendly products has significantly increased. People are now more inclined to buy products that present less harm to the environment than ever.
Sustainable swimwear is one product line that has seen such a surge in demand for eco-friendly products. And since summer comes with high demand for swimwear, different companies and brands have devised ways to produce sustainable products to satisfy their customers.
So what does sustainable swimwear imply?
Well, traditionally, swimwear brands have been using non-biodegradable materials, produced in environmentally hazardous processes, to make our favorite swimsuits. In fact, swimwear production is a major culprit in chemical pollution.
But, when it comes to sustainable swimwear, things have taken a completely new turn. Brands are now using environmentally friendly production processes to make those products. Instead of creating more synthetic materials, they have turned into using recycled materials to make the same products.
So, instead of increased drilling for raw materials like oil, which results in increased environmental pollution, they are using the already existing materials.
For instance, many brands use discarded plastic bottles, old fishing nets, and other recyclable materials like polyester.
This way, they can reduce their carbon footprint and remain in business.
Today we look at some of the best swimwear pieces in the market, which are either using eco-friendly materials or that are using recycled ones to reduce environmental pollution.
Top Ethical Sustainable Swimwear Pieces
Here are is a list of our favorite, affordable, sustainable swimwear pieces:
Sustainable Women's Swimwear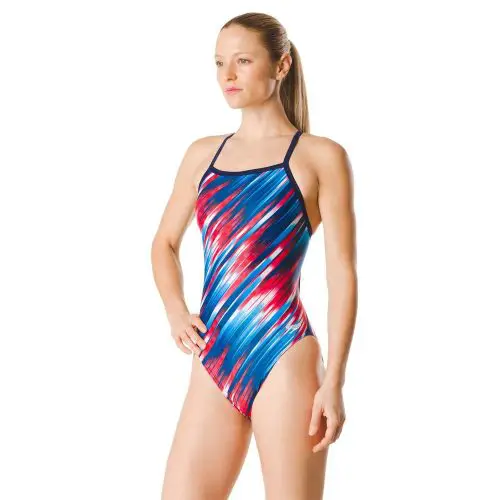 Whether for a race day or a relaxing time on your favorite beach, this sustainable swimsuit has your back. The printed piece from Speedo Swimwear is designed from a Powerflex Eco material. The fabric, which is created from 100% recycled nylon, is designed to offer both quality and style in an environmentally friendly manner.
So, if you are looking for sustainable swimwear, you'll certainly want to try out this one. Other unique features of this swimsuit include:
Offers more compression for enhanced muscle support
Offers up to 98% UV protection
Both pilling and chlorine resistant
Lining on both sides for a charming look
Swim like a pro with this incredible piece.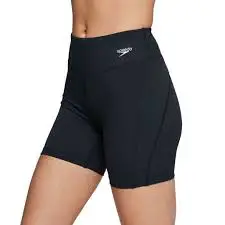 Wearing this jammer makes you feel just as good as you look in it. Whether you are in the water or not, this exquisite piece offers the best touch.
Firstly, it contains an extensive compression waistband that offers an incredible flattering effect. In addition, its UV protection feature ensures that your skin safe from harmful sun rays.
Made from 52% recycled Polyester and 48% PBT, this sustainable swimwear ensures that you enjoy your time in the water while still minding the environment.
Other features include:
Chlorine resistant
Durable
Pilling resistant
Drawstring Waistband that adjusts for better fitting
Feel good, swim in style, and protect the environment.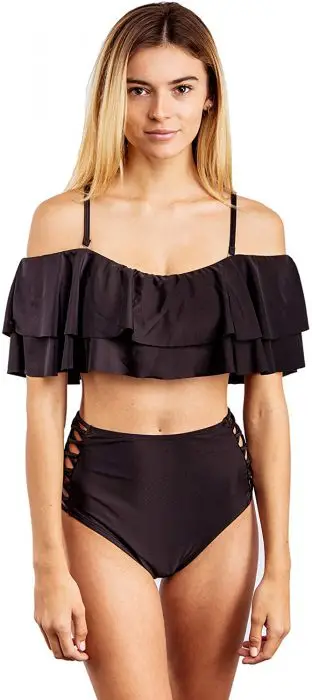 This is an eco-friendly 2-piece women's swimsuit, made from recycled plastic bottles. It comes as a set of a high-waisted bikini with a tummy control design and an off-shoulder top.
If you are looking for eco-friendly and durable, then this swimsuit from Romi swim is an excellent choice. The company uses 11 recycled water bottles to make a single swimsuit, which greatly reduces the amount of plastic ending up in our water bodies.
The resultant product is a sustainable, fully-lined, elastic, soft swimsuit that makes you feel pretty great when wearing it. Its unique design exudes a trendy look that is beautiful and not overly sexy.
Other features of this sustainable swimwear from Romi swim include:
Beautiful black, turquoise, and bright coral colors
Comfortable and fitting
Tied sides plus tummy support bikinis
This swimsuit is perfect for beach swims, honeymoons, indoor pool parties, gym workouts, etc.
Shopping and acknowledging sustainable swimwear create an ecofriendly awareness. And today's technology advancement also produces wonderful products that help and creates awareness towards climate change.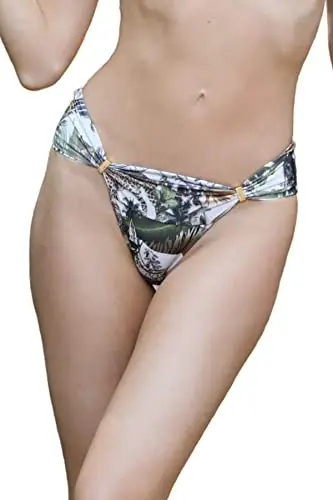 This Brazilian bikini bottom is another great piece made with the environment in mind. The classic bikini is designed from a 100% recycled polyester fabric, with ruching at the hips.
If you are looking to enjoy a great day in the water, whether on a beach or in your swimming pool, this bikini guarantees that. It is authentic Brazillian-made swimwear that is sustainable/biodegradable for the best swim day.
So, if you are the environmentally-conscious ones, the Animal print Brazilian bikini might end your long search for sustainable swimwear.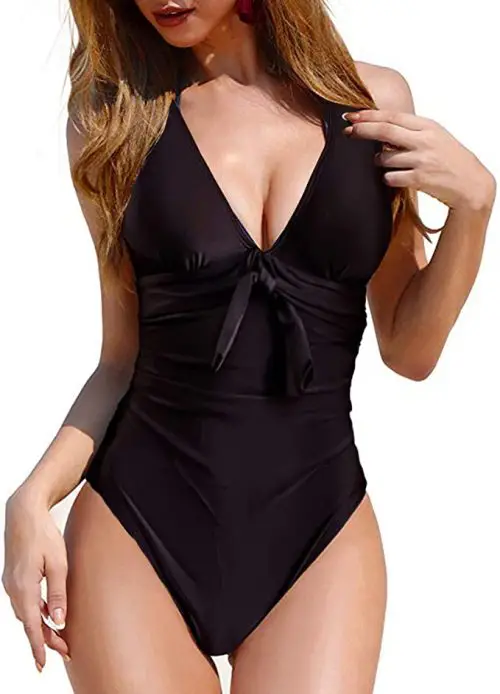 Want to make the planet a better place? This V-neck backless swimsuit offers you the chance. Romi Swim is one of the best sustainable swimwear brands, whose work towards environment preservation is evident in their unique products.
For instance, each of these swimsuits is made from 10 recycled plastic bottles. This means that each piece represents 10 plastic bottles less from our seas and oceans. Now that's a significant difference in preserving nature.
And that's not all; these swimsuits make you feel great as you wear them, just as you look stunning. They come in trendy, stylish designs that not only flatter your figure but that also hides your flaws discreetly. The V-shaped neckline combined with its open-back design creates height illusion and displays just the right amount of skin.
Other notable features include:
Slimming effect through the tummy-control panel
Beautiful range of colors from black, turquoise to bright coral
Removable enforced pads
Adjustable halter top
Elastic, lightweight, and soft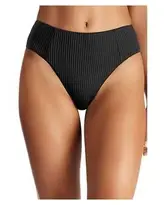 Too many environmental problems result from our irresponsible dumping of synthetic materials in our environment. And, retrieving some of these products from the environment seems like a good starting point for the planet's recovery.
This is one of the various sustainable swimwear brands that are leading by example. Instead of adding more non-biodegradable materials to the environment, they use recycled nylon and Lycra to produce their swimsuits.
For instance, this Forest Ecorib Sienna bikini bottom is made from 83% recycled nylon and 17% Lycra. This means that the more products they make, the more harmful materials that get out of the environment.
If you want to have some good beach time in an eco-friendly way, this high-waist women's bikini bottom might just do that trick.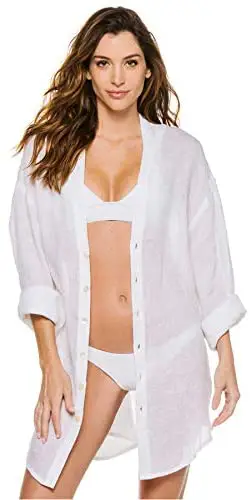 When the sun on the beach is too hot, you certainly need some cover-up to protect your skin. And, this V-shaped shirt dress is an amazing choice.
Made from 100% eco-friendly linen fabric, the Eco Linen EBW ensures that you enjoy your time on the beach in a way that also preserves the environment. And, if you want to use it somewhere else rather than at the beach, you are certainly allowed. The product is ideal for various destinations besides the beach.
The exquisite linen swim cover is a product of Vitamin A, one of the renowned sustainable swimwear brands. Taking care of the environment helps it take care of us.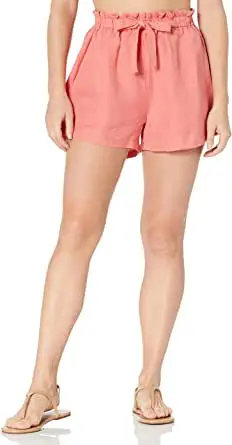 Designed by one of Australia's most recognized swimwear brands, Seafolly, this is another swimsuit cover-up that's worth a mention.
The charming beach short is made from an eco-friendly blend of 55% Linen and 45% Viscose fabrics. This makes it one of the sustainable swimwear, made with nature's wellbeing in mind.
In addition, its unique design exudes a superb chic, from head to toe. Whether you are on a beach or a poolside resort, this piece is ideal for any destination where your vacation leads you.
Sustainable Swimwear for Men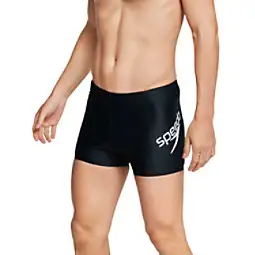 When it's beach or pool time, Speedo offers men some of the best swimsuits in the market. And, they are also among the best sustainable swimwear around.
Made from eco-friendly recycled fabric these swimsuits ensure that less harmful materials get into our water bodies. This means, buying a swimsuit from Speedo Swimwear is one step in the right direction towards environmental preservation.
Some of the unique features of this product include:
Chlorine resistant material
UPF 50+ that blocks harmful UV rays
Adjustable through its inside draw lace
You get to enjoy your day in the water, relaxed, and worry-free, knowing that you've played your part in keeping our ecosystem safe.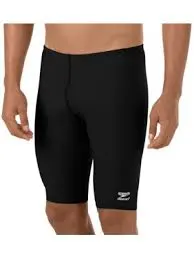 Whatever your favorite water time destination is, whether a lake, beach, or pool, this swimsuit jammer has you covered.
The unique production process and the top-notch materials used make the brand one of the most reputable swimwear brands. It's made from 100% recycled nylon yarn waste, which would have otherwise filled the water sources with non-biodegradable materials.
The jammer is fully lined to offer a more comfortable soft feel, allowing you to enjoy each moment of your swim.
Some of its unique features include:
Block the burn technology
Chlorine resistant fabric
Waist drawback design
Pilling resistant
It also comes in different colors to fit your taste.
See related: 13 Top Environmental Organizations in India.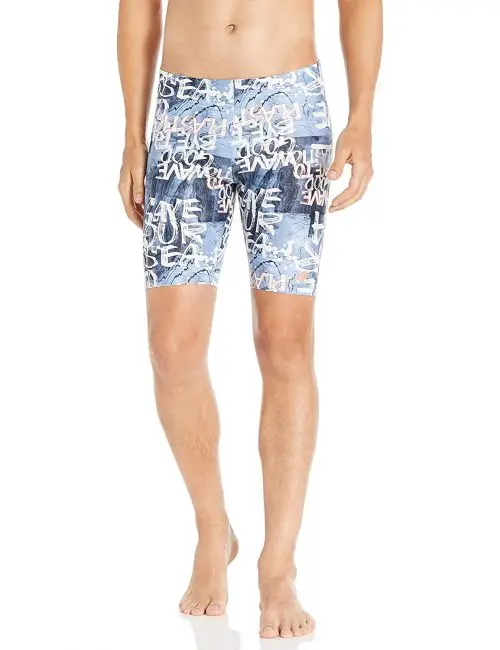 Creating a plastic-free future means better days for our children and future generations. It's everyone's responsibility to ensure that this happens and Adidas sports apparel is not being left behind.
This sustainable swimwear men's fit jammer is made from recycled nylon yarn spun, helping to reduce the amount of plastic waste reaching our environment. The jammers are designed to offer the best feel for any fitness training, even outside water.
The main features of this men's swimsuit jammer include:
Made from 78% recycled nylon and 22% elastane
Chlorine resistant material
Ultra-soft material for best feel
The use of recycled nylon in these swim shorts' production ensures there are fewer greenhouse gas emissions into the atmosphere.
Purchasing an eco-friendly item other than a sustainable swimsuit, like a remarkable sustainable shoe, helps the community. Considering an eco-friendly home wind turbine helps our environment, You may think it's small, but it creates a significant change.
This swim short concludes our list of the best sustainable swimwear we have around. This, however, doesn't mean that there no others.
The swim short is made from 100% recycled polyester, which only means that less waste polyester materials are being left chocking our environment. And since the initial production of polyester includes the release of harmful gases, recycling means less of these gases, and thus a cleaner environment.
So, what are the features you'll like about this product?
Perfect size – not too short or too long
A fixed waistband and flap cargo pockets
Durable high-quality fabric
Stylish and comfortable
It is great swimwear for an enjoyable time at the beach.
Benefits of Sustainable Swimwear
In sustainable fashion, organic fabrics are mostly used since they easily biodegrade when discarded. Such materials include organic linen, cotton, bamboo, and hemp.
However, in sustainable swimwear, these materials are not the best raw materials. This is because swimsuits are used in water, and need to be durable, elastic, and resistant to things like chlorine.
For this reason, the use of recycled synthetic materials is quite common. While these fabrics are not biodegradable as organic ones, recycling them still has numerous benefits to the environment. Some of the primary benefits include:
Reduction in the demand for crude oil used to make new synthetic fabrics like nylon and plastic.
Recycling the existing plastic means reducing the amount that lies on our dumpsites and oceans.
Recycling these fabrics uses 90% less water in the production process, and 85% less energy.
The process produces 75% fewer emissions of carbon dioxide gas, which is a large contributor to greenhouse gases.
The recycling process is infinite, meaning that the fabrics can be melted and redesigned into new, ethical, sustainable swimwear again and again.
So long as we properly dispose of these synthetic materials, they can always find their way back to the recycling firms. Organizations that produce eco-friendly and sustainable products like bags, straws, eco-friendly area rugs, and more. This way, we will have saved our own lives and those of generations to come.
Related Resources