With the holiday season creating 25% more trash than any other time of year, finding sustainable ways to wrap gifts will greatly decrease your environmental impact. Best of all, sustainable wrapping ideas aren't only for major holidays—you can use them for birthdays, anniversaries and just because.
Many people look for eco-friendly gift wrapping ideas but want something beyond using brown paper bags or neutral kraft paper wrappings. Trust me, being environmentally friendly doesn't mean you have to be boring!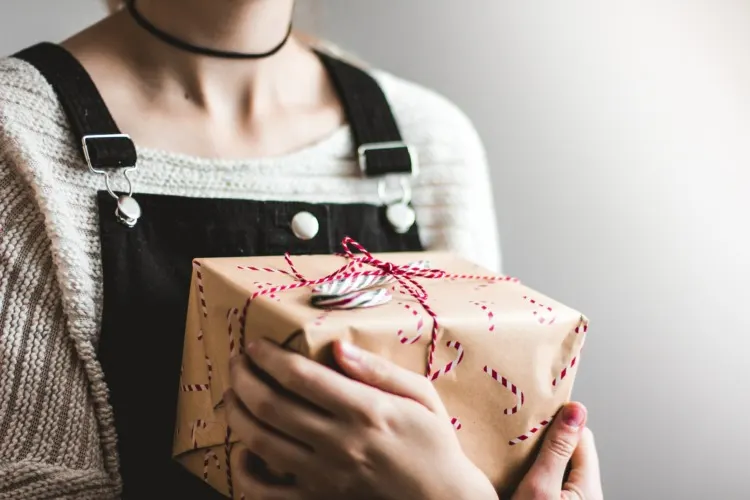 I researched countless gift wrap options, including options such as:
Recycled gift wrap
Compostable wrapping paper
Fabric wraps and bags
Environmentally-friendly wrapping decorations
After looking into each option's substrate, quality, how often you can reuse it and how easy it is to recycle or compost, I chose the ten best sustainable gift wrapping options to share. You'll find gorgeous wrapping paper, plus eco-friendly tape, bows and ribbon.
These sustainable gift wrapping ideas will help you have a positive impact on the world around you while elevating the overall look of the presents you give.
Best-Of by Category
Best Sustainable Gift Wrapping Options
Many factors go into choosing sustainable gift wrap. Just because an option is a paper doesn't mean it's recyclable, so you want to know you're picking wrap that is reusable and environmentally friendly while making your gift look attractive for the recipient. Check out the top ten options I've reviewed below.
1. CENTRAL 23 Wrapping Paper Sheets: Best Gift Wrap for Recycling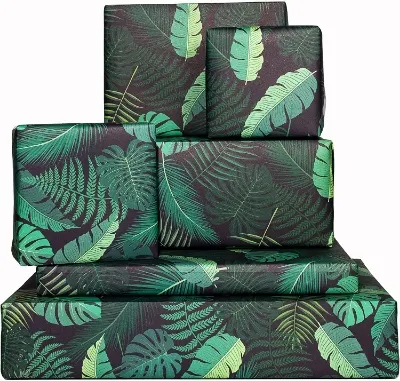 You might think that all traditional wrapping paper is recyclable—after all, it's wrapping paper, right? However, most glossy wrapping paper isn't recyclable compared to rolls made of kraft paper or newsprint. Gift wrap with a matte finish is usually recyclable. Also, any rolls made of recyclable paper are usually good to recycle again.
These wrapping paper sheets from CENTRAL 23 come in unique designs for any occasion. You can't even tell that they're sustainable paper because they're so colorful—no hint of brown paper here! Each sheet is 90 GSM thick, so it can cover awkwardly shaped gifts without tearing. You get six 27" x 19" sheets and six tags per bundle to cover your gift-giving needs.
Pros
Vivid, colorful designs make the paper look bright and fresh
Fully recyclable paper with chemical-free vegan ink
Includes six sheets of wrap and six gift tags
Various designs cover any occasion
Cons
Sheets come folded, leaving lines on your packages
You'll need multiple sheets for larger gifts
See Related: Best Sustainable, Eco-Friendly Toys for Kids
2. Hallmark Reusable Fabric Gift Wrap: Best Solution for Fabric Wrapping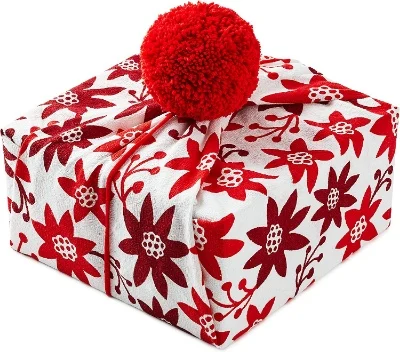 The Hallmark Reusable Fabric Gift Wrap is a stunning option for wrapping gifts. They offer several options, like florals, snowflakes and holly, so you'll find an attractive print to wrap gifts. You get a sheet of fabric measuring 26" x 26" square, ideal for books, small boxes, or strangely-shaped objects.
Your purchase includes a paper gift tag or a decorative pom-pom, depending on the print you choose. This fabric is one of the best reusable gift wrap ideas because you can either save the fabric to reuse each holiday season or use it as a tea towel or bandana. Hallmark also offers other prints if you need a different fabric for other occasions.
Pros
An affordable option that includes plenty of fabric and a tag or decoration
Provides a 26" x 26" piece of finished fabric
Can knot or tie the gift with string to stay eco-friendly
It comes in several attractive prints for various gift use
Cons
It has a fixed size compared to cutting as much paper as you need from a roll
More expensive than a roll of wrapping paper
3. Set of Six Mistorri Fabric Drawstring Bags: Best Fabric Option for Gift Bags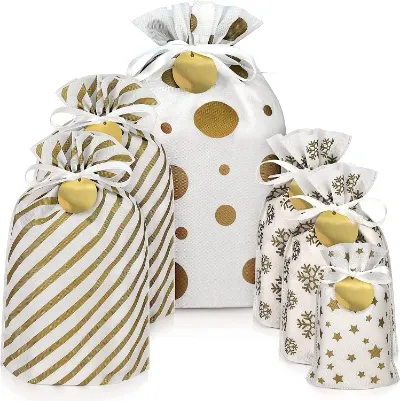 This set of six fabric drawstring bags includes various sizes, making it a fantastic environmentally friendly gift wrapping solution. Reusable gift bags are quick and easy to use for gift wrapping, especially when you can find the right one for your needs.
The four different sizes include:
Extra large at 22" tall x 15.5" wide
Large at 18" tall x 12" wide
Medium at 12.5" tall x 8.5" wide
Small at 9" tall x 6" wide
These sizes make it easy to wrap gifts that are oddly sized and shaped. The gold patterns are ideal for any holiday or occasion, so you'll get a lot of use from these reusable gift bags. However, the company also has fabric gift bags in other color schemes and designs.
Pros
Strong woven fabric can withstand a lot of weight
Gold and white designs are suitable for any holiday
Durable ribbon drawstrings keep the gift closed
The bottom gusset expands to accommodate the item
Cons
No handles to easily transport the gifts
Some drawstrings aren't threaded properly, so you have to insert them
See Related: Sustainable Eco-Friendly Lunch Bags
4. Hallmark Recyclable Gift Bag Assortment: Best Solution for Recyclable Gift Bags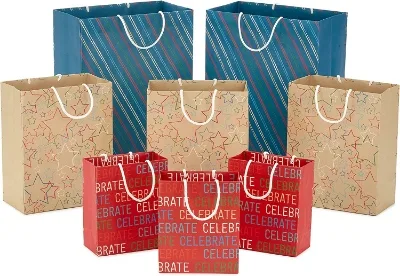 Fabric bags aren't the solution for everyone. If you want another environmentally-friendly bag option, this assortment of recyclable bags from Hallmark provides what you need. The bold designs suit any holiday, from birthdays to Christmas and graduations.
The assortment includes multiple bags in three different sizes, including:
Small bags measuring 5.5" wide x 6.5" tall x 2.9" deep
Medium bags measuring 7.7" wide x 9.6" tall x 4.3" deep
Large bags measuring 10.4" wide x 13" tall x 5.7" deep
The bags are made of kraft paper, making them one of the best recycled gift wrapping ideas. The matte bags are sturdy enough to reuse for years, but once they're worn out, you can recycle them without any problems.
Pros
Various sizes for any gift
Woven paper handles allow easy transportation
Stunning designs suitable for any occasion
Multiple bags included at an affordable price
Cons
Each design is a certain size, with no mixing of options
Handles are a stark white that doesn't blend in with the artwork
5. NaturalCozy Oval Storage Baskets: Best Basket for Beautiful Packaging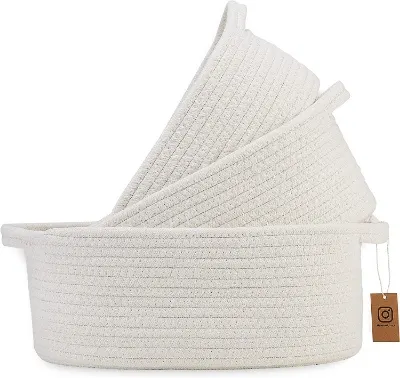 This set of three oval storage baskets is one of the most unique eco friendly wrapping ideas. NaturalCozy sells them in several colors, including:
Off-white
Blue
Pink
Gray
Turquoise
If you have a gift that would benefit from a beautiful display, laying it out in a basket is an excellent approach. Your recipient sees all the gifts at once, plus gets a reusable basket. They can use it for gifts or put it to work in their home. A rope basket is an ideal packaging option for baby showers since the new parent can use it to store diapers or baby toys in the future.
Pros
Get a set of three to package several gifts at once
An affordable option that the recipient can reuse
Beautiful colors available
Practical baskets are easy to transport
Cons
Won't completely cover your gift
It might require wrap or tissue paper to secure everything inside
See Related: Best Gift Ideas for Vegans
6. RUSPEPA Wrapping Paper: Best Gift Wrap for Composting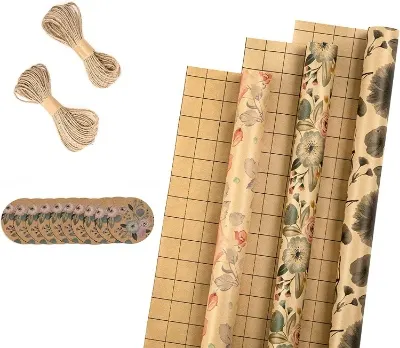 This environmentally friendly gift wrap from RUSPEPA is compostable since it has a kraft paper base and non-hazardous inks. The company offers several design bundles, including florals, animals, bright rainbows and ocean images.
The assortment of three rolls comes with eco-friendly jute string to wrap around the package and secure a recyclable gift tag in place. When you buy this affordable bundle, you get everything you need to ensure your holiday season benefits the environment.
Pros
Made of compostable kraft paper
Inks aren't hazardous to good bacteria in the compost bin
Includes eco-friendly jute string for the tags
It has a grid printed on the backside for simple measurements
Cons
Paper is thin and rips easily with the use
The kraft base is a dark brown paper
7. Sorarto Luxury Magnetic Gift Box: Best Gift Boxes for Reuse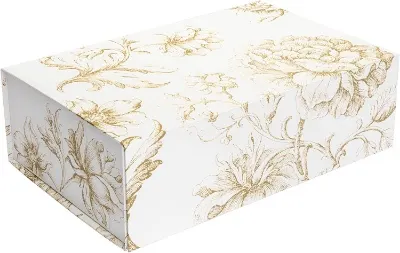 With the right box, you won't need any gift wrap for your presents! These luxury gift boxes from Sorarto look great as-is—all you need to do is place the items inside and close the magnetic lid. You can choose from several designs and color schemes to get unique gift boxes for everyone on your list.
The gift boxes arrive flat and fold out to measure 7.5" long x 11.5" wide x 3.7" deep. They can handle over five pounds of weight inside, so many gifts and items can easily fit inside.
These boxes are sturdy enough to last for countless reuses. Your recipient can also use them to store things at home because they make a beautiful place to store jewelry or collect small items rolling around on your dresser.
Pros
The magnetic lid stays closed during transport
Five various colors and designs give many options
Box can hold over five pounds of goods
Folds flat for easy storage between uses
Cons
You might need tissue paper inside to prevent items from rolling around
Can't store oddly-shaped items like wine bottles
See Related: Sustainable, Eco-Friendly Candles to Buy Today
8. Healifty Christmas Fabric Ribbon Bows: Best Option for Sustainable Bows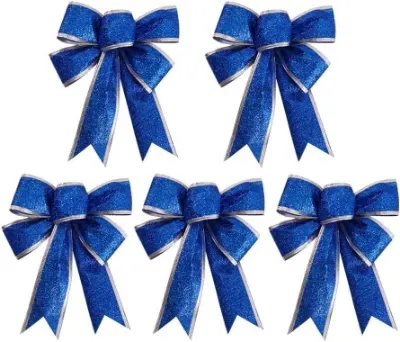 Sustainable gift wrap ideas include decorations that make your package a work of art. Using sustainable bows will elevate your gift into something beautiful the recipient appreciates. Most bows use plastic-coated paper that wears out after a few uses and cracks in extreme temperatures during storage. Fabric bows last longer and stay in good shape for the duration.
The Healifty Christmas Fabric Ribbon Bows use cloth, so they last for years, but have a layer of glitter to make them eye-catching. They're sturdy enough to use on a gift or as decoration, so you'll get plenty of use out of them.
Pros
Pack of five fabric bows at an affordable price
Blue glitter looks great for any occasion
The fabric is already knotted into a nice bow
Cons
It needs string or adhesive to attach it to the gift
They only come in one size
9. Goodma Raffia Paper Ribbon: Best Paper Ribbon for Eco-Friendly Decorations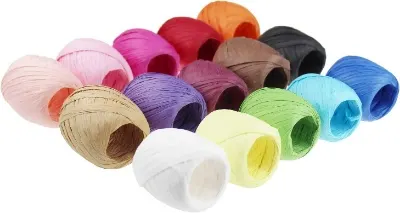 You don't have to use a fabric bow for your gift decorations—there are also paper options made with raffia. The assortment of raffia paper ribbons from Goodma includes 15 colors to complement any gift wrap you use. Each roll is 21.9 yards long, so you'll have enough to last for multiple seasons.
The raffia is 7mm wide, but you can unfold it and create ribbons up to 1.2" wide. The flexibility of this ribbon makes it one of the best recycled gift wrap ideas to decorate packages. It's beautiful and durable enough to reuse to tie multiple gifts.
Pros
It comes in 15 bold colors suitable for any occasion
Paper twine is durable yet recyclable
You can cut it to your idea size and unfold it for more width
Cons
Tears easily, so tie your bows carefully
It feels slick and cheap
See Related: Best Compostable Trash Bags | Eco-Friendly Options to Buy
10. Knaid Washi Tape: Best Biodegradable Paper Option for Tape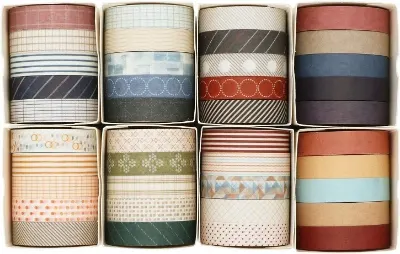 Sustainable gift packaging requires biodegradable tape, otherwise, the paper isn't recyclable without removing the plastic tape. Knaid washi tape uses rice paper to provide an eco-friendly adhesive for your gifts.
The paper used for washi tape means you can find adhesive with attractive designs. Knaid includes solid colors, beautiful prints and bold designs in their assortment of 40 rolls. Each roll is 10mm wide, so you can use the tape to make a design on the package. The company has a minimalist package and pastel bundle, so you'll find the perfect color for gifts in any season.
Pros
Rice paper tape is biodegradable and recyclable
They come in 40 different designs and colors
Affordable bundle for so much tape
Cons
No transparent option
All rolls are 10mm wide
Related Resources