A lunch bag is a must-have for individuals who carry their lunch to work or school. Many eco-friendly lunch bags are manufactured from recycled materials, making them environmentally beneficial. They have various shapes and sizes, so there are certainly some that may fit your requirements.
Several environmentally friendly lunch box alternatives are available today, ranging from stainless steel to leakproof lunch bags. Given how much plastic garbage we see in the world today, it's comforting to know that there are environmentally friendly alternatives.
We'll look at ten environmentally friendly lunch bag manufacturers that you may want to consider for your next buy.
Best Eco-Friendly Lunch Packs
1. Editor's Choice: ThinkFit Insulated Lunch Box
A decent meal prep pack should be adaptable enough to be useful for everyone. Fortunately, the ThinkFit Insulated Lunch Box checks all of these boxes since it's intended to accommodate both adults and children.
This pack comprises six microwave and freezer-safe meal boxes according to the standards. The bundled food boxes are also dishwasher-safe, which reduces cleaning time. It comes with a shoulder strap that makes it quite portable.
The bundle includes six meal boxes, two 1.5-cup serving sizes, and four 2.5-cup serving sizes. It also contains a shaker cup with three storage sections, an ice pack, and a seven-compartment vitamin pillbox with a push button.
The bag has a twofold insulation system that keeps the food at the right temperature until it's time to consume. Furthermore, the bag is very durable, with a double-stitched strap handle to reduce wear.
The provided containers are also leakproof, which helps avoid accidental spills while still preserving the food's original flavor. The bag also has a side zipper compartment for carrying juice boxes, protein drinks, or a water bottle.
Thanks to these characteristics, the bag is one of the most adaptable models on the list. The shoulder strap may seem too short for taller people, perhaps the only drawback we discovered.
Pros
Leakproof containers are included.
Dishwasher-friendly
Microwave and freezer safe
It has a shoulder strap.
It is equipped with a two-layer insulating system.
Constructed to last
Cons
The shoulder strap could be made a little longer.
See Related: Best Solar Powered Generator to Use for Home
2. High-Quality Construction: Secura Large Insulated Cooler Lunch Bag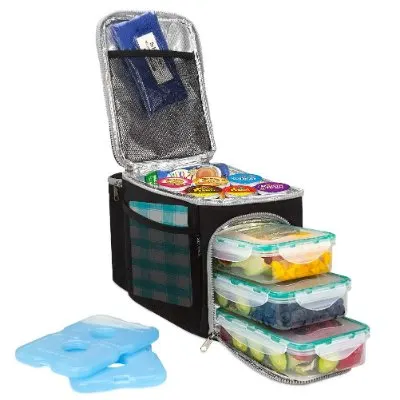 This Secura Lunch Bag is one of our top recommendations since it is made of high-quality materials and has a distinctive design. This bag is attractive, but it is also tough due to its double-stitched construction, including a strong PEVA lining and EPA foam.
Aside from that, it has durable SBS zippers, making it simple to access the bag's contents anytime you want. This portable bag has four containers. It lets you store everything properly while also offering really handy smaller pockets. The box is highly insulated, so your food will stay fresh for many hours.
Bottle holders and pockets are also included, and ample place for your keys and phone. The pack also includes three BPA-free microwave and dishwasher-safe containers and ice packs. The cushioned shoulder straps are removable and adjustable for maximum convenience, enabling you to easily carry the bag.
If there's a downside, numerous buyers have pointed out the provided containers are often faulty.
Pros
The design is excellent.
Three chambers are insulated.
Up to four containers may be accommodated.
Strap for easy transport
Three dishwasher and microwave-safe containers are included.
Cons
Some of the containers provided may be faulty, according to reviews.
See Related: Are Double Ovens More Energy Efficient?
3. Meal Bag with the Best Insulation: Isolator Fitness 3 Meal Insulated Lunch Bag
Isolator Fitness works around the clock to make sure you consume nutritious meals, no matter where you are. This is yet another high-quality sustainable lunch bag from a well-known firm, and it comes with everything you need to get the unique treatment you deserve every lunchtime.
Six leakproof lunch containers are included in the backpack. Because of their unique structure, the provided containers are dishwasher, freezer, and microwave safe.
It's also worth noting that the provided containers come in four various sizes, ensuring that they'll always match your requirements. Furthermore, the lunch bag is insulated and designed to keep your food cold or warm for sixteen hours. There is also a front-loading compartment for convenient access, which can hold up to four containers simultaneously.
The ISOBAG has two zipped, insulated side pockets and two exterior mesh pockets. Not only this, but the bag also has a little mesh pocket at the top. The bag also comes with a cushioned shoulder strap for easy carrying.
If there is one complaint, most consumers have noted that the bag is smaller than it appears. Before you make your final purchase, double-check the measurements.
Pros
Dishwasher and microwave-safe containers are included.
The containers come in a variety of sizes.
For convenient portability, it comes with a comfortable shoulder strap.
Cons
It's smaller than it looks.
See Related: Is Aluminum Foil Recyclable?
4. The Best Backpack for Meal Preparation: North Coyote Insulated Backpack
Some of the best eco-friendly lunch bags seem to be designed primarily for outdoor use. This hardy bag combines elegance and convenience and a soft cooler into a single item, allowing you to free up your hands on a hike or camping trip.
The North Coyote Cooler Backpack is lightweight, water-resistant, and suitable for adventures. It has heat-sealed seams for a comfortable outdoor experience. Furthermore, the bag is very well insulated, with a water-resistant cooler section coated with high-quality foam insulation. Your drinks and food will stay fresh and cool for many hours if you use this method. Furthermore, the product is built of high-quality, long-lasting materials, making this backpack tear-resistant.
It also has breathable mesh back cushioning, adjustable cushioned straps, and a fast grab handle for increased comfort and convenience. Two mesh water bottle pockets and four easy-access zipper sections, including a separate compartment for your laptop and a smaller bag for personal necessities like phones, pencils, and credit cards, are also included in the big backpack.
On the negative side, the bag is unbalanced, which means you can't get it to sit up without using some kind of support. It will topple over if you don't hang it up or lean it against something, which may be annoying.
Pros
Constructed with lightweight materials
Water-resistant
Insulated properly
Made from high-quality, long-lasting materials
Back cushioning is made of breathable mesh and adjustable padded straps
Cons
It is unable to stand on its own
See Related: Best Solar Lamp Post
5. Best for Work: Fitness 6 Pack Renee Totes in Leather
Who says an eco-friendly lunch bag has to look like you're about to hit the gym? The Fitness 6 Pack Renee Leather Tote is an excellent example of how an eco-friendly lunch bag can be stylish and functional.
Even though the maker characterizes it as primarily a women's model, we don't see why it shouldn't be unisex – it's 2022 dude, and it's swish as hell.
This super-stylish lunch bag holds enough food for a whole workday (or four meals over eight hours) while also storing your commuting essentials and office supplies – all while looking like the absolute boss.
It's not only fashionable but also practical, making it one of the greatest choices you should make while searching for an eco-friendly lunch bag that will enable you to eat healthily while at work.
There's also a spacious, zipped main compartment with an inner sleeve that fits tablets and computers up to thirteen inches long and organizing compartments for your wallet, keys, phone, music player, and other items.
There are three exteriors zipped pockets to store your regularly used goods as if that wasn't enough. Two more pockets on the side may be used to store your favorite healthy snacks.
In terms of drawbacks, the bag seems to be overly hefty, weighing in at four pounds. Furthermore, it is pricey, given the questionable quality of the materials used in its construction (according to reviews at least).
Pros
The design is quite fashionable
It is simple to use
There are four snap lid containers included
There are various pockets to keep necessities in
It's appropriate for both men and women in the office
Additional design possibilities are available
Cons
See Related: Is Parchment Paper Compostable?
6. Best Meal Prep Bag for Traveling: Isolator Fitness 6 Meal Insulated Lunch Bag
The Isolator Fitness 6 Meal Insulated Lunch Bag is another top-notch product on our list, made by one of the industry's best producers. Thanks to its well-insulated sections, this lunch bag claims to preserve your food at its ideal temperature for 12 to 16 hours. This bag has a one-of-a-kind design with different sections that can accommodate various sizes of food boxes. Because of its roomy design, it's also one of the finest lunch boxes for family travel.
In addition, the lunch bag has two external mesh pockets that may be used to hold snack bars, for example. On top of the bag, there's an additional insulated pocket. If you need to keep your vitamin tablets or a snack, the top pocket could be ideal. The bundle includes leakproof, BPA-free, recyclable, dishwasher, and microwave-safe food containers. Aside from that, it has six different–sized meal boxes.
The bag includes three ice packs, dubbed ISOBRICKS by the company, to help maintain colder temperatures. This variant also has a carrying handle and a cushioned shoulder strap to make it easier to carry. While this bag is a bit expensive, it is well worth the money since it includes extras like a 200-page meal prep encyclopedia and a dish recipe booklet!
The main disadvantage is that the boxes are of poorer quality, and you may have to replace them after just a few months. Also, keep in mind that the bag is pretty large to carry about regularly.
Pros
BPA-free and leakproof multipurpose food containers are supplied
For extra convenience, there is a carrying handle and a shoulder strap
Lots of carrying space
Cons
The boxes that come with it are of poor quality
See Related: Best Eco-Friendly Space Heaters
7. The Best Yoga Meal Preparation Bag Quilted Meal Prep Yoga Bag by Fit & Fresh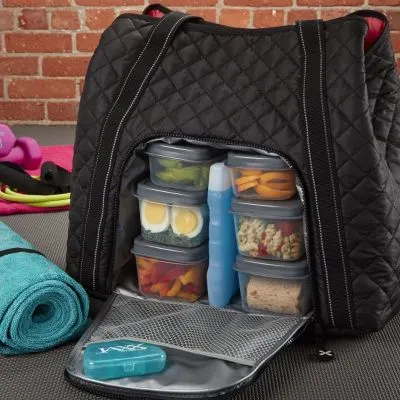 The Fit & Fresh JAXX Quilted Meal Prep Yoga Bag should be your first choice if you're searching for something that flawlessly blends style and convenience. This multi-functional quilted eco-friendly lunch bag is designed to help you eat nutritious meals on the move.
It has a soft touch but is yet robust, and it's made of a black nylon fabric that looks great whether you're going to the gym or the workplace. For extra elegance, the inside is lined in pink!
In addition, the meal prep yoga pack includes six containers, four of which are 2-cup containers and two of which are 1-cup containers, all of which include measurement markers for portion management. A second leak-resistant and insulated compartment with an easy-to-clean PEVA neutral grey lining are also included in the Yoga Bag.
It doesn't stop there: the containers are dishwasher safe to save time washing and microwave safe for quick reheating.
The bag also contains an extra zipped pocket for essentials like keys, phones, grips, and a space for a rolled yoga mat. However, although this model performs well, we believe it is still pricey, particularly given that it is a tote bag.
Pros
There are six containers included
Construction is both soft and robust
Adaptable construction
The design is stunning
It is simple to use
Cons
See Related: Eco-Friendly Wrapping Paper
8. Best Outdoors Meal Prep Bag: Outdoorwares Cooler Bag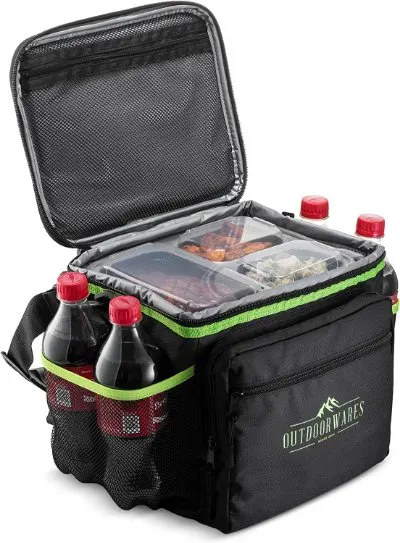 Are you planning a camping vacation, a day excursion, or a picnic soon? Perhaps you'd like to bring a serious stash of food and beverages to work with you? The Outdoorwares Cooler Bag is just what you're looking for. Outdoorwares' insulated cooler bag keeps your food and beverages at the perfect temperature, whether hot or freezing outside.
Furthermore, the Outdoorwares bag has several compartments in which you can store a large number of bottles, Tupperware, and cans. You can quickly arrange your excursion with the bag's many compartments. It also has a huge capacity, perfect for camping, beach days, weekend getaways, and picnics.
Aside from the functionality, the cooler bag is quite comfy and simple to transport thanks to its cube shape. To begin with, it has a long, strong, and adjustable strap with which you can simply carry the bag. However, if you don't like it, the cooler bag features a comfy handle that makes it easy to carry.
Regrettably, the firm is being accused of misleading advertising since the bag's photographs make it seem as though it comes with some plastic containers. Unfortunately, it does not come with any kind of container. It also doesn't keep its form well, particularly if there are no containers.
Pros
It has a lot of pockets
It's simple to transport
Huge storage capacity
It has a lovely and stylish design
Cons
There are no containers included
When emptied, it doesn't keep its form
See Related: How to Heat a Garage Safely & Sustainably
9. Selecting a Budget Insulated Lunch Bag by Hango
The Hango Insulated Lunch Bag is designed specifically for keeping a nutritious and practical lunch. This thermal bag perfectly combines the ease of carrying your meals with an exquisite and contemporary appearance, appropriate everywhere. Furthermore, the bag's high-performance thermal insulation will keep your snacks and meals at the ideal temperature for a long time.
These lunch boxes come in two sizes, making them suitable for various individuals. For example, if you simply want to take your food on the move, you may use the tiny bag, and if you want to carry food for yourself and others, you can use the bigger bag. Of course, the two sizes are included in the same bundle, and it isn't extremely pricey, so you won't have to choose between them!
The bag is made of 300D high-density polyester, an extremely sturdy material ideal for manufacturing bags. You can't go wrong with this bag if you're searching for a high-quality bag that won't break the bank.
One downside is that even though this bag is relatively well insulated, it preserves cold dinners better than heated dishes.
Pros
There are two sizes of the bag included in this deal
Sturdy polyester fabric is used to make this item
It's stylish and contemporary
Thermal insulation
Easy to transport
Cons
Not suitable for lunchboxes
Could keep cold for longer
See Related: Eco-Friendly Area Rugs
10. Eco-friendly lunch bag for Fitness Insulated Fitmark Box Eco-friendly lunch bag
The Fitmark Box Meal Prep Insulated Bag has you covered whether you need an organized system for your travels, a boost of motivation for your fitness objectives, or just a way to enjoy nutritious, home-cooked meals at work.
This well-designed meal prep kit bag has everything you'll need to achieve any goal you've set for your eating habits. It comes with compartments and containers to ensure flawless organization of your meals, supplements, water bottles, and snacks, and everything that allows you to prepare it and then forget about it.
Despite its portability and low weight, Fitmark's lunch bag is tough nylon and has a super-durable strap. It also includes two airtight food containers that are microwave and dishwasher-safe and devoid of BPA.
But that's not all; the bag also includes a unique shaker bottle with a protein and vitamin mix organizer. Maintaining a diet full of fresh, balanced meals has never been easier than in this super-easy-to-use bag.
The backpack has pockets on the outside meant to hold your water bottles when you're out in the sun. It also features a pocket on the backside where you can maintain your diet and exercise log.
Overall, this is a fantastic lunch bag. Although it gets awkward to pack once it's half full and the zippers aren't terribly well-sealed, they aren't deal-breakers.
Pros
Lightweight and portable
The strap is quite robust
Dishwasher and microwave-safe containers are supplied
Simple to use
For extra convenience, it has a lot of pockets
Cons
Insufficient space
The zippers aren't completely sealed
See related: Best Books on Sustainable Living
Purchaser's Guide
Apart from the function and appearance of your eco-friendly lunch boxes, many other factors go into making successful lunch boxes. You should know a few things if you want to put yourself in a position to pick the ideal model for your requirements.
Material that is safe to use
The objective of purchasing a lunch box is to promote good eating habits, save money eating out, and reduce packaging waste. However, how can you stay healthy if the lunch box's material isn't safe? As a result, you should opt for BPA-free packaging. Otherwise, if you acquire a lower-quality product made of low-grade materials, it will end up in your meals. As a result, you will unknowingly consume tainted food.
Cleaning
It should be a must for any food-related activity. There are many reusable plastic boxes available. However, they are difficult to clean. Even if you pour boiling water on them, the oils will not come out. Cleaning them is usually a challenging task. You should not, however, do so with your lunch box.
It should be cleaned regularly, or the residual food may become fungus-infested. Consequently, you will get food poisoning due to consuming the nutritious meal you prepared.
Insulation
With proper insulation, lunch is provided, at the correct temperature.
As a result, you don't have to worry about the food losing its flavor or consistency due to the temperature difference. Insulated lunch boxes should be your first consideration, whether you're buying one for yourself, a family member, or young children, as they keep hot food warm and cold food cool – but not always both at the same time.
Find an insulated bag with separate insulated containers or pouches if you want to do both hot and cold foods in one bag.
Portions
You should get a lunch box with various storage compartments to help manage portions. For example, if you're making a salad, you'll need to include some dressing separate, or croutons separate for soups.
Straps and handles
Another vital factor to consider before placing an order is the bag's handles and straps. The straps and handles, of course, must be incorporated, and they must be durable enough not to rip easily.
Weight
A potential customer should also think about the weight of the lunch boxes. Given that these bags are designed for on-the-go use, we don't think it makes sense to choose a heavy model, especially since you'll be carrying other items in addition to the food.
Furthermore, once the bag has been filled with your meals, it will become much heavier, so you must keep the weight as low as possible. Consider the Insulated Lunch Bag, the North Coyote Insulated Backpack, or the Outdoorwares Cooler Bag, all lightweight alternatives.
See Related: Best Sustainable Shoes for All Different Occasions
FAQs
Will my meal stay cold or warm in such a bag?
Both. Insulated bags are designed to keep the temperature of the food within them, whether it's cold or hot. Of course, if you combine a container of cold salad with a container of heated lasagna, they will both get warm after a time. Also, don't forget to remove an ice pack from inside the bag if you want your meal to stay warm for a long time.
How long will my food remain fresh in insulated lunch boxes?
While there is no definite answer to this question, we would estimate at least 12 hours. The Isolator Fitness 6 Meal Insulated Lunch Bag and the Isolator Fitness 3 Meal Insulated Lunch Bag, on the other hand, promise to keep your food fresh for up to 16 hours.
Is it possible to wash these bags in the machine?
It is dependent on the model as well. While certain bags, such as the, can be cleaned in a washing machine, others might rip apart if washed in a washing machine. As a result, we urge you to properly inspect and verify the materials used to construct your bag before washing it in a washing machine.
It might be difficult to determine if a product is worth your time and money. However, if you're looking for the greatest adult lunch box, Remember that just because something costs less than $2000 doesn't imply it's the greatest lunch box for adults. The best one must meet your requirements, and you should be able to find the right product for you for between $50 and $100.
Related Resources