Pellet stoves are a popular way to provide safe, affordable indoor heat. A pellet stove combines compressed wood pellets, combustion, and airflow to create heat that warms your space.
Fire lights the pellets, and the flow carries them through the system and into your environment. Pellet stoves are much cheaper and more effective when compared to traditional forms of indoor heating.
Fuel, gas, or electric heating has obvious drawbacks regarding safety – and that's not even to mention what traditional ways of heating the home can cost when temperatures drop.
Pellet stoves are better: it takes just 40 lbs of pellets to produce continuous heat for 48 hours. Burning pellets are also considered safer for the environment and won't produce as much particular waste while burning.
Stoves allow users to control important settings like temperature or frequency, sometimes with an app connected to their mobile with Wi-Fi. That's not their only benefit: wood pellet stoves produce up to 75% less potentially harmful emissions than traditional forms of fuel heating.
Homes rarely come with their stoves. If you would like to switch to safer and more affordable ways of heating the home, it's up to you to buy a wood pellet stove. At your own expense rather than the previous owner's, you have to think about what you buy.
Which pellet stove should you buy? That's what this article is going to be about! Here's your ultimate guide to the best small pellet stoves, including an additional FAQ on how to get the best use out of your wood pellet stove from the first time it's fired up.
Best Small Pellet Stoves to Buy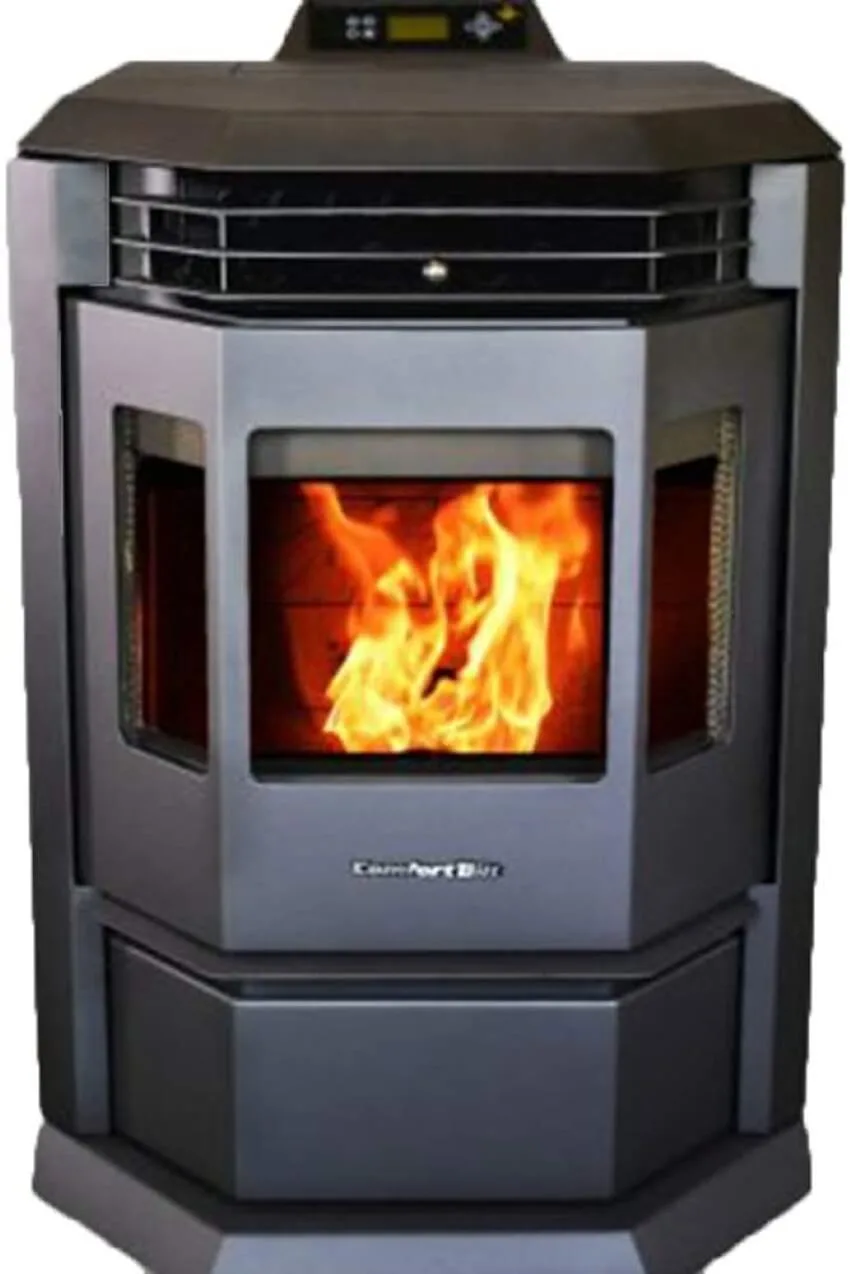 $1, 999
Comfortbilt is one of the leading pellet stove manufacturers in the United States. The HP22 Pellet Stove is large and is best for heating up larger spaces. It produces 50, 000 BTU (British Thermal Units), and the HP22 can heat up a space of more than 2, 800 square feet.
Auto-ignition makes the HP22 easy to light with one button. A powerful blower unit guarantees circulation. Advanced control is one of the best features of this one. The programmable thermostat can be set to different heat levels – or for different times of the day.
Comfortbilt Pellet Stove has a removable ashtray, which makes cleaning the unit easy and quick. Available in carbon black for a sleek finish. The HP22 has a 1-year parts warranty covering any of the most common repairs within its first year.
See Related: What Is Lake Erosion and What to Do When it Happens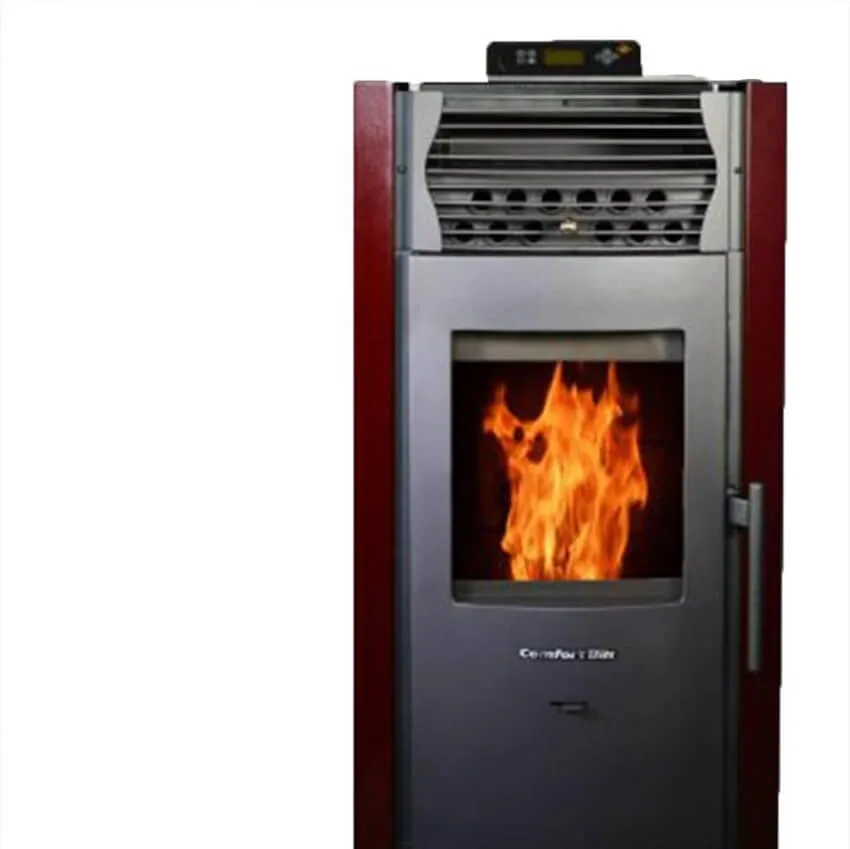 $1,499

Comfortbilt has an option slightly smaller than the HP22 that could be perfect for warming up smaller spaces. The HP50 (available in burgundy) is ranked 11th in the heating category, so you know it's one of the best quality pellet heaters you can buy.
The HP50 produces 42, 000 British Thermal Units, which is enough to heat up spaces of up to 2, 200 square feet.
Like most other Comfortbilt pellet stoves, the HP50 lights up via an auto-ignition system. Click a button, and there it goes. The programmable thermostat guarantees super-fine control over heat settings and burning time.
The HP50 has also been EPA certified – and that's the manufacturer's guarantee that their model has been put through the strictest safety tests and came out on top.
The Comfortbilt HP50 is great if you want to heat a large space, but your budget or aesthetic needs means you need something different from the HP22. A 1-year warranty covers its parts.
See Related: Beautiful Eco-Friendly Area Rugs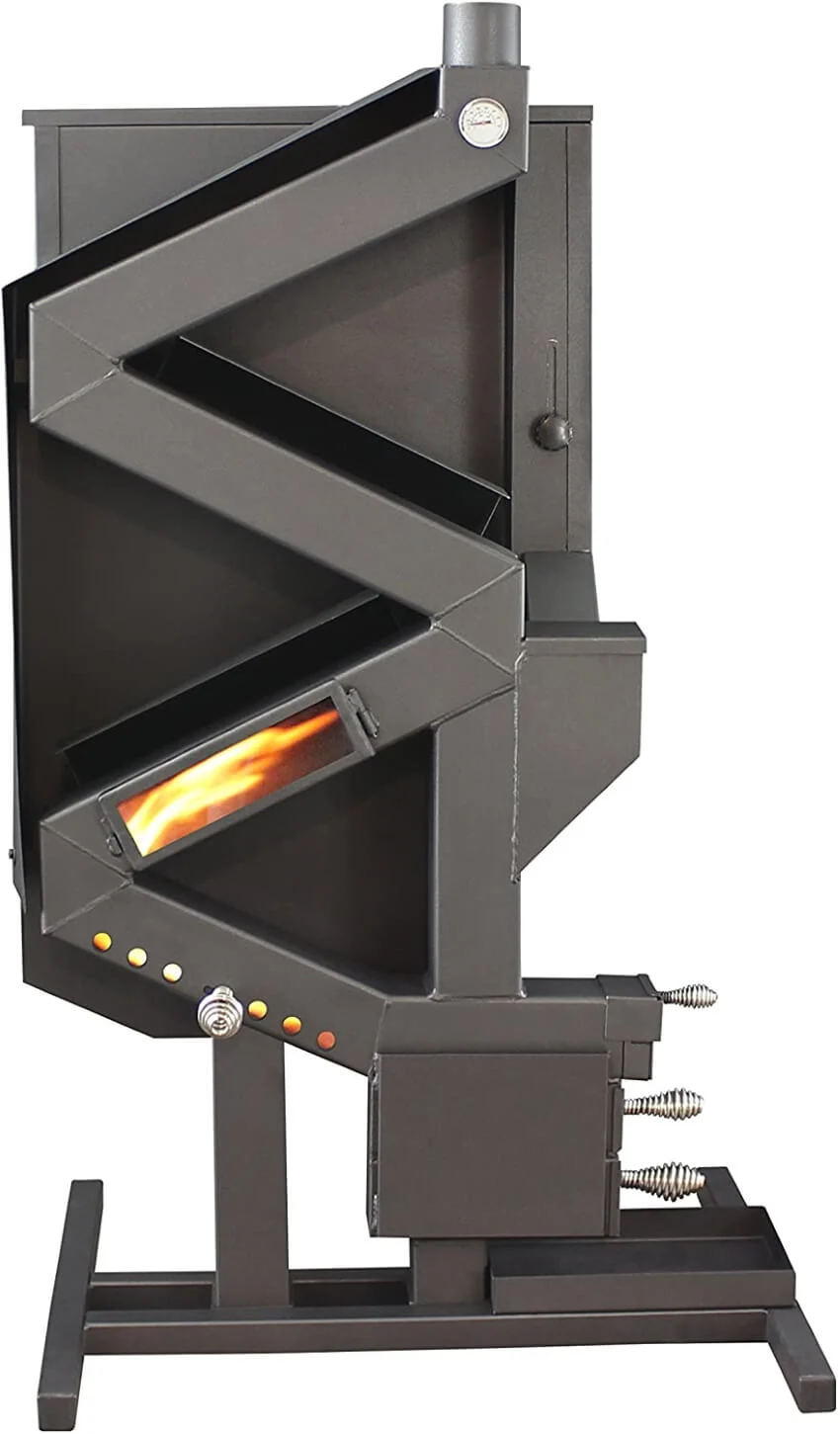 $1,479

The US Stove Company is one of the top heating companies in the United States. For moderate spaces up to 2,000 square feet, the 1949 Wiseway Non-Electric Pellet Stove is the perfect affordable heating option.
The GW 1949 weighs approximately 131 lbs but has a 60 lbs hopper that can provide at least 30 hours of continual heat when filled up. Automatic ignition gets the fire started. A powerful blower fan guarantees even heat distribution.
Like most of their products, this model is EPA-certified to ensure it's safe for the customer.
See Related: Eco-Friendly Stand-Up Pouches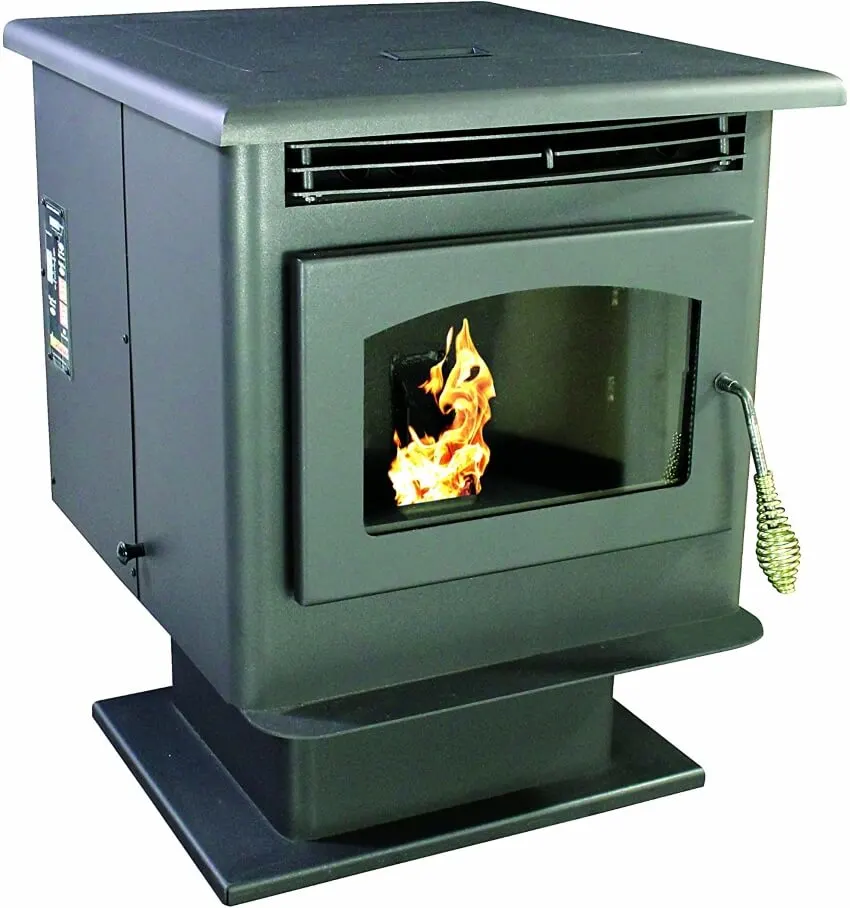 The US Stove Company 5040 model is the perfect pellet stove to warm up smaller spaces, though with the benefit of a larger hopper that ensures at least 40 hours of continuous heat.
The 5040 has a sleek digital control panel that gives you much control over the different heat settings and times. Auto-ignition makes it easy to light with the click of a single button.
It's made with a larger window, allowing an uninterrupted and clear view of the glow. What could be better than this?
According to the manufacturer, the product is also EPA-certified and runs at approximately 75% efficiency. If you would like to keep your long-term heating costs low, this is one of the best wood pellet heaters to buy.
See Related: Eco-Friendly Wrapping Paper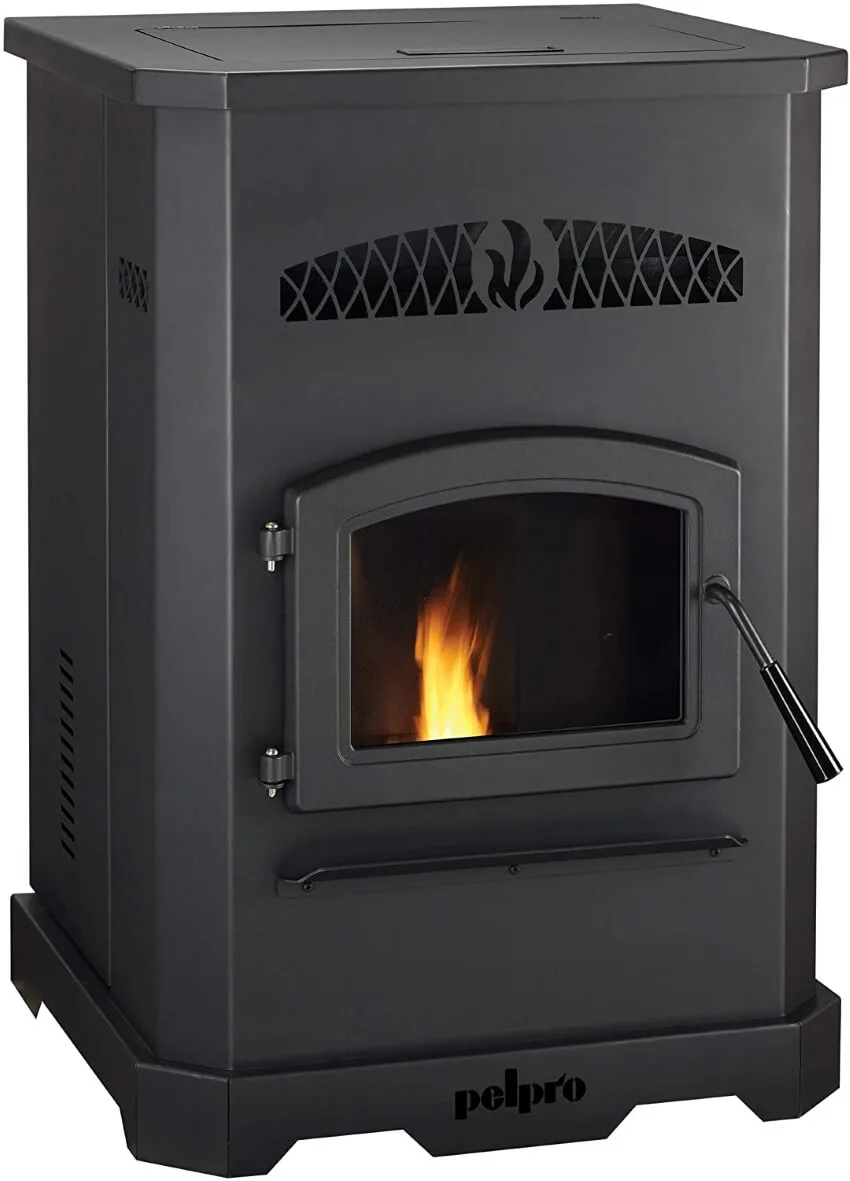 $1, 804.69
The Pelpro PP130-B Pellet Stove is meant to heat larger areas: it measures in at an incredible 50, 000 British Thermal Units – and claims to heat spaces of at least 2,500 square feet without issues. A large hopper means the PP130-B was made for burning at least 90 hours at full capacity.
Auto-ignition makes the PP130-B easy to light – click and let it burn. EPA Certification guarantees its safety as an indoor heating appliance that uses burning wood. According to its rating, the PP130-B operates at 87% efficiency.
Remember that the PP130-B operates at 120v but comes with a standard 110v plug for use in homes. While it might be large and pretty heavy, it's a gorgeous piece that's easy to use.
A 5-year parts warranty covers common issues – and for a much longer time than most warranties do.
See Related: Best Sustainable Gifts for Your Eco-Friendly Friends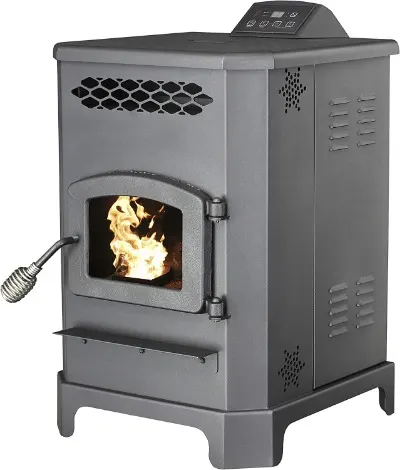 The US Stove 5501S is a large pellet stove that heats areas of at least 2,200 square feet – but as a larger model, weighs in at approximately 245 lbs when the unit is empty. The hopper carries up to 20 lbs – which can keep the unit burning for days at a time as one of its best features.
The 5501S just feels fancy from the beginning: Autoignition, an LED display, and electronic setting controls make it feel more "high-tech" than some comparable options.
It's not perfect, though: the 5501S can be very loud on its high setting, and the fan sounds more like a leaf blower in your house than a heater unit. The weight of this unit is also a common drawback – once you've put it somewhere, it's difficult to move.
See Related: Sustainable Toothpaste Products Ranked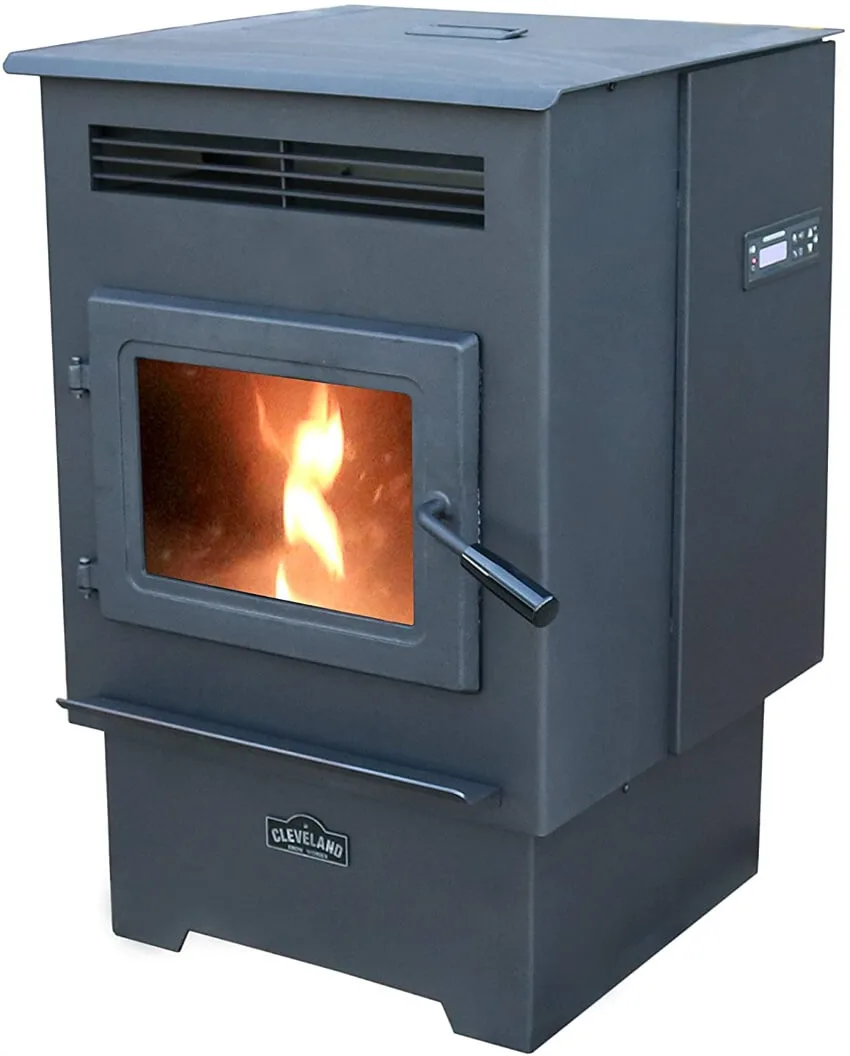 Cleveland Iron Works (CIW) is a medium pellet stove with a 60-pound hopper that heats up to 1,200 square feet of space.
The best features of the PS60W include a whisper-quiet blower unit you barely hear and an automatic ignition that lights it with a single button. An electronic control panel gives you the essential settings at your fingertips – but that's not all.
Extra replacement parts are included with the CIW PS60W, and an extended 1-year warranty covers the parts.
One more cool feature for the medium PS60W stove: it can hook up to your Wi-Fi connection and be operated with a downloadable iOS and Android app.
Who thought a stove could do that?
See Related: Amazing Sustainable Swimwear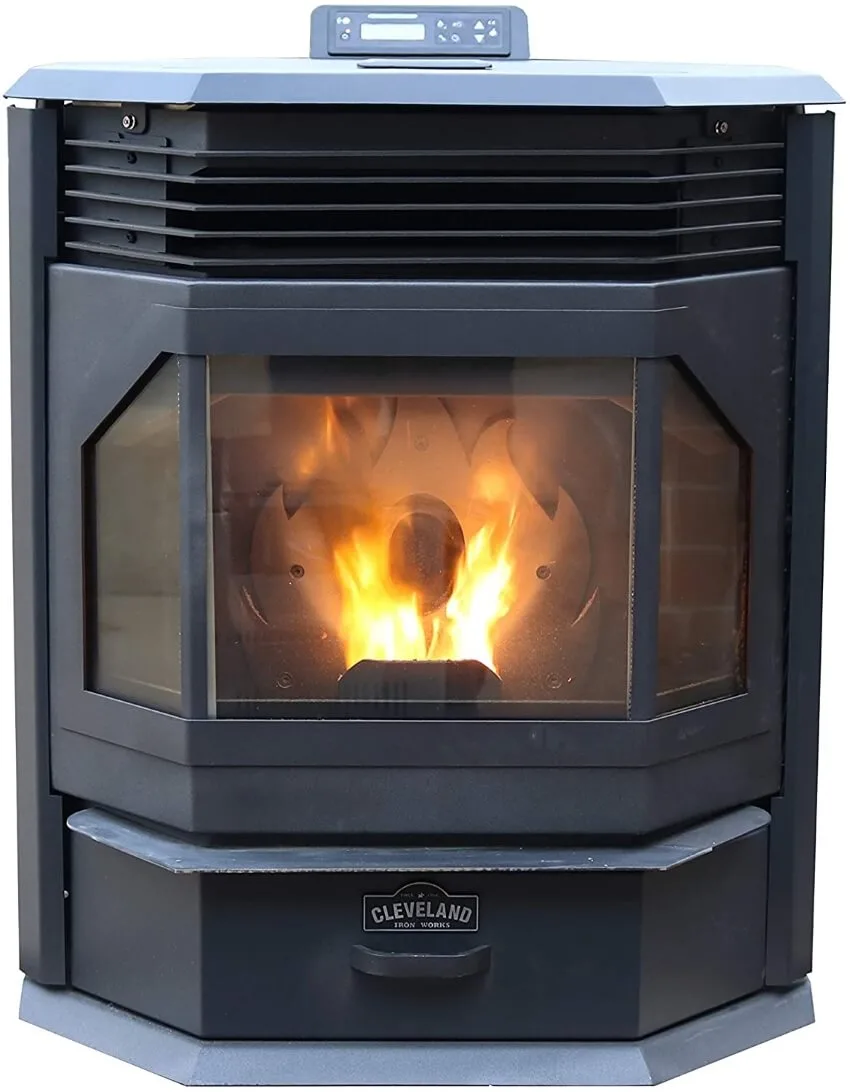 The Cleveland Iron Works PSBF66W pellet stove is one of the best medium pellet stoves that can warm up to 2,500 square feet. While it's heavy at approximately 264 lbs, it gets points for being a quiet and effective heater.
Auto-ignition makes the PSBF66W pellet stove effortless to light. An electronic display shows you the most important information – and like other medium heaters from Cleveland Iron Works, you can also hook the PSBF66W stove up to the app.
Replacement parts and a 1-year warranty are included with the PSBF66W.
See Related: Best Solar Lamp Post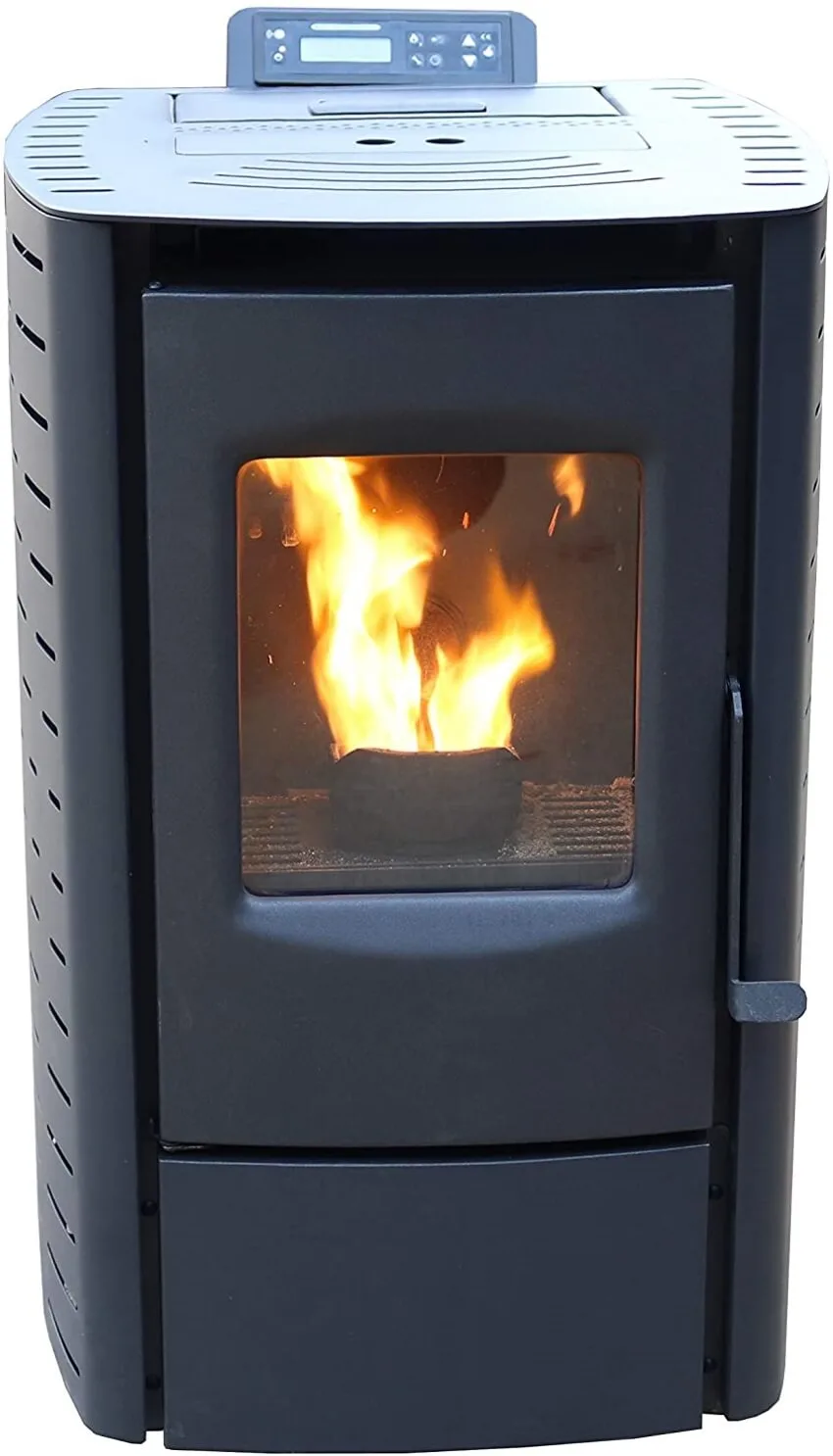 $849, 99
The Cleveland Iron Works PS20W is the best small wood pellet heater and heats up to an advertised 800 square feet worth of room. Don't let its small size fool you: it's one of the best wood pellet heaters for the home.
An 18 lbs capacity hopper guarantees you can still get a decent amount of heat (for a long time) from its use. The PS20W runs comfortably for more than 24 hours without requiring a fill-up.
The blower unit of the CIW PS20W is powerful enough but as quiet as most people would prefer. You'll barely hear it when it's running.
Wi-Fi capacity can hook the heater up to the official app, which lets you control the heat settings and time right from your mobile device – or even your smart TV if you like. It also comes with a remote for the traditionalist.
A 1-year warranty makes this one of the best wood pellet heaters you can select on a budget.
See Related: Best Bear Sprays: Top Choices for Safety in the Wild
What is the best pellet stove model to buy online?
The best model pellet stove is a complicated question! It will depend on your budget, space, and heating needs. We can recommend the best affordable model pellet stoves and the best large model pellet stoves in this article.
We can also tell you that some of the best wood pellet stove brands on the market include Comfortbilt, the US Stove Company, and Cleveland Iron Works. In order to find the best one for your needs, consider the factors above to find the one that fits your space best.
See Related: Best Conservation Books to Read
An Introduction to Pellet Stoves
Pellet stoves provide thorough, continuous heating with electricity and fire. Fire is used to heat the wood pellets, usually packed directly into the heater. Electricity powers the circulation unit and fans, which turns the heat into distributed warm air that moves throughout its pipes.
Small pellet stoves heat areas of 1,000 square feet or less. Large pellet stoves can heat areas of up to 2,500 square feet or more. Pellet stoves are popular, especially right now. Gas and fuel heating isn't as widespread as it used to be, and many homes have already used pellet stoves.
They save energy while producing heat and are great to look at. Pellet stoves also produce less harmful carbon emissions than other forms of fuel heating.
See Related: Best Posters on Saving Earth
What is a pellet stove?
Pellet stoves use wooden pellets and electricity to produce safe, natural heat. While burning wooden pellets provide heat, powered fans move the heated air from the stove to the rest of the room.
Small pellet stoves are perfect for heat in smaller rooms. Large pellet stoves can warm up more than 3,000 square feet or more.
See Related: Best Solar Refrigerators and Freezers
Why should you use a pellet stove over traditional stoves
A pellet stove is safer and cheaper than fuel heating. Wood pellets can be stored throughout the year, and their construction means they can burn for an extended period.
It's more heat for the price and completely safe to use. Carbon-based forms of heat can produce harmful emissions as they combust. Thanks to circulation, the same is not true for using a wood pellet stove.
See Related: Energy Conservation Techniques to Know
How does a pellet stove work
Pellet stoves can be considered a combination fireplace that uses fire and circulation to produce the desired level of warmth. While burning wood pellets produce heat, powered fans move it through the system – and warm up your space.
Auto-ignition stoves are easy to light with a single button. Manual ignition stoves require the user to light the wooden pellets to fire up.
See Related: Are Brown Paper Bags Compostable?
Need more heat, or less power?
A pellet stove can be adjusted according to its thermostat. Certain models use a remote or app to allow for super-fine control over which temperature setting you would prefer – and it has the added benefit of feeling cooler. More advanced pellet stove controllers even allow users to set a time: When would you like your home to warm up?
See Related: Best Solar Tiki Torches
How to Install a Pellet Stove
Installing a pellet stove is a common question for people who have just bought or inherited their first stove. Luckily, it is not difficult to install a stove for the first time.
The pellet stove should be placed on a protective surface to protect the floor underneath. Even though it's a common fact that heat travels up, expect the floor to warm up with the heater's use. This is why a protective surface meant for pellet stoves is recommended.
Place your stove in an area with plenty of ventilation and space. First-time owners should also remember that pellet stoves can be heavy objects. You should plan the location of your pellet stove before moving it into your house.
See Related: Pros and Cons of Biofuels to Know
How do you start up a pellet stove?
There are two main types of pellet stoves: Auto-ignition and manual ignition. Auto-ignition stoves use an electrical starter (and subsequent spark) to create fire. All the user does is press a button, and the fire starts.
Manual ignition stoves require manual fire-starting – but usually, just bringing a lighter to the wood pellets and closing the door is enough to start the fire. A pellet stove is the easiest, safest fire you could ever hope to start!
Do pellet stoves need electricity?
Yes. Even though a pellet stove works with fire, it uses a fan and motor to move circulated air through the unit.
Where should I put my pellet stove?
A pellet stove should be placed with enough ventilation, circulation, and space. Since pellet stoves can be heavy, it's best to measure an allocated area before buying your stove. Pellet stoves are not the household object you want to move around every other week: pick a spot!
Allow for enough space around the stove to move around comfortably when cleaning or refilling it. It's not funny to bump your funny bone, thanks to bad stove placement.
Do not place your pellet stove directly on the floor. Special protective padding should be purchased with your pellet stove and protects the floor (but also prevents your stove from scraping or scuffing the surface).
Does a pellet stove require any accessories?
Sometimes, the answer is yes. The majority of pellet stoves include accessories to start with. Repairs might need buying extra replacement parts. Any modifications could also mean the same – an outside air kit.
Air kits, exhaust fans, and the electronic control box (to control settings) are some components you might need. Always go for the manufacturer's recommended option if buying replacement parts.
See Related: Best Eco-Friendly Backpacks
Are pellet stoves safe to use?
Pellet stoves are considered much safer than traditional fuel or combustion heating forms. The use of pellet stoves is increasing because they are preferred to materials like charcoal or fuel, which can release harmful carbon emissions into the environment. It is among the products that help the environment.
Circulation is one of the secrets to why pellet stoves do not produce nearly as many harmful emissions. Powered fans bring heated air to. With proper use, expect a pellet stove to produce constant and controllable heat with the click of a button.
See Related: Best Erosion Control Products
Are pellet stoves safe to use around children?
Yes. The majority of pellet stove models can lock the viewing door. While it allows you to see the glow, there is no direct contact between people and potential fire when the stove operates.
Always remember to keep basic fire safety rules in mind. Ensure small kids aren't close to the stove when cleaning or filling it up! Accidents can still happen.
See Related: Best Eco-Friendly Glitter Alternatives
Are pellet stoves safe for people with respiratory conditions?
Yes. Traditional forms of fuel-based heating can produce emissions that trigger or worsen respiratory condition symptoms. Carbon, soot, dust, and other particles can harm the lungs, throat, eyes, and breathing tract.
Smoke burns your eyes if you stand too close to an open fire. It has the same effect when you breathe it, but this happens inside the body.
Pellet stoves are safer compared to traditional heating. Fans move the majority of harmful particles away from the air you breathe. Unlike an open fire or fuel heating, there is little else but hot air.
See Related: Best Compostable Mailers
How to Clean a Wood Pellet Stove
Pellet stoves should be cleaned at least once every few weeks and more often with regular use. Ash can impact the filtration unit, and soot can collect inside the pipes over time.
Most pellet stoves have an ashtray that can be removed for easier cleaning, when it doesn't, keep a broom or vacuum next to your pellet stove for when the ash and soot need to be cleared out.
See Related: Are Double Ovens More Energy Efficient?
Where to Buy Wood Pellets for a Stove
Wood pellets are relatively easy to acquire. Most hardware stores stock wood pellets. Some general retailers will stock wood pellets in the same aisle where you can find candles, matches, and other combustible items.
Online stores also sell wooden stove pellets. If you can buy a pellet stove, you can usually buy the appropriate wooden pellets and parts in the same place.
See Related: Best Erosion Control Blankets
How should I store wooden pellets?
Store wooden pellets in the same way that you would store actual firewood. Dark and dry conditions are best. Even though proper wood pellets are treated against mold and moisture damage, it is best to avoid direct exposure to water. Treated wood still won't catch fire when it gets wet!
How long can wood pellets be stored?
Wood pellets have been treated for long-term storage. Additionally, most wood pellets have been coated to ensure their longevity – and to keep bugs and other critters away from your wood pellet stack.
Dry and dark conditions are best for ideal storage. Wood pellets can be stored for several years at a time and will still burn as well as the day you bought them.
See Related: Conservation vs Preservation: The Differences
Noise Considerations with Pellet Stoves vs Traditional Stoves
Pellet stoves can produce minimal noise due to the operation of the fan's motor. The best products are made to whisper quietly, and you won't hear a thing when they're on. High-quality pellet stoves are built in such a way as to reduce the noise from the running fan.
Beware of cheaper, off-brand pellet stoves; these are not made to the same standards and are much more likely to sound like a vacuum cleaner when they're on. All the stoves on this list are whisper-quiet!
See Related: Best Biodegradable Dog Poop Bags
Troubleshooting Your Pellet Stove
Owning a wood pellet stove is a great way to reduce your reliance on fossil fuels, save money on heating costs, and help the environment. However, if your stove isn't working properly, it can be frustrating and expensive. Here are some tips for troubleshooting your pellet stove so that you can get it up and running as quickly as possible.
Why won't my pellet stove burn?
Non-burning pellet stoves are a common problem and easy to fix. If your pellet stove won't ignite and it's an auto-starting unit, check the electrical connection first (and the plug second).
If these things are okay, the problem could be due to blocked airflow. Fire needs oxygen to burn, and that's true on the inside of your pellet stove.
The short explanation is to check and clean the ventilation pipes. Ash can collect here over time, impeding the flame from turning into the hot air needed to run the heater.
See Related: Best Books on Pollution
Why did the flame die on my stove?
Flames can die for the same reasons flames won't start: a lack of ventilation or oxygen. If the flame inside your pellet stove dies, ensure enough flow to let the flame burn (and the warm air flow through).
Clean the pipes, assemble the stove, and see if the problem happens again. It should be smooth burning from there!
See Related: Best Compost Bags
Why is my pellet stove producing smoke or soot?
A pellet stove should not produce smoke or soot when in operation. But when there's dirt, dust, or ash on the inside of the unit, it can burn away and produce more byproducts – and thus, you'll see soot or smoke.
Switch it off, clean everything, and switch on your pellet stove again. This is a good idea every few weeks with regular use, but especially if you experience any of the most common pellet stove problems.
Rarely, if you have spilled anything on your wood pellets, this can also burn away and cause smoke. Store your pellets properly and in dry conditions to ensure this never happens!
See Related: Best Compostable Plates
Where can I find the manual for my pellet stove?
If you have a specific question about your pellet stove or its parts (and you cannot find the answer in this article), refer to the manual. The manufacturer's instructions will contain a guide.
Have you lost or misplaced the manual for your pellet stove model?
It happens! In most cases, check the manufacturer's website. Manuals can be downloaded or requested for most products – just in case you lose the copy you got with your pellet stove!
Why are the wooden pellets getting stuck?
If the wood pellets get stuck in the unit, the problem could be an overflow of wooden pellets – or simply, impacted ash blocking the dispenser.
The short answer is that pellets can't go where they should. Clean the dispenser first, and pack fewer wood pellets into the hopper on the next start-up.
FAQs
Can pellet stoves be used indoors?
Yup, and that's one of the great things about them. Pellet stoves are popular in restaurants, diners, and coffee shops, too, for this reason.
Fuel and gas fires can be hazardous indoors, but pellet stoves are made for outdoor and indoor use. Circulation is the secret to why pellet stoves can burn safely for hours. As long as there is enough ventilation, pellet stoves are fine for indoor use.
How often should pellet stoves be refilled?
A pellet stove relies on the use of burning wood pellets. How often your pellet stove needs to be refilled will depend on how often you use it! A 40lbs bag of pellets can burn for approximately 24 hours.
If you don't burn your pellets continuously, expect them to last longer. Heat settings can also impact how soon your wood pellets burn away. For longer winters or hotter fires, buy your wood pellets in bulk: it's cheaper, and wood pellets can't (and won't) go "off" when stored right.
Can you burn anything in a pellet stove?
No! Pellet stoves and their parts have been manufactured to burn and filter wood pellets. The safety rating and manufacturing guarantee apply only to the product when it's used according to the original instructions – and this means using only wooden pellets in a wood pellet stove! Other materials can be a fire risk and produce harmful chemicals when burning away.
How fast do wood pellets burn away?
According to the Pellet Fuels Institute, 40 lbs of wood pellets burn for approximately 24 hours at standard heat. Environmental factors, heat settings, and the specific model of a wood pellet stove can influence this – but use the above as a rough guide for how many pellets you might need to buy. It's rare to run a pellet stove for twenty-four hours straight.
Related Resources