Glass greenhouses are in fashion this season!
If you are an avid gardener or would like to get your green fingers into the hobby soon, a glass greenhouse is a great way to create an entire ecosystem while you have complete control over the environment.
Glass greenhouses are eco-friendly. A glass greenhouse lets in more light distribute heat in more even ways and makes for happier plants on the inside. Greenhouses are not always eco-friendly when they are made from other materials, like plastic or polycarbonate.
It can be difficult to find the right glass greenhouse for your needs: just one Google search gives you a thousand different options, from large ones to small ones, fancy ones to simple ones.
How can you pick the best cheap glass greenhouse?
We're here to help!
Here's what you should know about why glass greenhouses are the environmentally responsible, eco-friendly choice – and a buying guide for the 16 best glass greenhouses you can find online.
About Glass Greenhouses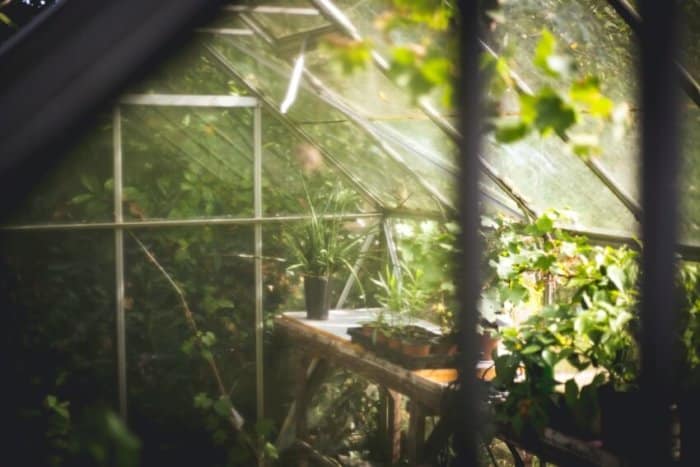 Greenhouses are not all "green" when we're talking about their levels of eco-friendliness.
When greenhouses are made from plastic or polycarbonate materials, they can attract more heat than is healthy for your plants. Sunlight is important for plants, but creating a heated environment for your plant collection isn't always the best option.
Non-environmentally-friendly greenhouses lead to resource wastage in the long term. When elements like heat and sun are wasted on your plants, it has a direct impact on the environment around us – and of course, the environment inside your greenhouse.
More gardeners and gardening enthusiasts are choosing glass greenhouses this year. Eco-friendly glass greenhouses equal fair heat distribution and total environmental control.
It's what every gardener really wants!
What are eco-friendly glass greenhouses?
Here's what you should know.
See Related: Different Types of Greenhouses
What is a glass greenhouse?
Glass greenhouses have been made from authentic glass material, usually together with aluminum or steel frames surrounding them. The eco-friendly difference lies in the use of glass instead of polycarbonate material or plastic.
A lot of gardeners all over the world are making a switch to glass greenhouses. Others are beginning their journey with a glass greenhouse.
Plastic and polycarbonate materials have a large environmental impact. They are expensive to produce, never degrade, and create a huge carbon footprint just to make.
Glass, overall, is better for the environment and your garden.
See Related: Cheap Nursery Pots
Why are glass greenhouses great?
Glass greenhouses are great thanks to their use of glass, which ensures that space and heat are used effectively. Sunlight and airflow are important components of a healthy greenhouse, but artificial materials like plastic can interfere with your ecosystem.
Glass greenhouses are durable, affordable, and better for the environment inside (and outside) of your greenhouse.
The carbon footprint of producing a glass greenhouse is also comparatively much less weighed up against regular, non-eco-friendly greenhouses on the market.
As gardeners, the environment is important – and a switch to a glass greenhouse can help you to do more to protect nature.
See Related: Cheap Nursery Pots
Should I switch to a glass greenhouse?
Almost certainly, the answer is yes.
Glass greenhouses are great if you would like to guarantee a healthier environment for your plants. These greenhouses save time, money, and energy – and these are all things any gardener could use more of!
See Related: Best Vegetables to Grow in Greenhouses
What model or size of glass greenhouse should I choose?
There are many different brands (like Janssens, Arcadia, Juliana, and Exaco), each with its own benefits and drawbacks. In this article, we recommend a list of 16 of the best eco-friendly glass greenhouses on the market – and then, we'll tell you some more about the best qualities of each one.
See Related: Greenhouse Cost Guide
FAQ: Things to Consider
Before you make the final click to buy your next glass greenhouse, there are a handful of important things you should consider first. What makes a great greenhouse compared to an average model? What should you know if you have never attempted to install a greenhouse before?
Here's a quick FAQ that can help to bring novice gardeners up to speed.
1. The Foundation
Most glass greenhouses will require a foundation to install it on. The foundation is a simple brick platform that measures, more or less, the same as the floor space of your intended greenhouse.
Foundations are for added strength. Greenhouses can be heavy, and a foundation stops it from sinking or moving into the ground. Make sure your foundation is just as good as the model of greenhouse that's going on top of it.
If you have never put a greenhouse anywhere before, don't forget about the foundation!
See Related: How to Grow Sugar Cane Indoors
2. The Height
Greenhouses measure at different heights. Factor in the height of the greenhouse relative to the height of anything that might be close to your greenhouse's space.
Nobody wants to put a greenhouse in the way of a power line or tree branch just because they "didn't think it would be that high", right? Plan out the position of your greenhouse before proceeding.
Height matters.
See Related: Best Things to Grow in AeroGraden
3. The Accessories
Accessories are another important factor when buying your greenhouse. What the heck is greenhouse accessories? They can include sprinkler or mister systems, gutters, and additional shelves – all of which you might need to install yourself or buy extra once you have the greenhouse of your choice.
When installing your accessories, remember that not all greenhouses are the same. Fittings, clips, and screws will be different from one model to the next.
See Related: Best Greenhouse Plastic Covering
4. Need Help?
The installation of a glass greenhouse is described as a DIY process, but it's fair to admit that not everyone is great at handiwork. If you have trouble installing a greenhouse or don't feel confident enough in your own abilities to do it, professional installation services exist.
Sometimes, parking a greenhouse in your garden is just a two-person job that requires some heavy lifting and a bit of holding up.
While DIY, it's not a task anyone would recommend completing alone!
See Related: Best Solar Heaters for Greenhouse
The 16 Best Glass Greenhouses to Buy Today
1. Arcadia DIY Glass Greenhouse Kit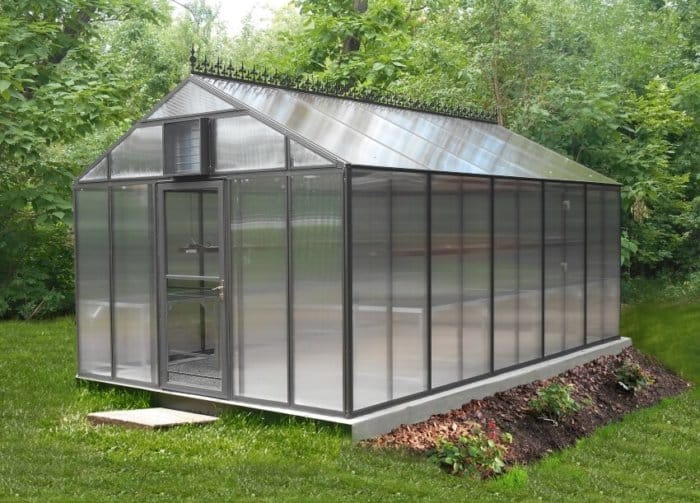 The Arcadia DIY Glass Greenhouse Kit is made by Arcadia, and makes a great large eco friendly greenhouse if your main requirement is space. It can be compared to the Ikea of glass greenhouses and it was made to self-assemble.
Built on a 24 feet center, this gives you more space than most large greenhouses on the market. If you would like more or less space, the dimensions can be customised through the manufacturer.
Double-pane 8mm glass covers the entire greenhouse, and a welded truss metal design holds it all together. Very solid, but also a little heavy: keep this in mind and consider help when you have it installed.
An airtight seal guarantees that what's in your greenhouse remains safe and protected from weather, humidity and any nocturnal creatures that could get at your garden.
All hardware is included for assembly.
Made in the United States, an extensive warranty covers the product and its parts as a sign of the maker's confidence.
See Related: Hydroponics vs Aquaponics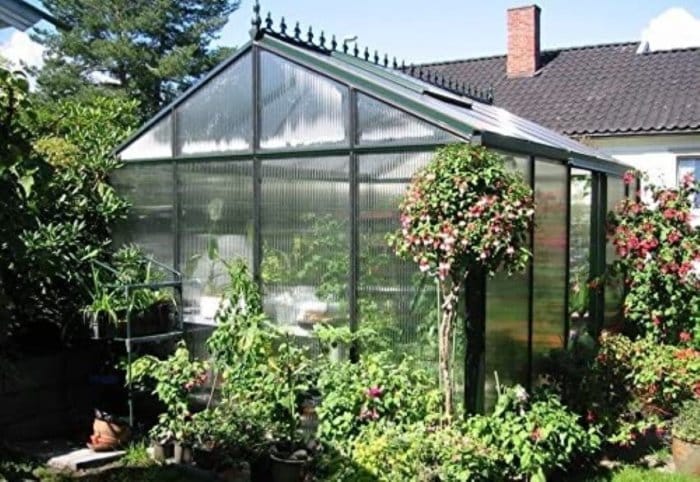 The Janssens Royal Victorian Greenhouse is made in Belgium by Janssens, a reputable greenhouse manufacturer that's been in the business of making great greenhouses far longer than most of their competitors.
It's great if you are looking for an eco friendly classic greenhouse in a Victorian style.
Rarely, the Royal Victorian Greenhouse includes the misting system and pipes.
Double-pane windows from high-quality glass cover the entire span of the Royal Victorian. A quality metal construction frames the greenhouse. Lockable, it can also be kept safe when you aren't around.
Note that you will need a foundation to install the Royal Victorian Greenhouse on.
A 15 year warranty covers the Royal Victorian Greenhouse and its parts.
If you would like a similar type of greenhouse made in a Victorian style, then Exaco is known to produce excellent Victorian Style greenhouses that almost look like this one – but available in several different sizes.
See Related: Best Starting Seeds in Unheated Greenhouse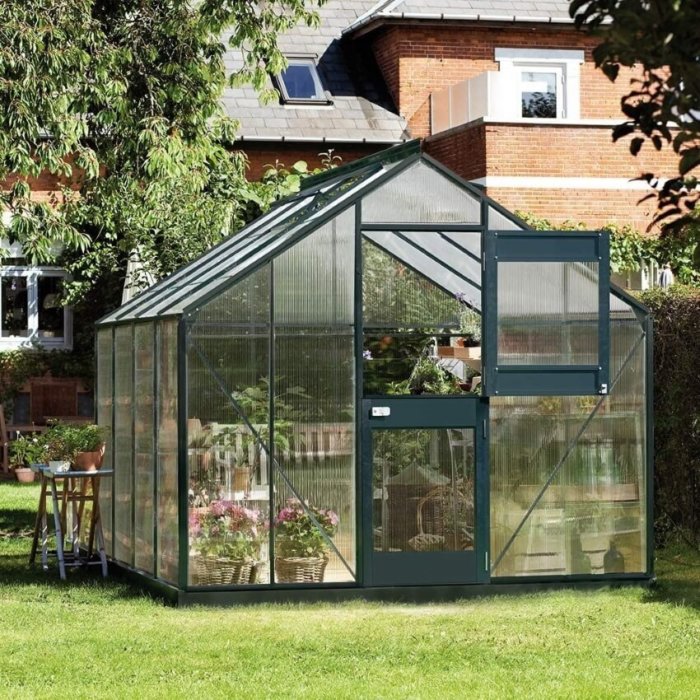 The Juliana Junior Greenhouse Kit is great as an affordable starter eco greenhouse kit, measuring 9 feet by 12 feet. The Juliana Junior is a common sight in gardens thanks to its affordability and ease-of-use.
It's been built with space economy in mind from start to finish. Back doors and windows guarantee total control over things like humidity, air flow and sunlight – and more windows on the roof refine this control even further for the advanced gardener.
This is one of the best small glass greenhouses with a classic look, but beefed up with some more advanced features.
Glass is high quality, 3mm tempered glass panels throughout.
The Juliana Junior Greenhouse is made to DIY. Even if you have never installed a greenhouse yourself, it's almost effortless – and everything secures to everything else with included clips and parts.
While it includes accessories like a misting system, they are easy to connect.
If you would like more size to work with, other greenhouses are available in different sizes from the same manufacturer.
When installed, the Juliana Junior contains a lockable, high quality door to protect your greenhouse.
Made in Denmark, the Juliana Junior has a 12 year overall warranty and an additional 2 year warranty on certain parts.
See Related: What are the Commercial Greenhouse Construction Costs per Square Foot?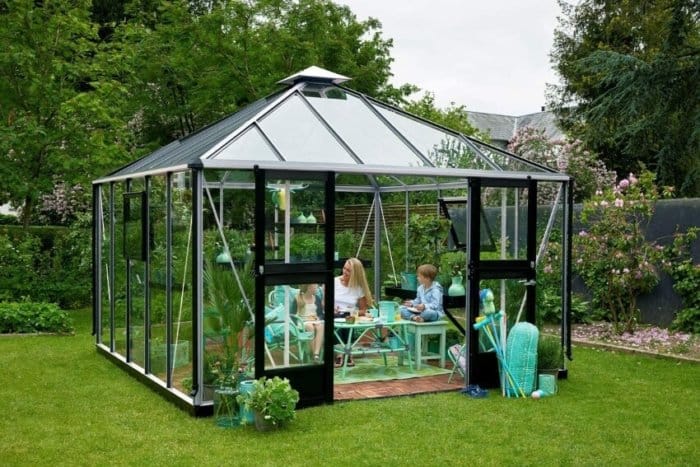 The Juliana Oasis Greenhouse is one of the best moderate eco-friendly greenhouses on the market, and its manufacturer has a great reputation in gardening circles for an excellent quality product – you know you're buying the best quality you can.
Available in different finish options (including aluminum and black), the Oasis Greenhouse measures 10 feet by 10 feet. That's more than enough space for most gardeners to get things done – and further shelving together with a high roof extends the available room.
Glass is guaranteed to be high-quality: 3mm tempered glass panels line the Oasis Greenhouses to let the best light in and protect your greenhouse contents from harm. Tinted options are available if you want to change your shade to let in more (or less) light.
Connecting a spray system, extra shelves or a gutter network is easy: note that the Oasis doesn't include most of these extra parts, but has room for their installation. Getting your perfect greenhouse might still require a few things sold separately!
A high-quality locking door protects the greenhouse from intrusion.
Made in Denmark, the Juliana Oasis Greenhouse is covered by a 12 year overall warranty and additional 2 year parts guarantee.
See Related: Best Shelves for Greenhouse
5. Sturdibult Greenhouses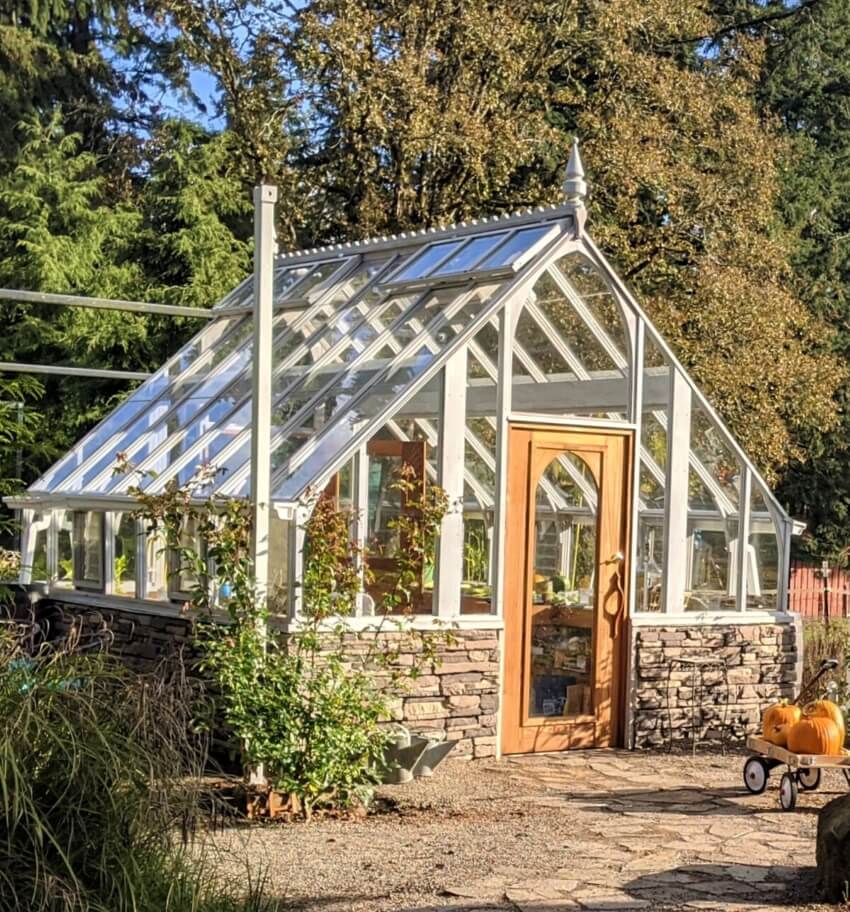 Sturdibult Greenhouses are made with a difference and these are not automatically machined into existence, but instead handmade from a combination of redwood, glass, and aluminum framing.
If you would like a greenhouse that's been made just for you, the Sturdibult Greenhouse is a great eco-friendly greenhouse made in Portland, United States.
Tempered 3mm glass protects the greenhouse and leads to the sun's best qualities while keeping your plants away from the wind.
It's easy to install, and can also be made to your specifications if you would like to be more specific about your gardening needs. A huge list of different available models is also available to make sure you can pick the perfect one for you.
See Related: Best Greenhouse Fogger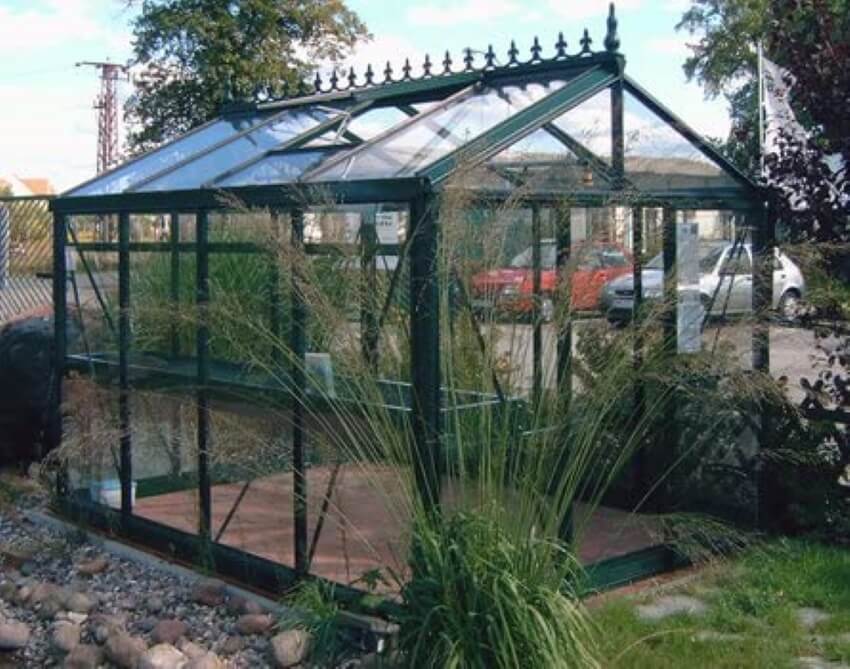 The Exaco Victorian Greenhouse is one of the Victorian Style glass greenhouses available from Belgian manufacturer Exaco. It has a wonderful and striking Victorian feel and look if you would like to add the most classic type of greenhouse to your garden.
If you aren't sure about its size, there are several Victorian greenhouses in the same range. Comparatively, this one is their largest. A smaller, 10 feet by 10 feet variety called the Junior Victorian is your choice if you would like the same style in a different size.
A dark green metal finish adds to the visual effect.
Practically, this is a great eco greenhouse that doesn't take a lot of sweat or time to set up. In a few hours, you can have a completed greenhouse from the ground up!
The walk-in design of Exaco Victorian Greenhouse allows a great amount of floor space. Shelves line the walls, and additional shelving is easy to install with more than enough "empty" space to fill once it has been installed.
A few features set the Victorian Greenhouse in its own class: eight high-quality tempered glass panels line each side of the greenhouse, and the roof is finished with a fancy spiked-stylish design. Birds, of course, will love it.
An easy hinge system controls the roof windows. Nothing automatic here, and it keeps to the Victorian style.
One drawback is that the shelving, cloth, and misting system are not included. If you choose this greenhouse, you'll have a few things to buy separately.
A 12-year overall warranty and additional 2-year parts warranty cover the Victorian Greenhouse and other Exaco products.
See Related: Best AeroGarden Pods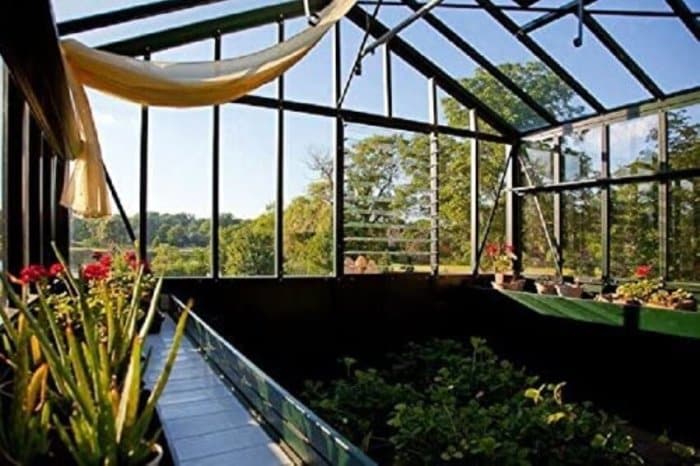 The Exaco Retro Royal Victorian is a large-sized Victorian-style eco greenhouse that's perfect for achieving a great natural effect. Exaco offers several greenhouses in the same style, and there are smaller ones available if this strikes you as too imposing for your available space;.
Especially large and with a wonderful feel to it, it's a high-quality greenhouse made from the best aluminum frame – and topped off with 14.4mm tempered glass for protection.
A slanted roof improves the distribution of sun, no matter where you park your greenhouse in your garden. Additional accessories like extra shelving and gutters are easy to install, and most Exaco greenhouses are pretty easy to install.
A locking door protects the contents with a high-quality, tested, and approved lock.
Reviews rank Exaco as one of the top worldwide eco-friendly greenhouse brands. Guaranteed, this will stand through any weather conditions – and your plants inside won't notice a thing!
Like most Exaco products, it's proudly made in Belgium and covered by an overall 12-year warranty (and an additional 2-year warranty on its individual parts).
See Related: How to Start Growing Mushrooms in a Greenhouse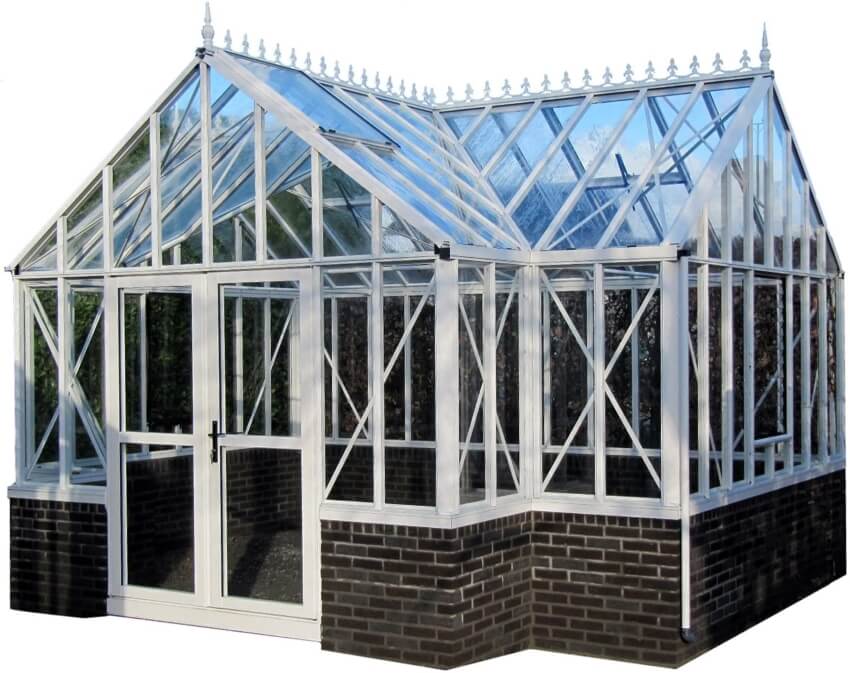 The Exaco EOS Royal Mur Greenhouse is a great greenhouse if you are looking for a blend of the Victorian greenhouse effect and the classic greenhouse look.
Made from aluminum, this Exaco model contains 4 windows on the roof (and an impressive angled roof that ensures maximum sun and heat distribution). Automatic openers can open and close the windows, a cool feature that you don't see in many greenhouses.
Covered in 4mm tempered glass for protection, it's one of the best simple eco-friendly greenhouses on the market today.
Weight is one of its best features, but might also mean that you need extra help to install it. Keep this in mind if this is the greenhouse you go with.
Made in Belgium from guaranteed good quality parts, Exaco Greenhouses are covered by a 12-year overall warranty and a 2-year additional parts warranty.
See Related: How to Attached Greenhouse Plastic to Metal Frame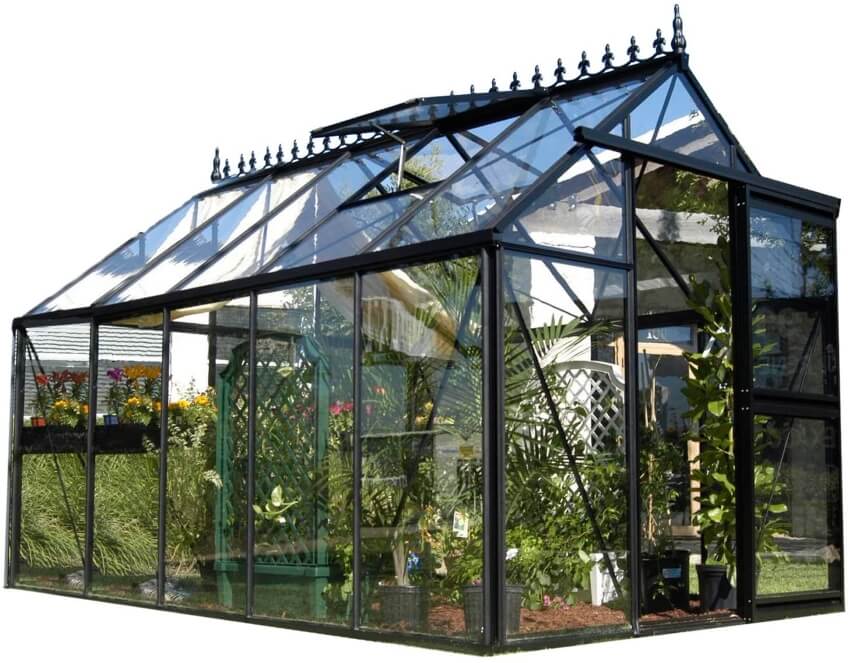 The Exaco Jr Victorian Greenhouse is also made by Exaco, one of the leading brand names in greenhouse manufacturing in the world. The Junior Victorian Greenhouse is smaller than the large Victorian model from the same company, and also happens to be cheaper.
How small is their small VIctorian?
The Junior Victorian Greenhouse measures 24 feet, and this makes it bigger than most "small" greenhouses out there.
If you would like a small eco greenhouse with a great classic look like you would see in the movies, the Victorian is affordable and well made.
A slanted roof and 3 roof windows allow you more control over the environment and access to enough heat and light within your greenhouse. Tempered glass protects your inside environment. All the necessary parts are included in the kit, and the instructions are clear on where to put them.
Quality is guaranteed, and an impressive warranty covers the entire product for a whole 12 years – and additional parts for 2.
It's great for the absolutely classic greenhouse look on a budget.
See Related: Best Mini Greenhouses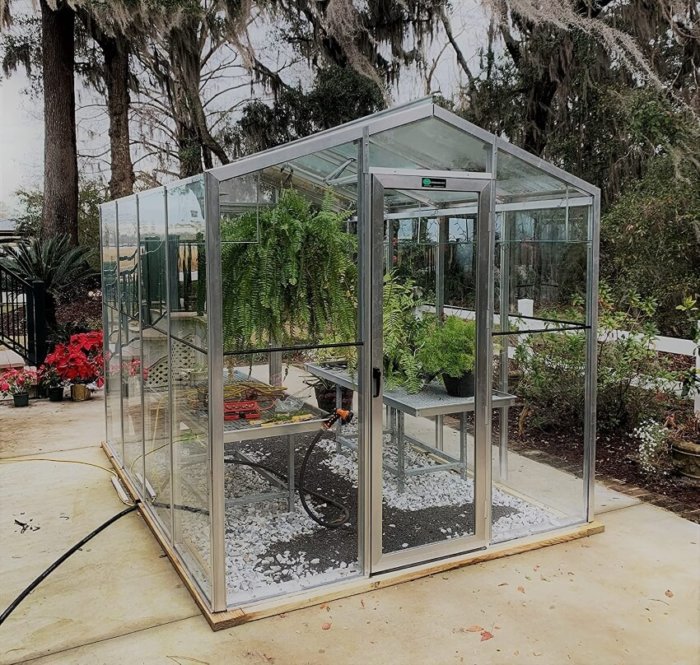 The Palmetto Greenhouse is one of the hybrid greenhouses available from Janco, one of the world's best hobby and professional greenhouse manufacturers. If you would like a great mid-sized professional-quality greenhouse that's easy to install, this is a great recommendation.
The Palmetto Greenhouse measures 8 feet by 10, and it's made from a mixture of polycarbonate and glass with an aluminum frame. This is done to save on the eventual cost, but it also makes the final design of the greenhouse a little bit lighter.
Glass is tempered, and guaranteed to be made from only the best quality. It won't shatter, break, or damage – even when subjected to potential impacts. A tight seal is guaranteed throughout, to keep the best qualities of your greenhouse protected on the inside.
The Palmetto, like most of the greenhouses from Janco, is easy to assemble yourself. Instructions are clear, and assembly videos are available if you need some help to figure it out.
Security is one of the best extra features of the Palmetto. It's one of the only greenhouses that comes with a high-security lockable door – and a duplicate key, so you can save yourself a call to the local locksmith.
As with most of Palmetto's products, it also comes with a lifetime warranty that covers all basic parts and common repairs.
See Related: Best Aquaponic Greenhouse Kits
11. Little Cottage Company Petit 5 x 2.35ft Greenhouse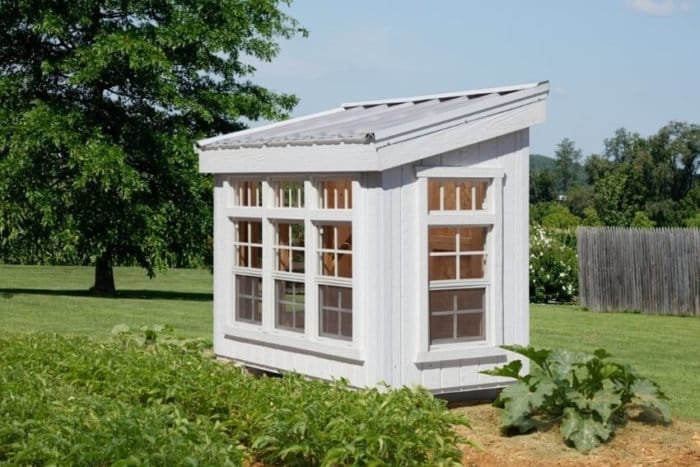 The Little Cottage Company Petit Greenhouse is the perfect option for a small greenhouse, made by one of the best eco-friendly greenhouse companies in the United States. Sized at 5 feet x 2.35 feet, it's smaller than most you'll find – but totally worth it if that's all the space you need to start.
The Petit Greenhouse is great for creating a rustic look in the middle of your garden. Corrugated metal sheets make up the frame of the greenhouse, with simple glass panels covering the sides.
While the rest of the greenhouse is smaller than most, there's more than enough shelf space that allows you to stack upwards. Extra shelves can be installed with ease if you would like to extend what you have.
Size has no impact on quality: this is one of the strongest-made greenhouses you will find.
This is one of the best small glass greenhouses. Choose this if you would like to buy a hobby greenhouse or starter eco greenhouse kit.
A basic warranty covers repairs and most manufacturing defaults.
See Related: Best Greenhouse Kits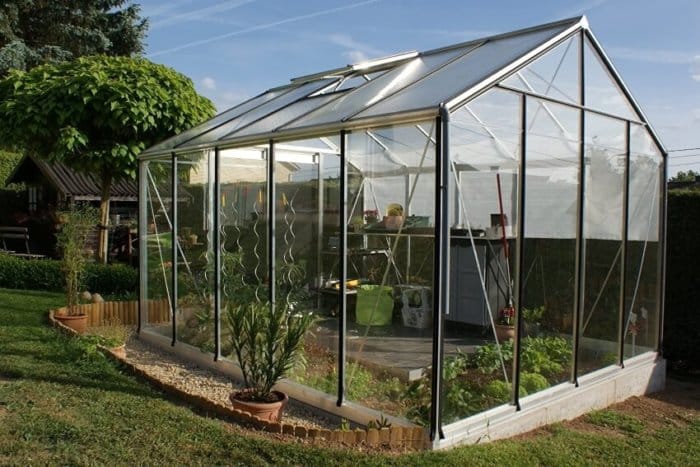 The ACD Action 104 Greenhouse is one of the best eco greenhouse models if you are looking for a greenhouse in a classic style. It looks much like you would see greenhouses represented in Hollywood movies, with black-edging to add to the perfect classic look.
ACD is based in Belgium and is well known for its creation of high-quality greenhouses in almost every shape and size for hobby gardeners and professionals. Quality is a given with this brand and this gives all their products and parts a lifetime, 30-year guarantee.
The ACD Action 10 measures 10 feet x 10 feet and is 7.5 feet high.
That puts it in the range of a great mid-sized glass greenhouse at an affordable price.
The combination of a slanted roof and wall provides superior conduction of heat and sun. All gardeners know this leads to a much better environment inside the greenhouse!
4mm reinforced glass covers the sides of the Action 10 Greenhouse and brings in all the best parts of sunlight while blocking off potentially harmful elements like cold, wind, and debris.
The Action 10 can be notoriously hard to assemble and can be impossible for just one person. Assume that you'll need help to install and assemble this greenhouse when you've ordered it.
See Related: Best Shade Cloth for Greenhouse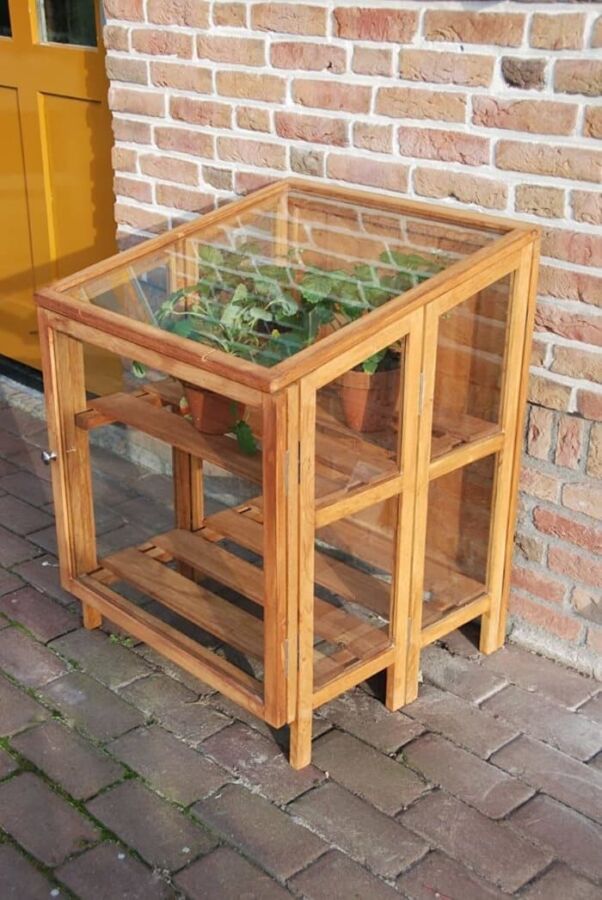 The Esschert Design Glass Mini Greenhouse is a simple eco-friendly greenhouse that gives you the advantage of high-quality materials and more than enough space.
While it's not as elaborate as other greenhouses twice the price, it's great for a single feature or hobby gardener still getting to know the art. Two shelves provide the gardener with more than enough space to stack – and additional shelves can be added with just a little bit of effort.
The Mini Glass Greenhouse is made from a mixture of wood and glass, which adds to its durability while also giving it a nice look. SIngle, tempered 4mm glass covers the whole surface of the mini greenhouse.
The angled roof provides the benefit of equal distribution when the sunlight hits the top. Comparatively, angled roof greenhouses almost always mean a happier environment to get things going in.
While it's a very small greenhouse, the advantage is more than enough space and an eco greenhouse that's very easy to put together.
It can provide a great effect, but also can be a wonderful start for a new gardener who doesn't want to blow a huge budget on their first greenhouse.
A lifetime warranty covers all the parts.
See Related: Best Things to Grow in AeroGarden
14. Hartley Tradition 10 Glass Greenhouse

The Hartley Tradition 10 Glass Greenhouse is a great eco greenhouse from a reliable company that has more than 80 years in the business of making great greenhouses. While there are other models available from Hartley, this is the best for small to mid-sized gardeners who need guaranteed quality.
Reinforced 4mm safety glass covers the entire stretch of the Tradition 10 Greenhouse. In total, you have more than 10 feet worth of floor space to work with, and the Tradition 10 is 8 feet in length.
While it's a self-assembly product that needs some knowledge, it comes with clear enough instructions that you should be able to assemble it in just a couple of hours. Videos are available from the manufacturer's website if you need the visuals to do it!
Hartley offers installation on request, for people who are much better at gardening than they might be at DIY.
If you want quality of life, choose Hartley. A 30-year lifetime warranty covers materials and parts against the most common repairs you could need.
See Related: Best Indoor Greenhouse with Lights
15. Hartley Planthouse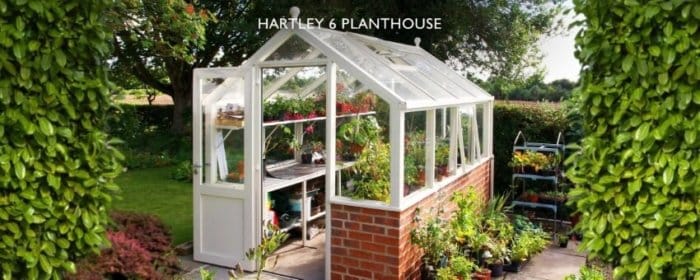 The Hartley Planthouse is one of the best affordable eco greenhouses on the market if you are looking for a small to a mid-sized, high-roofed greenhouse made from the best possible
materials.
The Planthouse is one of several different greenhouses offered by the company, and is highly customizable by the customer. It's available in 6 feet, 8 feet or 10 feet wide options depending on how much size you have or need. Several different colors are also available as a finishing touch.
Made from only the best quality materials, the Planthouse model is guaranteed 4mm tinted safety glass that distributes light, but reduces potentially harmful rays.
A high roof is one of its best features: the slanted roof at an angle provides additional optimal conditions for what's growing in your greenhouse. That's not all: there is more than enough walkaround space to view your collection of colorful plant life.
At least 4 shelves provide more than enough packing space, though other accessories (like the filtration system) might have to be bought separately.
A 30-year lifetime guarantee covers any potential repairs on the product.
See Related: Best Greenhouses to Buy
16. Jungle Jane Glass Heavy Tropic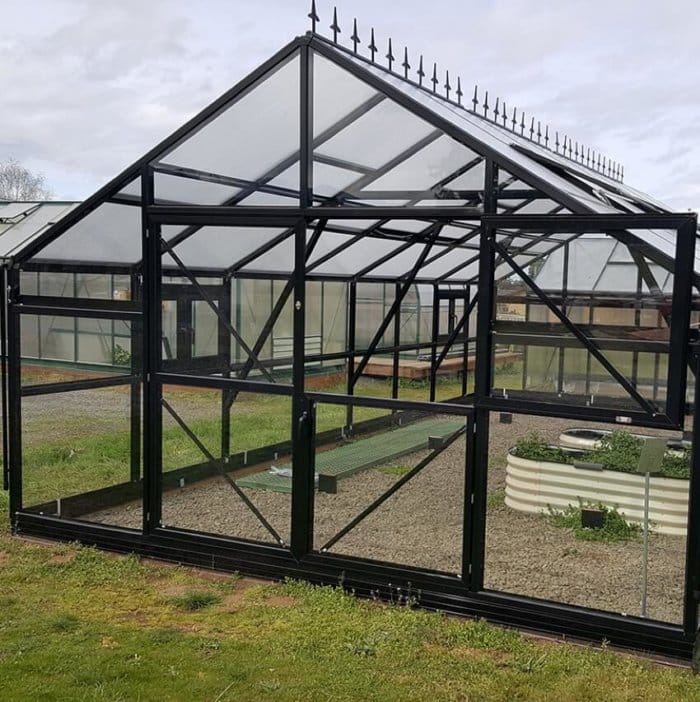 The Jungle Jane Glass Heavy Tropic is one of the best small glass greenhouses, and it's great if you would like an unusual greenhouse that's not in the typical rectangular style that you see everywhere else.
The Jungle Jane Greenhouse is six-sided and measures 11 feet by 11 feet. Double-tempered high-quality glass provides enough access to warmth and light while keeping its contents well protected.
The Jungle Jane option is made from superior quality glass with a very durable aluminum frame. There's more than enough top and bottom shelf space to work with, and it can be extended without a lot of extra effort.
The six-sided aspect is not just for a different look but also works to distribute light and heat in a more even way than the average four-sider.
While it doesn't include a huge list of added accessories, it's great for effect and makes a nice unusual display for your garden.
Related Resources